The requirements to sit for the CPA exam and get licensed vary from state to state.
Since CPA certificates and licenses are granted by the individual state accounting boards rather than at a national level, the rules can be a little bit confusing.
My goal is to simplify this process for you by providing you with all the information you need to know in a easy to follow format.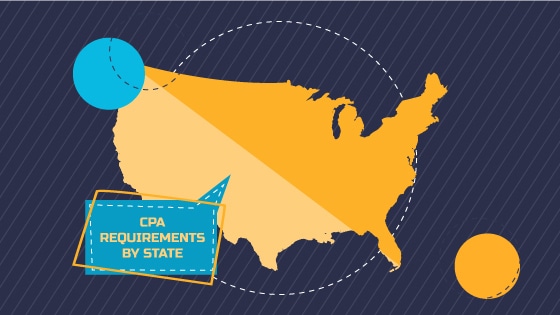 CPA Exam Qualifications
If you meet the basic qualifications below then you should not run into any problems registering for the CPA exam. However, if you do not meet them all then you might need to be more selective about which state you choose to register in.
You are a US citizen
Attended/attending a US accredited college or university with a concentration in accounting
Currently have or working towards a 150 semester hour degree (ex. BMAcc or Master's Degree in accounting or business)
Over the age of 18
Work or plan on working in the accounting industry. Public accounting firms are preferred but private accounting jobs are accepted by most states as long as one of your supervisors is a CPA that can sign off on your work.
You should register and apply for both the CPA exam and license in the state you plan to work in. Please click on your state below to learn about the specific requirements.
Other Locations: Puerto Rico CPA License Requirements
Non-Traditional CPA Candidates
If you answered NO to any of the 5 basic qualifications at the top of the page, this will help point you in the right direction.
States that require you to be a US citizen: Alabama, North Carolina, Louisiana
States that don't require a Social Security Number: Illinois, Montana, New York, South Dakota, Wisconsin
States that only grant CPA licenses and certificates to local residents: Idaho, Kansas, Louisiana, Mississippi, Missouri, Nebraska, Nevada, Ohio, Oklahoma, Pennsylvania, Puerto Rico, US Virgin Islands, West Virginia, Rhode Island, and Wyoming (each state defines "residency" slightly different)
Applying for the CPA Exam
Once you have found your state and are aware of the requirements, the next step is to apply to the state's boards of accountancy. This entails much more than just filling out a simple application form and can cost you months of waiting if you miss one small item on their checklist.
To avoid all that stress and headache I have created a step-by-step application process to help you navigate through it as quickly and seamlessly as possible.
Meet The Requirements?
What are you waiting for? Get started today!
Bryce Welker is a regular contributor to Forbes, Inc.com, YEC and Business Insider. After graduating from San Diego State University he went on to earn his Certified Public Accountant license and created CrushTheCPAexam.com to share his knowledge and experience to help other accountants become CPAs too. Bryce was named one of Accounting Today's "Accountants To Watch" among other accolades.   As Seen On Forbes