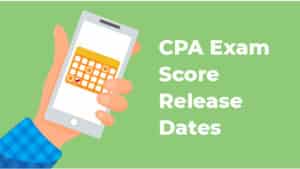 The National Association of State Boards of Accountancy (NASBA) releases scores to candidates and the State Boards of Accountancy based upon the Uniform CPA Exam score release timetables. The score release timetables are updated biannually by The American Institute of Public Accountants (AICPA) and first posted on AICPA Insights and on AICPA'S Website.
With this in mind, we recommend you take the time to review the release dates when planning out your exam dates. This way you'll know when you can expect to start studying for subsequent sections based on whether or not you passed. For more information on how the CPA exam is scored, click here.
2023 CPA Exam Score Release Schedule & Dates
Previously, the CPA exam could only be taken at set times throughout the year. By dividing each year into four quarters, the National Association of State Boards of Accountancy (NASBA) allowed for four testing windows each year.
However, several candidates have requested this practice to change for the sake of greater flexibility and in light of recent issues such as COVID-19. As a result, NASBA recently switched to Continuous Testing, meaning that students are free to take their exams at any point in the year starting July 2022.
Check out our detailed tables and charts below to see what this means for you as a CPA candidate:
---
January 1 – March 10, 2023 (Q1) Testing Window
---
April 1 – June 30 (Q2)
---
July 1 – December 31 (Continuous Testing)
Related Blog Posts & Resources
Access to CPA Exam Scores
Your CPA Exam score is available online on the NASBA website if your State Board of Accountancy utilizes NASBA's online score retrieval service. Be sure to check to see if your State Board uses the NASBA online service and if not, where you can find your scores. If you do not receive your scores within the timetables listed, the AICPA requests all CPA Exam candidates to keep the following in mind:
All dates and times are based on Eastern Standard Time zone.
For the vast majority of candidate, the AICPA receives the examination data files from Prometric within 24 hours after a candidate complete the Exam.
The scores for the examination data files received after the AICPA cutoff dates will be in the subsequent scheduled target score release.
Some candidates who take the BEC section might receive their scores approximately one week following the target release date due to additional analysis that might be required for the written communication tasks.
Have You Taken the Exam Yet?
If you have already taken the exam, then you can rest easy knowing when your scores will be released. Take some time to recharge your batteries during this period, but maintain your mental sharpness if you still need to complete subsequent sections. If you are planning to take the exam at a future time, or need to stack up your study materials for other sections, then make sure you take a look at the best CPA exam review courses by clicking the button below!
Go To The Best CPA Review Courses

Bryce Welker is a regular contributor to Forbes, Inc.com, YEC and Business Insider. After graduating from San Diego State University he went on to earn his Certified Public Accountant license and created CrushTheCPAexam.com to share his knowledge and experience to help other accountants become CPAs too. Bryce was named one of Accounting Today's "Accountants To Watch" among other accolades.   As Seen On Forbes