01 Oct

Best CPA Exam Tutoring Companies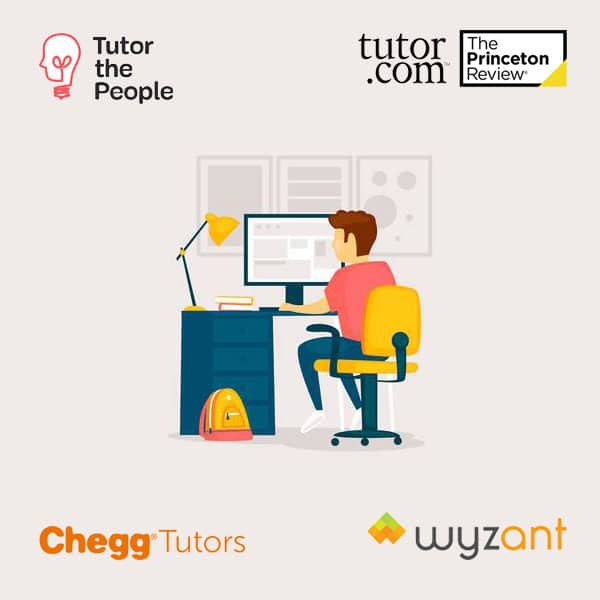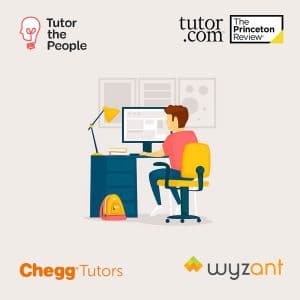 So you want to pass the CPA exam but you're on a budget?
If you can't afford the hefty $1500-$3000+ price tag of a full review course, consider hiring a CPA exam tutor to help you pass this challenging set of tests on the first try.
Many CPA test prep companies offer separate tutoring options in addition to a full review course. Or you can take advantage of one of the many online tutoring platforms that have thousands of CPA tutors available to help you 24/7.
Although the hourly rate may seem high, getting expert support from a professional tutor can save you both money and time in the the long run.
Check out our table below for the details of some of the best tutoring options for the CPA exam!
Who's The Best CPA Exam Tutor Company In 2019?
Chegg CPA Tutoring

Tutor The People
Top 4 CPA Exam Tutoring Companies
CRUSH RANKING
#1
#2
#3
#4
CPA EXAM TUTORS
PRICE/HOURLY RATE

$70-$100+/hr for experienced CPA exam tutors plus 9% service fee.

$39.99 (1hr/month)
$79.99 (2hrs/month)
$114.99 (3hrs/month)


Weekly $48 (2 hrs)
Monthly $30 (1 hr)
Monthly $96
(4 hrs)


$999 (12 hrs)
$1799 (24 hrs)
$2399 (36 hrs)

WHAT'S INCLUDED?

First 30 Minutes are Free

Free introductory hour
Individualized study plan
One-on-one tutoring

MONEY-BACK GUARANTEE?

"Good Fit Guarantee." Refund for first hour if tutor isn't a good match.

Not for CPA exam, improved grades only.

No refund and minutes do not roll over to next month

Will refund unused hours.

PAYMENT PLAN?

No. Pay as you go. Accepts PayPal

No. Pay monthly subscription rate.

BOOKS AND MATERIALS INCLUDED?

IN-PERSON OR ONLINE ONLY?

Online or in- person

Online only

Online only

Online or in- person meetings

DISCOUNT

GET STARTED
---
Wyzant CPA Tutors (Rank: #1)

Very Experienced Professionals: Financial accounting tutors are easy to find on Wyzant's well-organized site. Their impressive bios contain skills related specifically to coaching clients to pass the CPA exam. The excellent feedback from students who raised their test scores make them a great choice.

Good Fit Guarantee: Wyzant offers a full refund for your first hour with any tutor if you decide they are not a good fit. If you are going to shell out $75+ an hour, it's nice to know that you can test drive their teaching style and services before you make a commitment.

No Membership Requirement: Unlike other large tutoring companies, you'll pay as you go without being locked into a monthly subscription or paying a substantial amount up front. Their online tutors set their own price, so you'll know exactly how much you'll pay and only book the appointments you need.

Price: Although a quick search of accounting tutors quickly flags several with positive reviews from students who passed the exam, you'll pay top dollar for their expertise. We saw rates between $70-$100+/hour for experienced tutors with great reviews, although group rates can be cheaper.
The Bottom Line: If you want to connect with an experienced tutor and don't mind paying their rate, you're likely to find tutors with a proven record of helping students pass the CPA exam. We identified tutors with specific CPA study experience more quickly and easily than on other large tutoring sites thanks to the more specific search filter.
---
The Princeton Review CPA – Tutor.com (Rank: #2)

Reputation: Both The Princeton Review and Tutor.com have a solid record when it comes to preparing students for academic success. Choose a tutor from thousands of carefully screened professionals by reading their bio and student reviews first.

7 Day Free Trial: You can sign up for a free trial and get the first 30 minutes at no cost to you to see if your tutor can provide the specific CPA study support you need. Cancel within 7 days and your credit card won't be charged.

Lack of Flexibility: The price for private tutoring (aka "Homework Help") is high and the packages only offer a set number of hours of help a month. Given that their subject matter isn't specifically geared to help students pass the CPA exam, there are better and cheaper options.

No Specific CPA Exam Tutoring: Full-service private tutoring is not available for the CPA exam through the Princeton Review, which is unfortunate, because students studying for other exams (MCAT, LSAT, GMAT) gain access to a whole suite of online tools to augment private tutoring sessions. Accounting tutors in the "homework help" section seem to be geared more towards bachelor's degree students, unlike courses such as Tutor the People.
The Bottom Line: The Princeton Review has a great reputation and chances are good that you will find a qualified accounting tutor to help teach you important concepts. If you are looking for specific strategies to pass the CPA Exam, however, you might be better off with a more specialized program.
---
Chegg Tutors CPA Exam (Rank: #3)


Price: It's hard to beat $30 an hour to get personalized tutoring from a Certified Public Accountant. The online lesson space allows video, audio and text chat, and you can upload documents, draw on a chalkboard, and edit papers in real time.

Tutors: Select your tutor from almost a thousand available professionals based on their own biographical description and feedback from previous students. The best part? You can try them out for free for 30 minutes to see if it's a good fit.

No Specialized CPA Exam Program: Chegg is more of a tutor clearinghouse with thousands of independent tutors for every subject you can imagine. You'll have to do some legwork to find an accounting tutor with a specific program containing your ideal subject matter. Some took the test years ago or only have experience tutoring basic bachelor's degree accounting classes.

No Refund: To get the best deal, you need to buy a weekly or monthly membership, but minutes don't roll over from one period to the next like with Tutor the People. Membership is renewed automatically until you cancel, so you'll need to keep track to cancel on time.
The Bottom Line: Chegg might be a good option for those on a tight budget, but you really need to research tutors or have a personal recommendation. With so many independent tutors of varying backgrounds covering so many different concepts, finding an expert with the inside knowledge needed to help you pass the CPA exam could be a challenge.
Tutor the People (Rank: #4)

CPA Exam Focus: Tutor the People is a full-service tutoring company for all subjects and most standardized tests. They stand out for their customized approach to the CPA exam. Prep tutors design a study plan based on your weaknesses so you don't waste time studying things you already know. Customized scheduling means you can interact with your tutor every day or once a week over Skype.

Money-back Guarantee: A free introductory hour comes with every package, so students can meet their tutor and develop a study plan before beginning their paid package hours. Unlike most other options we reviewed, any unused hours are 100% refundable.

Test Taking Strategies: In addition to helping students understand the complex material on the various sections of the CPA exam, online tutors share strategies to raise your confidence and score. The best tutors got high scores themselves, so they can also teach you how to do the same!

Price: Considering what's included in the tutoring package, Tutor the People offers the most bang for your buck when it comes to one-on-one tutoring and support for financial accounting. Students in metro areas who shop around report it's one of the most affordable options.
The Bottom Line: Tutor the People is our top choice by far. None of the other tutoring services we reviewed had tutoring packages and tutors aimed specifically at the CPA exam. By making sure their tutors are trained in the most recent updates to the exam, they save you the work of finding a tutor who can help you with more than just basic accounting.
Best CPA Exam Tutoring Companies
Written by:
Bryce Welker, CPA