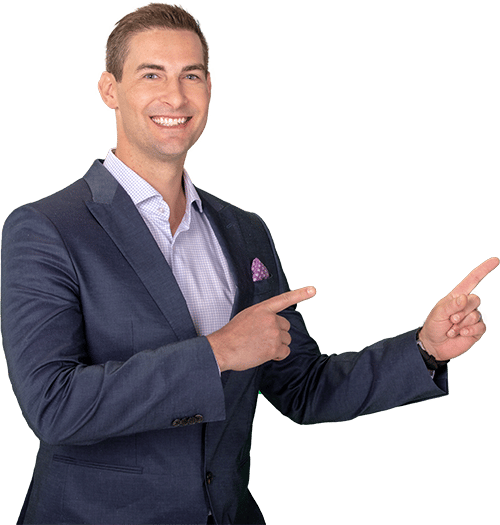 Don't Risk Failing the CPA Exam.
Get These Exclusive & Powerful Tools!
CPA Study Guide
CPA Application Guide
40 Formulas you MUST Memorize for BEC Section
CPA Career Guide
---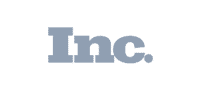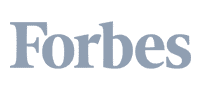 ---
Welcome to Crush the CPA!
I'm proof that an average accountant can pass the CPA exam the first time around. I started Crush to share my story and help YOU find the best study materials for your CPA journey. I want you to learn from my experience, avoid the mistakes I made, and choose the right CPA review course for your learning style.
You don't have to get rid of your social life or sell your soul to pass the CPA exam. I was able to cut my overall CPA prep time in half by eliminating worthless study methods and figuring out the materials that helped me learn. So, let's get you on the right track and move closer toward that CPA designation next to your name.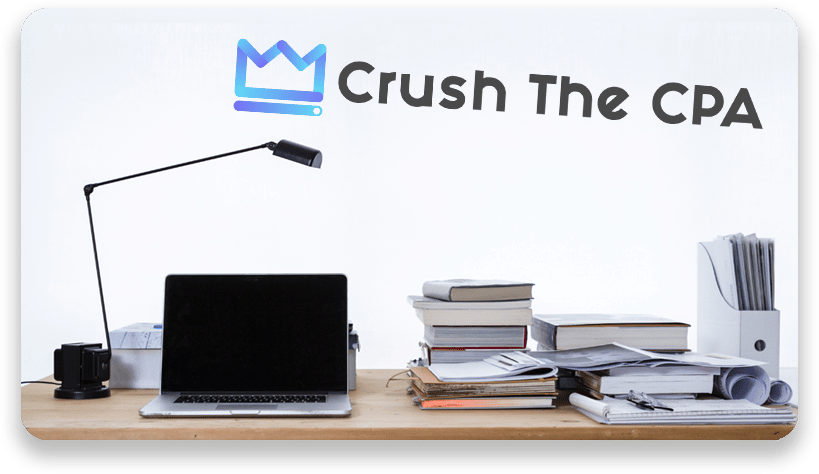 ---
Find The CPA Requirements For Your State
To get started, it's important to see what you need to sit for the CPA exam. Check out your state CPA requirements to learn what you need before you can take the test.
---
Register For The CPA Exam
Once you've made sure you can sit for the test, it's time for you to register for the CPA exam.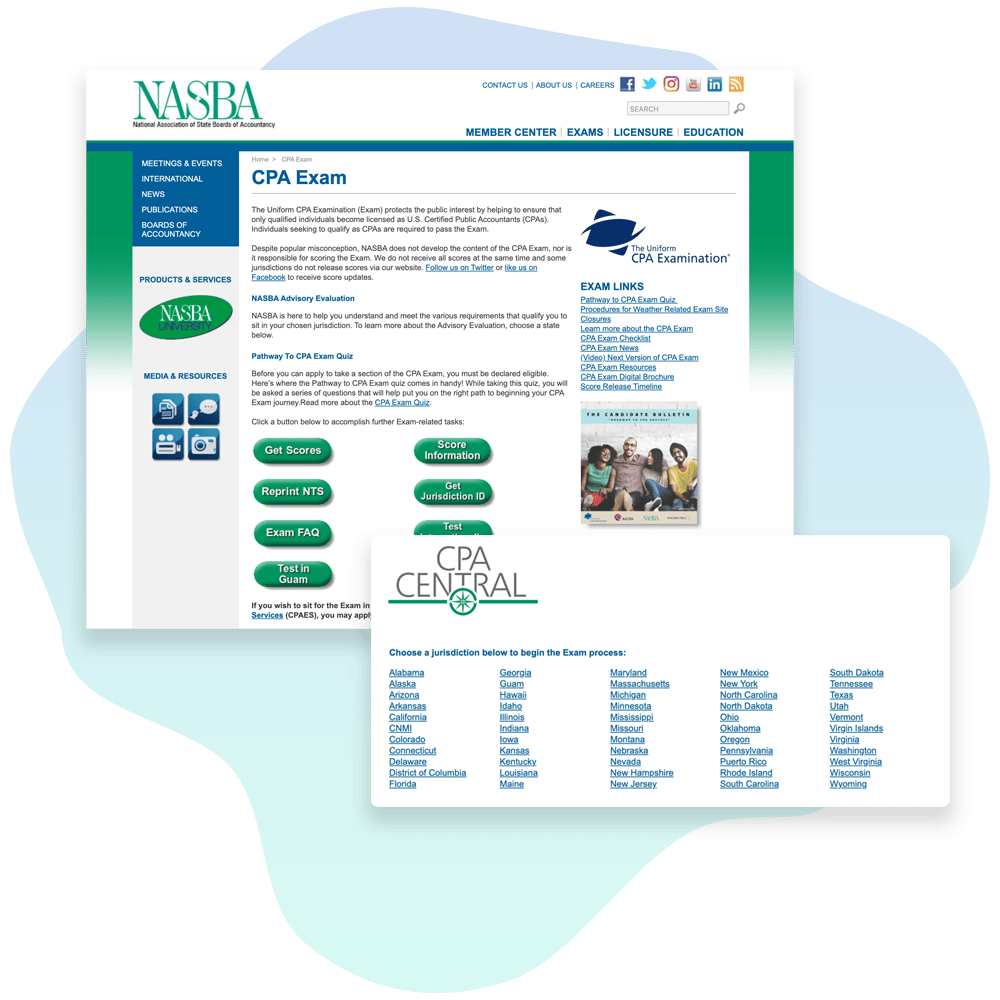 ---
Find The Best CPA Review Course For You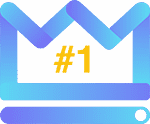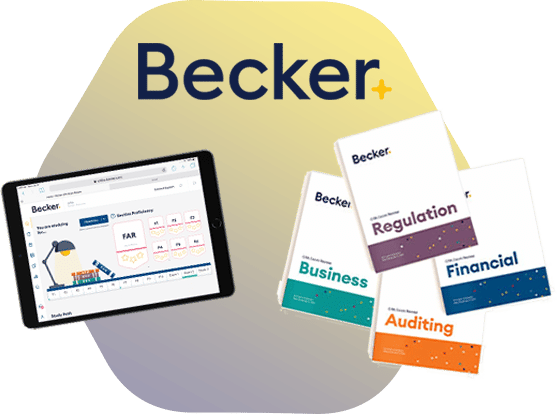 One feature that gives the Becker CPA Review a lead over other courses is that it has the backing of the Big 4 accounting firms. However, it also has tons of extra features and materials, including adaptive learning technology and two mobile apps.
#2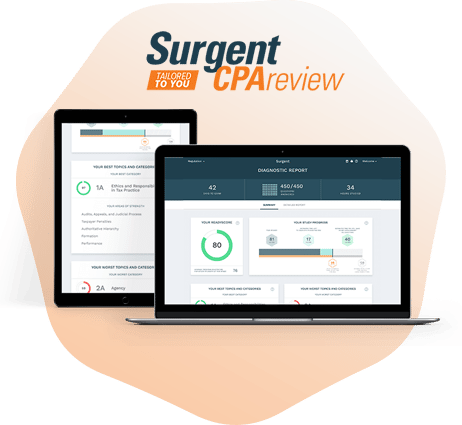 With the most experienced instructors in the industry, great adaptive technology, and unparalleled support and coaching, Surgent CPA review is a great tool for passing the exam the first time around.
#3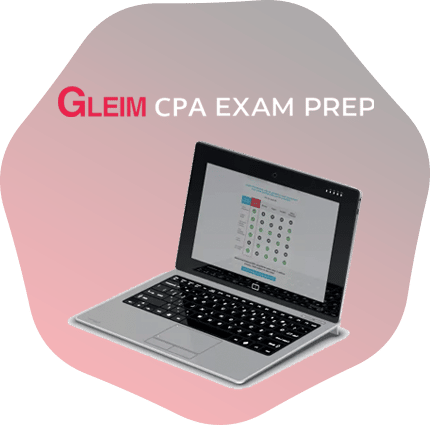 Gleim CPA Review is a comprehensive course that prides itself on covering all possible subjects that you may encounter on the CPA Exam. Their course is well organized and perfect for for those looking for a guided CPA review course with micro-lessons.
#4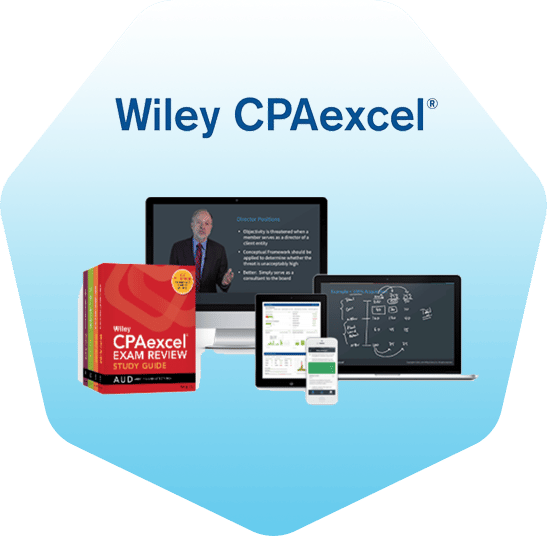 Wiley CPAexcel is the go-to application for individuals studying to pass the CPA exam. Whether you're studying through a course, or studying on your own, Wiley CPAexcel makes everything easier. From academic success tools – like notes, flash cards, and formulas – to practice exams that simulate the real deal, Wiley has got you covered!
#5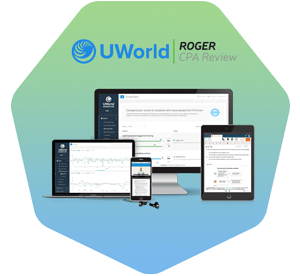 With one of the most charismatic and engaging instructors at the helm, UWorld's CPA review course is a terrific choice. Roger's boundless energy and years of professional experience will help you learn all the necessary exam info and remember it long after you're finished.
#6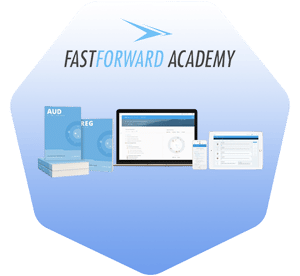 If you don't have much time to prepare, Fast Forward Academy has a surprisingly effective accelerated study course. There's still enough content provided to last several months, but you'll only need a few to work through it thanks to their excellent support team.
---
Picking The Right CPA Course Is Hard. We Make It Easy.
Compare The Top 7 Best CPA Review Courses Side by Side
If you're curious about which course may be best for you, head on over to our best CPA review courses comparison page.
Compare Courses
Try A Free Trial
Get Discounts
Pick The Course For You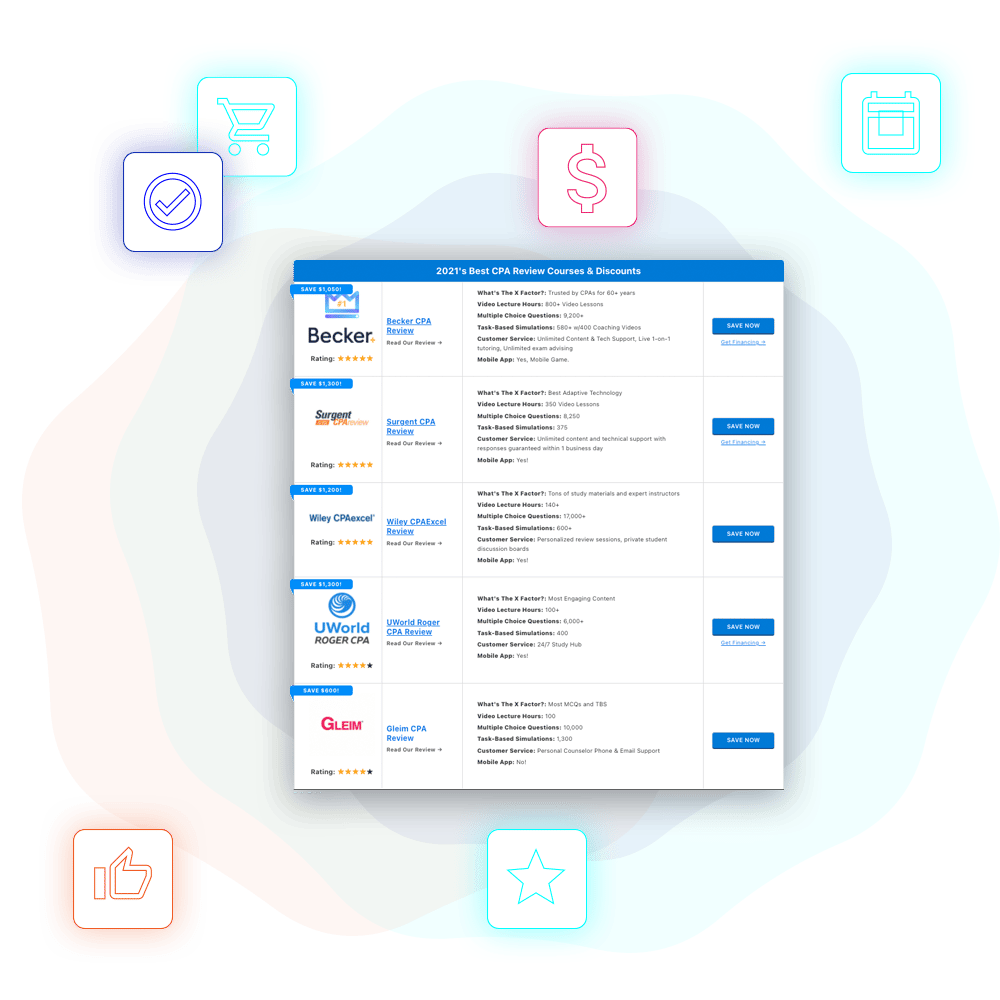 ---
Save Big with Exclusive CPA Promo Codes & Discounts!
Don't pay full price for any of the top CPA review courses! We have compiled the best CPA promo codes and coupons from all the top rated CPA exam prep companies below to help save you money.
---
Plan Your CPA Study Schedule
When you're studying for the CPA exam, it's going to be tough to choose the first section that you're going to pass. So, before you commit to taking the hardest part first, maybe take a look at my article that tells you which CPA section to take first. I cover everything you'll want to know about the entire CPA process, from college to experience requirements to certification.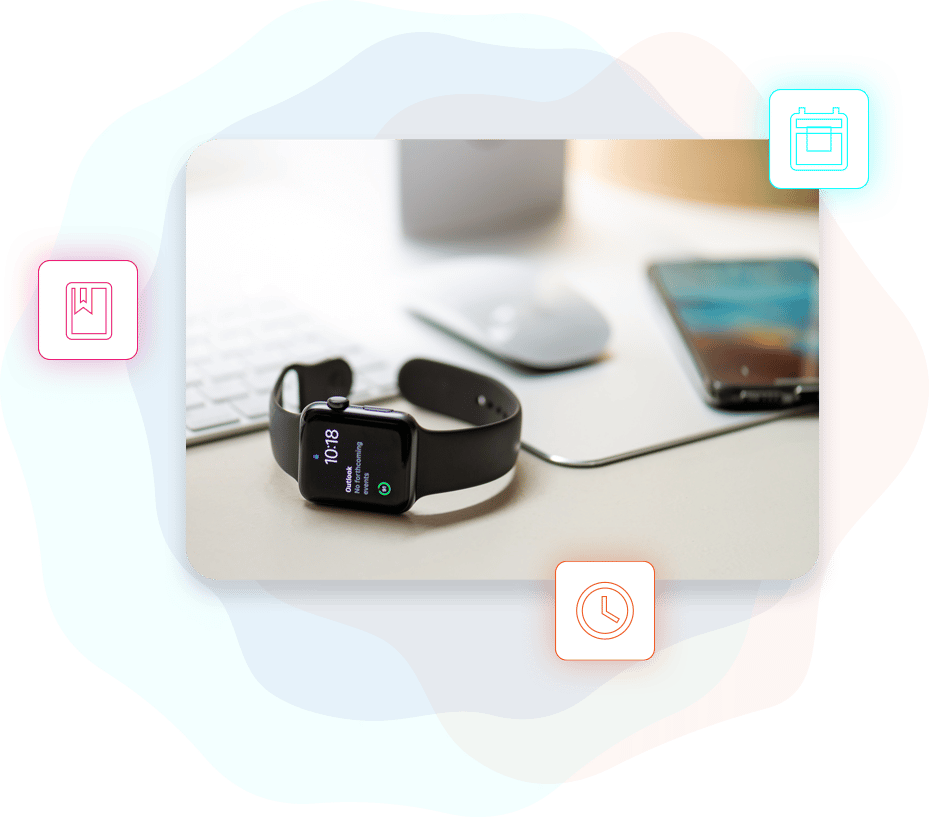 ---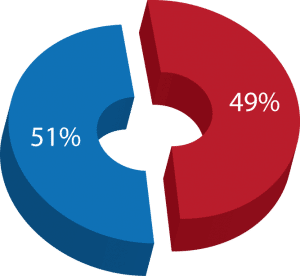 The CPA Exam Pass Rate Is Just 49%
The odds to pass are so low because the majority of CPA candidates lack the knowledge and resources to properly plan, study, and prioritize.
CRUSH is here to make sure you are equipped with everything needed to pass all four sections of the CPA exam your first time through!
---
Compare The Top CPA Review Courses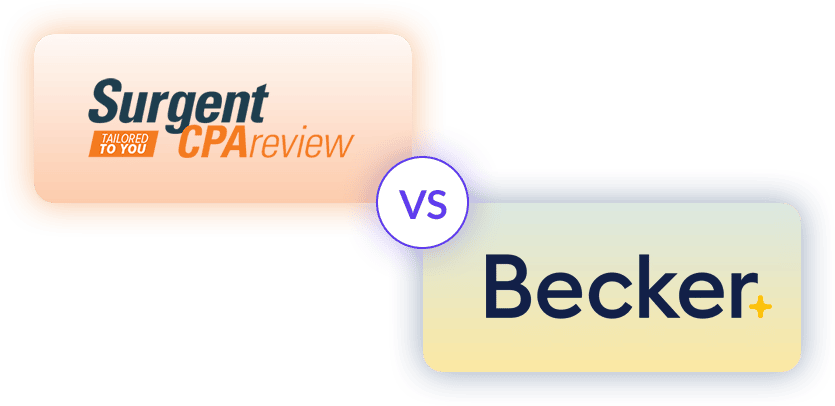 Surgent vs Becker
Becker CPA vs. Surgent CPA Review are interesting competitors. Becker packs a ton of clout behind its name, being the chosen CPA Review that top-level accounting firms use for their employees.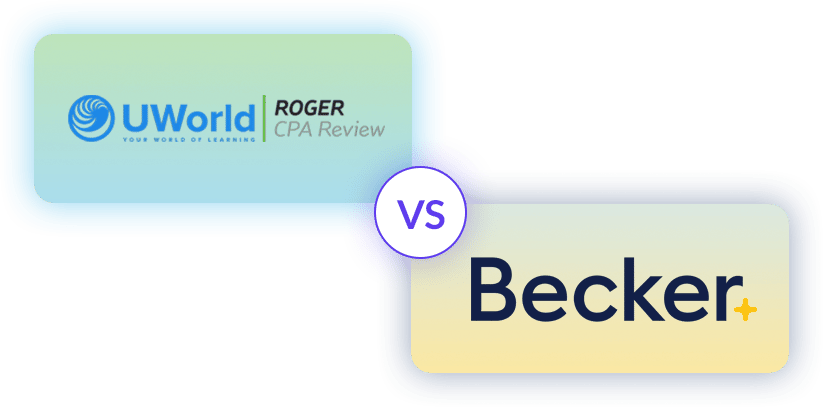 Roger vs Becker
How do UWorld Roger CPA Review and Becker CPA Review stack up against each other? In this one-on-one comparison I consider their price, number of months of access, practice questions and simulations, and other important features to help you decide which course is the best choice for you.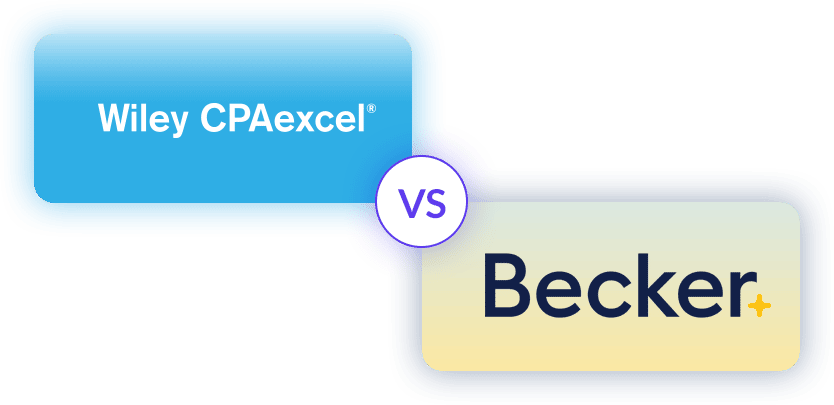 Wiley vs Becker
Looking for the best review course for your CPA certification? Programs like Wiley CPA and Becker CPA Review are both endorsed by the Big 4 accounting firms. That certainly doesn't make narrowing down the best fit for you any easier!
---
See What People Are Saying

Miles Penava (CPA Candidate)
★★★★★
"Bryce was very knowledgeable and helpful in deciding which CPA course would be most beneficial. He also gave me useful hints and tips to make my study habits much more effective."

Ene Gonzalez (CPA Candidate)
★★★★★
"Crush The CPA had all of the information I needed to start my CPA adventure in ONE place. Thank you so much for the study tips Bryce. You really know your stuff! I'm going to Crush The CPA Exam Now!"

Lauren (CPA Candidate)
★★★★★
"The study tips that Bryce provides have made my CPA exam experience much less stressful and helped me pass my first two sections already. I'm definitely going to CRUSH this CPA exam!"
---
Most Common Questions About The CPA
The benefits of being a CPA are both tangible and intangible. With that designation next to your name, you get a better career trajectory, a higher salary, respect from similarly accredited peers, and the potential to secure corner office positions. Over the course of their careers, CPAs make $1 million more than their non-certified counterparts.  The C-Suite is more likely to be made up of people who are CPAs than those who lack the title—executive search firm Spencer Stuart noted roughly 45 percent of CFOs have a CPA.
The requirements to sit for the CPA exam aren't especially varied from state to state, but there are certainly some outliers. Understanding these CPA exam requirements is necessary, however, as the first step to becoming a CPA is being able to sit for the exam. For the most part, you're going to need 150 credit hours of accounting education, along with some work experience. There's definitely more to the requirements than just 150 credit hours, but you're going to have that as a basic educational foundation to sit for the exam.
Applying for the CPA exam is a complicated process, especially given the date restrictions and many requirements. Understanding how to apply will help with scheduling and time management, so make sure you cover all of the bases. The basic application process involves school transcripts, submitting the fee and application, receiving the ATT from your state board,  getting your NTS from NASBA, going to the Prometric website to schedule the exam dates, and then finally studying and taking the test. The CPA exam application process is very specific and can be confusing, so make sure you follow every detail exactly to a T.
Finding the motivation to carry on with studying after a failed test is heartbreaking for many people. However, if you can make the proverbial light at the end of the tunnel a tangible goal or event, it will ease the process of starting over. Many people fail at least one section, so it's certainly possible to keep studying if you know WHY you're taking the test. Failing a section also doesn't mean you're not cut out to become a CPA—many people who occupy corner offices of Fortune 500 companies have failed one section of their exams. The important thing with regard to failing is to make sure you don't make the same mistake twice.
Recognizing your learning style is the key to cutting hours and hours off of your studying time. Once you know what works with regard to specific types of prep tools—videos, audio content, or practicing by doing via test banks or books—the whole process becomes easier and each minute of studying becomes more valuable. If you're wondering what your learning style is, I suggest you check out the above post and determine exactly how you process and consume information. Not knowing how you learn best before you invest in a CPA review course is basically burning money!
The test is broken down into the quarterly fiscal schedule on which all businesses rely. So, for the first quarter, you get to take the test within the first two months and an additional ten days into the second month. Once this testing window is over, the schedule simply repeats that pattern. Basically, there's a 20-ish day period per quarter in which you cannot take the test. If you're able to plan your studying and schedule your exams correctly, you'll be able to knock out the CPA in roughly a year!
Creating a CPA exam study schedule is reliant on you making an honest assessment of how many hours you can devote per week. If you're working full-time, you're going to want to study a certain amount per day, with somewhat longer sessions on the weekend. If you're not working, you can devote larger chunks of time per day—the key is to keep a consistent level of studying, as you don't want to do too much on one day and none on another. Knowing how to study for the CPA exam will be the difference between passing and failing each individual section.
Your first CPA exam section should be the one that you feel most confident about passing. Check out the video below to find out why!
---