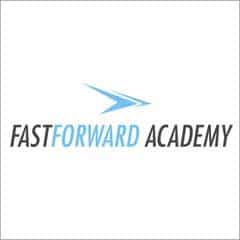 OVERALL RATING: ★★★★★
Fast Forward Academy CPA Review tries to help students learn more in less time, but its software is not nearly as advanced as the other courses out there. 
Like other test prep companies, Fast Forward strives to find new ways to innovate and improve upon the traditional education model, but its course now is pretty decent. 
After spending a few hours testing out its new CPA review software and going through their course materials, these are the key takeaways I had.
PROS
1. Large Study Bank
Fast Forward Academy CPA review comes loaded with over 5,000 multiple-choice questions and 247 simulations. When it comes to the amount of practice questions Fast Forward has, it's pretty standard compared to other courses. There are other options, such as Wiley, that have a lot more questions for you to practice with.
One of the best ways to improve your scores, is to practice answering multiple-choice questions repeatedly. Their expansive Study Bank guarantees that you won't see the same recycled questions over and over again.
2. Personalized Learning System
Fast Forward Academy is not a one-size-fits-all type of course, as it actually caters to each student's specific learning needs. As you progress through their course, data from your practice exams is used to pinpoint which areas in your study material you need to improve the most. Your textbook then highlights this information and creates a personalized exam for you that tests you on those specific topics.
This is a huge time saver because it helps you focus on the material that will have the highest impact on your CPA exam scores rather than waste time going over the subjects you already understand. You can also insert color-coded notes, highlight important information, and launch a custom study session right from within the text.
3. Price –  Affordable
Fast Forward is one of the more affordable CPA review courses on the market. It also offers a 0% APR financing option for qualified buyers with three, six, or 12 month payment options. Fast Forward offers a good value for its CPA review course offering for the price.
1. Not a Lot of Feedback Yet
This is a one of the newer review courses to enter the market which is probably why I haven't heard too much about it on any of the forums or blogs. I value my readers opinions a lot and would love to incorporate your feedback into this review.  If you've used Fast Forward Academy's CPA review, please share your experience with everyone in the comments section below!
2. No Mobile App
Although Fast Forward Academy's learning platform can be accessed from most mobile devices, including iPads, iPhones, and most Android phones, there is no dedicated app to make studying on your phone or tablet more streamlined and convenient.
Other courses have awesome mobile apps that makes quick study sessions easy and simple. It helps to have an app that you can use to quickly fit in a topic or two on-the-go.
3. Limited 30 Day Refund
Fast Forward has a guarantee that grants you access to the course until you pass. But what if you don't fit well with the course structure and want to use a different course? Well, you'll only have 30 days to figure it out in order to receive a refund.
This isn't much time, especially if you find out the course didn't work for you when you don't pass. Other courses don't have a time limit on their refund and instead abide by a pass or refund guarantee. You'll have to make sure you meet all of Fast Forwards 30 day refund qualifications too in order to get your money back.
MY SUGGESTION
Fast Forward Academy is new to the CPA Review industry and its course is still proving itself over time. I would check out some other courses and free demos before deciding on Fast Forward Academy's CPA review course. Many other courses offer large CPA discounts at times so I'd check those out as well. But if you are on a tight budget, this is one of the least expensive courses on the market.