As of 2023, Fast Forward Academy no longer offers CPA courses. Fortunately, we have several other top-rated courses we highly recommend. Our Best CPA Review Courses of 2023 article is a good place to start. You can also check out our review of Becker CPA.
CRUSH RATING: ★★★★★
Fast Forward Academy CPA Review's goal is to help students learn more in a shorter amount of time. Like other test prep companies, Fast Forward Academy strives to find new ways of innovating and improving upon the traditional education model.
Are these innovations truly helpful for the student, or is it all just smoke and mirrors hiding a bog-standard review program? Keep reading for our complete breakdown of what this course has to offer!
Overview of Fast Forward Academy CPA Review
Fast Forward Academy designed their CPA review course to cover all four sections of the exam. Aside from core learning materials that include practice questions, video lectures, and exam simulations, their educational program contains many advanced learning tools.
These tools range from UI upgrades, such as split screen view and compatibility with different devices, to community resources and instructor feedback. The idea behind this structure is to provide students with both the raw material to learn from and the proper guidance so that they can make the most of it.
Here's a course snapshot with all of Fast Forward Academy's included study materials:
80+ hours of video lectures
6,800+ practice questions
Unlimited practice tests
Textbooks covering each section of the CPA exam
Digital flashcard creator
Community & instructor support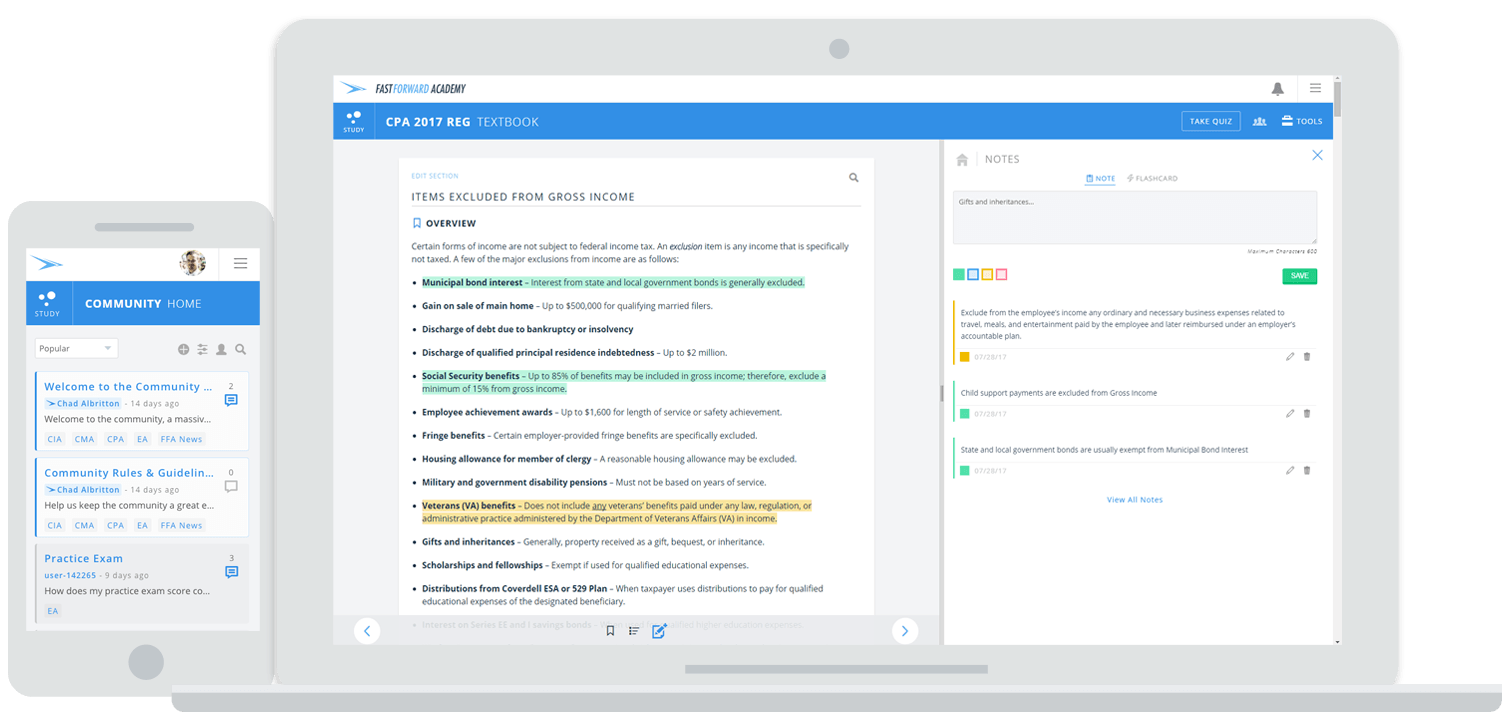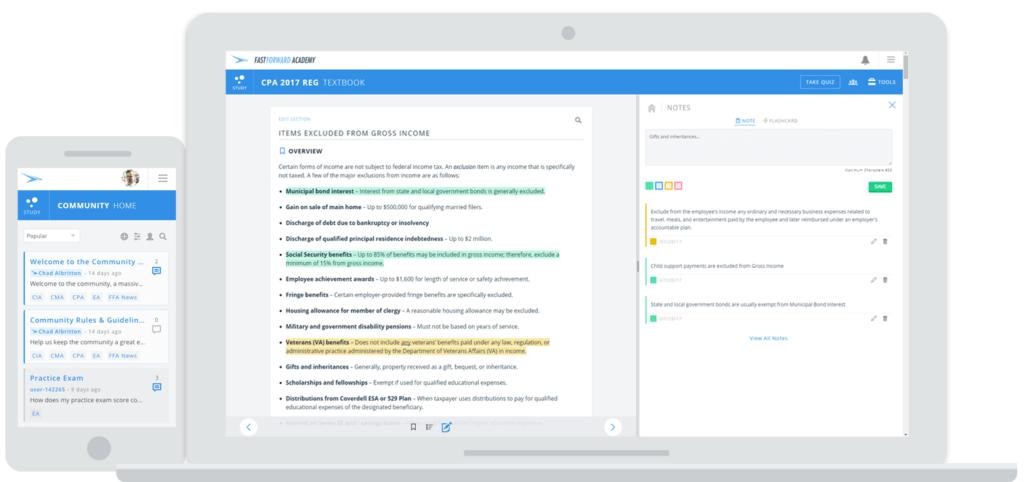 What's Included in FFA's CPA Prep Course?
Video Lectures
In addition to their practice questions, Fast Forward Academy includes a few hundred video lectures that provide commentary and insight into the material covered in these questions and in their textbooks. Almost five hundred of these lectures are included in this prep program, ranging in length from 5 minutes to over 20.
Containing a static shot of an instructor speaking in front of a plain background, these videos are supplemented with companion slides and graphics in order to create an impressive and effective multimedia learning tool.
Personalized Learning and Metrics
When answering questions, students mark whether they are "certain" or "unsure" of their answers. This allows Fast Forward Academy to determine your confidence level in each topic and eliminates the effects of guessing on your performance metrics. For example, if you answer a question correctly, but are "unsure" of your answer, then there is a high likelihood that it was a guess and they know that you don't really understand the concept being tested.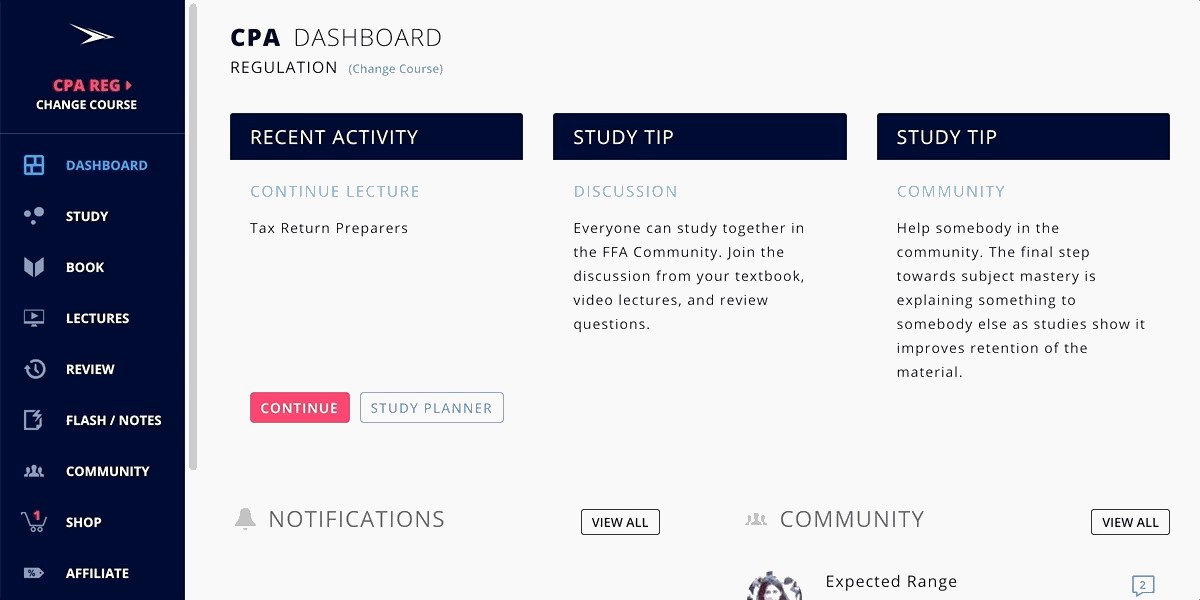 The same conclusion can be drawn if you answer a question incorrectly but are "certain" of your answer. However, if you answer correctly and are "certain," then they know that that you are confident in your understanding of that concept. Of course, this data becomes more meaningful as you answer more questions on each topic. These confidence levels, along with several other data points, are then used by Fast Forward Academy's Opportunities algorithm to make recommendations as to where you should concentrate your studies.
In addition to reporting on each quiz session, they also provide students with an Opportunities Target as a visual representation of your progress. As you work through the course, you will see the topics (represented by circles) change in color from red to yellow to green and move from the outer edges of the Target into the center. The goal is for you to eventually have all topics in the center of the Target.
Students can also use the Fast Focus feature to leverage your performance data and create a final review. With just a click, you can turn on the Fast Focus feature and remove all of the topics in which Fast Forward Academy has determined you are prepared, leaving you with your weakest topics (opportunities to improve your scores) and the corresponding book material, video lectures, and questions.
Textbooks
As previously mentioned, Fast Forward Academy CPA Review comes with a library's worth of reading material regarding all areas of the exam. These are handily divided into four subcategories based on the four sections of the CPA exam, and they correlate well with the aforementioned video lectures.
In addition to simply reading the included textbooks, students can also insert color-coded notes, highlight important information, and launch a custom study session right from within the text.
Device Compatibility
In order to accommodate the expanding architecture of smart devices that can access the internet, Fast Forward Academy designed all of their online course materials to be easily used on desktop or mobile. This means that whether students wish to access their study materials on their desktop computers, on a tablet, or on their smartphone, they will be able to clearly view and interact with it without any difficulty.
Although this is an impressive feature, one aspect may be a cause for concern:
Despite offering full smart device compatibility, Fast Forward Academy includes no dedicated app for their materials on either Android or iOS. Many educational review courses with mobile compatibility will offer an app because it can be more convenient for students looking to squeeze in a quick study session on the go. And while this is still possible for students using this CPA prep course, the fact remains that they will have to use their web browser to access this material in a more convoluted process.
Fast Forward Academy CPA Review Packages and Pricing
Fast Forward is one of the more affordable CPA review courses on the market. Students interested in purchasing access to their educational materials can choose between a physical study guide, an access code to their online coursework, or both. Although the physical study guide package normally costs substantially less than their online package, a current promotion lists the online package's price at roughly the same rate.
So what makes this so affordable to the average student? Read on:
Access to this online package is also offered for as long as the student needs to use it until they pass their CPA exam, which is an incredible deal in comparison to courses that only offer licenses of six months to a year on average.
Furthermore, students don't have to pay the full cost up front, since both packages offer a payment plan with 0% APR through a third party. Even though approval for this payment plan is contingent on a credit check, the opportunity alone makes this an exceptional rarity that adds to the student's convenience.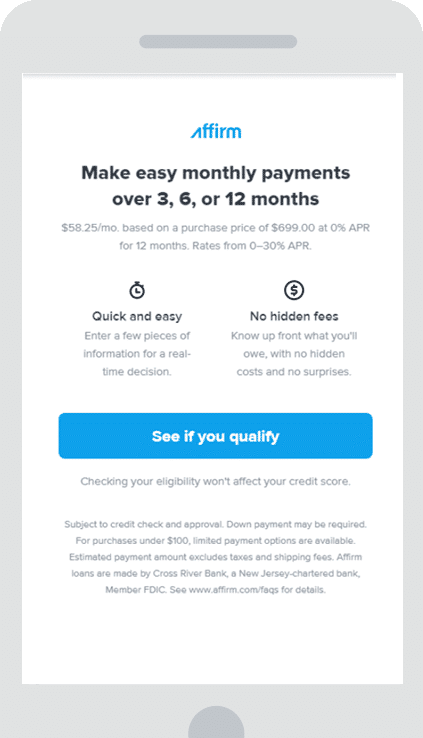 Pros & Cons
Here's a brief rundown of the positive and negative features of Fast Forward Academy CPA Review:
PRO: INTUITIVE DASHBOARD
The user interface for this program is surprisingly versatile, offering a split-screen feature that lets students easily juggle practice questions with lectures, text passages, or community posts.
PRO: TIMESAVING
Thanks to the impressive performance metrics and lesson planning, students can focus on what they need to study without wasting their time. With Fast Forward Academy, every minute of study time counts.
PRO: FLEXIBLE PAYMENT
Currently, Fast Forward Academy offers 0% APR financing for 12 months on their CPA review courses.
CON: NO MOBILE APP
Unfortunately, Fast Forward Academy does not offer an app for studying on the go. The can be especially troubling when you're in an area without wifi or cell service.
FFA CPA Review FAQs
Have any questions about this prep program that weren't answered above? Here are some answers to the most frequently asked questions about Fast Forward Academy CPA Review!
Q: Can I access FFA's study materials on Apple and Android devices?
A: Yes, Fast Forward Academy's online content is compatible with any smart device that can connect to the internet with an up-to-date web browser.
Q:  How do I contact FFA for support?
A: Fast Forward Academy offers a few methods for students to contact them. A contact form can be filled out and sent via email with the additional option to schedule a phone conversation. Their website also has a community forum where staff members can respond to questions.
Q: Does FFA charge for updates?
A: No. Unlike some CPA review courses that will require students to pay for updated textbooks and question banks, Fast Forward Academy promises free annual updates as part of their pass guarantee.
Q: Can I access FFA's study materials offline?
A: You can only use Fast Forward Academy's physical textbooks offline. Unfortunately, the only way to access their lectures, flashcards, practice questions, and performance metrics is through a browser with an internet connection.
Q: What is FFA's refund policy?
A: Fast Forward Academy says that they offer a 30-day money back guarantee on their CPA course page. In order to find out more about this policy, you will need to contact them directly.​
Fast Forward Academy CPA Discounts & Promo Codes
Final Recommendation
The students who are most likely to find success with Fast Forward Academy CPA Review are those who are tech-savvy. The tools contained in this educational resource are powerful, but harnessing their full potential will require some prior computer knowledge. This means that individuals who are used to live lectures and physical coursebooks will not have as much success with this program, although they may benefit from the physical study guide package they offer in lieu of their online package.
Ultimately, the material included in this prep course is solid and the technology included with it has practical applications that will positively benefit enrolled students. Far from a distracting set of gimmicks, Fast Forward Academy truly provides a 21st-century learning tool to help you CRUSH the CPA exam!