Wiley CPAexcel helped me to pass the CPA Exam on my first try in about 9 months, and without their course I'm not sure this would've been possible. I was working 50 hours a week, so I needed a course that would let me study in quick sessions and give me the flexibility I needed with my busy schedule. Let's dive into my review of Wiley CPAexcel's CPA prep course to find out what it has to offer-  and see if it's a good fit for you too!
Wiley has three different review course packages: Platinum, Gold, and Silver. The Wiley CPAexcel Platinum course is the most popular version, so that's the package I will reference throughout my review.
See the Top CPA Review Courses
Overview of Wiley CPAexcel Review Course 2021
Course snapshot (product details):
Course access until you pass guarantee
Free course updates
16,000 multiple choice practice questions (including Mobile App content)
600+ task-based simulations (including Mobile App content)
140+ hours of video lectures
4,000+ digital flash cards
Bite-sized (around 30 minute) lessons
Built in exam planner
Unlimited practice exams
Study guides matched to Wiley's lessons and software
Mobile App with additional practice questions and TBS
Online support with subject-expert professors
Virtual Classroom Series
Focus Notes with acronyms and mnemonics (print and ebook included)
1,000 print flashcards
See Our Top Rated CPA Review Course!
What's Included in Wiley CPAexcel's Review Course?
Multiple Choice Questions
With a staggering amount of multiple choice questions (12,000 of them!), Wiley offers more practice questions than any other review course on the market. You can also organize how you practice with these questions in dozens of different ways. Keep in mind, however, that you're probably not going to make it through/need all of these questions!
You will have multiple choice quizzes that are in the exact same computer format as the real CPA Exam. The questions are timed at an average of 2 minutes per MCQ so you will be practising in the most exam-like conditions. Wiley does a good job at preparing you for the real test format thanks to its aesthetics and layout.
Once you finish your quiz or run out of time, you will see your grade and the questions you missed. You can then go over the detailed explanations behind your incorrect answers and why you got the question wrong. This helps you target the areas in which you need more practice.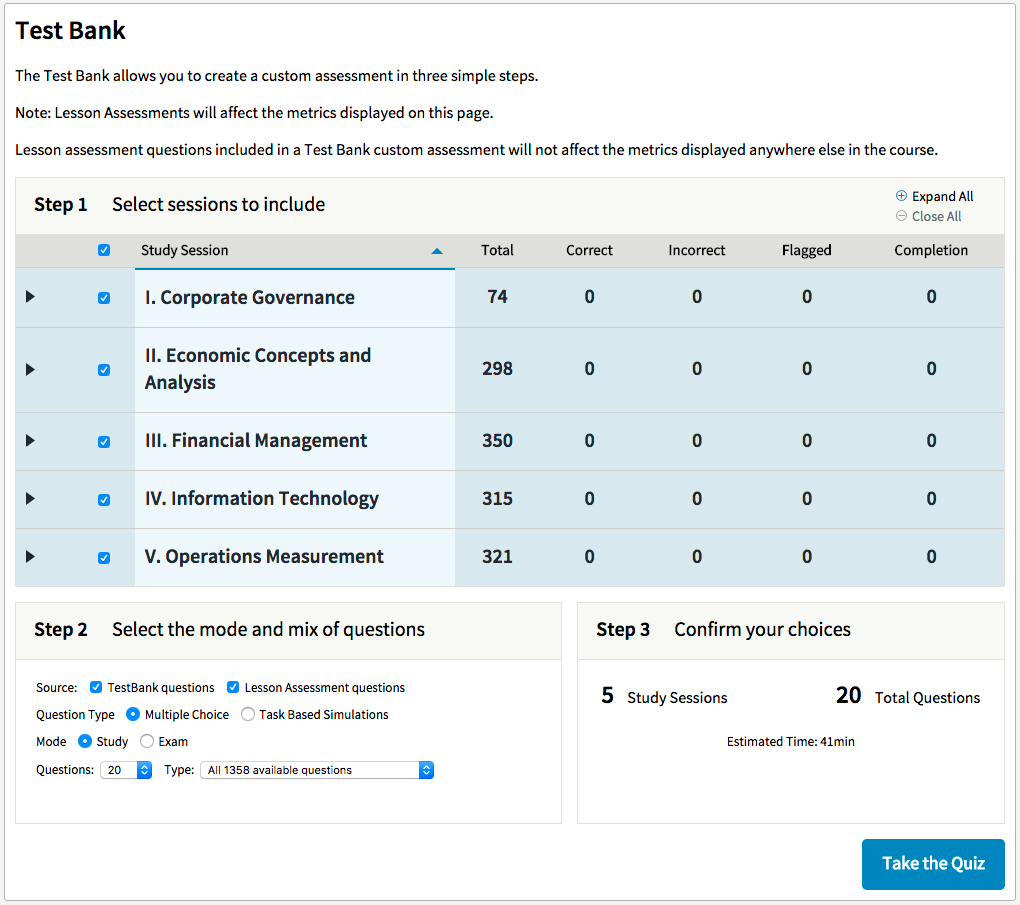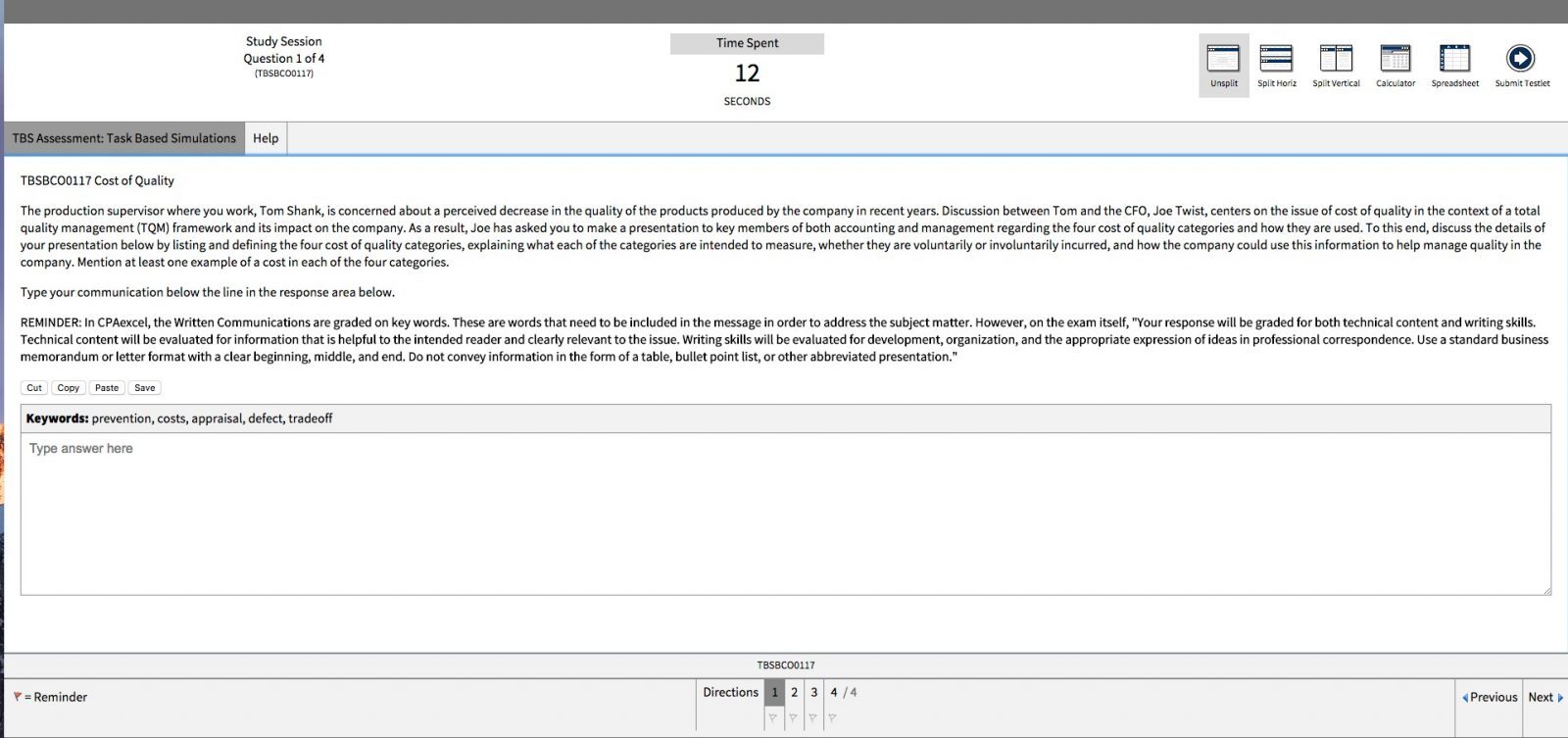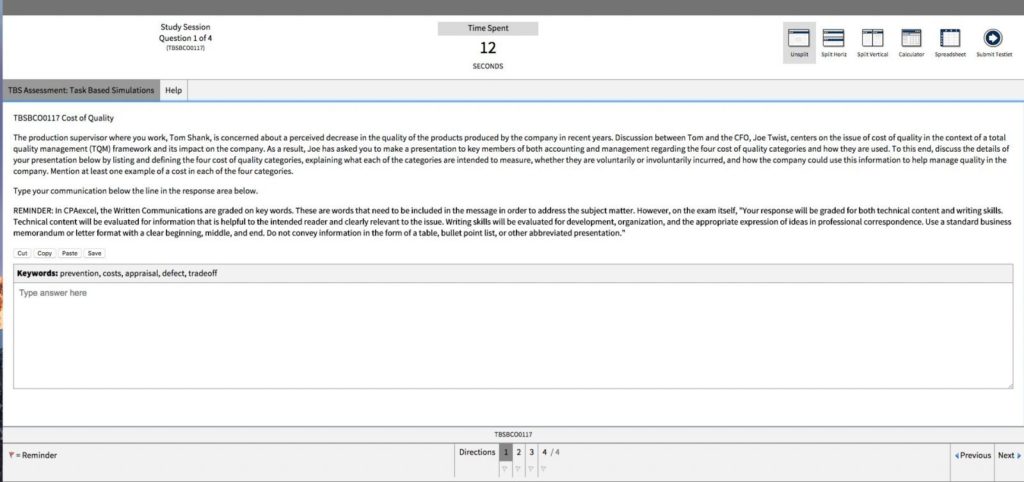 Task-Based Simulations
Wiley not only provides you with tons of multiple choice questions, but also includes 600 task-based simulations (TBSs). This is key, as the new CPA Exam that was introduced in April of 2017 is structured so that TBSs make up half of the sections (except for BEC, where TBSs make up 35% of the section).
I remember seeing identical problems on the CPA Exam that I had practiced with in my Wiley CPAexcel review course (with different numbers, of course). Wiley provides you with a significant number of practice sims, so you'll be well prepared.
Practice Exams
Once you have finished all the coursework, you get to practice with a Simulated CPA Exam that is exactly the same format as the real deal. It is broken down into three separate multiple-choice sections and a task-based simulation portion that is timed just like the live exam. At the end of the test, you will receive your grade and a breakdown of which topics you did well on and which ones you need to go back and study.
Wiley CPAexcel not only tells you which questions you missed but also gives a good explanation of how the correct answer is calculated. A large portion of my learning happened here, as I would repeatedly take the Simulated CPA Exam, review all of my wrong answers, and then take it again until I consistently scored in the 85-90% range. You'll have unlimited practice tests with a bunch of new questions each time you retake this test, giving you the repetition and practice needed to pass the CPA exam.
On top of these practice exams, Wiley provides you with 6,200 true/false questions throughout every section that serve as "proficiency questions." These help gauge your understanding of a particular section and if you need to spend more time on it.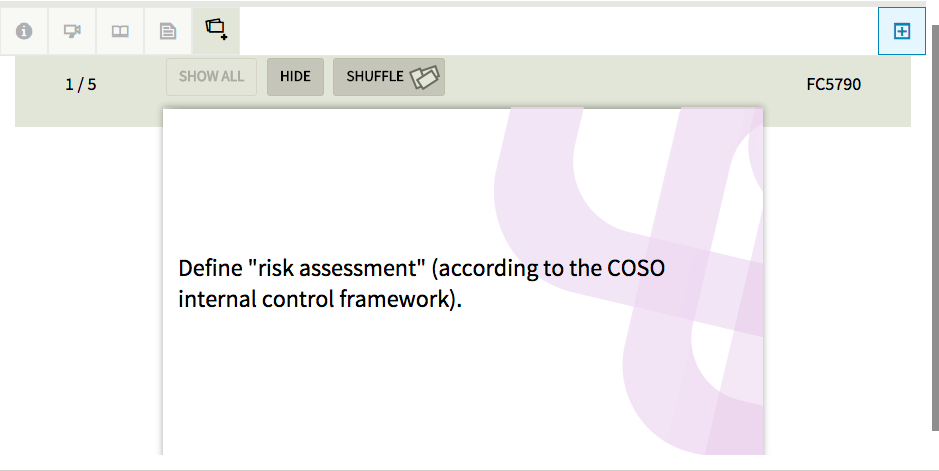 Flashcards
Wiley CPAexcel comes with 4,200 double-sided digital flashcards containing important definitions and key topics. The platinum course comes with 1,000 printed flashcards to reinforce and improve retention, but the digital ones are great because you can use them anywhere from your phone, tablet, or laptop.
Get Discounts On CPA Review Courses!
Video Lectures
Wiley's video lectures are broken down into small 30-45 minute sections that make studying seem less overwhelming. This is great if you have a full-time job and/or children that take up large chunks of your study time. You will be able to go through the 110 hours of video lecture in bite-sized lessons, making it much easier to remember information.
In terms of how engaging the Wiley video lectures are, I found them to be a bit dry in presentation compared to other review courses I've tried. This may be preferable to you though since the info is to-the-point instead of fluffed up with entertainment.
Dashboard/UX
When you first log into Wiley CPAexcel, you will be greeted with a study dashboard that lays out the entire plan for your study schedule. The study planner is automated and easy to customize to your time constraints. This flexibility was great for me because study delays became inevitable, as you will soon learn when you begin to prepare for the CPA Exam.
For each section, you will be given a lecture, the corresponding study material, and then exam questions to answer. You will also get the slides from the lectures, more questions to test your proficiency, electronic flashcards, and then access to the CPAexcel Mentored Discussion Forum.
Wiley's course was a bit confusing at first, but I found it to be user-friendly once I spent more time with it. It took me an hour or two to figure out how everything worked, but once I went through the course tutorial and started working with the practice questions, I found that the course was very easy to use!
Customer Support
Wiley's customer support is pretty impressive but not as immediate as I would have liked. You have access to a 24/7 live chat within your course that you can use to get tech support. For technical questions, I would receive a response in seconds to any quick question I had about how to use the course, which helped ease my stress of being initially confused on how to use the software.
However, for CPA-related questions, the service wasn't as great as the tech side of things. You can ask the live chat for someone to email questions about the content. Once you email your question, it can take a day or two to get a response via email to your content related question. The most popular questions have already been answered in the student discussion boards, where you can add a new topic to discuss or read archived ones.​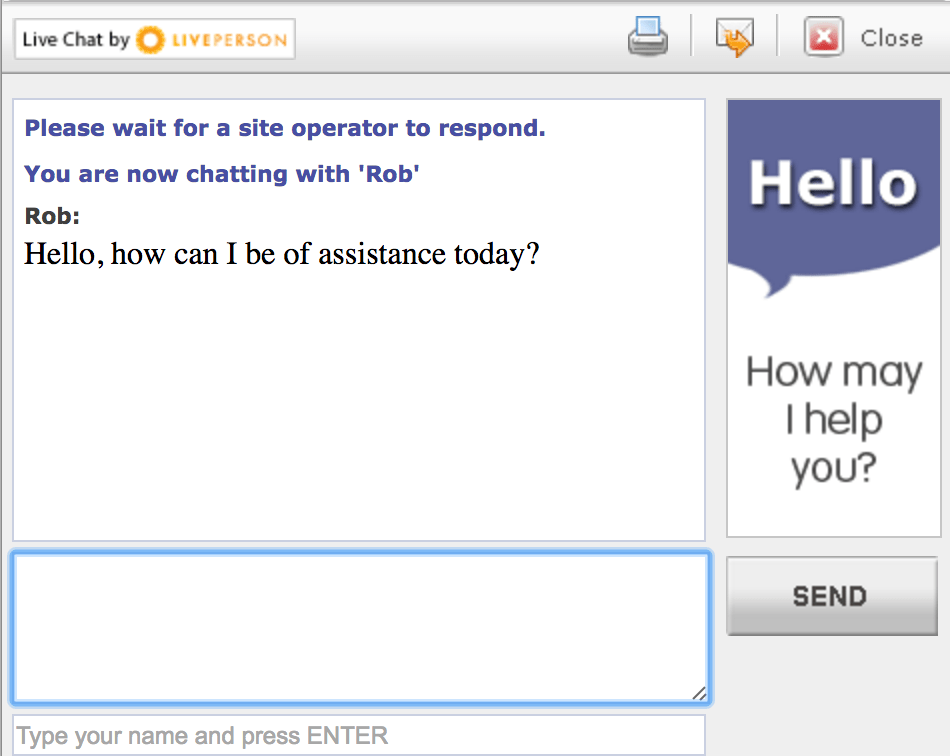 Course Access and Updates
One of the best parts about Wiley CPA is the unlimited access. When you purchase the course, you will be able to use all of its study tools without having to worry about your course expiring. Plus, you can update your course for free!
You can use the Wiley software from your smartphone (iOS and Android), laptop, and tablet. So feel free to use as many videos, quizzes, and course materials as you want from whatever device you desire, as Wiley works with everything!
Related Posts
Crush The CPA Exam Scholarship Program
2017 CPA Exam Changes
Colorado CPA Exam & License Requirements
Connecticut CPA Exam & License Requirements
North Carolina CPA Exam & License Requirements
Reduce Your CPA Exam Study Time By 116 Hours!
What Course Packages Does Wiley CPAexcel offer?
There are three different versions of Wiley CPAexcel that you can pursue: Silver, Gold, Platinum – all of which you can save on by checking out our discounts page. Hands down, Wiley CPAexcel Platinum is the most comprehensive CPA review course on the market. The Silver and Gold packages are not as popular as the Platinum, but you may choose these packages depending on what type of student you are. Let's see what's included in each course!
Wiley CPAexcel FAQs
Here are the answers to Wiley's most frequently asked questions!
Q: What resources are available for learning how to use the new course?
A:  You'll find a Product Tour videos on the most popular features of Wiley's course. It outlines how to study with the new course in three easy steps: Plan, Study, Assess.
Q: Is the online study material (text, video, practice questions, etc.) the same in both versions?
A: Yes. The content is identical in all versions of the course.
Q: Is the new Wiley CPAexcel course available offline?
A: No. It is only available online. However, the mobile app allows you to study offline. Printed books also come standard with all of the Wiley review course packages for offline study.
Q: I see there are two practice exams, why?
A: The new course features two new practice exams, each designed to mimic the actual CPA Exam with a unique set of questions selected by subject-matter experts. Additionally, you will have unlimited practice exams with questions dynamically pulled from the course. Keep in mind that these are questions you may have seen before while studying.
Q: Which is better, Wiley CPAexcel or Roger CPA Review?
A: Although these two courses may seem similar at first glance, the truth is that Wiley offers the better overall product. While Roger's recent UWorld software update may seem to offer similar functionality to Wiley's Efficient Learning System, numerous complaints from students indicate that Roger fails to offer the same convenience.
Q: How can I contact Wiley if I have further questions or feedback.
A: You can contact Wiley here!
Wiley CPAexcel vs. Becker
Which CPA review course is better, Wiley CPAexcel or Becker CPA Review? I have used both of these courses extensively and found significant differences worth noting. For starters, Becker is the most expensive course on the market and will cost you $3,393. Wiley, however, is more affordable and can cost anywhere between $1,700 and $2,800, depending on what full course package you purchase.
Wiley also offers better accessibility and updates. Becker's software expires after 18 months which can end up costing you more money and time. And if you need to renew your access, Becker will charge you 50% of the original course cost. Wiley, on the other hand, gives you unlimited access and free updates.
When it comes to the course content, Becker still falls behind Wiley. Becker's books are overly fanciful and the reading material is dry and difficult to get through. Wiley breaks apart the information and gives you bite-sized lectures making it much easier to retain all the information. No one can compete with Wiley's 12,000 multiple choice questions, 600 task based simulations, and 6,200 true/false questions. Becker includes only 7,200 multiple choice questions and 400 task based simulations.
Clearly, the value of Wiley far outweighs Becker, but check out their demos to see which course works best with how you learn! If you want a more detailed comparison, check out my article Wiley CPAExcel vs. Becker CPA Review.
Who is Wiley CPAexcel Best For?
Overall, Wiley CPAexcel is a good course that is ideal for you if you have a full-time job, kids, a spouse, or any other serious time commitments in your life. In my opinion, this is the only way to go if you do not have the luxury to devote all your time to the CPA Exam.
I personally used this course and was able to pass all four sections of the CPA exam on my first try in 9 months while also working 50 hours a week. I attribute much of my success to CPAexcel's bite-sized lectures that made it easier to absorb and retain information. Check out Wiley's free demo to see if you would benefit from this course like I did!
Wiley CPAexcel Course Updates
Wiley has updated its content to reflect some of the changes to the AICPA Blueprints. Also, the content has been analyzed with respect to presentation and assessment to ensure that you are prepared to answer questions at the appropriate cognitive level.
The majority of the changes are structural in nature and the practice exams have been adjusted to mirror the new testlet format of the CPA exam. Below are the improvements made to Wiley's course, broken down by exam section.
Wiley CPAexcel Review
Average rating:
39 reviews
Jan 28, 2020
Very frustrating product. The archived teaching classes are very good if 1) they are available, and 2) the content matches the description. I have been using Wiley for 2 months and already found 2 huge errors and spend hours on the phone and online with Wiley trying to resolve them. I would probably search elsewhere for a better product and better service.
Jan 6, 2020
I took my CPA exam in 2014, and I used Wiley's material. I sort of like it. I think the material is very comprehensive, and it covers nearly all the topics in the exam. The explanation is very detailed. But there are two problems. One, Wiley actually covers a lot more than what the exams cover, so I actually "wasted" quite some time learning and memorizing these items, which eventually are not part of the exam. And two, for some topics, Wiley does not have very good examples (in fact, it does not provide examples on some of them). So understanding the materials, sometimes, may be difficult, particularly when one is not familiar with the subject. I literally went back to my textbook (and did a lot of online searching) in order to understand the concepts.
But overall, Wiley helped me passed the exam. I am satisfied with it.
Dec 11, 2019
After checking the reviews of all the top review courses i was left really confused. So I tried demo for Wiley and Becker. Becker has good videos but its too fast and its hard to remember the concept for long. I chose Wiley because their videos had better examples and short concepts but they had a good pace. I am a person who is out of college since 4 years and have been working in Tax so it was important for me that I understand accounting and auditing really well and not just memorize things to pass somehow with 75.
Nov 20, 2018
The progression of the course material was good. The bite size video is also really helpful so that I can take time to absorb the information before moving on to another topic. The questions are tough and i would say that it is good because it helps me get use to the way the CPA exam questions would be presented.
Nov 13, 2018
Worst software you'll ever use. A million bugs that literally destroy your schedule. I requested they fix a bug, they said "Just make sure you use incognito mode every time you login." That's not a solution, that's a time-consuming workaround. I liked Wiley from my accounting courses, but seriously, this course is an absolute no-go. I feel bad for the instructors and people who write the material because they do a great job, while the technology side of things is by far the worst course/learning software I've every used in my life, hands down. I can't emphasize this enough - GET ANY OTHER CPA REVIEW COURSE BESIDES THIS ONE. I literally took time out of my day to criticize a software, that's how bad it is.
Oct 14, 2018
I have use Wiley CPAExcel to pass three sections. My favorite study material is the dashboard and test banks, which contain a large number of question that cover all the material in great detail. The look and feel of the questions are very similar to the real exam. Their customer service is also great, I have contacted them a couple of times and they are quick to respond and provide different ways, like through live chat, email, or phone. I really recommend the CPA Excel course to everyone looking for a complete study course, prices are super reasonable as well, they offer a free trial and many significant discounts and promotions.
Oct 9, 2018
When it works its fine (not good, just fine). Far too many content errors and website issues for such an expensive product. There are much better options out there that are far cheaper. I regret wasting money on Wiley.
Oct 8, 2018
The Wiley CPAReview is a good tool for studying for the CPA exam. The major factor in my deciding to go with Wiley CPAReview was the amount of material compared to similar options. Also, the Wiley CPAReview package does not have a time limit. Because life happens, I wanted longer time for finished CPA course.
Oct 3, 2018
I enjoy using this package. The videos presented the information clearly and concisely. Some of the auditing was boring. The dashboard was very helpful and let me know when I was falling behind. I liked that the courses were small and the quizzes let you know what areas you need to work on. It is a great value for the money. The discounts available really help.
Oct 3, 2018
I loved the Wiley CPA products. The material really go in depth and teach you the underlying concepts. I never needed the videos, but the ones I watched helped to clarify and change things up from just reading. What I loved most were the questions. There were so many I couldn't even get through them all. I felt more than prepared using Wiley. I also appreciated the price point; though still pricey it was less than others. The online dashboard is very easy to navigate and the live chat feature is excellent when needing updated text or to renew your products (if it takes you longer than the 1 year).