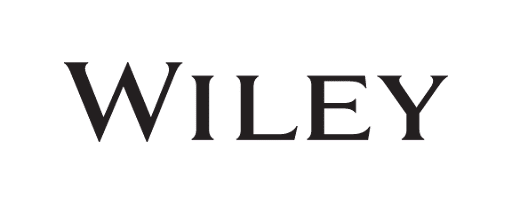 CRUSH RATING: ★★★★★
The recent transition of Wiley CPA Review under UWorld's wing brings about concerns regarding its long-term prospects. At this juncture, we're refraining from recommending Wiley.
Hey there, future CPA! If you're knee-deep in the quest to find the best study buddy for that looming CPA Exam, you've likely come across the name Wiley CPA. It's been around the block, helping countless folks like us crunch numbers and decode tax codes. But is it the right fit for you? We've taken a deep dive into Wiley's CPA course options, breaking down the good, the bad, and the "is-this-worth-my-money?" So, grab a coffee (or two), and let's see if Wiley CPA is your ticket to CPA success.
Spoiler: No fluff, just facts ahead.
Overview of Wiley CPA Review Course 2023
Course snapshot (product details):
Course access until you pass guarantee
Free course updates
17,000+ multiple-choice practice questions (including Mobile App content)
500+ task-based simulations (including Mobile App content)
140+ hours of video lectures
4,000+ digital flashcards and 1,000 physical flash \cards
Bite-sized (around 30-minute) lessons
Built-in exam planner
Unlimited practice exams
Study guides matched to Wiley's lessons and software
Mobile App with additional practice questions and TBS
Online support with subject-expert professors
Virtual Classroom Series
Focus Notes with acronyms and mnemonics (print and ebook included)
11th Hour Final Review for Platinum Students
Wiley CPA Updates
Whenever the AICPA updates the CPA exam to match changes in the accounting industry, Wiley updates their course material to match. Their latest update adds new content to their AUD library, including videos, practice questions, and detailed explanations in text passages. Additionally, some of the terminology in their FAR section has also been updated, and more emphasis has been placed on Microsoft Excel proficiency.
What's Included in Wiley CPA's Review Course?
Multiple-Choice Questions
With a staggering amount of multiple choice questions (over 17,000 of them!), Wiley offers more practice questions than most other review course on the market. You can also organize how you practice with these questions in dozens of different ways. Keep in mind, however, that you're probably not going to make it through/need all of these questions!
You will have multiple-choice quizzes that are in the exact same computer format as the real CPA Exam. The questions are timed at an average of 2 minutes per MCQ, so you will be practicing in the most exam-like conditions. Wiley does a good job at preparing you for the real test format thanks to its aesthetics and layout.
Once you finish your quiz or run out of time, you will see your grade and the questions you missed. You can then go over the detailed explanations behind your incorrect answers and why you got the question wrong. This helps you target the areas in which you need more practice.
Although this massive bank is one of the reasons many CPA candidates go for Wiley, not all have been satisfied with the question quality. In fact, several online reviews mention the fact that, with some sections, the quality of the questions can't hold a candle to that of the actual CPA exam.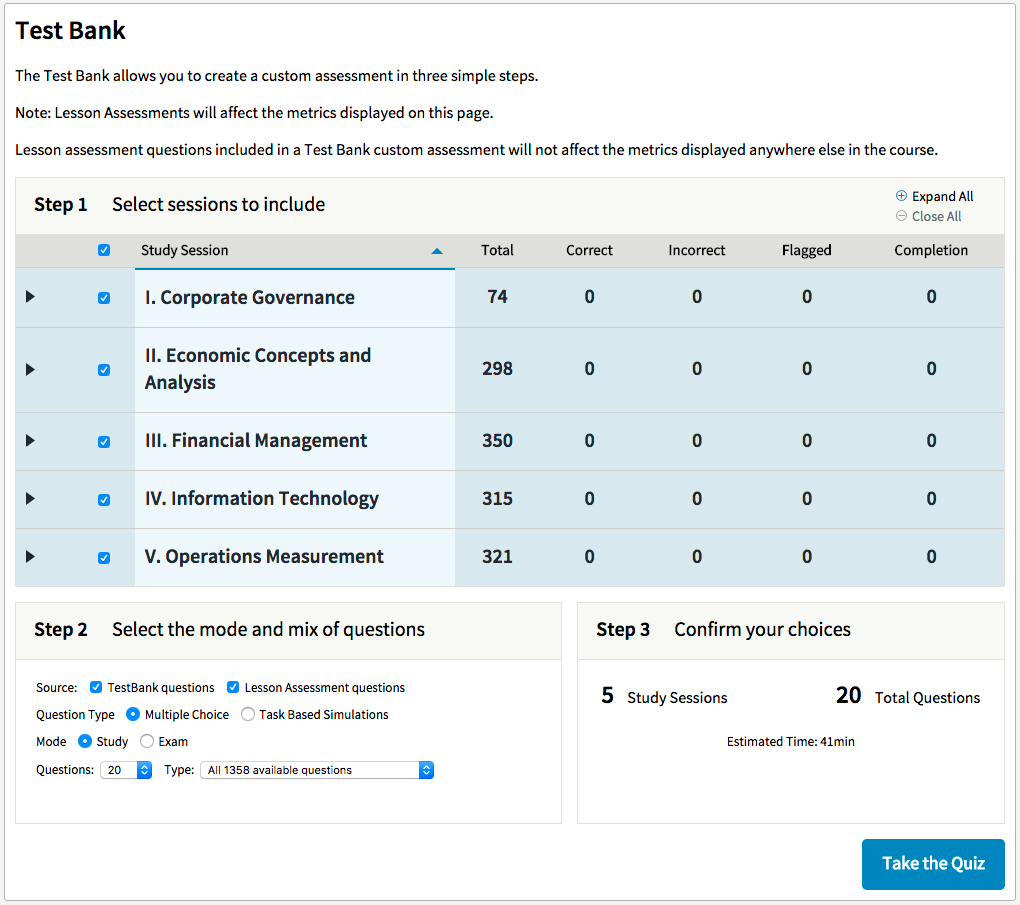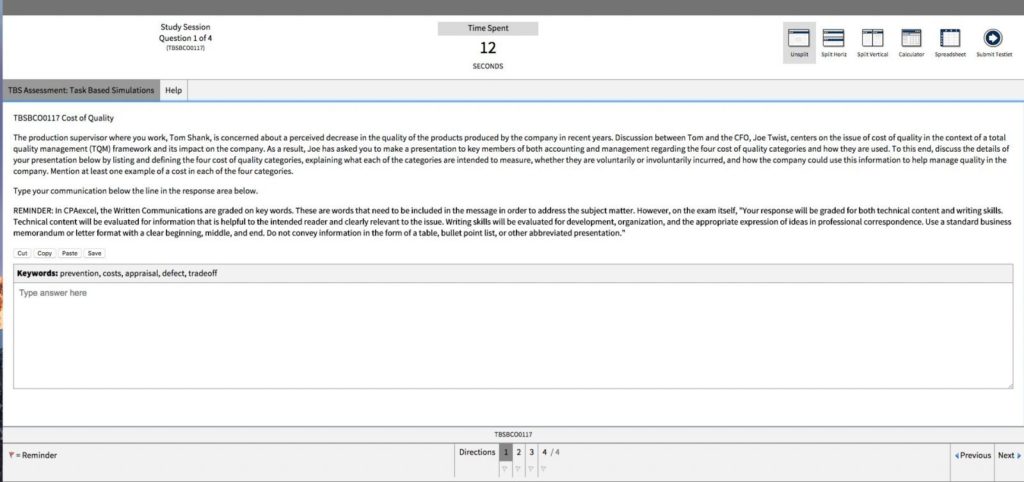 Task-Based Simulations
Wiley doesn't just stop at giving you a plethora of multiple-choice questions; they go the extra mile by throwing in over 500 task-based simulations (TBS). And here's why that's a big deal: TBS questions aren't just fill-in-the-blanks; they're intricate, complex, and designed to truly test your grasp on the material. Considering that these TBS questions form a whopping half of most CPA exam sections (with the BEC being the outlier where they make up 35%), having ample practice in this area is crucial. And Wiley gets that.
By offering such a substantial number of TBSs, Wiley ensures you're not just memorizing answers but truly understanding the concepts, giving you the confidence to tackle even the trickiest of questions on exam day.
Mobile App
Although this company didn't have the best track record in the past, their recently updated mobile app for iPhones, iPads, and Android is one of the most impressive currently available for CPA students. This allows you to quickly switch between video lectures, flashcards, and practice exams. As you complete these materials, Wiley synchronizes your progress with all other logins— so you can pick up from where you left off when switching between your phone and PC.
What's even more impressive about Wiley's mobile app is the fact that you can access content offline by downloading it directly to your device. This is a rare feature among test prep mobile apps, and it makes it significantly easier to have a quick study session while commuting or in an area with spotty service.
Practice Exams
Once you have finished all the coursework, you get to practice with a Simulated CPA Exam that is exactly the same format as the real deal. It is broken down into three separate multiple-choice sections and a task-based simulation portion that is timed just like the live exam. At the end of the test, you will receive your grade and a breakdown of which topics you did well on and which ones you need to go back and study. You'll have unlimited practice tests with a bunch of new questions each time you retake this test, giving you the repetition and practice needed to pass the CPA exam.
On top of these practice exams, Wiley provides you with 5,000+ true/false questions throughout every section that serve as "proficiency questions." These help gauge your understanding of a particular section and if you need to spend more time on it.
Let's keep it straight: We've heard feedback from some CPA aspirants who feel that Wiley's mock exams aren't quite mirroring the actual CPA exam closely enough. Now, why is that concerning? Well, mock exams are supposed to be your dress rehearsal. If they're not closely aligned with the real deal, you might be walking into the exam room with a skewed sense of preparedness. It's like training for a marathon on flat ground only to discover the actual race is full of uphill climbs. You want your mock tests to best replicate the real experience so you're truly ready for what's to come.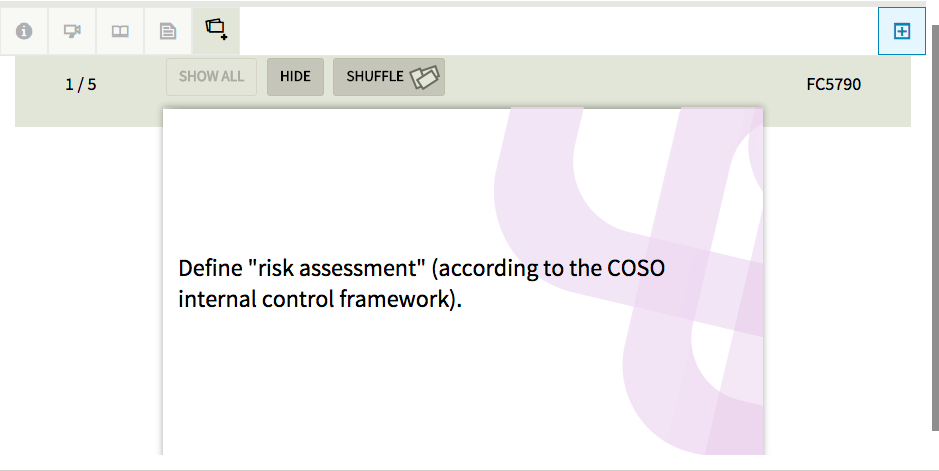 CPA Flashcards
Wiley CPA comes with 4,200 double-sided digital flashcards containing important definitions and key topics. The platinum course comes with 1,000 printed flashcards to reinforce and improve retention, but the digital ones are great because you can use them anywhere, from your phone, tablet, or laptop.
Video Lectures
Wiley's video lectures are broken down into small 10- to 30-minute sections that make studying seem less overwhelming. This is great if you have a full-time job and/or children that take up large chunks of your study time. You will be able to go through the 140+ hours of video lectures in bite-sized lessons, making it much easier to remember the information.
In terms of how engaging the Wiley video lectures are, we've found them to be a bit dry in their presentation compared to other review courses we've tried. This may be preferable to you, though, since theinformationo is to the point instead of fluffed up with entertainment.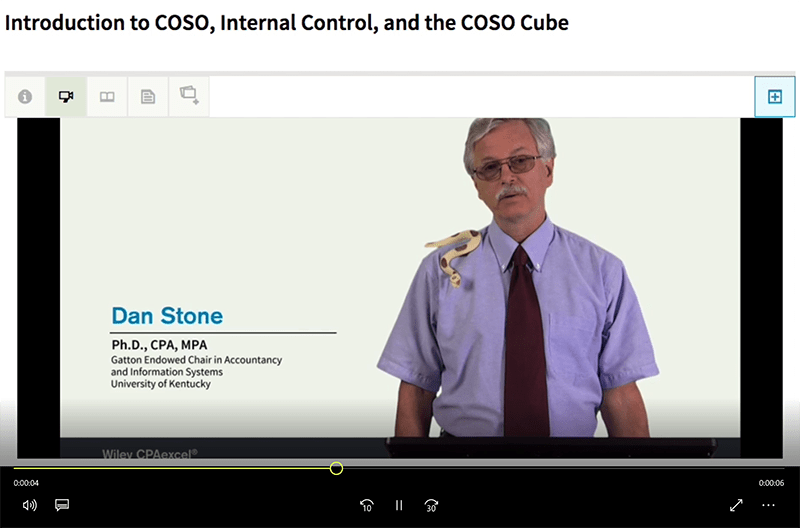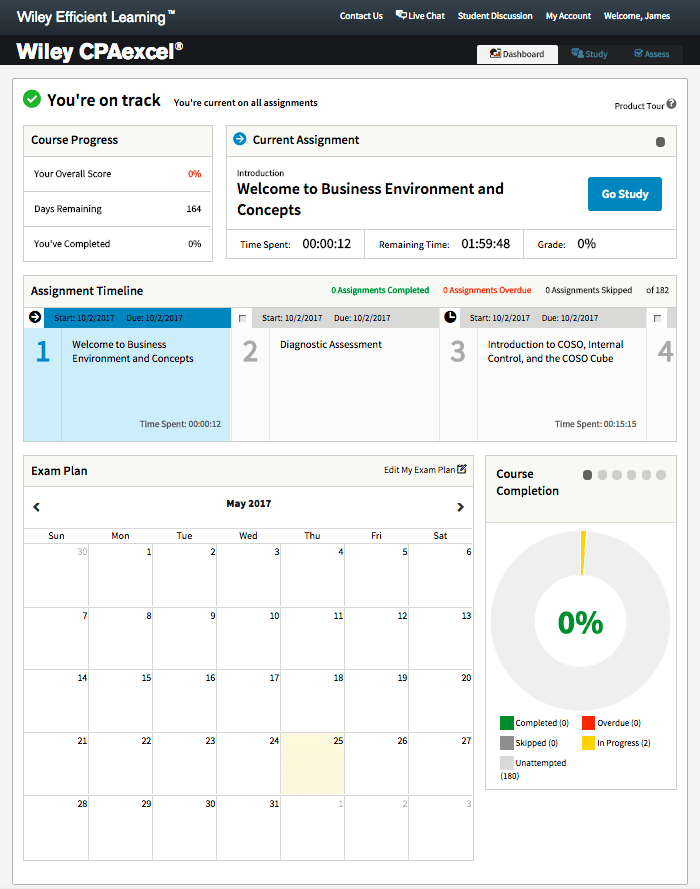 Dashboard/UX
When you first log into Wiley CPA, you will be greeted with a study dashboard that lays out the entire plan for your study schedule. The study planner is automated and easy to customize to your time constraints. This flexibility was great for me because study delays became inevitable, as you will soon learn when you begin to prepare for the CPA Exam.
For each section, you will be given a lecture, the corresponding study material, and exam questions to answer. You will also get the slides from the lectures, more questions to test your proficiency, electronic flashcards, and access to the CPA Mentored Discussion Forum.
Wiley's course was a bit confusing at first, but we found it to be user-friendly once I spent more time with it. It took our reviewer an hour or two to figure out how everything worked, but once we went through the course tutorial and started working with the practice questions, we found that the course was very easy to use!
Customer Support
Wiley's customer support is pretty impressive but not as immediate as we would have liked. You have access to a 24/7 live chat within your course that you can use to get tech support. For technical questions, we would receive a response in seconds to any quick question we had about how to use the course, which helped ease the stress of being initially confused about how to use the software.
However, for CPA-related questions, the service wasn't as great as the tech side of things. You can ask the live chat for someone to email you questions about the content. Once you email your question, it can take a day or two to get a response via email to your content-related question. The most popular questions have already been answered in the student discussion boards, where you can add a new topic to discuss or read archived ones.​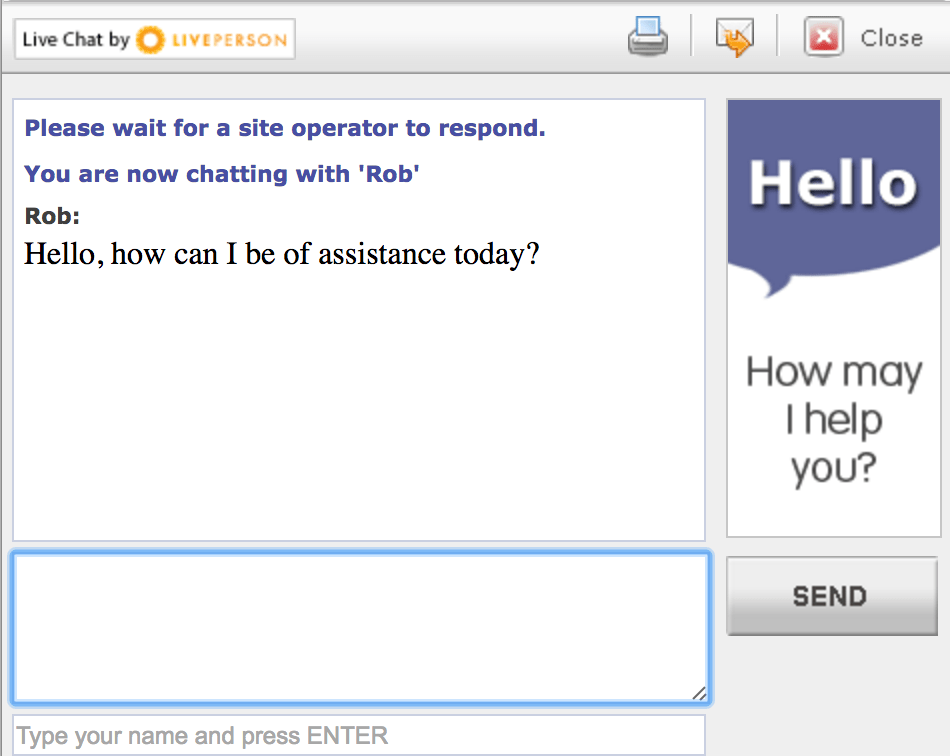 Course Access and Updates
One of the best parts about Wiley CPA is the unlimited access. When you purchase the course, you will be able to use all of its study tools without having to worry about your course expiring. Plus, you can update your course for free!
You can use the Wiley software on your smartphone (iOS and Android), laptop, and tablet. So feel free to use as many videos, quizzes, and course materials as you want from whatever device you desire, as Wiley works with everything!
Related Posts
Crush The CPA Exam Scholarship Program
2017 CPA Exam Changes
Colorado CPA Exam & License Requirements
Connecticut CPA Exam & License Requirements
North Carolina CPA Exam & License Requirements
Reduce Your CPA Exam Study Time By 116 Hours!
What Course Packages Does Wiley CPA offer?
There are three different versions of Wiley CPA that you can pursue: Pro, Platinum, and Ultimate (all of which you can save on by checking out our Wiley CPA discounts page). Hands down, Wiley CPA Platinum is the most comprehensive CPA review course on the market. The other packages aren't as popular as the Platinum, but you may choose these packages depending on what type of student you are. Let's see what's included in each course!
Wiley CPA FAQs
Here are the answers to Wiley's most frequently asked questions!
Q: What resources are available for learning how to use the new course?
A: You'll find a Product Tour videos on the most popular features of Wiley's course. It outlines how to study with the new course in three easy steps: Plan, Study, Assess.
Q: Is the online study material (text, video, practice questions, etc.) the same in both versions?
A: Yes. The content is identical in all versions of the course. However, Platinum and Ultimate students have access to exclusive content, including the 11th Hour Final Review.
Q: Is the new Wiley CPA course available offline?
A: No. It is only available online. However, the mobile app allows you to study offline. Printed books also come standard with all of the Wiley review course packages for offline study.
Q: I see there are two practice exams. Why?
A: The new course features two new practice exams, each designed to mimic the actual CPA Exam with a unique set of questions selected by subject-matter experts. Additionally, you will have unlimited practice exams with questions dynamically pulled from the course. Keep in mind that these are questions you may have seen before while studying.
Q: Which is better, Wiley CPA or Roger CPA Review?
A: Although these two courses may seem similar at first glance, the truth is that Roger offers a better overall product. Still, we recommend Becker CPA over both of these options.
Wiley CPA vs. Becker
Which CPA review course takes the lead, Wiley CPA or Becker CPA Review? After diving deep into both courses, we've pinpointed notable distinctions between the two. Initially, it's evident that Becker comes with a heftier price tag, making it one of the pricier options in the market. In contrast, Wiley offers a range of price points, making it a more budget-friendly option depending on the package you opt for.
Becker enjoys immense popularity among professional accountants and boasts endorsements from the Big 4 Accounting Firms. While Wiley might not share that same spotlight, its two-century-long history in education instills a sense of credibility and trustworthiness.
Delving into course content, it's a battle between Becker's focus on quality and Wiley's emphasis on quantity. Wiley boasts a vast reservoir of multiple-choice questions, task-based simulations, and true/false questions. Meanwhile, Becker offers a comprehensive set of questions and simulations that, although fewer in number, are meticulously detailed and paired with in-depth answer explanations.
Either course can appeal to different students; check out their demos to see which course works best with how you learn! If you want a more detailed comparison, check out our article Wiley CPA vs. Becker CPA Review.
Who is the Wiley CPA Review course best for?
In the past, we recommended the Wiley CPA Review course for individuals who appreciated a rich history in educational content, those who leaned towards a more self-paced learning environment, and candidates seeking exhaustive question banks to test their comprehension thoroughly. Wiley's long-standing reputation and expansive content made it a go-to for many who desired an in-depth and comprehensive study experience.
However, with the recent acquisition and the uncertainty surrounding the future direction of Wiley CPA, we find ourselves in a position of hesitation. The potential changes and adjustments in course content, structure, or accessibility could impact its efficacy. Thus, while we recognize the strengths Wiley historically brought to the table, we currently advise prospective CPA candidates to approach with caution and consider other stable options until the post-acquisition landscape becomes clearer.