07 Jan

2017 CPA Exam Changes

With all of the changes to the 2017 CPA Exam, it's important to understand what you're getting into. While change is always scary, it's not an excuse to put off taking the test. In fact, there may be some advantage to taking the new exam before all of the dust settles.

So, should you start studying now and take the exam regardless of the changes? Yes, yes, and yes again. You should put some time and effort into choosing which review course, however, as certain companies have incorporated the exam changes into their products. Surgent CPA Review, for example, started altering their course in the fall of 2016, making sure it would be ready for the new exam rollout.

The new CPA Exam has been in the making since 2013, with the AICPA conducting a rigorous research program known as a practice analysis, to help the exam evolve alongside the industry. The aim of the practice analysis research is to understand how the exam should evolve—the aim is to have the exam be topical and relevant while also ensuring CPA candidates are tested on skills necessary to ensure businesses and individual clients are well-served by their CPAs. Without further ado, let's get to the CPA exam changes of 2017.
Why is There a New CPA Exam in 2017
The practice analysis revealed an increased demand for higher-order cognitive skills and evaluation of work increasingly outsourced or conducted through technological advances. Other findings concluded the necessity for testing for these higher-order skills, as they are more and more necessary for analyzing financial and tax information and utilizing critical thinking in using professional judgement. The CPA Exam is changing to reflect this new need for analytical and evaluative skill sets.
What is Changing on the CPA Exam
The overall design of the CPA Exam isn't changing too drastically. The content is still the same and broken down into the same 4 sections: AUD, BEC, FAR, and REG. However, a shift in emphasis has changed how weighted the multiple choice questions (MCQs) and task-based simulations (TBSs) are, compared to previous years. This change comes from the implementation of a slightly altered form of Bloom's Taxonomy of Educational Objectives.
All four sections have increased the number of TBSs—BEC now has 4-5, instead of 0—while lowering the number of MCQs (except for REG which has increased by 4). The BEC and REG sections are gaining an extra hour to account for the increase in TBSs. The increased TBSs and weighting of their impact on the score are how the CPA Exam will assess higher-order skills.
How the CPA Exam is Scored and Weighted – 2017 to current

The new CPA Exam places more emphasis on Application, reduces the impact of Remembering & Understanding, and adds Analysis and Evaluation to the mix. While AUD is the only section to assess Evaluation, the TBSs increase Application and Analysis importance for both REG and FAR. Even BEC will feature TBSs.
The current landscape of the CPA Exam utilizes MCQs only for Remembering & Understanding, whereas the new exam will include Application assessment to the MCQs. Likewise, the TBSs are going from only assessing Application to also judging a candidate's skills in Analysis and Evaluation. The Written Communication will still assess a candidate's skill in Application. This is how the weighting of MCQs and TBSs is changed.
CPA Exam Scoring: 2016 vs 2017
AUD

BEC

FAR

REG

2016

60% MCQ

40% TBS

85% MCQ

15% WC

60% MCQ

40% TBS

60% MCQ

40% TBS

2017

50% MCQ

50% TBS

50% MCQ

35% TBS

15% WC

50% MCQ

50% TBS

50% MCQ

50% TBS
New CPA Exam Structure
Each section has been altered to allocate for the new emphasis on higher-order skills. This table shows the change in how many of each type of assessment each section of the CPA Exam will feature.
| | | | |
| --- | --- | --- | --- |
| | MCQ | TBS | WC |
| Section | 2016                  2017       | 2016                  2017 | 2016                  2017 |
| AUD |  90                      72 | 7                          8 | N/A |
| BEC |  72                      62 | N/A                    4 | 3                      3 |
| FAR |  90                      66 | 7                          8 | N/A |
| REG |  72                      76 | 6                          8 | N/A |
In addition to both BEC and REG increasing in time allotment from 3 to 4 hours, each section will feature a standardized break of 10-15 minutes that will not count against test time. Optional breaks between testlets that do count against time are still allowed.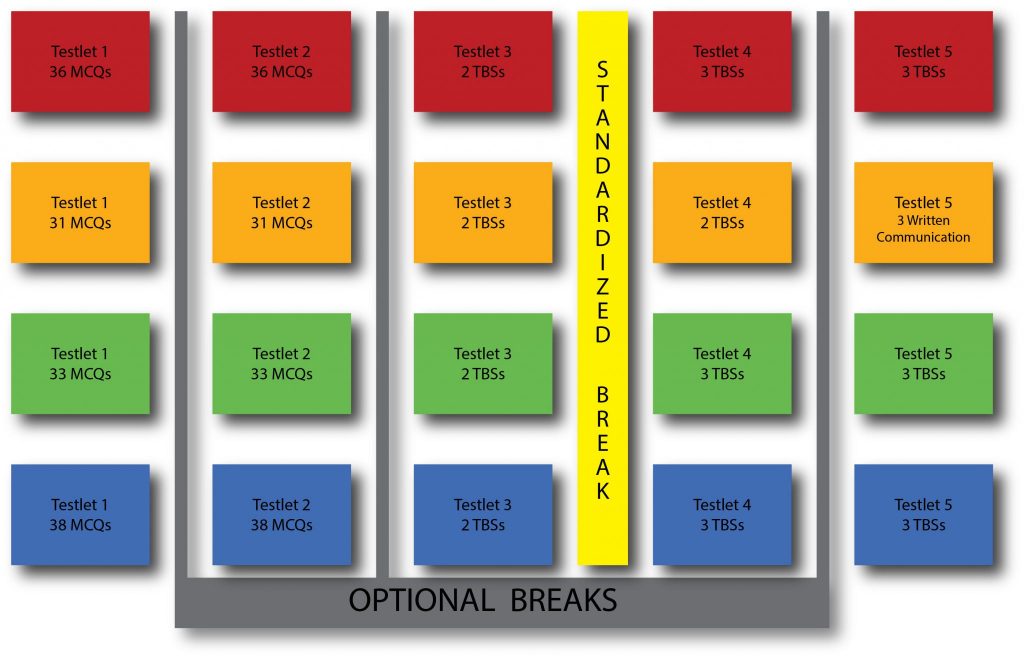 How to Prepare For Your CPA Exam
While these changes are definitely going to increase the difficulty of the CPA Exam, it is for the better. And you don't have to worry about CPA prep courses being outdated. Many of the top providers are part of the project analysis, helping to guide change in a way that isn't going to make it impossible to pass. This means all their coursework is updated to help properly prepare you to take the CPA Exam.
You'll definitely want to read through my reviews of the Top Rated CPA courses, as I'm going through each of them to assess how much they change in accordance with the new exam and how well those changes are implemented. Times are changing and we have to change as well. Just remember that you can definitely do it, because if you're reading this then you've already started your biggest journey for change by wanting to become a CPA!