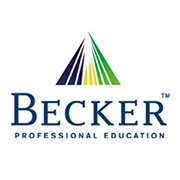 OVERALL RATING: ★★★★★
Becker CPA Review is endorsed by the Big 4 accounting firms and offers three different course formats to choose from: Self-Study, Online, and Live Classes—the Big 4 are probably the only companies that can afford the sky-high price of the course. It is one of a few leading companies that organizes live classes for its students. However, most students say the Live Classes are subpar compared to the Self-Study courses.
Becker's online format could be improved upon quite a bit, but it does let you choose your own pace. Unlike other CPA review courses on the market, Becker does not offer a pass or money back refund. Instead, they have the "Becker Promise," which allows you to retake the course if you do not pass the exam.
The price is a big turn off for CPA exam candidates, and Wiley or Roger is a much better (and more affordable) option.
PROS
1.  Study Materials
Becker offers decent lecture notes, multiple choice questions, software and other primary study materials. Two full practice exams are included for each part of the CPA exam. The textbooks are user-friendly and written in a readable tone.
The notes are arranged in a somewhat logical, easy-to-follow manner. Becker provides over 7,200 multiple choice questions and nearly 400 task-based simulations, which is above the industry average, with answer descriptions that link directly to the applicable eBook pages and lectures.
2. Mobile App
Becker's mobile app is convenient and allows students to study on the go from Apple and Android smartphones and tablets, but it's not anything special. Your study sessions and progress will automatically be synchronized between your computer and mobile devices, making it easy to pick up exactly from where you left off.
3. Structured Format
If your schedule is constantly changing, the online course has a flexible format that can change with your life—that's one of the few positives for this course. You set your own study time with the help from both the Study Roadmap and Study Planner. The former is a course guide that shows you what you need to study and how much time you should spend on it. The latter lets you create a customized study plan that meets your schedule and study habits.
The live classes are tightly structured, meaning you're required to attend classes at a physical location. The self-study course is compatible with both Mac and Windows operating systems.
4. Fast Pass/Intensive
Becker CPA Review offers an intensive 12 week format for students who need to prepare in less time. The accelerated format prepares you for the exam in weeks—not months—and offers the same content.
This course is designed to help you pass all four sections of the exam as quickly as possible This compressed time frame is a decent, but once again overpriced option if you have just graduated from college and want to gain an edge before joining your next employer.
5. Additional Study Material
Supplemental Multiple Choice Questions: If you need extra practice with a single section or all of the exam topics, these supplemental questions will help you solidify your understanding of the material. There's 50 more questions per topic that will help you prepare even further. You can purchase each section individually or bundle all four parts together for a lower cost.
Flashcards: Becker offers flashcards in online and printed formats, which cover all four parts of the exam and include 1,400 cards. Flashcards are convenient, effective tools for memorizing important information on the CPA exam, while also improving your answer speed.
Final Review: If you're close to exam day and need a crash course or refresher, the Final Review is designed to help you focus your study time during the last few days before the test. It covers all four parts of the exam and provides 30 hours of new lectures, 700 more multiple-choice questions and 85 additional task-based simulations.
**These additional study materials must be purchased in addition to the Becker CPA Review Course.
CONS
1. Live Classes Are Inconsistent
Students report that Becker's live classes are inconsistent and can be hit or miss, depending on the instructor and location. I've talked with many Becker students and most agree that the live classes are below par and their online course is much better.
The good thing about the online course is you aren't beholden to your location's instructors; some of the most notable CPA instructors from around the country will be teaching your online lectures. Becker's intuitive multimedia format gives you the utmost freedom and flexibility to plan and study around your schedule, while providing you with comprehensive study materials and in-depth lectures.
2. Expensive
Becker's complete course costs $3,393, making it the most expensive CPA review course on the market. This is a big downside, especially since studying for your CPA exam is already a time consuming and expensive process. You may want to check out some other CPA courses and their discounts if you are not in the position to drop the big bucks on Becker. If you're set on Becker, check out their financing options and discounts, but I'd look elsewhere.
3. No Audio Courses
Becker offers you the option to learn in three different ways: Self-Study, Online, and Live Classes. Since the Live Classes are not the most helpful, that leaves you with one option of online self study. This is a problem if you are an auditory learner. Audio courses can give you more flexibility in your study plan and let you quickly study during down time like commuting, doing laundry, or even at the gym. Check out some other courses that offer audio courses to get the most out of limited study time.
MY SUGGESTION
Becker CPA Review has a decent online course and I'd suggest that you stay away from their Live Classes. I wouldn't recommend the Becker course to anyone who values their hard-earned dollars—if you're rich enough to take this class, you probably don't need to become a CPA!
The Becker course only caters to one specific learning style and is not ideal for a flexible study plan. Even though Becker has been around for a long time, they are definitely not the best option especially if you have a busy schedule and a tight budget.