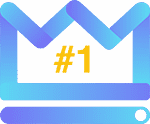 CRUSH RATING: ★★★★★
Becker is the best, hands down. One feature that gives the Becker CPA Review a lead over other courses is that it has the backing of the Big 4 accounting firms. It's also extremely effective at preparing you for your future accounting career; Becker boasts a pass rate of 94% of all enrolled students. We could go on and on about what makes Becker bomb, but it might be better to explore each package yourself using the information below.
If you select Becker, you have a choice of four packages:
1.) Concierge 2.)
Pro 3.)
Premium 4.) Advantage
Becker's Pro, Premium, and Advantage plans have been around for ages. But Becker CPA Review has introduced a new option called Becker Concierge. By signing up for Becker Concierge, you gain access to a dedicated Becker team and your own success coach, who can provide up to 50 weekly one-on-one hour-long tutoring sessions. In addition, you'll have access to the complete 4-part Becker CPA Exam Review course, which comes with free content updates in line with the AICPA's blueprint, including CPA Evolution launching in 2024.
Becker's Final Review and bonus 900+ MCQs are also included, along with printed and digital CPA review textbooks, flashcards, a mobile app, and an award-winning game. With Becker Concierge, you can take advantage of personalized instruction, including online virtual classes and live in-person classes. Plus, you'll have access to 8 simulated exams, 12 mini exams, and unlimited custom practice tests powered by Adapt2U Technology, which will help you prepare for the CPA exam.
If you still need more help, Becker Concierge offers exclusive access to over 7,000 MCQs and 400+ TBS questions, including exclusive SkillBuilder solution videos. And if you're Exam Day Ready SM but still don't pass, Becker will refund up to 100% of the Concierge CPA review purchase price. However, Becker's high pass rate is a testament to the effectiveness of their program, so it's rare that this is needed.
What's more useful is that Becker Concierge includes a bonus one-year CPE subscription and CPE certificate. Overall, the Becker Concierge option provides a comprehensive and personalized approach to preparing for the CPA exam.
PROS
The Best Study Materials
Becker provides excellent online notes and study materials. An outstanding feature of their CPA review courses is that the answers to all practice questions are often linked to a relevant section in the online textbooks. This helps to explain complicated topics and saves time for the student as well.
With Becker, you get access to over 9,200+ multiple-choice questions (MCQs) and about 580+ task-based simulations (TBSs). If you spend enough time on these, you'll have a far greater chance of passing the exam. Additionally, Becker just updated their curriculum with over 1,000 new questions in order to adapt to changes in the exam.
Speaking of practice questions, there's a secret to Becker's mock exams that can give you a huge score boost on all four CPA exam sections. Since their exams are graded differently from the real CPA exam, students who perform well on them do even better on the actual exam, thanks to the "Becker Bump."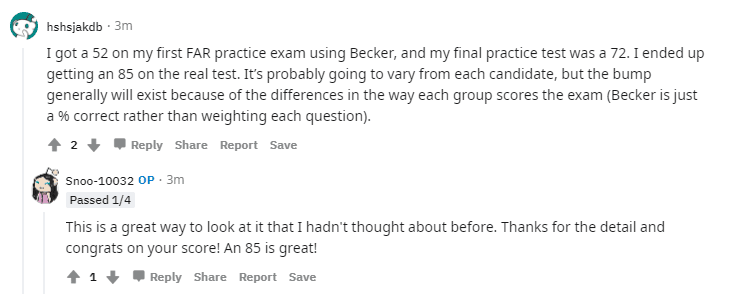 Source: Reddit
Flashcards, extra SkillMaster videos, and expert-led tutoring hours also make Becker popular.
---
Mobile App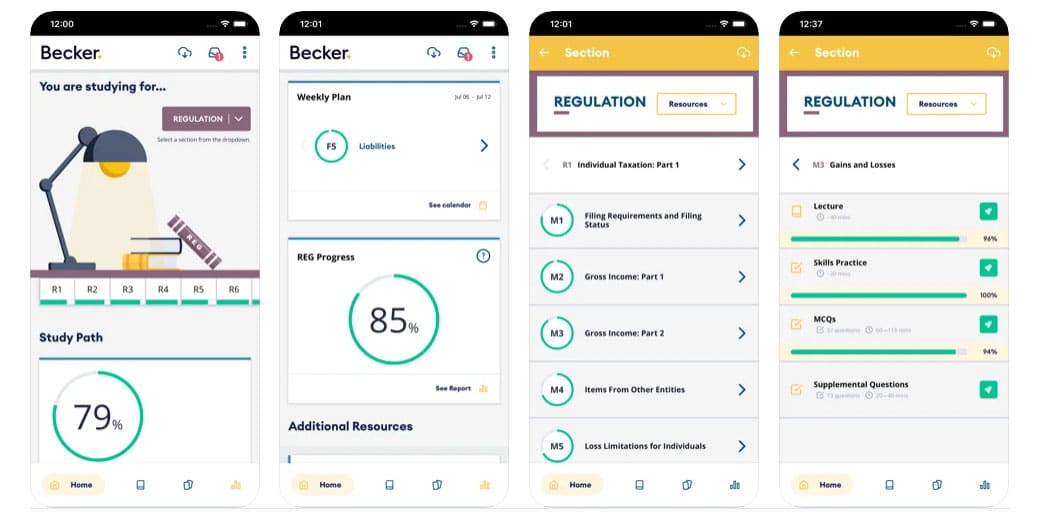 Becker's mobile app is another feature you simply aren't going to find in the average CPA study course! Believe it or not, this isn't something that all CPA course providers offer. The competitors that do have an app don't necessarily offer the best tech.
With Becker, you can switch seamlessly between studying on your computer and your mobile phone when enrolled in Becker's online courses. They're compatible with both Apple's iOS and Google's Android operating systems, so your phone model won't be an issue. Another benefit to this app is that you don't have to waste precious minutes looking for the place at which you stopped studying on your computer; the mobile app takes you to this point automatically by synchronizing your account.
---
Flexible Study Format
Becker CPA Review's newest feature allows you to plan your study schedule and make the most of the time that is available to you.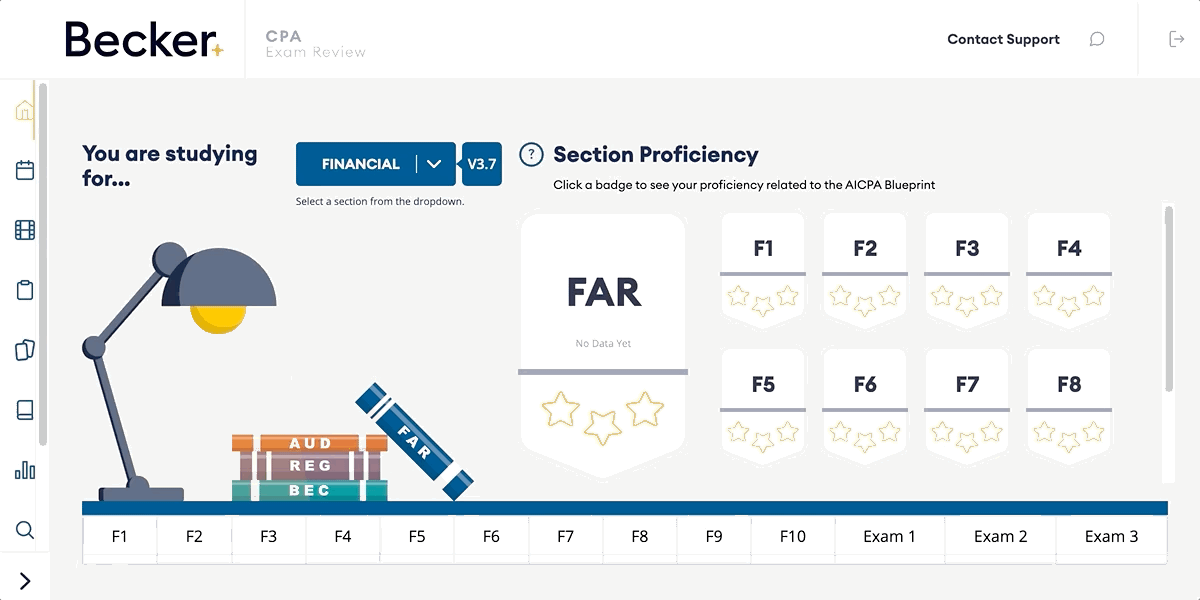 Additionally, Becker's Adapt2U CPA Exam Review Technology is powered by Sana Labs. This means they now offer a robust adaptive learning platform with all of their course packages. Using these powerful adaptive learning features can help you to put the entire course material into perspective and plan your time in the best possible manner.
---
Add-ons
Do you need additional practice? Previously, Becker has you covered. As you move up with each tier, you'll get access to more and more Becker features.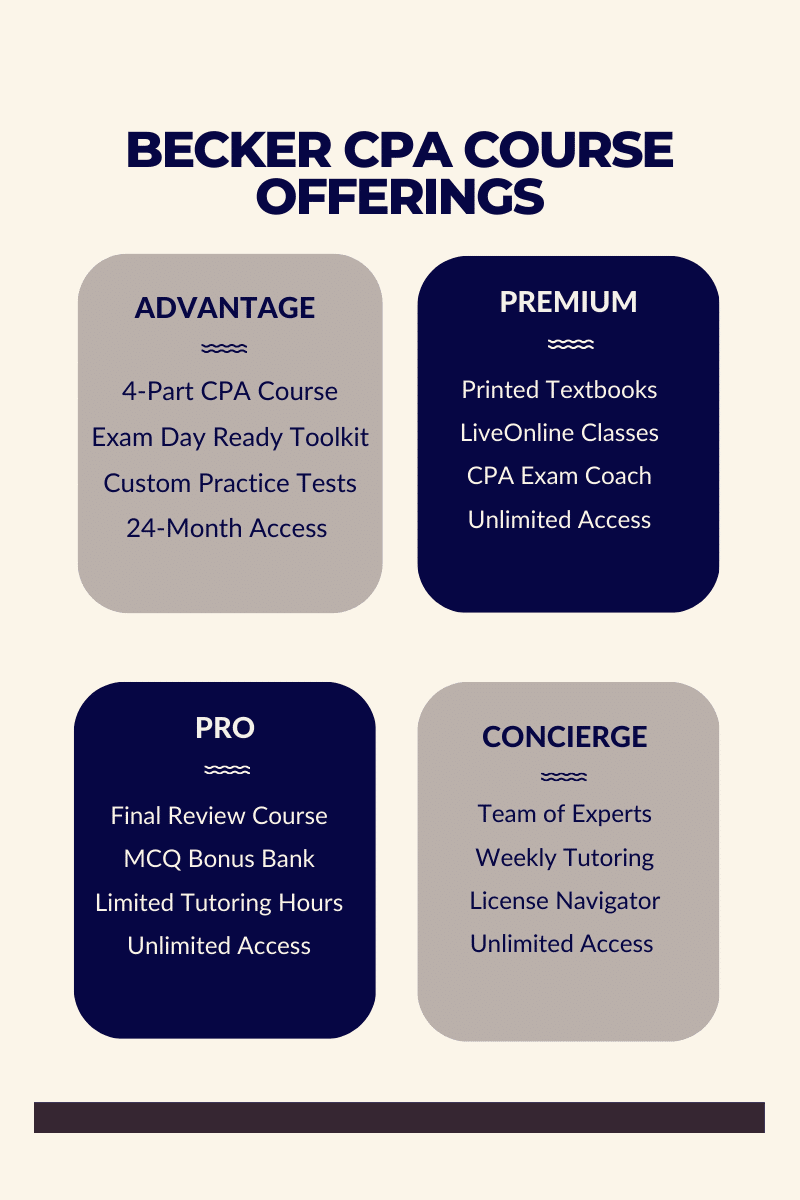 These features are a definite plus for Becker CPA candidates that few CPA providers can compete with!
---
Top-Tier Instructors

Many of Becker's instructors are highly qualified experts in their subject areas. Here is a brief overview of the top four:
Michael Brown, CPA, CGMA, CMA – Mike holds a Bachelor of Science in Commerce degree and a Master of Science in Accounting degree from the University of Virginia. He started his career with Ernst & Young and has held several positions in the corporate world. He is currently the National Manager of Faculty and distance Learning with Becker Professional Education.
Timothy F. Gearty, CPA, MBA, JD – Tim is a partner in Gearty & McIntyre, LLP, CPA, a firm that provides business advisory services. He also serves as the National Lead Instructor for Becker. Tim has been a keynote speaker for several Fortune 100 companies and is the Editor-in-Chief for Becker Professional Education.
Michelle Moshe, CPA, DipIFR – Michelle Moshe, an expert with Becker Professional Education since 2009, has a rich background as a Deloitte auditor and financial manager. Transitioning into education, she leads online classes and contributes to curriculum development at Becker. Impressively, she aced all four parts of the CPA exam on her first try and holds a CPA license in California along with an ACCA Diploma in International Financial Reporting.
Kelly Pope, Ph.D., CPA – Kelly Richmond Pope is an associate professor of accounting at DePaul University, Chicago, and became a TED speaker in 2018 with her talk on whistleblowers. With publications in several esteemed journals and a PhD from Virginia Tech University, she's a licensed CPA. In 2023, Pope joined Becker's National Instructor team, contributing to their CPA Evolution course and CMA Exam Review.
Becker CPA Review Discounts & Promo Codes
CONS
Live Classes
To be fair, many of the live classes provided by Becker are of the highest quality. The instructors are knowledgeable and articulate, and they know how to explain the most complicated topics in a simple and easy-to-understand manner. Unfortunately, not all of the instructors offer the same level of quality!
A handful of students have found Becker's live classes can be boring. Fortunately, the online video lectures from Becker are of exceptional quality. This means that if you find live classes to be a waste or are unsure of enrolling in the ones provided by this company, you can use your time more productively by turning to their other study materials.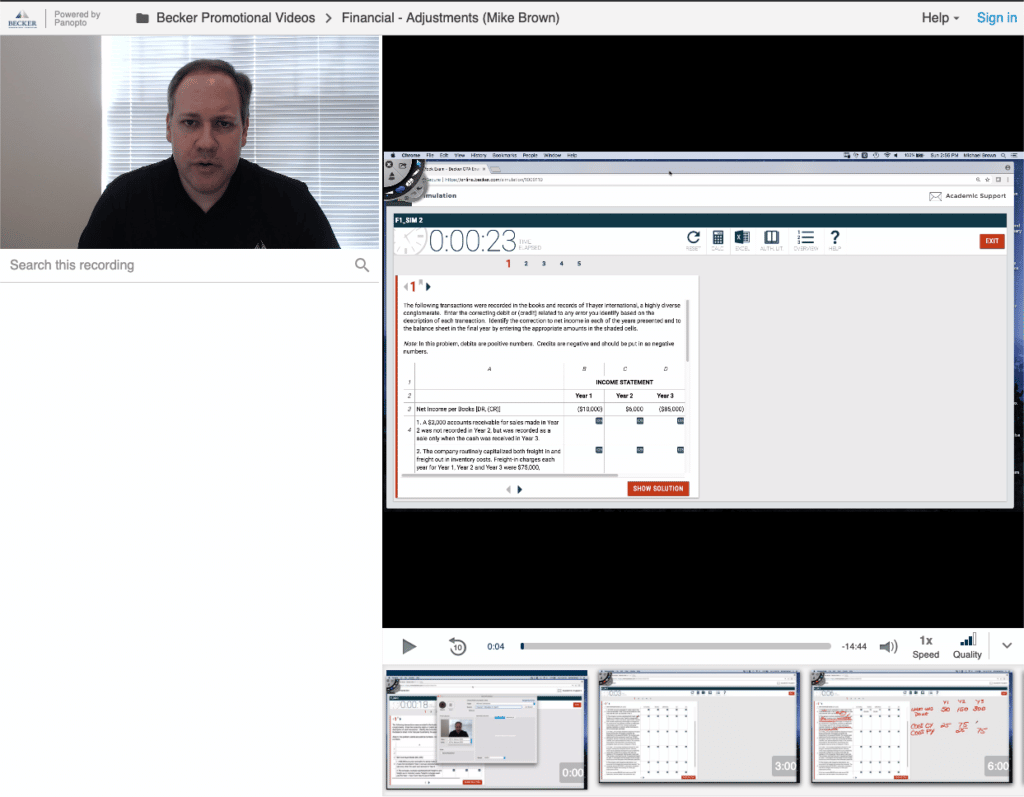 ---
Price
This is the big one. Becker's courses start at $2,499 and move up to $5,999 for the Concierge course. Overall, Becker CPA Review is a terrific option for accounting students, but the high quality of their courses means they come at a steep price. Let's keep it real, Becker is among the most expensive review courses that you can buy.
With that being said, Becker's responded to criticism by adjusting their course package prices and including their supplemental study tools to their Premium, Pro, and Concierge courses at no extra charge. Also, Becker offers financing options if you want to pay for their course in small installments. Plus, their money-back guarantee ensures that if you do your part, you'll pass or won't come out of pocket.
---
Is Becker Ideal?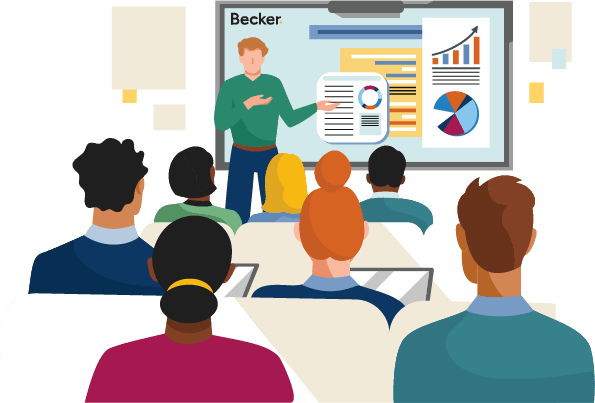 Becker offers some of the best CPA review courses on the market. Becker study materials have been available for several decades, and the years of experience shows in their study materials.
The advantages that Becker offers go beyond the textbooks and lectures that it provides. It has several innovations to its credit that make studying for the CPA exam both entertaining and exciting. Candidates enrolled in the Becker CPA Exam Review get access to Accounting for Empires, an interactive mobile game that can be played individually or in a group. You need to answer CPA exam questions correctly to build your empire.
Becker offers several other innovative study tools. The Study Planner and the Study Roadmap are two examples. The Adapt2U technology, which helps you to focus on the areas that you need to provide further attention to, is another.
If you are looking for a CPA review provider who goes beyond just providing textbooks and video lectures, then Becker is a good choice. However, students who don't want to take on the financial investment of studying with the best of the best may need to look for other alternatives.
---
Final Recommendation
Becker is currently the best option for a CPA student looking to become CPA certified on their first try. There are many appealing features available to enrollees presented in a variety of formats, with even more content provided if the base package still isn't enough. It really is the best way to ensure that you CRUSH the CPA exam!