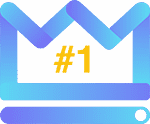 CRUSH RATING: ★★★★★
One feature that gives the Becker CPA Review a lead over other courses is that it has the backing of the Big 4 accounting firms.
However, it's also fairly expensive, which has the potential to intimidate prospective students. Fortunately, Becker's responded to this criticism by updating their prices and course offerings.
If you select Becker, you have a choice of three packages:
1.) Advantage          2.)
Premium           3.)
Pro
Live classes are a unique feature of Becker's. Their most recent course update provides candidates with a personal experience. Now, qualified Success Coaches offer a wide array of perspectives on the ins and outs of being a CPA. It's something that few prep courses offer, making it a terrific reason to give this course a shot.
While this is an enticing option for many students, many candidates prefer the self-study Advantage course, as it allows them to learn at their own pace for a much lower price. Becker also provides the "Becker Promise" for all their courses which permits you to retake them if you don't pass the CPA exam.
Becker CPA Review 2021 (Compare vs Top Rated CPA Exam Prep Courses)
PROS
Study Materials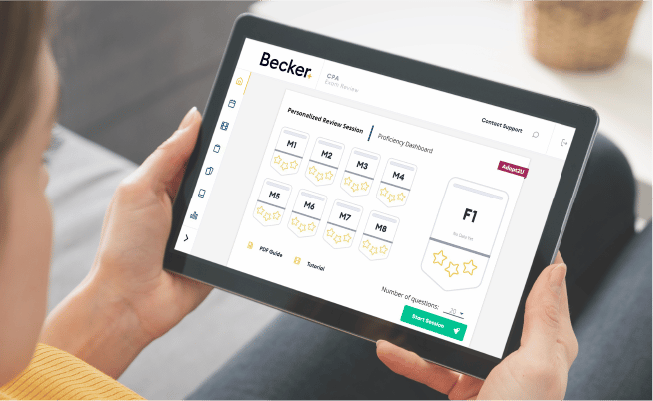 Becker provides excellent online notes and study materials. An outstanding feature of their course is that the answers to all practice questions are often linked to a relevant section in the online textbooks. This helps to explain complicated topics and saves time for the student as well.
You get access to over 9,200 multiple-choice questions (MCQs) and about 580 task-based simulations (TBSs). If you spend enough time on these, you'll have a far greater chance of passing the exam. Additionally, Becker just updated their curriculum with over 1,000 new questions in order to adapt to changes in the exam.
Speaking of practice questions, there's a secret to Becker's mock exams that can give you a huge score boost on all four CPA exam sections. Since their exams are graded differently to the real CPA exam, students who perform well on them do even better on the actual exam, thanks to the "Becker Bump."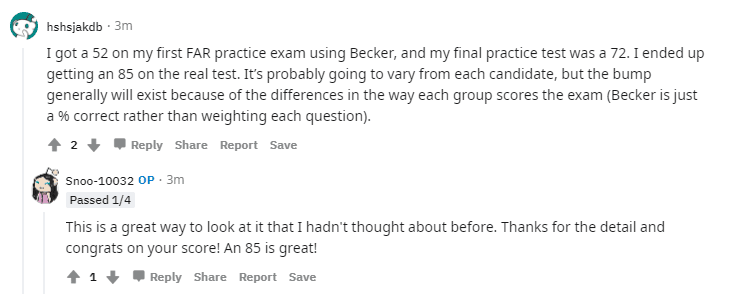 Source: Reddit
---
Mobile App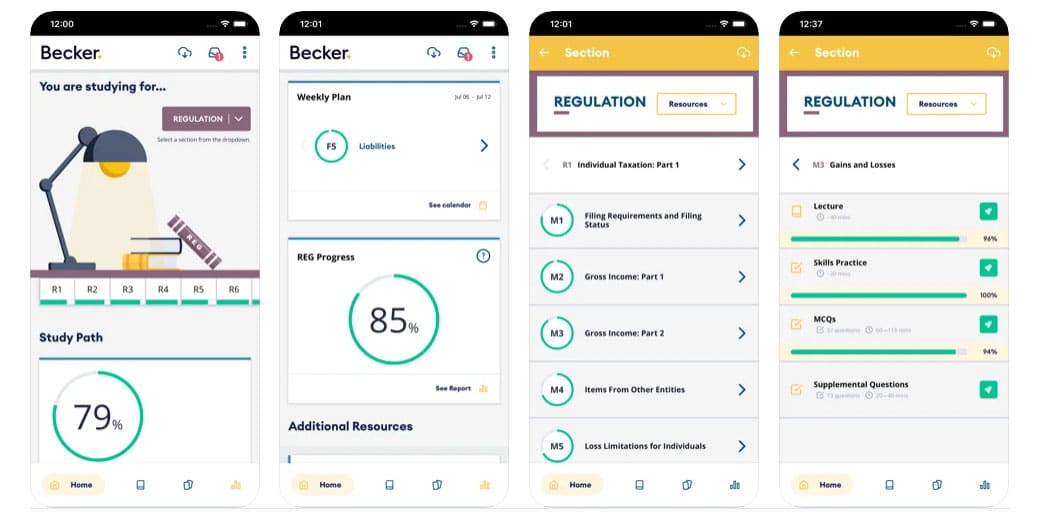 Becker's mobile app is another feature you simply aren't going to find in the average CPA study course!
You can switch seamlessly between studying on your computer and your mobile phone when enrolled in Becker's online courses. They're compatible with both Apple's iOS and Google's Android operating systems, so your phone model won't be an issue.
Another benefit to this app is that you don't have to waste precious minutes looking for the place at which you stopped studying on your computer; the mobile app takes you to this point automatically by synchronizing your account.
---
Flexible Study Format
Becker CPA Review's newest feature allows you to plan your study schedule and make the most of the time that is available to you.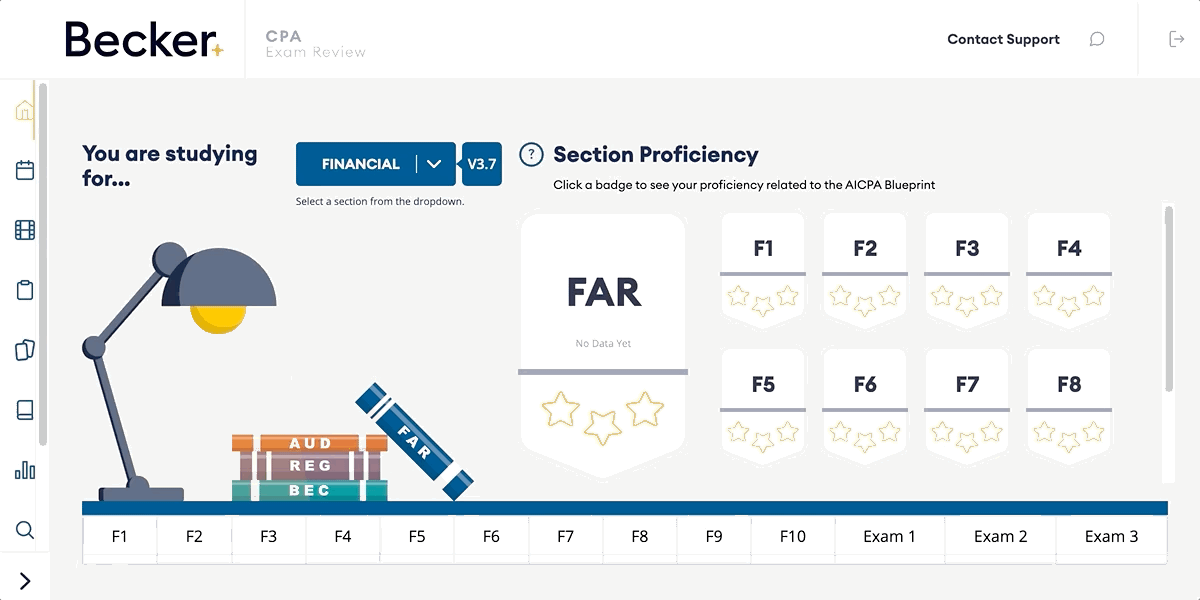 Additionally, Becker's Adapt2U CPA Exam Review Technology is powered by Sana Labs. This means they now offer a robust adaptive learning platform with all of their course packages.
Using these powerful adaptive learning features can help you to put the entire course material into perspective and plan your time in the best possible manner.
---
Add-ons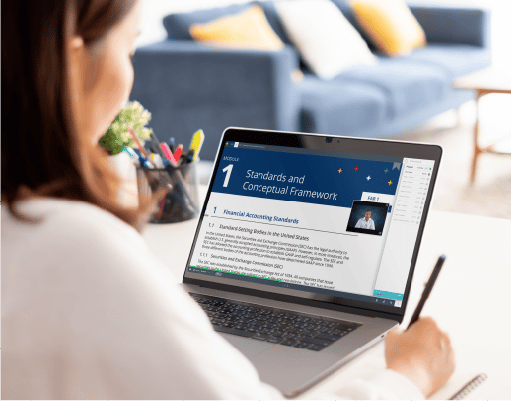 Do you need additional practice? Previously, Becker provided CPA candidates with supplemental practice questions and digital flashcards for a small fee. However, due to recent changes they now offer these additional learning materials for free in their Premium course!
---
Instructors

Many of Becker's instructors are highly qualified experts in their subject areas. Here is a brief overview of the top four:
Angie Brown, CPA – Angie joined Becker back in 2000 as an instructor. She is currently the Director of Accounting Curriculum for Becker Professional Education and teaches classes for auditing, financial accounting, managerial accounting, finance, and economics. Angie has a B.S. in Accounting as well as a Masters of Accountancy degree from Brigham Young University.
Michael Brown, CPA, CGMA, CMA – Mike holds a Bachelor of Science in Commerce degree and a Master of Science in Accounting degree from the University of Virginia. He started his career with Ernst & Young and has held several positions in the corporate world. He is currently the National Manager of Faculty & Distance Learning with Becker Professional Education.
Timothy F. Gearty, CPA, MBA, JD – Tim is a partner in Gearty & McIntyre, LLP, CPA, a firm that provides business advisory services. He also serves as National Lead Instructor for Becker. Tim has been a keynote speaker for several Fortune 100 companies and is the Editor-in-Chief for Becker Professional Education.
Peter Olinto, National Instructor, JD, CPA – Peter has worked as an auditor at Deloitte & Touche and as a tax attorney for Ernst & Young. He spent close to ten years teaching financial statement analysis, tax, accounting, and law at the graduate and undergraduate levels at Fordham's business school. He is currently a National Lead Instructor for Becker Professional Education.
Becker CPA Review Discounts & Promo Codes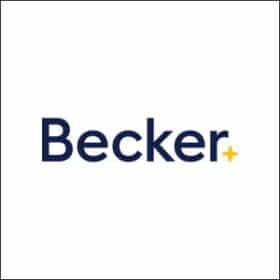 Save $1,200 Off the Becker Pro CPA Bundle.
36 uses today
Last Used: 18 minutes ago
CONS
Live Classes
To be fair, many of the live classes provided by Becker are of the highest quality. The instructors are knowledgeable and articulate, and they know how to explain the most complicated topics in a simple and easy-to-understand manner.
Unfortunately, not all of the instructors offer the same level of quality!
A few of Becker's live classes can be dull and boring based on the experiences of a few students. Some students were of the opinion that they would have been better off simply studying on their own instead of spending the additional time and money for a live course.
Fortunately, the online video lectures from Becker are of exceptional quality. This means that if you find live classes to be a waste or are unsure of enrolling in the ones provided by this company, you can use your time more productively by turning to their other study materials.
---
Price
This is the big one. Overall, Becker CPA Review is a terrific option for accounting students. But the high quality of their course comes at a steep price; Becker is among the most expensive review courses that you can buy. With that being said, Becker's responded to criticism by adjusting their course package prices and including their supplemental study tools to their Premium courses at no extra charge. Also, Becker offers financing options if you want to pay for their course in small installments.
---
Ideal Customer
This is one of the best CPA review courses on the market. It has been available for several decades and the years of experience shows in its study materials. For example, the physical textbooks and e-textbooks that Becker provides are extremely well-made.
The textbooks give you all the information that you need to prepare for the exam. In fact, in many instances they go into far more detail than is necessary. But, if you can absorb all this information, your chances of passing the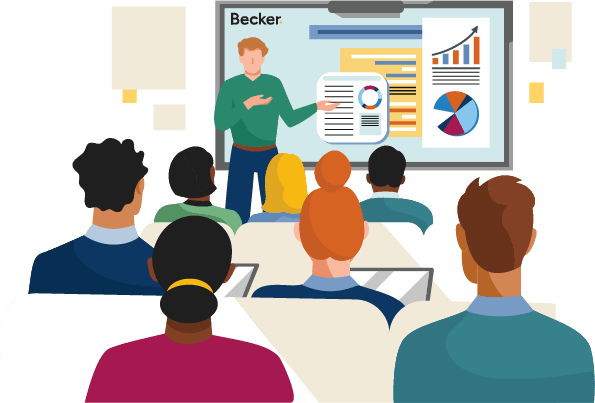 exam will increase significantly.
The advantages that Becker offers go beyond the textbooks and lectures that it provides. It has several innovations to its credit that make studying for the CPA exam both entertaining and exciting.
Candidates enrolled in the Becker CPA Exam Review get access to Accounting for Empires, an interactive mobile game that can be played individually or in a group. You need to answer CPA exam questions correctly to build your empire.
Becker offers several other innovative study tools. The Study Planner and the Study Roadmap are two examples. The Adapt2U technology, which helps you to focus on the areas that you need to provide further attention to, is another.
If you are looking for a CPA review provider who goes beyond just providing textbooks and video lectures, then Becker is a good choice. However, students who can't invest a great deal of money into their CPA studying may want to look elsewhere.
---
Final Recommendation
Becker is currently the best option for a CPA student looking to become CPA certified on their first try. There are many appealing features available to enrollees presented in a variety of formats, with even more content provided if the base package still isn't enough. It really is the best way to ensure that you CRUSH the CPA exam!
Becker CPA Review
Average rating:
37 reviews
Feb 17, 2020
The course videos are now short and sweet which helps with getting the information down. They are not the most interesting/exciting and some of the course instructors mainly tell you what to annotate in the book but don't always do the best at giving examples. Becker has great customer service. I needed a one month extension on my review course because my exams were expiring and they granted it to me. I like that the course mirrors the exam exactly- there were no surprises on exam day. When it comes to going over the multiple choice questions in the lecture, Tim Gearety could do better at explaining why an answer is correct. He would sort of just read the question and say "B is the correct answer" with no additional explanation. Overall the course is a great value.
Jan 28, 2020
I tried out Becker in July 2019 and struggled through it for a month and realized it was very different from my learning style. The lectures are a waste of time and the textbook barely gives you enough information to even grasp the content. Huge waste of money since they refused to give me any type of type refund. There are much better review courses on the market that actually give you a chance to really master the material and feel prepared during the exams.
Jan 13, 2020
I purchase Becker Premium study package for the CPA exam. There is a large number of questions to give me practice and the course videos are good. Peter Olinto adds some humor to the videos, so it is no so dull. The dashboard is clear and easy to navigate. The course could improve the academic support contact. I have asked some questions, and received unclear answers a few times. I cannot determine whether it is a good value yet, as I will be taking my first exam in 2 weeks.
Jan 7, 2020
I ordered the Becker Unlimited Bundle with Final Review and Flashcards. The lectures are engaging and the course gives you all the tools you need to succeed. The MCQs are challenging, but it has been the best preparation for the exam. Great review course.
Jan 6, 2020
Overall I think Becker is a great review course. There are a lot of different ways to study between the lectures, the textbooks, the Skill Master videos, the personalized practice tests, Final Review program and more. The course is really user friendly and easy to navigate. I think some of the lectures could be condensed so they're less overwhelming, but overall I appreciate all of the information Becker gives. I've found that the practice tests and questions are usually more in depth than what you'll actually see on the exams which is good for preparing. I'd recommend this course.
Dec 23, 2019
The becker cpa materials are very expensive and the contents are short and not enough in the FAR part that requested me to search online myself for more explanation for some subjects specially in the GASB
Dec 6, 2019
I am using becker material for Regulation.I believe it is one of the best material i ever gone through
Dec 6, 2019
I'm using Becker CPA Review course since the past 6 months and I'd say the course content is to the point, they don't confuse you with too much information, to keep a track of your progress you have a course dashboard which is nice, all instructors really try to keep you interested throughout the video, seperate videos for each section.
Ton of MCQs and the becker bump is real, it really prepares you well for the CPA Exam. I highly recommend Becker
Dec 6, 2019
I am very happy that I chose Becker review course to help me prep for my exam. The instructors break down the material into bite size pieces and teach the information using mnemonics and give hints to help you retain the information for the exam. I found that when the instructions make fun of each other in the videos it's funny and helps me remember the points that they made. The Becker dashboard is neat and organized and user friendly. Also, when I got stuck on some of the questions and I didn't understand the explanations provided, I emailed Becker and they responded quickly and sent a different explanation that I was able to understand. The Becker review course costs a lot of money, but it's worth every single penny!
Nov 17, 2018
I am enjoying using Becker to prepare for my CPA exams. Each tests is broken into 6-8 Modules, with 4-8 sections in each Module. Each section has the book video, a concept review and multiple choice questions. The videos explain concepts in the book and are narrated by a dorky but loveable CPA, who provides extra information and examples not already in the book. The course review chooses one or two concepts to go over again, and the multiple choice help students get a sense of what is likely to be tested from the section. I give Becker four stars because I had a lot of issues getting it set up and numerous calls to customer service left me with conflicting answers, which was a bit frustrating. Now that I have it installed though, it is very user friendly. Luckily I am working for a Big Four who paid for Becker, otherwise I definitely would not be using this review material because of price. It's a great course, but I can't justify spending $3,000+ when there are cheaper courses that are just as helpful.