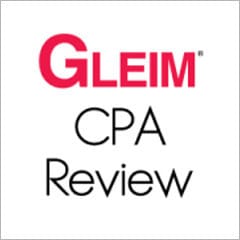 OVERALL RATING: ★★★★★
Gleim CPA Review is a comprehensive course and prides itself on covering all possible subjects that may be encountered on the CPA exam.  Their course is well organized and is ideal for you if you prefer a guided CPA course with micro-lessons. Gleim also offers three separate teams that are dedicated to providing personalized support tailored to your varying needs.
Gleim's CPA Review course includes SmartAdapt technology software as well as these other study materials: textbooks, Online Test Prep, Audio Reviews, Practice Exams, a Simulation Wizard, and access to a Personal Counselor for all 4 sections of the CPA Exam. Its course materials also come with unlimited access and free content updates.