CRUSH RATING: ★★★★★
Gleim CPA Review is a comprehensive course that prides itself on covering all possible subjects that you may encounter on the CPA Exam. Their course is well organized and perfect for those looking for a guided CPA review course with micro-lessons. Gleim also offers state-of-the-art adaptive learning technology and an efficient support system that provides personalized help to meet your varying needs. On top of all this, you'll get access to Gleim's Private FB Study Groups – one per exam section.
Your Gleim CPA review courses include SmartAdapt technology software that guides the candidate through their studies. Study materials like Gleim Instruct videos, downloadable audio lectures, adaptive multiple-choice & simulation quizzes, and exam rehearsals that mirror the actual CPA Exam are also included.  Your Gleim Premium review materials include unlimited access & free content updates until you pass your exam. Updates are provided right within the course free of charge.
Overview of Gleim CPA Review's 2023 Course
Course Details (product details):
$1,799 (with Crush discount!)
Physical and digital copies of study materials
10,000+ multiple choice questions
1,300+ task based simulations
Over 100 hours of video lectures
Downloadable audio lectures
Student Support from accounting experts

Authentic exam day emulation through unlimited practice quizzes and exams

New user interface with improved performance tracking
Unlimited Access
The Best CPA Exam Review Course
Gleim CPA Review Course Pricing
Gleim offers three-tiered course packages. The highest tier they offer is the Gleim CPA Premium Course, with a price tag of $1,999. This is less than the industry average and includes study materials for all 4 sections of the CPA exam, in addition to a plethora of extras. Some of these extras include audio lectures, exam rehearsals, study sessions with real accountants, and access to their adaptive learning Interactive Study Planner.
Gleim's Traditional CPA review course package which can be purchased for $1,599. This is their mid-tier package which still includes some extra study tools but doesn't grant access to accounting experts and some video lectures. The lowest tier package they offer is the CPA Mega Test Bank for $1,199, which only comes with the textbooks, practice questions, and a practice exam. I will be referencing the Premium Review Course package throughout this review, since that is the most popular choice.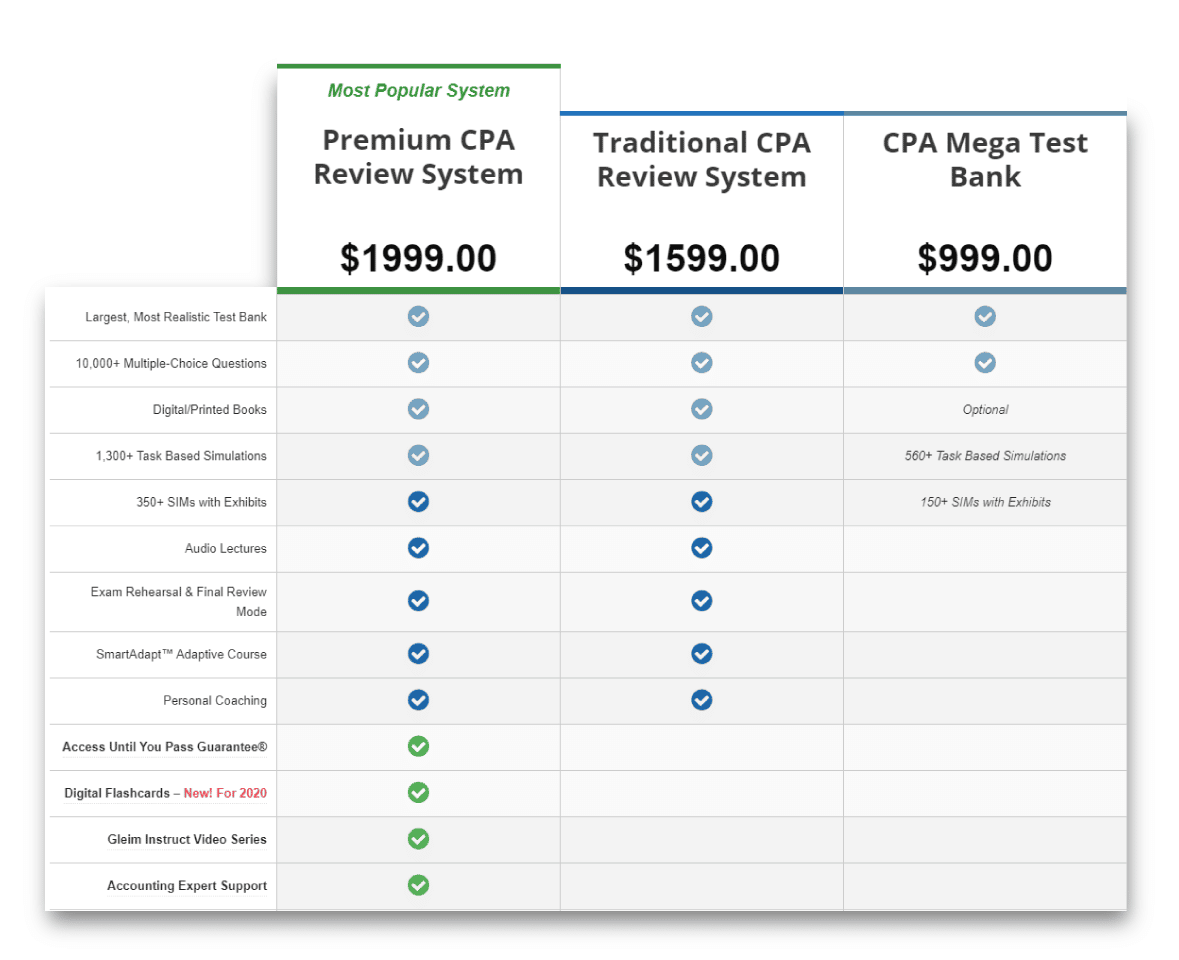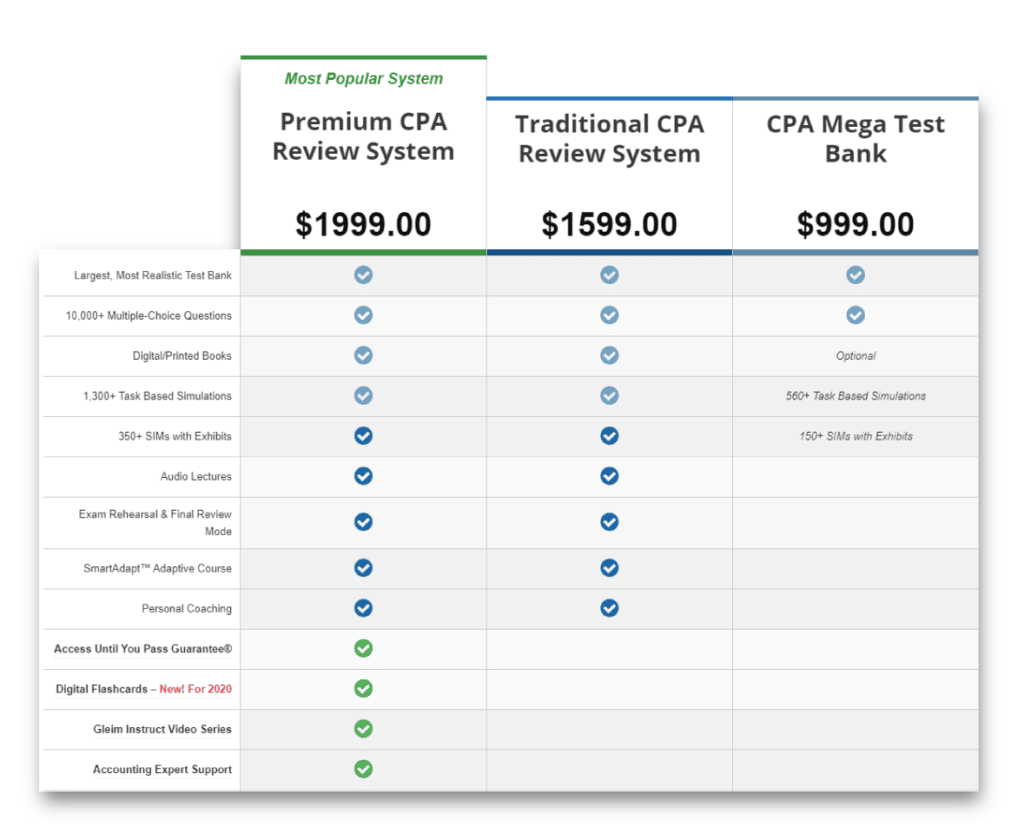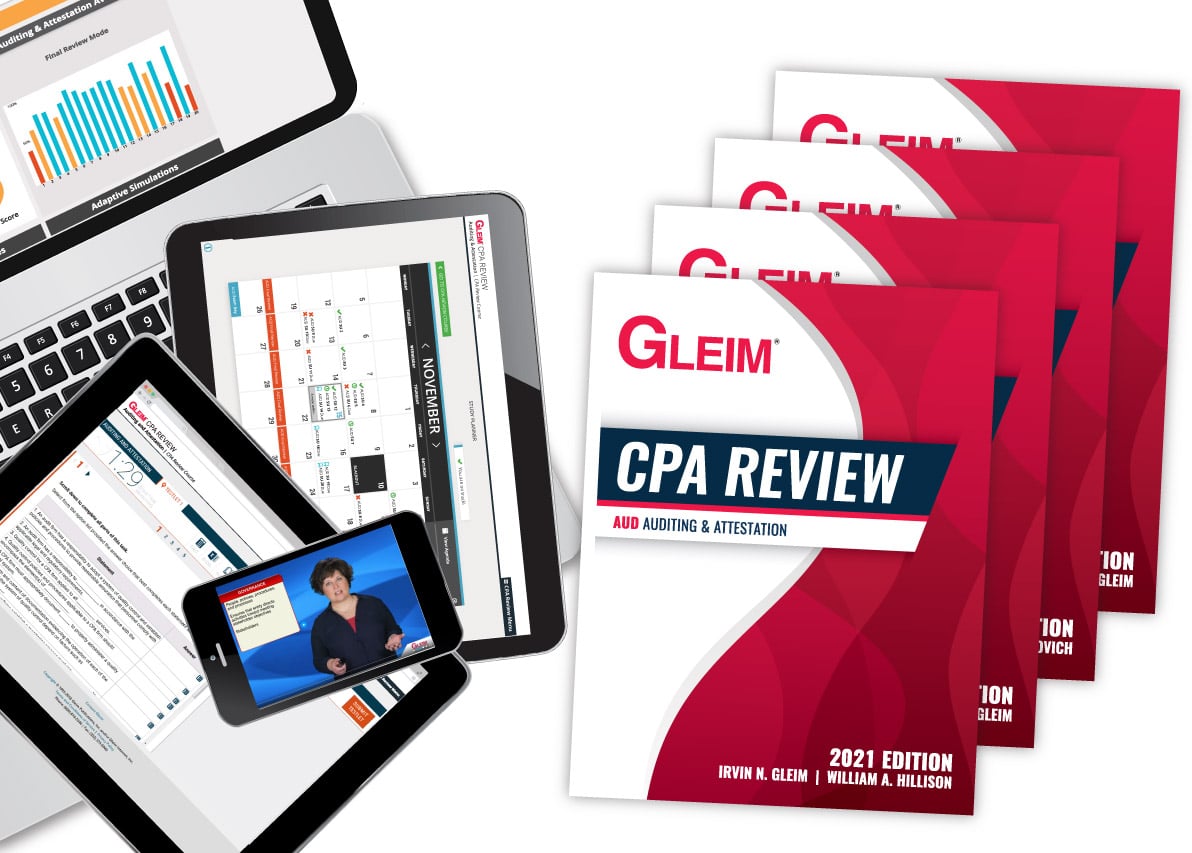 Gleim CPA Review Updates
Gleim CPA Review updates it course (for free) whenever new content is added or removed from the CPA exam. Now, Gleim incorporates adaptive learning into your software through the use of their Interactive Study Planner, helping you to weed out your weaknesses and hone them into strengths. All of the content has been updated to include any changes that have occurred since the previous year, with free updates available for students that can be sent to their email. The video lectures section has also been updated and now contains more than 100 hours of video lessons.
What's Included in Gleim's CPA Prep Course?
Multiple Choice Questions
Gleim has the biggest test bank out of all the CPA review courses available. With more than 10,000 unique multiple choice questions, you will have more than enough with which to practice. Many students and I found that Gleim's questions are challenging enough so that when you face the real exam you will be prepared for the hardest testing items.
Your multiple choice questions come with detailed answer explanations for both incorrect and correct answers. This allows you to assess your knowledge and learn from your mistakes right when you make them, so when it comes time for the real exam you will be confident and prepared.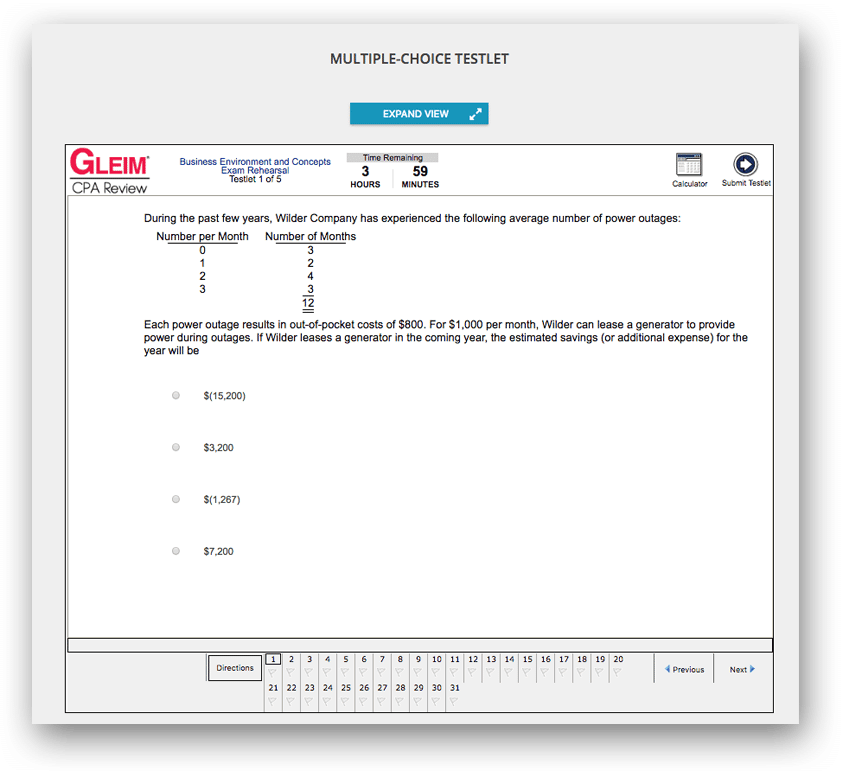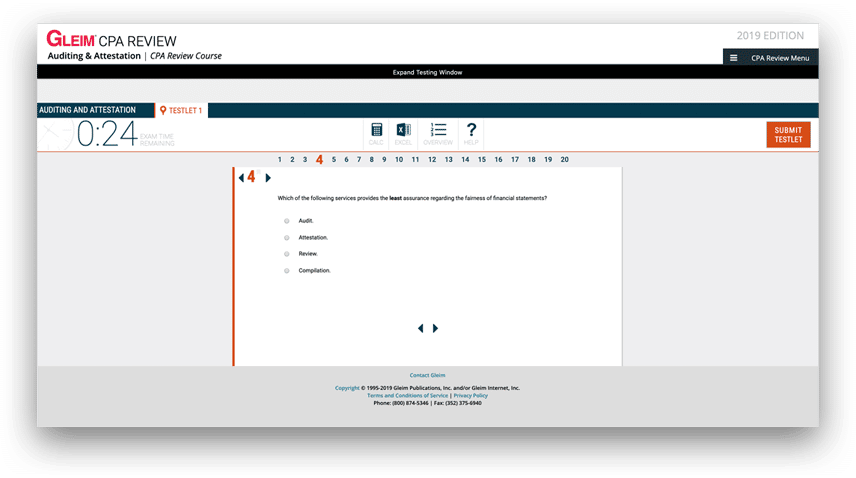 Task Based Simulations
Gleim's massive test bank comes with more than 1,300 task based simulations for you to practice this section of the exam. When you are practicing with these, you will be provided with detailed answer explanations, just like the multiple choice questions. This is great because you will be able to not only have a full understanding of the process of answering TBSs, but also the full content that the TBSs are testing.
CPA Practice Exams
Gleim's practice tests incorporate a variety of different questions, such as multiple choice questions, final exam reviews, and task based simulations. The new multiple-choice focus questions are placed after each sub-unit to reinforce the candidate's reading. And Gleim's performance analysis feature makes it easy to track your progress and see what specific areas on which you need to improve.
Both Gleim's study & practice tests emulate the actual CPA Exam. When answering questions while studying, immediate feedback is provided after each question so you can determine what is tripping you up.  In test mode, answers and answer explanations are provided after completing the test session. All questions provide detailed answer explanations for both correct & incorrect answer choices.
Wondering about practice tests?
Gleim offers 2 full-length mock exams for each exam section – fully emulating the actual CPA exam, simulating the real thing that will be experienced on exam day.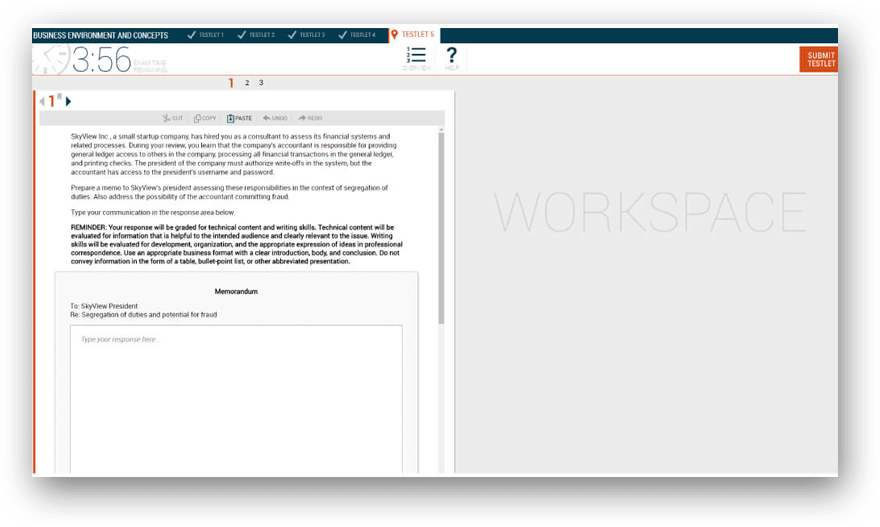 CPA Exam Flashcards
For a long time, Gleim didn't include flashcards in its CPA review course. Now, digital flashcards are provided in the Gleim study materials for each exam section.  Candidates can mark flashcards as being mastered when they feel confident with the concept. Flashcards can be printed for offline studying.
Interactive Study Planner
Gleim CPA Review courses include an interactive study planner that can be used to track and monitor performance as you work through your studies.  With the aid of this interactive learning tool, study material is broken down into manageable assignments, and due dates for the assignments are placed on a calendar so you can make sure you are staying on track to be prepared come exam day. The interactive study planner will also send you alert messages via email or text to keep you on track.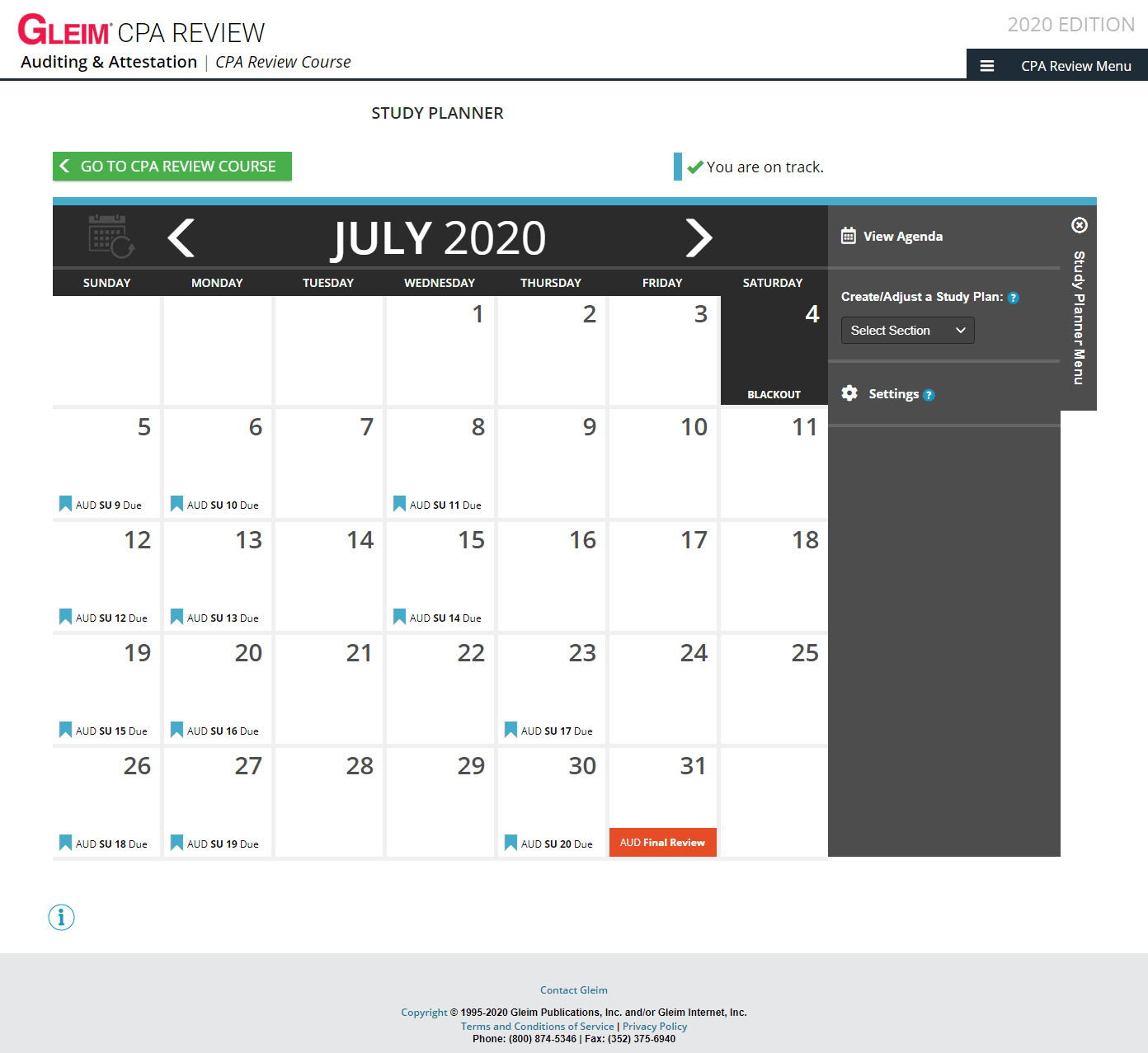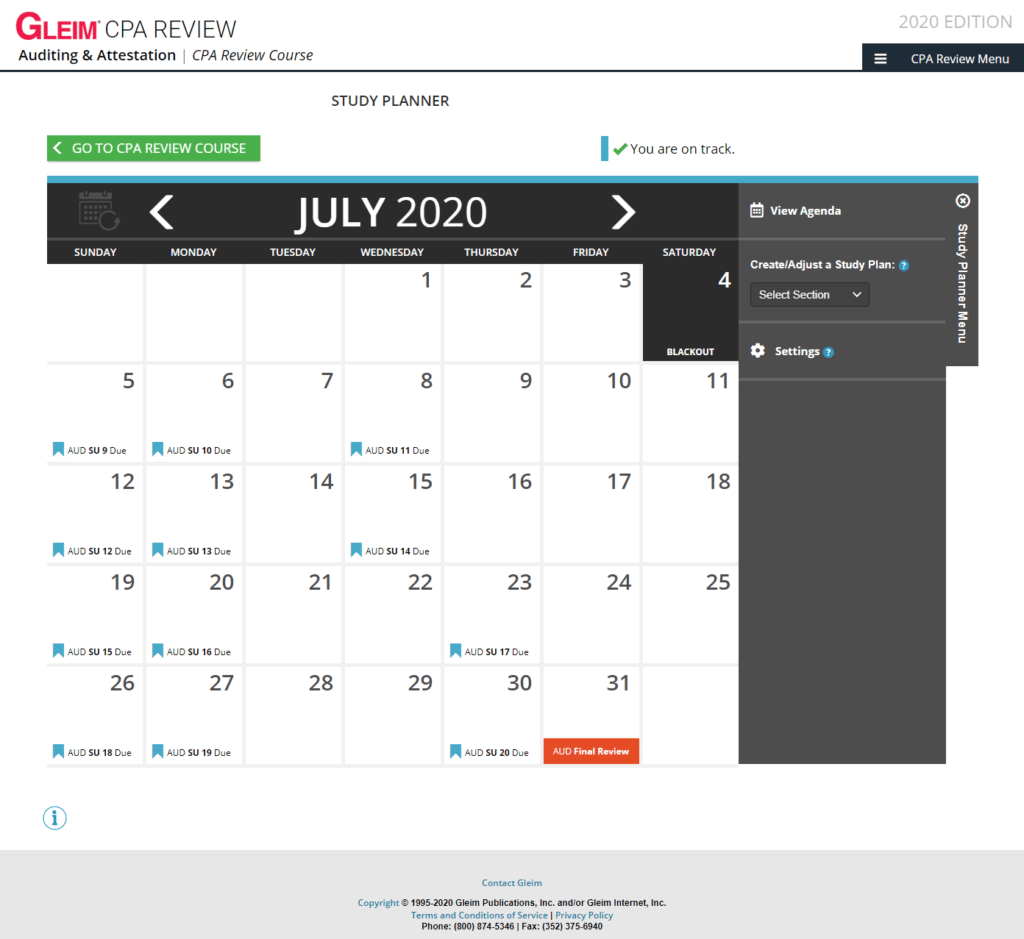 CPA Exam - Comprehensive Income/OCI Video Lecture
CPA Exam Video and Audio Lectures
Gleim's video lectures, called Gleim Instruct, provide professor instruction for all of Gleim's study units.  They're also geared toward the AICPA Blueprints. Additionally, you'll find video walk-throughs of multiple-choice and task-based simulation questions, all with an emphasis on how to tackle these questions on the actual exam.  The video platform allows you to take notes and sync to the course outline while you watch the video.  You'll also be able to take digital notes within the course outline as well.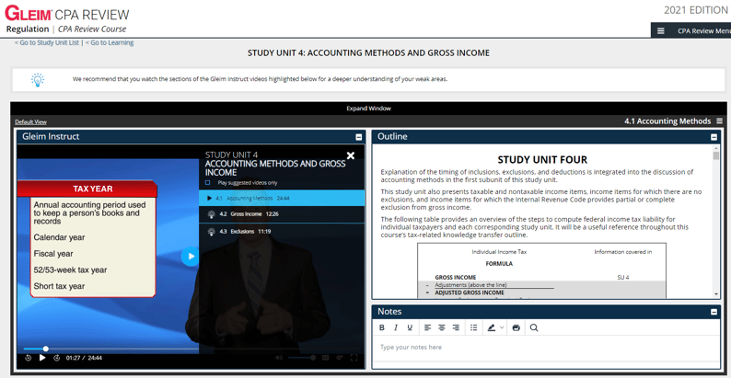 Gleim also includes an audio review course that can be downloaded and listened to on a variety of devices; perfect for studies on the go and for long commutes to work. Each CPA Exam section of Gleim's course includes informative, supplemental audio lectures.
Dashboard/UX
New for 2023 – Gleim has redesigned their User interface to provide more intuitive navigation throughout the course.  Users can clearly see how they are performing in the various study units, along with an overall performance metric for the entire course. 
Users no longer are required to work through the study unit diagnostic exams; although, it is still recommended that users complete this first quiz so the adaptive software can create a customized study path based on the user's strengths and weaknesses. Each study unit within the Gleim course provides quick access to the smaller sub-units, digital outlines, video lectures & question walk-throughs, and adaptive multiple-choice & task-based simulation questions.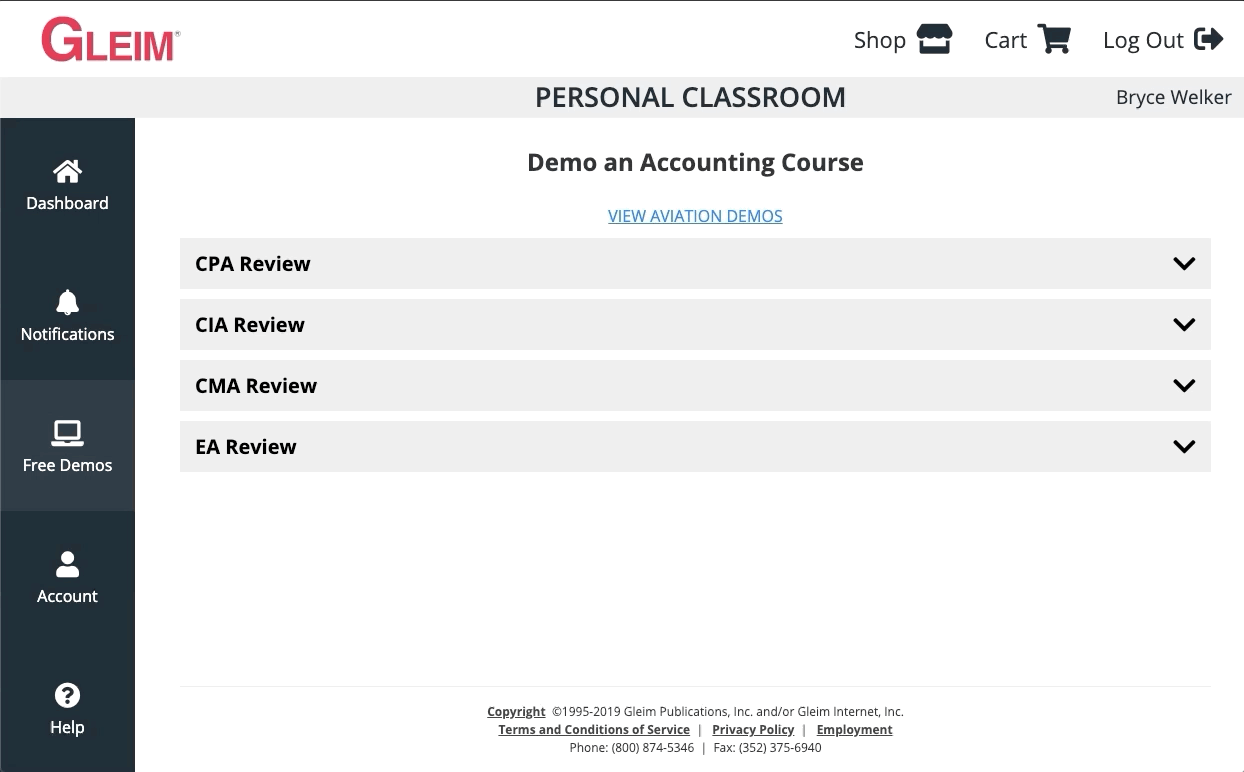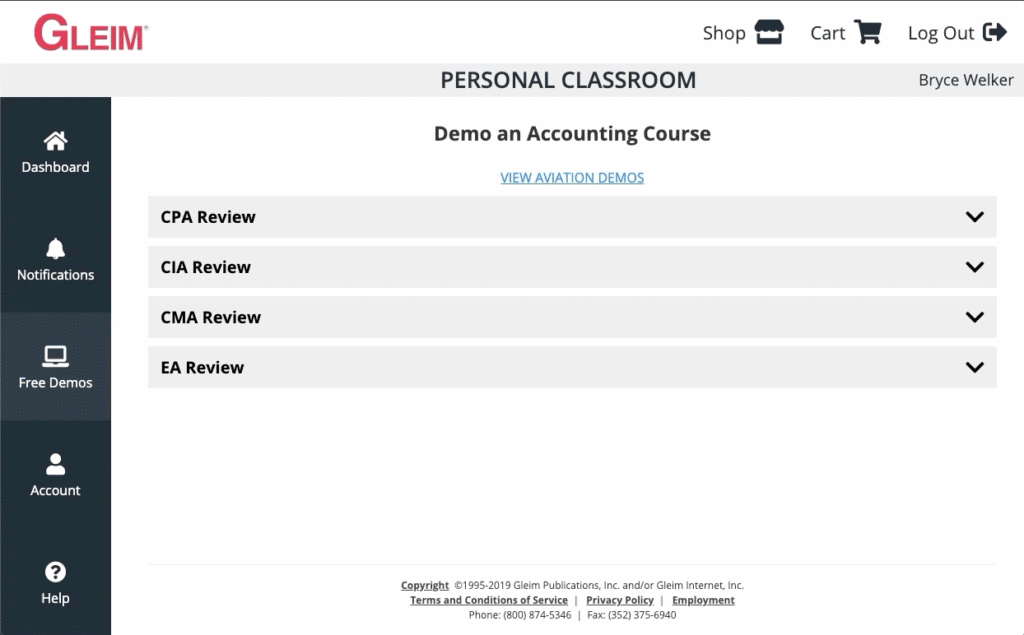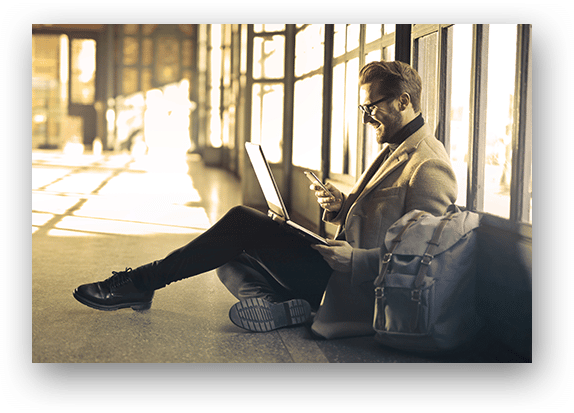 Customer Support
Gleim has incredible student support. You have multiple ways of reaching out for help when you have any sort of question. Whether it's related to study tips, specific questions about topics, or advice on the application process, you can use Gleim's support team as a great aid.
Your Gleim CPA Review course will allow you to submit questions and feedback right on the platform, where you will be answered by accounting experts. You will also have access to a Personal Counselor for advice and support.
And for all the international students out there, Gleim gives you special assistance by recommending what states you should sit in, finding you companies that can evaluate your transcripts, and answering any questions for your particular circumstances. All of Gleim's support is offered 24/7 (even holidays), so your questions will always be answered timely.
Gleim's customer support team has won the Customer Service Department of the year from the American Business Awards.
Course Access and Updates
Gleim's "Access Until You Pass" guarantee means that you will have access to free updated material until you pass the CPA Exam. Your digital materials will update automatically, so you never have to worry about not having the current information. Additionally, if you want the new edition of the physical books, you'll only have to pay the shipping costs.
Gleim's unlimited access is really great, and not all courses give this to CPA candidates. If you follow all of the "suggested steps" detailed out by Gleim Premium CPA Review System and still don't pass the exam, you will receive a full refund (this must be requested within 18 months of your purchase).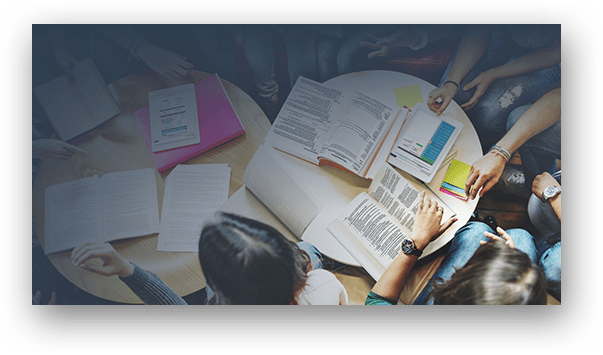 I'M READY TO GET STARTED WITH GLEIM
What CPA Course Packages Does Gleim offer?
Gleim's most popular package is the Premium CPA review, but if you are just looking for supplemental study questions, Gleim's CPA Mega Test Bank is a great resource! This package offers basic study materials and some practice questions, making it very useful to supplement other study courses.
Gleim CPA Discount Codes & Financing Options
Gleim has partnered with Affirm to provide several payment options for students in a wide range of budgets.  Gleim's pricing is set so all CPA candidates can afford to pursue their CPA credential, and with Crush's CPA discount, candidates can save even more!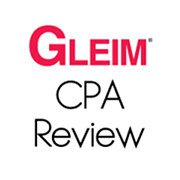 Take $460 Off Gleim CPA Premium Course
9 uses today
Last Used: 15 minutes ago
Gleim CPA Review VS Becker
Gleim and Becker are both popular review courses for those who are taking the CPA Exam. Let's compare the two and see which one you would benefit from the most.
Starting with the cost, Gleim is dramatically less expensive at $1,999. Becker is the most expensive course on the market and costs a whopping $3,393. And when it comes to course expiration, Becker gives you only 18 months to use their course and pass the exam. Gleim has unlimited access as well as free updates, whereas Becker will charge you for updates.
Becker's CPA Review comes with 7,200 multiple choice questions and 400 task based simulations. That's pretty good, but nothing compared to Gleim's mega test bank that has over 10,000 multiple choice questions and over 1,300 task based simulations. Gleim also comes with audio lessons, something Becker doesn't even have.
So which course is better? I personally think Gleim is a better course in multiple ways, but you need to find the best course for your learning style. So check out both of their free trials if you are still unsure. For a more in-depth comparison, see my recent article on Becker versus Gleim.
Who is Gleim CPA Review Best For?
Gleim is very comprehensive and covers all of the exam topics on the CPA Exam, which can be overwhelming.  However, with Gleim's SmartAdapt technology, the software will guide you through the content, pointing you to those topic areas where you are struggling while reinforcing concepts you've shown proficiency. Having the most questions doesn't mean you have to answer them; it just gives you the option to study more when you want to master a subject. However, if you're pressed for time, or just want to cover a few specific sections, this may not be your ideal course to take.