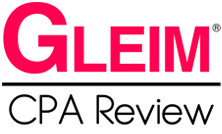 Overview of Gleim CPA Review 2017 Course
OVERALL RATING: ★★★★★
Gleim CPA Review is a comprehensive course that prides itself on covering all possible subjects that you may encounter on the CPA Exam. Their course is well organized and ideal for you if you're looking for a guided CPA prep tool with micro-lessons. Gleim also offers an efficient support system that provides personalized help to meet your varying needs.
Your Gleim CPA Review course includes SmartAdapt technology software as well as other study materials like the audio reviews and simulation wizard. All your Gleim materials will have unlimited access and free content updates, so you will always have the most current information.
Gleim offers a couple course packages. The Gleim CPA Premium Course has a price tag of $1,599. This is less than the industry average and includes study materials for all 4 sections of the CPA exam. They also offer a Traditional course package which can be purchased for $1,299. I will be referencing the Premium Review Course package throughout this review since that is the most popular choice.