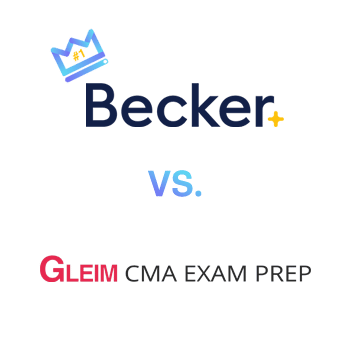 When comparing Gleim CPA Review and Becker CPA Review, it's tough to determine which course is better. No one wants to spend a lot of time and money on a course that won't help them learn. So let's take a look at the format, software updates, price, and other important factors of these courses to see whether one stands out from the other.
For the record, I've used both of these CPA courses; there are some major differences that you should know about before you decide which one would be the best for you. Take a look at our comparisons below to ensure you find the best prep course for your study needs:
---
Becker CPA vs. Gleim Cost | Course Access | Practice Questions | Extra Study Materials | Course Video | Course Format | Software Updates |
---
Gleim vs Becker CPA Cost
Becker currently costs $2,299, making it one of the more expensive CPA prep courses on the market. If you don't need all four parts of the course, each part can also be bought individually for $799. Since most companies will sponsor employees who study through Becker, this cost is mitigated for many applicants. However, you may not be so lucky!
Gleim's premium course is a little cheaper at $1,999. However, they also offer a standard course for $1,599. Gleim is actually more affordable than a lot of the most popular prep courses, so they're the winner in this comparison.
---
Course Expiration and Access
Becker's course used to only offer 18 months of access in order to match up with the 18-month "rolling" window examinees have to pass all four sections of the exam. However, they recently unveiled unlimited course access, meaning that CPA candidates can access their materials for as long as they need.
Gleim CPA Review will also grant you long access with their Access Until You Pass guarantee. Furthermore, both courses stay up to date with the changes to the CPA exam, so you will have the most current materials no matter what.
However, the ultimate winner here is Becker, for one key reason: they let you continue accessing their CPA course after you pass the exam. So if you need to brush up on specific accounting topics in order to fulfill your continuing education requirements, this can be a lifesaver!
---
CPA Exam Practice Questions
Becker CPA Review includes 9,200 multiple choice questions and 580 task-based simulations. If that isn't enough questions, you can add another 1,300+ supplemental questions and a condensed final review when you enroll in their Premium or Pro courses.
Comparatively, Gleim has 10,000+ practice multiple choice questions and 1,300+ task-based simulations. That's more than any other course on the market! This could be ideal for you since the new updates to the CPA Exam will include more task-based simulations.
---
Extra Study Materials
Gleim comes with an audio review course that can be downloaded and listened to on many different devices. Each section of this CPA exam review course consists of 20 short audio lectures that average 25-30 minutes each. This allows you to study without having to be in front of the computer.
Unfortunately, Becker doesn't have audio lectures included in its course. Instead they're focused on creating a classroom experience with their live classes. What they do have is Adapt2U with Sana Labs, which is an insanely powerful adaptive learning system that guides each student through a customized study plan.
When comparing these two courses, it's really a no-brainer who offers the better supplementary materials.
---
Becker vs. Gleim CPA Video Lectures
Gleim comes with great video review lectures that are informative and entertaining. Although they aren't the best in the business, these videos are more entertaining than their competitors. Becker's videos are similarly informative but opt for a more professional presentation instead. Both courses have extremely strong video lectures, so it mainly comes down to personal choice on the style of the videos.
Personally, I prefer the direct and clear cut presentation of the materials Becker provides. However, aspiring students may want the engagement Gleim provides.
Gleim:
Becker:
---
Course Formats
Becker offers 3 different course formats: Advantage, Premium, and Pro. It's also one of the only CPA review companies to provide a live classroom course. These courses are great for students who learn best in a structured classroom setting. All Becker instructors are experienced CPAs and accounting, law, or business professionals.
Gleim is primarily a self-study course, but it provides study tips, guidelines and specific study tactics to help you work through the program successfully. Furthermore, the software is easy to navigate thanks to the detailed instructions seen throughout the course. You will also have access to a Personal Counselor for study advice and support.
Truthfully, there are many similarities between these courses that can make it tough to decide between them. However, Becker offers more versatility in the way their material is presented to CPA candidates, making them the clear winner!
---
Software and Content Updates
Becker ensures that its practice exams, simulations, and video lectures are all up to date with the changing CPA exam. The last thing they want is for you to be stuck studying with outdated materials (Example: all the new IFRS regulations recently added to the Audit Exam). However, the downside to this is that you will need to pay the cost of production and shipping to receive updated materials such as textbooks.
Like Becker, Gleim also ensures all course materials remain up to date. Thanks to their Access Until You Pass guarantee, you won't have to pay for updates or renew your access. The only exception is when it comes to physical textbooks, where you still need to pay shipping fees. Seriously, it's a better deal than Becker!
---
Conclusion
So which CPA review course is better?
Well, Gleim and Becker are pretty evenly matched. However, Becker's strengths far outweigh those of Gleim's, making it the clear better option. That being said, both courses have their own separate benefits; you need to find the course that fits YOUR learning style. That is why I recommend you check out both Becker and Gleim's free demos before making your final decision. Best of luck!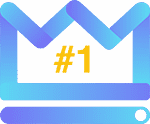 Bryce Welker is a regular contributor to Forbes, Inc.com, YEC.co and Business Insider. After graduating from San Diego State University he went on to earn his Certified Public Accountant license and created CrushTheCPAexam.com to share his knowledge and experience to help other accountants become CPAs too. As Seen On Forbes