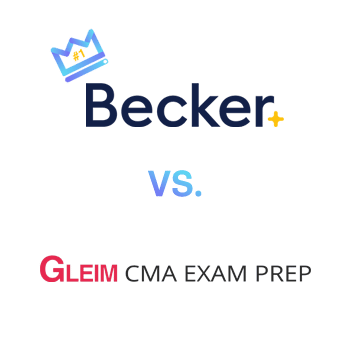 May 22nd is National Accounting Day. This isn't surprising since the number 22 is known as the "Master Builder" and one of the most powerful numbers in Numerology. Connected to finding your purpose and achieving success, 22 is all about turning desires into reality.
If you're building your own career in accounting and looking to pass the CPA exam, you're going to need the best CPA review course around. There are tons of CPA exam review courses on the market. This is good (lots of competition means better deals for you.) It also raises the risk that you'll get stuck with trash study materials.
We hope to mitigate this risk by comparing two courses that are considered the best of the best: Gleim CPA Review and Becker.
Take a look at our comparisons below to ensure you find the best prep course for your study needs.
---
Becker
Endorsed by the Big 4
9,200 MCQ's

580 Simulations

800 Video Hours

AI Technology by Sana Labs
10,000 MCQ's

1,100 Simulations

100 Video Lectures

Personal Counselor Guidance
---
Becker vs Gleim CPA Review: Features and Formatting
Becker COA is renowned for its comprehensive coverage and helpful learning tools. With a focus on providing students with real-world knowledge, it is a great way to prepare for the Certified Public Accountant exam.
The study materials and resources offered in this program are comprehensive and provide detailed guidance on various topics. Their courses are designed to be interactive and engaging, making studying for the CPA a little less boring.
With exam simulations and multimedia activities that help students retain the information, Becker is one of the best. But which Becker plan should you choose?
Becker Course Offerings
Current Becker course formats: Advantage, Premium, and Pro. Becker is one of the only CPA review companies to provide a live classroom course. These courses are great for students who learn best in a structured classroom setting. All Becker instructors are experienced CPAs and accounting, law, or business professionals.
Their Pro course is a crowd favorite and gives you access to:
In-person CPA exam classes
Video lectures and textbooks
Final Review capstone course
Simulated exams and an MCQ bonus bank
1,350+ printed flashcards
Because they have an awesome mobile app, you'll not only learn about CPA topics in class and on your laptop but also on the go.
Gleim Course Offerings
Gleim is highly regarded as an effective and comprehensive CPA review program?
Why is this?
For one, they offer study materials and digital textbooks for all four sections of the exam. and Not only is their content reliable, it's always up-to-date as well. Gleim's CPA Review system also features targeted content to make sure you pass, personalized guidance, and comprehensive practice questions.
Gleim is primarily a self-study course, but it provides study tips, guidelines, and specific study tactics to help you work through the program successfully. Furthermore, the software is easy to navigate thanks to the detailed instructions seen throughout the course. You will also have unlimited access to a Personal Counselor for study advice and support.
Gleim has three courses to meet your educational needs. They are Test Bank, Traditional, and Premium.
The Test Bank study material that Gleim offers is just that: access to their CPA test bank. This offering doesn't come with any bells and whistles, but it does give you access to the types of questions you'll need to ace on exam day.
Gleim's most popular premium course includes: Video and audio lectures, digital flashcards, practice questions and exams, performance reports, and real-time support.
On a tighter budget?
No problem. With the largest test bank on the market, you're sure to get your money's worth with any Gleim product–even the Traditional Package.
Truthfully, there are many similarities between these courses that can make it tough to decide between them. However, Becker offers more versatility in the way their material is presented to CPA candidates, making them the clear winner!
---
Who Has Better Video Lectures? Becker vs Gleim CPA
When it comes to course content, some people love a good textbook. Visual learners, not so much. Both the Becker CPA review course and Gleim CPA course offer unlimited access to video lectures that help you understand key points and answer questions.
Gleim comes with great video review lectures that are informative and entertaining. Although they aren't the best in the business, these videos are more entertaining than most of their competitors.
Becker's videos are similarly informative but opt for a more professional presentation instead. Both courses have extremely strong video lectures, so it mainly comes down to a personal choice of the style of the videos.
If you prefer a direct and clear-cut presentation of the materials, Becker wins. However, if you tend to get a little squirrelly, Gleim offers videos that will keep you engaged. Thankfully, both have Youtube videos available that show the style of their video lectures. You can also snag a free trial of one of their CPA review courses if you want to get a better idea of their style.
---
Gleim vs. Becker: Flashcards and Other Resources
Let's talk extras.
Both Bleim and Becker are up-to-date on their flashcard game. From digital flashcards to the printed ones that Becker offers, accounting students can use these resources to help memorize important concepts covered by the CPA review course. The primary difference here is how they are presented since Gleim doesn't offer paper cards, only digital ones.
Gleim does come with an audio review course that the downloadable audio lectures can be downloaded and listened to on many different devices. Each section of this CPA exam review course consists of 20 short audio lectures that average 25-30 minutes each. This allows you to study without having to be in front of the computer.
Unfortunately, Becker doesn't have audio lectures included in its course. Instead, they're focused on creating a classroom experience with students passing their live classes. What they do have is Adapt2U with Sana Labs, which is an insanely powerful adaptive learning system that guides each student through a customized study plan.
They also offer a fun accounting game that takes some of the pressure off CPA studying.
So, when it comes to Becker CPA review vs Gleim CPA review extra resources, it boils down to learning style.
Do you need audio lectures? Go with Gleim. Will gamification help you study better? Becker CPA is the way.
---
Who Has the Best CPA Practice Questions and Exams?
Students pass the CPA exam because of one thing. They're prepared.
To get there, you'll need a lot of practice with CPA concepts and simulations department types of questions. Live classes are great and all, but they can't really help you with this part of CPA prep.
This is why Becker CPA review courses include 9,200+ multiple choice questions and 580 task based simulations.
Not enough?
You can add other mock exams, 1,300+ supplemental questions, and a condensed final review when you enroll in their Premium or Pro courses.
Comparatively, Gleim has 10,000+ practice multiple choice questions and 1,300+ task-based simulations. That's more than any other course on the market! This could be ideal for you since the new updates to the CPA Exam will include more task-based simulations.
But does this mean Gleim is the best?
Yes and no.
Although their question bank is impressive, the "Becker Bump" comes from the back that their practice tests and mock exams are so rigorous. In fact, most students who take the CPA exam find that they scored higher on the actual exam than they ever did on the Becker CPA review.
This is important because it proves that Becker CPA is providing high quality materials that will have you ready for test day.
---
Gleim vs Becker CPA Cost: Which Brings Better Value?
Let's talk pricing. Becker's four CPA course offerings range from $2,499-$5,999. Their most affordable option can buy you an unlimited access membership with other course providers, making it one of the more expensive CPA prep courses on the market. If you don't need all four parts of the course, each part can also be bought individually, but the cost is still steep.
Keep in mind that Becker CPA review does offer to finance. Also, many companies will sponsor employees who study through Becker. So, this might be another option if you're looking for a way to pay for Becker CPA review.
Gleim isn't known for being cheap, either. However, they are more reasonably priced vs Becker CPA. Their top two courses are priced at $1999 and $1599. You can snag their Test Bank option for around 1,000 bucks. Because they often run discounts, you can usually find Gleim CPA review cost at an even better price point. For this reason, Gleim CPA review cost is the clear winner of this category.
---
Gleim vs Becker: Course Access, Updates, and Expiration
Becker's course used to only offer 18 months of access in order to match up the real exam with the 18-month "rolling" window examinees have to pass all four sections of the exam. However, they recently unveiled unlimited course access, meaning that CPA candidates can access their materials for as long as they need.
Gleim CPA review also offers unlimited access with their courses. As long as you're studying for your exam, you can use your Gleim and CPA exam review products. They also offer the "Gleim Guarantee" that states the following:
We GUARANTEE that all components of the Gleim CPA Review will remain current for at least 18 months from your purchase date. If Gleim releases a new edition for any exam section you have purchased but not yet passed within 18 months, you may qualify to receive complimentary replacement books for only the cost of shipping and handling. Your electronic materials will update automatically. See below for conditions and details.
Becker ensures that its practice exams, simulations, and video lectures are all up to date with the changing CPA exam. The last thing they want is for you to be stuck studying with outdated materials (Example: all the new IFRS regulations recently added to the Audit Exam). However, the downside to this is that you will need to pay the cost of production and shipping to receive updated study materials, such as textbooks.
Gleim CPA Review will also grant access until you pass for long access with their Access Until You Pass guarantee. Furthermore, both courses stay up to date with the changes to the CPA exam, so you will have the most current materials no matter actual exam or what.
However, the ultimate winner here is Becker, for one key reason: they let you continue accessing their CPA course after you pass the exam. So if you need to brush up on specific accounting topics in order to fulfill your continuing education requirements, this can be a lifesaver!
---
Is Becker CPA Better Than Gleim? A Final Review
Well, both Gleim, and Becker are pretty evenly matched. However, for most CPA candidates, Becker is a better buy. If you have the budget to afford Becker CPA review, that is. If not, Gleim is also a good final decision for CPA course materials.
Truthfully, there are many similarities between these courses that can make it tough to decide between them. However, Becker offers more versatility in the way their material is presented to CPA candidates, making them the clear winner!
---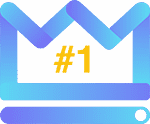 Bryce Welker is a regular contributor to Forbes, Inc.com, YEC and Business Insider. After graduating from San Diego State University he went on to earn his Certified Public Accountant license and created CrushTheCPAexam.com to share his knowledge and experience to help other accountants become CPAs too. Bryce was named one of Accounting Today's "Accountants To Watch" among other accolades.   As Seen On Forbes