01 Mar

Roger CPA Review vs. Becker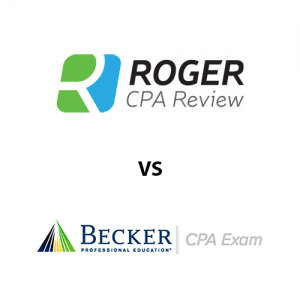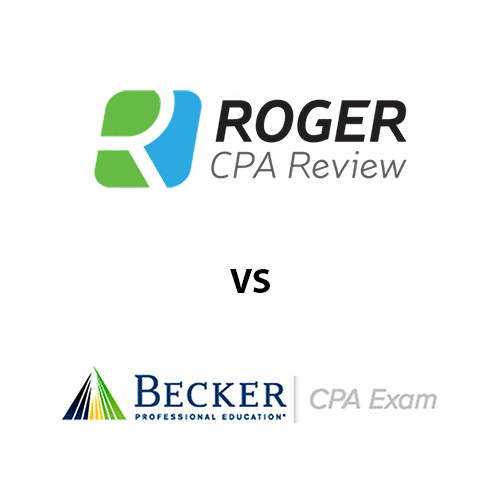 How do Roger CPA Review and Becker CPA Review stack up against each other? In this one-on-one comparison I consider their price, number of months of access, practice questions and simulations, and other important features to help you decide which course is the best choice for you.
Roger CPA vs. Becker Comparison Chart| Course Access |Practice Questions| Course Format| Software Updates| Course Video
I have tested both of these courses extensively and noticed several important differences between them that all CPA candidates should consider before they purchase either of these review courses.
Roger vs Becker CPA Review Cost
At $3,393 for all 4 sections, Becker's CPA Review is more than twice expensive as Roger's CPA prep course. Priced at a much more reasonable $1,695, Roger CPA Review costs about the market average for CPA review courses.
Roger CPA Review and Becker CPA Review are both very good courses. Both made my Top 7 CPA reviews list. However, they have several important differences that will appeal to different kinds of students. I've compared them for you here so that you can make an educated decision before you buy one or the other.
---
Roger CPA Review vs Becker Comparison Chart
| | | |
| --- | --- | --- |
| CPA Course Details | Roger CPA Review | Becker CPA Review |
| Full-Course Price | $1,695 | $3,393 |
| Single Section Price | $595 | $1,131 |
| Admin Fees | $50 | $95 |
| Cost to Repeat the Course | $417 Per Section | $565 Per Section |
| Course Access | UNLIMITED | 18 Months |
| Practice Questions | 5,000 | 7,200 |
| Video Lecture Hours | 100 | 100 |
| Final Review CRAM Course | $259-$329 per Section | $165 per Section |
Course Expiration and Access
The Becker software expires after 18 months, which can cause a bit of a time crunch and could end up costing you a lot of money if you fail an exam or need extra time. If you need to renew your access it will cost you 50% of the original cost.
By contrast, if  you buy the Roger CPA Elite Course Package you get UNLIMITED course access so you'll never have to worry about forking over another dime for CPA study materials!
---
Roger CPA Review vs Becker Books
As I wrote in my review of the Roger CPA prep course, I am very impressed with their new textbooks. They are available online and in traditional print form, and they get right to the point by leaving out any information that is not essential or won't be covered on the CPA exam. They have a straightforward layout and contain many new mnemonics to help students memorize the large quantity of information. The online textbook is fully integrated into the software, allowing students to highlight important points, take notes, and create practice texts.
Becker's textbooks are very professional-looking and are full of colored diagrams and images. The content is well-organized and structured in a way that is easy to read. Although their textbooks are fine, I prefer the format and content of the Roger CPA textbooks because they are more streamlined and include memorization aids.
---
CPA Exam Practice Questions
Becker's CPA Review includes 7,200 multiple choice questions and 400 task-based simulations. Roger's CPA Review comes with 5,000+multiple choice questions, task-based simulations, and AICPA-released questions, giving Becker the edge when it comes to the quantity of questions. Some students report that the Roger CPA Review questions are somewhat easier than those on the exam, whereas many students who used Becker found that they did as well as or better on the CPA exam than on Becker's practice tests, so the questions are probably at least as hard or harder than those on the actual exam.
Becker also gives students the option of buying additional multiple choice questions on certain challenging topics. Additional questions can be purchased for $49, less if you buy a bundle of questions.
Winner: Becker CPA Review
---
Roger CPA vs Becker Flashcards
You can buy Roger CPA printed flashcards (spiral-bound) for all parts of the exam for $139.80, or purchase individual sets for $29.95 each ($49.95 for the FAR). Roger also offers digital flashcards in the form of an app if you'd rather study on your iPhone or iPad. (Not available on Android devices).
Becker offers 1,400 flash cards in either printed or digital format too. The mobile flashcards cost $99 and are accessible on iOS (Apple), Kindle, and Android mobile devices. The printed flashcards cost $179.
*Study Tip: Don't BUY flashcards, MAKE them! You will retain much more information by physically creating them by yourself.
---
Course Formats
Becker offers 3 different course formats: live, webcast (online), and on-demand. They are one of the only CPA review companies to provide a live classroom course, however, many students say that the quality of their instructors is inconsistent. Becker CPA Review comes with live or online lectures, multiple choice homework, simulations, and practice exams. The live course and the online courses come with the same features, with the exception of direct interaction between instructors and peers and a more flexible schedule for the on-demand course.
Roger CPA Review only offers online study courses, with the option of purchasing supplemental audio lectures to reinforce the most important concepts covered in the program. Students can choose from the Select, Premier, and Elite course packages, which range from $1,695 to $2,895. Each package comes with 100+hours of recorded lectures, electronic and printed textbooks, full-length practice exams, 5,000+ multiple choice questions, study planners, and free updates. (The more expensive packages include additional materials).

Winner: Tie
---
Software and Content Updates
Becker does not update their practice exams, simulations, or video lectures for free. Each time the material covered on the CPA exam changes or a new textbook or questions come out, you will have to pay extra money for these updates or else reconcile yourself to studying with outdated materials. Given the expense of the full course, this is very disappointing.
In contrast, all Roger CPA Review packages include free updates to materials. If you are going to invest in a review course, you should definitely check to see if updates are included or not!

---
Roger vs. Becker CPA Video Lectures
This may be the starkest contrast of all of the video lecture comparisons, as Roger is far superior to Becker in terms of both the actual content and the presentation of said information. Although Becker has some things going for it with regard to the overall course, the videos are nothing compared to the Roger videos, especially given the exorbitant price that's attached to Becker CPA review. 

Roger's personality carries the videos through even the most boring segments, which definitely cannot be said for the Becker CPA video lectures. If you need more evidence, check out the below videos to see for yourself!
---
Roger CPA vs Becker CPA Pass Rate
I am often asked about various CPA review courses and their respective pass rates. Given that all of these companies track their own results and keeping in mind that statistics can be used to show almost anything, any claims about pass rates should be taken with a grain of salt. For example, Becker claims that students who use their program pass at 2x the rate of students who do not use their materials. They state on their website that they engage an "independent, third-party research firm to analyze the data" and validate their pass rates, however, it is unclear how they could know how many students who pass in any given year used Becker exclusively rather than in combination with another course or study materials.
The Roger CPA Review website claims to have an 88% pass rate, but offers no information about how they arrived at this number. Do students self-report that they have passed after taking the course? It would be difficult to calculate an exact pass rate given that many students use more than one course to prepare for the CPA exam.
Winner: Smart students who know a thing or two about statistics!
---
Conclusion


So which course is better? Well, Roger CPA Review offers more bang for your buck, unlimited course access, better Video lectures, and better student support.. but I'll let you decide for yourself.  I highly recommend signing up for a free demo of Roger CPA Review below to find out if this is the best course to help you become a CPA!
Roger CPA Review vs Becker

Written by:

Bryce Welker, CPA