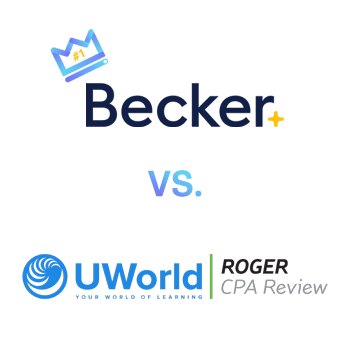 Accountants have been around since the beginning of time. Before people used an actual numbering system, little clay counters were used to keep track of animals. Tally marks on cave walls helped our ancestors keep track of important figures.
Although these acts carry on in more advanced ways today, the need for someone to keep financial records still remains.
Lucky for our ancient ancestors, they weren't required to take a CPA exam to prove their knack for accountancy.
Many modern-day accountants must pass the CPA exam to find jobs, increase their income, and secure important benefits. If you fall into this category, you probably wonder which CPA Exam review program is best for you.
There are many on the market, with two of the most recommended being Becker and UWorld Roger CPA review.
We know what you're thinking.
How do UWorld Roger CPA Review and Becker CPA Review stack up against each other?
We've tested both of these courses extensively and noticed several essential differences between the two. All CPA candidates should consider this before they purchase either of these review courses.
Let's compare.
---
Becker CPA Review
$3,799 – Save $1,330
---
9,200 Multiple Choice Questions
580 Simulations
800 Video Lessons
Roger CPA Review
$3,599 –
---
6,000 Multiple Choice Questions
400 Simulations
100 Video Lessons
Interactive Video Lessons
UWorld Roger vs Becker Format and Features
Becker has been around for six decades. That's right. They've been pros and prep for over 60 years. Because they're one of the most trusted names in the CPA exam prep field, they also come highly recommended. There are numerous reasons for this, including the fact that 94% of Becker students pass the CPA exam. This is 40 points higher than the national average pass rate.
So how is this possible? And how did they earn the support of every one of the Big 4 accounting firms?
By sticking to delivering content that mirrors the CPA exam in every way. They also care a great deal about helping their students navigate the process of attaining their CPA license. With Becker, it's not just about the initial purchase. It's about helping the whole student.
Becker CPA Review Courses and Offerings
Becker's offerings have now expanded to four. In addition to their Advantage, Premium, and Pro courses, Becker now offers a Concierge program.
When you become a member of Becker's Concierge program, you'll gain access to a dedicated Becker team and a personal success coach. In addition to the full 4-part Becker CPA Exam Review course, you'll also have the opportunity to participate in up to 50 one-on-one tutoring sessions per week. This program also includes free content updates that follow the AICPA's blueprint, including the upcoming CPA Evolution (scheduled for launch in 2024).
Becker's Final Review and a bonus set of 900+ multiple choice questions (MCQs) are included, along with both printed and digital versions of the CPA review textbooks. You'll also receive printed and digital flashcards, as well as access to their mobile app and award-winning game.
If you need more personalized instruction, don't worry – Concierge offers online virtual classes and live, in-person sessions. Additionally, you'll have access to Becker Concierge's 8 simulated exams and 12 mini exams, giving you the opportunity to take unlimited custom practice tests powered by Adapt2U Technology. With all of these practice options, you'll be well-prepared for exam day.
This, paired with expert instruction and resources from CPA Exam educators, is part of the reason the Becker Bump exists! What is this?
The Becker Bump is a noted difference between how well CPA candidates perform on the simulated mock exams Becker offers vs the actual CPA exam. Basically, the Becker mock exams are found to be more difficult than the real ones. So, if you can pass the Becker mock exams, you can expect a Becker bump and points added!
It's important to note that Becker's textbooks are very professional-looking and are full of colored diagrams and images. The content in the Becker CPA review is well-organized and structured in a way that is easy to read. Becker's CPA review courses also go into a lot more detail than you might expect. This means that the Becker CPA review course materials are an excellent refresher resource if you've forgotten some important terms and topics.
Although their textbooks are excellent, you may prefer the format and content of the UWorld Roger CPA textbooks if you need memorization aids. As far as videos, there are pros and cons to both, but we'll discuss that in the video lectures section of this CPA review.
UWorld Roger CPA Review Courses and Offerings
Roger Philipp is a man with a plan–and a really solid CPA review course program. Boasting a 94% pass rate for those who go through the Roger CPA review, Uworld Roger CPA review ties Becker for the highest pass percentage. For the past 20 years, UWorld Roger CPA has done this through a combination of expert instruction and high-quality CPA exam content. The course is powered by smart technology. and backed by innovative learning tools, giving Roger CPA review a real edge.
Roger offers three different course packages. Each of these offers some of the same amazing CPA study materials. The main difference lies within whether there is unlimited course access and, if not, how long you get to keep it. For example, both UWorld Roger and Becker's cheapest offers have limited course access. Becker's is for two years, while Roger's is just 18 months.
There are some add-ons for Roger's two CPA review courses labeled Elite. These include:
4-Part Cram Course
Digital flashcards
Printed textbooks
The Elite Unlimited Roger CPA review course also includes a Pass Guarantee. Basically, you get $250 back for every section you fail.
Regardless of which Uworld Roger CPA review option you choose, you'll get:
100+ hours of video lectures led by Roger Philipp, CPA, CGMA
Audio lectures and Study Hub access
Digital textbooks (in color) and personalized study planners
6,000+ practice questions and hundreds of task based simulations
Customizable quizzes and digital flashcards
Unlimited full-length practice exams
Study planner and course progress tracking
As you can see from our review of the UWorld Roger CPA prep course, Roger CPA review textbooks are super impressive. Not only are they available online and in traditional print form, but they get right to the point. They leave out any information that is not essential or won't be covered on the CPA exam. They have a straightforward layout and contain many new mnemonics to help CPA candidates memorize a large quantity of information.
UWorld Roger CPA review online textbooks are fully integrated into the software, allowing students to highlight important points, take notes, and create flashcards that can be accessed on mobile devices.
---
Roger CPA Review vs Becker Comparison Chart
Roger vs Becker CPA Review: Lectures and Videos
This may be the starkest contrast of all of the video lecture comparisons. UWorld Roger CPA review is very different from Becker's in terms of both the actual content and the presentation of said information.
Although Becker has some things going for it (especially the one-on-one tutoring sessions in their Pro package), their videos don't really compare to Roger's. And when you consider the price that's attached to Becker CPA Review course packages, this is a pretty big deal!
Roger CPA Review Video Lectures
UWorld Roger CPA review might be one of the newest on the block, but it's not lacking when it comes to video lessons. Roger's personality carries every video through, even the most boring segments, which can't be said for the Becker CPA video lectures. Although both are unavoidably technical and somewhat boring, Roger makes the greatest effort to remedy this.
Will Roger drink a Mountain Dew while teaching you CPA concepts? Probably.
Will he bore you?
Never.
And while Roger CPA review has fewer videos than Becker, the ones they do include are direct and to the point.
Becker CPA Review Lectures and Video Lessons
The Becker CPA review course isn't nearly as personal. However, it is predictable. Each section of the Becker CPA review follows a similar pattern. It starts with skills practice, practice questions, and simulation practice. Becker's books are known to provide all of the material students need to know for the CPA exam. However, this isn't the only area that makes the initial purchase work it.
One area that Becker CPA review really stands out is its video content. Becker CPA offers two specialized types of videos:
Becker's SkillBuilder videos
ExamSolver videos
Both videos help students improve their problem-solving skills when solving high-quality practice questions.
These video lessons are also connected to Becker's mock exams. Miss a problem? No issue! Becker CPA will show you the ins and outs of the answer so that you can score big on a similar CPA exam problem.
---
Best Practice Questions and Exams
When comparing Becker vs UWorld Roger CPA course packages, one of the most important features to look at is the practice questions and exams and how well they mimic the real CPA exam.
Simulated exams are also important when it comes to CPA exam prep. After all, many students fail because they arrive at their actual exam having never practiced in similar settings.
Let's look at the numbers.
Becker CPA Review includes 9,000+ practice questions and hundreds of tasked based simulations. Roger UWorld CPA review includes unlimited access to over 6,000 questions. Practicing these, along with their 400 simulations over and over, can help you pass the CPA exam.
Keep in mind that quality, not quantity is what really matters. One thing that Roger UWorld does is offer a free trial for their program. For seven days, you can try out their CPA review course (including their practice questions) and see the quality for yourself.
Becker CPA really shines with their practice exams. Want to test yourself and see if you're ready to become a Certified Professional Accountant? Becker CPA Review is the best route. Their CPA prep course mock exams will let you know the following:
If you really know the material
How well you'll do on simulations
If you'll finish the CPA exam on time
Becker also works these into their Final Review. This is a condensed review that goes over the most challenging concepts and includes new videos and exclusive questions.
---
UWorld Roger CPA Review vs. Becker: Best Flashcards
Picture this. You're in 10th-grade Biology, and you need to study for a test. What do you do?
One thing that most of us did at least once is make flashcards. If you're old school, you probably wrote down your study notes on index cards. If you were born in the 21st century, you might feel more comfortable using digital flashcards or a flashcard app.
Either way, using flashcards is a solid study strategy. They marry the concepts of active learning and spaced repetition, allowing them to take your CPA studying to the next level.
Roger vs Becker CPA in the flashcard category is ranked fairly highly since their flashcard technology comes with the ability to customize your deck based on the frequency and how well you know the concept. Their interface also allows you to transfer mnemonics and CPA diagrams to digital flashcards in the blink of an eye.
Becker vs Roger offers printed flashcards that are of excellent quality. So, if you're away from your computer or phone, you can still get your study on. Do you prefer online flashcards? Becker offers those in well. With Becker, you can do a full refresh of a unit's concepts in just a matter of minutes, allowing you to easily gauge where you are.
When it comes to Roger vs Becker CPA flashcards, you're really set with either one. Which one you choose (UWorld Roger CPA review vs Becker CPA review) will really depend on whether you prefer printed or virtual CPA review course materials.
---
Best Mobile App and Technology: Who Wins?
killer mobile app and advanced technology are crucial parts of any unlimited access study materials included in a CPA review program.
When comparing the UWorld Roger CPA review vs Becker, you should consider the following questions:
Do the features available on the mobile app replicate the desktop version?
Are all of the CPA course materials accessible on the app?
Is the mobile app updated regularly?
UWorld Roger CPA is up to speed and assures that its desktop version matches the mobile version. So, you can access task-based simulations, practice questions, lectures, and more through the app. This is in part to UWorld Roger CPA's adaptive tool called SmartPath Predictive Technology™.
Uworld Roger technology gives recommendations on how to focus your study efforts based on data gathered from your progress and performance. According to UWorld Roger, students who meet all SmartPath™ targets while taking their CPA course average a 94% pass rate!
Becker has the same pass rate and top-tier technology (Adapt2u Technology), which uses AI to identify your weak spots. This way, you're not just studying random topics. Becker tech makes sure you're lasered into the areas you really need help with.
But what about their mobile app? Users rate it 4.7 out of 5 because of its dependability. Becker CPA review also allows you to access the app offline. So, even if you don't have access to the internet, your study time won't be cut short. This is part of the reason why Becker tops our list with its technology.
---
UWorld Roger CPA Review vs Becker CPA: Who has the Most Updates?
Both UWorld Roger and Becker study materials are updated on a regular basis. Specialists for both companies are in charge of following the AICPA-approved changes and updates to the CPA Exam. Whether existing chapters are altered or new topics are added, it is important that test prep providers not only know about it but also mold their materials.
How do they do this? They study and tailor the CPA Blueprints. The CPA Exam Blueprints are created by the American Institute of Certified Public Accountants (AICPA) as a way to guide CPA candidates. Although they aren't a substitute for a recommended CPA test prep program, they do give a general understanding of what skills and content topics will be tested on the CPA Exam.
For example, in 2022, there was an increase in employer-dependent care exclusion to $10,500. This had to be updated in prep materials.
Thankfully, both companies do an excellent job in this category.
---
Roger vs Becker CPA Course Expiration and Access
Becker's lowest-pricedcourse expires after 24 months. This is a reasonable time frame for most students based on Becker's research. But if you need more time, their newly revamped Premium and Pro courses offer unlimited access, in addition to a whole host of extra features. Additionally, their Becker Promise policy offers free retakes to students who fail their exams the first time and need a do-over.
On the other hand, UWorld Roger's Premier course has an access period of 18 months. However, if you enroll in the Elite-Unlimited course, you'll never lose access through expiration. For either provider, there's no need to worry about forking over another dime for CPA study materials if you pay for their top tiers. However, it's their most affordable courses that have the biggest difference.
---
Uworld Roger CPA Review vs Becker: Value Comparison
So far, these two companies have run neck and neck with many comparison areas. Pricing simply isn't one of them.
As we take a look at Becker CPA review cost and that of UWorld Roger CPA review's pricing, we have to keep one thing in mind. What is a reasonable price for unlimited access to a solid CPA review course will vary by student and budget.
The fact is, many Becker offerings are more expensive.
At $3,799 for all 4 sections, Becker's CPA Review is on the expensive side. They often offer deep discounts, though. Priced at $3,599 UWorld Roger CPA Review's Elite offering isn't that much cheaper. However, both have more modestly priced value packages and offer discounts.
UWorld Roger CPA Review and Becker CPA Review are both very good courses; in fact, both made my Top CPA reviews list. However, they have several important differences that are reflected by their respective prices. For this reason, UWorld Roger wins this category, but Becker has several interesting tricks up its sleeves.
Final Verdict: Becker CPA Course Review Wins
So which course is better? Although Roger has some appealing benefits, it's clear that Becker has the better product. Their Adapt2U technology and live tutoring sessions are just some of the reasons that they offer a superior educational experience. If you have the money to spare, I suggest enrolling in Becker's Pro course for all the amazing features it provides. However, you can always try a free demo of Roger CPA Review to see for yourself!
---
Final Verdict: Becker CPA Course Review Wins
So which course is better? Although Roger has some appealing benefits, it's clear that Becker has the better product. Their Adapt2U technology and live tutoring sessions are just some of the reasons that they offer a superior educational experience. If you have the money to spare, I suggest enrolling in Becker's Pro course for all the amazing features it provides. However, you can always try a free demo of Roger CPA Review to see for yourself!
---
Roger Vs Becker CPA FAQs
Have more questions about CPA review comparisons? Some great ones are answered below.
Is Roger CPA good?
Uworld Roger CPA reviewers have consistently voted them one of the most useful and informative courses. With a 94% passing rate, they are helping thousands of CPA candidates prepare for the exam. If you're looking for a CPA review course with a personalized feel, Uworld Roger is a good option.
Is CPA the hardest exam?
The CPA exam is widely accepted as being one of the toughest examinations for accountant certification. The pass rates are extremely low because of the amount of material covered and the short amount of test time available. This is why it's so important to invest in a solid CPA prep program.
Which CPA review is the best?
The effectiveness of a CPA review program depends on several factors. These include such as the CPA candidate's learning style, budget, and time constraints. Although there is no single "best" CPA review program that is universally ideal, there are some that are better than others.
Bryce Welker is a regular contributor to Forbes, Inc.com, YEC and Business Insider. After graduating from San Diego State University he went on to earn his Certified Public Accountant license and created CrushTheCPAexam.com to share his knowledge and experience to help other accountants become CPAs too. Bryce was named one of Accounting Today's "Accountants To Watch" among other accolades.   As Seen On Forbes