31 Jan

Surgent CPA vs Becker CPA Review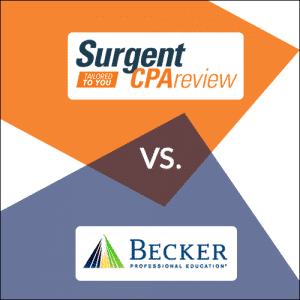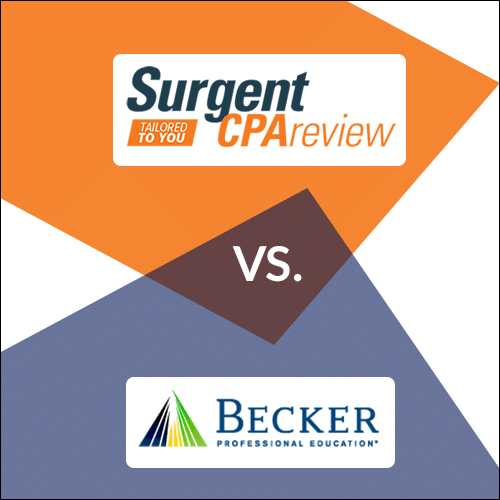 Becker CPA Review vs. Surgent CPA Review is a classic battle of the old vs. the new. As you journey through this article, you will find out why Becker is going the way of the dinosaurs, and why Surgent is the future of CPA review courses.
With the backing of the big four, Becker has been a leader in the space for years. And yes, it can work perfectly fine to pass the CPA Exam. But to be frank, Becker is no longer the best and Surgent CPA Review is one of the courses battling for that title now.
X-Factor: What Stands Out?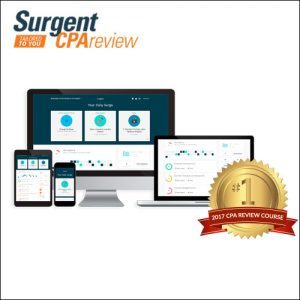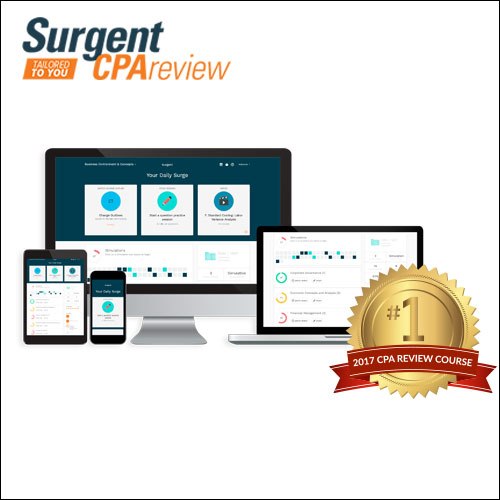 Surgent has revolutionized the way to study for the CPA Exam. It has introduced true adaptive technology into its course through their powerful combination of A.S.A.P and ReadySCORE.
Adaptive learning is a catchphrase many other CPA exam review courses brag about, but Surgent is the only company to actually feature adaptive learning in its software. Your first step, after setting your exam date, is to take the 400+ question assessment test. And don't think of this as wasted time either; this test tells you exactly where you stand with a highly accurate readiness score: your ReadySCORE!
This tool will update as you progress through Surgent's robust catalog of practice questions and simulations. It will continually change to show your level of readiness, which is extremely handy in conjunction with the detailed explanations that accompany each question. These tell you what you're getting wrong or right along with a detailed explanation as to why. Hence, Surgent teaches you dynamically and efficiently!
After ReadySCORE analyzes your results, it communicates with Surgent's A.S.A.P. technology in order to customize your study plan. Consequently, future quizzes and simulations adapt to your specific needs. This makes for the most efficient uses of your time, drastically reducing your study periods. This is something that Becker simply cannot offer, as its software lacks this innovative technology.
In fact, Surgent is the only company to actually feature adaptive learning in its software!
Surgent vs. Becker CPA Review Price
Besides just being a better course, Surgent is also significantly lower in price than Becker. If you're wondering why this is the case, you're not alone.
Becker is often the course that big firms will pay for when sponsoring employees to become CPAs. The name is widely recognized and it's worked for their employees for years—they've signed contracts that keep that relationship in place for a very long time. And for those lucky enough to have their firm sponsor their CPA exam endeavors, that's great! However, the rest of us need to spend our money a little more wisely. This makes choosing Surgent even easier.
| | | |
| --- | --- | --- |
| | Surgent | Becker |
| CPA Review Course Price | $2899 | $3,393 |
| Discount Code? | | No |
| Partial Course Cost | $499 | $1,131 |
If you want to spend your money on a professionally-endorsed brand, pick Becker. Otherwise, Surgent is the clear winner for tech-savvy students.
Becker's videos are, quite frankly, dry, lengthy, and rough to get through. They do cover everything you need to know, but it's a serious chore to get through them. In comparison, Surgent's videos are shorter, more succinct, and usually feature Liz Kolar, who has over 25 years of experience in teaching accounting and CPA review courses. Her passion is evident and she does a great job in concisely presenting what you need to know without making you want to fall asleep.
Here's the breakdown of the number of questions, examinations, and flashcards each review course offers:
| | | |
| --- | --- | --- |
| | Surgent CPA Review | Becker CPA Review |
| Multiple-Choice Questions | 7,250 | 7200 |
| Task-Based Simulations | 390 | 400 |
| Video Lectures | 350 lessons | 100 hours |
| CPA Flashcards | 2200 | 1400 |
Surgent vs. Becker Course Expiration and Access
Becker's software expires after 18 months. To renew, should you need to take more than 18 months to pass all four sections of the CPA Exam, it'll cost you 50% of the original price. This means you really can't afford to fail, even one section. Surgent, on the other hand, not only has a money back guarantee should you fail to pass; they also have the best materials on the market. This alone is enough reason to choose Surgent. The safety and security of your investment in yourself is guaranteed and isn't going to incur additional prices along the way.
To be honest, it was never a fair comparison. Surgent offers a better course, that's guaranteed, and at almost half the price. If you're having to pay for your CPA Exam and review course, Surgent is the clear choice. You can check out our full review to get all the details for both Surgent and Becker. We've also got the best discounts to make buying Surgent even easier. Good luck!
Surgent vs Becker CPA Review
Written by:
Bryce Welker, CPA