X-Factor: What Stands Out?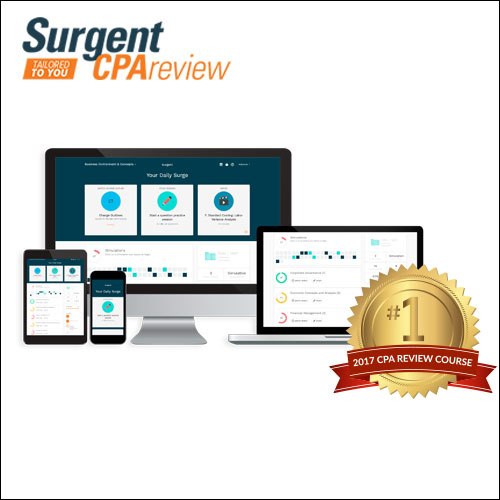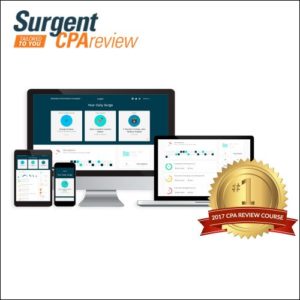 Surgent has come out of the gate strong by revolutionizing traditional methods of studying for the CPA exam. One of the program's top claims to fame is using adaptive learning technology in its course. Surgent claims that this cuts down on at least 50 hours of study time for the average student.
The first step when embarking on this course is to take a 400+ question assessment test. This test will tell you what you know, what you don't know, and give detailed explanations as to why you did or did not get questions right. Right off the bat, you'll know where to spend the most time studying.  
After that, Surgent analyzes your results, customizing your study plan and future quizzes/simulations to adapt to your specific needs. This makes for the most efficient use of your time, drastically reducing your study periods.
Becker now offers a similar feature, called Adapt2U Technology, that reads your assessment test and tailors a program of study for you to maximize study time on your pain points. Becker also includes regular progress checks to make sure you're on course and retaining the information you need. Their course is powered by Sana Labs, an impressive company who've previously worked with Spotify.
It's too close to tell whether one of these programs is better than the other; however, Surgent's tech has been in place for longer and is incredibly popular. However, Becker has another ace up their sleeve that's exclusive to Pro subscribers. Each subscriber has up to 5 one-on-one academic tutoring sessions conducted over Webex. These sessions pair students up with Becker's crack team of CPAs and accounting experts who are dedicated to answering all their student's questions in real time.
Surgent vs. Becker CPA Review Price
As anyone familiar with Becker will note, Becker is one of the most expensive CPA reviews on the market. Surgent is much lower in price, meaning that Becker comes in at almost double the cost for their top tier courses. Willingness to pay for Becker's program is in the eye of the beholder; after all, you're most likely paying for the prestige and gold standard of a company that's been around for a long time. This is in addition to being a comprehensive CPA review course, naturally!
However, many individuals taking the CPA probably don't have their company footing the bill. If you're going it on your own to get your CPA certification, a more cost-effective program might make sense for your situation.
It's worth noting that Becker has heard from critics (including us!) about this issue and are working to fix it. They've revamped their different packages to accommodate a wider range of budgets and will also provide financing for some of their more expensive courses. Still, Surgent is the clear winner in this department; the numbers don't lie!
Becker offers a unique video solution to common pains, which we certainly appreciate! If you're working through a task-based scenario and are just absolutely stumped, you can hit the CPA SkillMaster button. This new feature will take you step-by-step through the problem under the guidance of a CPA expert. It's like having your own private coach!
In addition to this feature, Becker makes its video content as informative as possible, with its friendly video host often citing real-world scenarios and examples in addition to those featured in the text. Let's face it: any video concerning CPA practices probably isn't the most engaging out there. However, Becker tries it's best.
Surgent features shorter videos, many of which feature Liz Kolar. She has over 25 years of experience in teaching accounting and CPA review courses. Kolar makes for a great host as she is passionate about the content and manages to deliver it in an interesting and concise way. In our opinion, that makes learning about CPA practices just a little more bearable.
Here's the breakdown of the number of questions, examinations, and flashcards each review course offers. You'll see that for the most part, Becker and Surgent aren't too far off from each other:
Here's the breakdown of the number of questions, examinations, and flashcards each review course offers:
| | Surgent CPA Review | Becker CPA Review |
| --- | --- | --- |
| Multiple-Choice Questions | 6,840 | 7200 |
| Task-Based Simulations | 390 | 400 |
| Video Lectures | 350 lessons | 100 hours |
| CPA Flashcards | 2200 | 1400 |
Surgent vs. Becker Course Expiration and Access
Becker's software now offers unlimited access! While their original course access period was limited, they now give students all the time they need to complete their study materials. Regardless, Becker is still well-suited to those who can learn and execute CPA exam concepts fairly quickly.
Surgent happens to offer a money back guarantee if you don't pass the CPA, but Becker also offers a guarantee called the Becker Promise. Students who pass the course but fail the exam can retake the course for free (although they will have to pay for course materials in each section). With both programs, they are willing to put their money – and yours- where their mouth is in terms of delivering a quality product that will prep you for the CPA exam.
Becker and Surgent are both quality CPA review courses, and potentially serve different students with different needs. Surgent offers a quality course with a low price point, and Becker carries a venerable name that is trusted by top accounting firms in the world. If reputation is of less concern to you, and you don't mind a newer CPA exam product that will get the job done, Surgent might work better for you.
However, if you're looking for a tried-and-true, trusted CPA review course through your work or with the hopes of eventually working with a top firm, Becker could be a major feather in your cap.
You can check out our full review to get all the details for both Surgent and Becker. We've also got the best discounts to make buying Surgent even easier. Good luck!