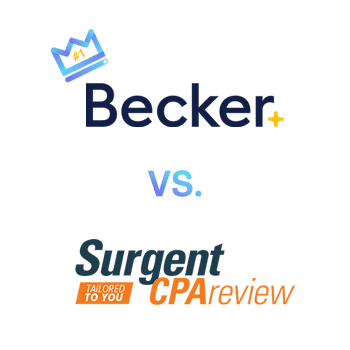 If you're looking for a top-rated CPA review course, then you've probably already narrowed down your choices and are wondering what's better, Becker or Surgent?
Becker packs a ton of clout behind its name, being the chosen CPA Review that top-level accounting firms use for their employees. In addition, it is vouched for by all four of the major accounting firms, the "Big 4," as they're commonly called. In contrast, Surgent CPA Review has developed a reputation for impressive technology. And they boast one of the biggest banks of practice questions on the market.
Let's compare these CPA exam prep offerings and see which is the better pick for you!
---
X-Factor "What stands out" | Surgent Vs. Becker Price | Course Content | Surgent Vs. Becker Course Access
---
Becker
Endorsed by the Big 4
9,200 MCQ's

580 Simulations

800 Video Hours

AI Technology by Sana Labs
Surgent
Shortest Study Time
7,700 MCQ's

417 Simulations

350 Video Lectures

50% less study time
Becker CPA vs Surgent Review: Format and Features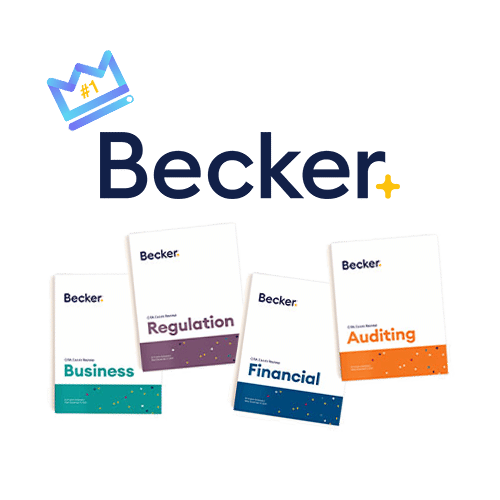 With more than six decades of experience, Becker CPA review is one of the oldest and most trusted CPA exam programs in test prep. Their 94% CPA Exam pass rate is astonishing, especially when compared to the exam day numbers (the national average is between 44 and 55%.
But how is Becker CPA so successful?
Their formatting and features really paint the picture, with four carefully designed CPA review course offerings. The first three: the Advantage course, Premium course, and Pro course have been around for a long time.
Each one of these prep packages has a different level of supplemental resources and very basic study materials. From digital flashcards on a flashcard app to practice questions, printed textbooks to an interactive study planner, Becker's review courses are top-tier.
Becker also has a brand new course offering called Concierge. With Becker Concierge, not only will you have access to a dedicated team of experts and a personal success coach, but they'll also create a tailored study plan that meets your specific needs.
You can also take advantage of up to 50 hours of individual tutoring per week, ensuring you get the necessary support to succeed. As an added benefit, Becker Concierge includes a one-year CPE subscription and CPE certificate to keep you up-to-date with industry changes.
With all these resources, you can confidently prepare for the CPA exam and your future career. And if you somehow feel unprepared on exam day, Becker promises to refund up to 100% of the Concierge CPA review purchase price. It's important to note that due to its exclusivity, only 300 candidates can enroll in Concierge, so don't hesitate to sign up if you're interested.
Features in Focus
| | | |
| --- | --- | --- |
| | Surgent CPA Review Features | Becker CPA Review Features |
| Study Materials Formatting | 4-part comprehensive review course covering hundreds of topics | 4-part comprehensive review course covering hundreds of topics |
| Video Lectures | 350+ hours of video lectures, audio lectures available as well | 140+ hours of video lectures, 500 TBS videos |
| Adaptive Study | ✅ | ✅ |
| Question Bank | 7,600 practice questions, + 400 task-based simulations | 8,300 practice questions + 500 task-based simulations |
| Flashcards | 2,000 digital flashcards, 1,000+ printed flashcards | 1,350+ digital and printed flashcards |
| Full-length Practice Exams | Unlimited practice exams | 12 simulated exams, unlimited practice exams |
| CPA Review App & Game | ❌ | ✅ |
| Unique Study Planner | ✅ | ❌ |
| Updated around CPA Exam Blueprints | ✅ | ✅ |
| Final Review | ✅ | ✅ |
| 1-on-1 Tutoring | Virtual sessions available | Five sessions included |
| Pass Guarantee | ✅ | ✅ |
| 1-Year CPE Subscription | ❌ | ✅ |
| Customer Support | Ultimate support within one business day | Unlimited CPA prep support |
Surgent CPA Review was founded in 2013— making it one of the newest CPA exam prep providers on the block. Still, their founders aren't new to test prep. Founded in 1985, Surgent Education offers customized learning with guaranteed results.
They also work quickly. Surgent CPA, review course offerings, combine 300-400 hours worth of study time into a little under 90. Their interactive study planner makes CPA exam prep 4x faster. And if you don't pass? They guarantee you will.
When it comes to Surgent CPA review vs Becker CPA, it's best to compare the features. After all, CPA candidates are individuals with varying learning styles and CPA exam prep needs. The CPA exam program that works for one won't necessarily work for another.
---
When it comes to CPA review providers, there's one surefire way to gauge the good from the great: their overall course content.
Surgent vs Becker CPA both offer some amazing options with unlimited access, each hand-crafted by experts to help you pass the actual CPA exam. From printed textbooks to videos, final review cram course add-ons, and mock exams, CPA candidates find Becker and Surgent cream of the crop.
But which should be ruled as the best?
Let's explore.
Becker CPA Review Course Lectures and Videos
Becker students find their four-part review program very predictable. But this isn't a bad thing. With Becker, each section is set out in a repetitive pattern:
Lecture
Skills
Practice questions
Simulation practice.
If you prefer to study with a book in your hand, you're in luck. Becker's books that are included with their prep packages include all of the CPA topics you'll need to crush the CPA exam.
Becker takes the lead when it comes to video content as well. There are two main types: SkillBuilder videos and ExamSolver videos.
ExamSolver videos are connected to multiple choice question prompts and task-based simulation questions and help you understand how to solve Becker questions. SkillBuilder videos are a little different as they offer strategies for answering questions and acing the exam.
Miss a problem?
No issue. Becker's video lessons will show you the right way. This is much better than other CPA providers that simply give you the answer. The only real downside with Becke's CPA course content is that they don't offer audio lessons.
Surgent CPA Review Course Lectures, Videos, and Technology
Surgent's study plan focuses on video content as well. But while both Becker and Surgent CPA offer video lessons for each exam section, only Surgent CPA includes audio lessons with their top packages. When paired with their bite-sized video lectures, learning happens effortlessly.
Led by CPA expert Liza Kolar, the video lectures in Surgent's course packages are not only easy to understand, they're fun and far from boring.
With each Surgent review course, you'll also get the following:
E-books
Study notes and digital flashcards
7,700+ multiple choice questions
400 simulations
350+ video lessons
The reading material provided by Surgent CPA prep offers a deep dive into all of the must-know CPA topics. Just like what Becker offers, Surgent's exam prep is aligned with the CPA exam's blueprint.
This means Surgent CPA review won't waste your study time on topics that don't matter. Plus, their adaptive technology will ensure that you're studying the topics you need the most help with. This way, when CPA exam day comes, you'll be ready.
This leads us to an important Surgent vs Becker CPA question. Which one is better?
If you want audio lectures, you'll have to go with Surgent. But if solid books and videos are what you're after, Becker is our first-string pick.
If you want to spend your money on a professionally-endorsed brand, pick Becker CPA Review. Otherwise, Surgent CPA is a good second choice.
---
Best Practice Questions and Exams
One of the main reasons CPA candidates sign-up for a review course is to access the practice questions. If you're comparing the Surgent CPA vs Becker CPA review course, one of your biggest points of comparison will be just that.
After all, it's the multiple choice questions that can help you determine how much you know. The task-based simulations are also important because they give you practice with those kinds of problems. You just can't get this from a book.
Simulated exams are also crucial. One of the reasons that so many students fail the actual exam is that they have no clue what the test will be like. Knowing the material simply isn't enough.
You really can't go wrong with Becker or Surgent. Surgent has 7,600+ practice questions, while Becker has recently lifted their numbers to 9,000+ questions. Keep in mind that isn't just quantity that matters but the quality of the practice questions as well. Becker's CPA questions (and their simulated exams) are closely tied to what you can expect from the actual CPA exam.
Of course, the Surgent course options include realistic practice questions as well. The difference is in the fact that they don't have simulated exams like the Becker CPA review. Their unlimited practice exams are super helpful, but they don't mimic the actual time constraints of the real test like simulated exams do.
So, if you just want solid practice questions, either of these review courses will be fine. If you want to prepare for your exam day by mimicking it exactly, you'll need to go with Becker.

---
Best Flashcards
Studying with flashcards used to be a right of passage. Whether it was multiplication facts or definitions for an exam, most of us have at least some experience using these to get a passing grade.
Simply put, flashcards work for memorization.
For this reason, digital flashcards (or printed ones) are an important asset that the best CPA review providers include in their plans. Whether you're looking for spiral-based cards or a flashcard app option, lots of resources exist.
Here's what you get with Becker: 1,350+ printed/digital flashcards.
Surgent vs Becker CPA review offers 2,000 digital flashcards and 1,000+ printed flashcards.
Although Surgent has a lot more flashcards than Becker, you won't get access to their printed ones until you reach the second tier of the program.
So, while we love Surgent's materials, if you want to feel the printed cards in your hand for a lower price, you'll want to choose Becker.
---
Best Mobile App and Technology
With tech, both of these CPA exam prep providers really shine! In fact, this is what Surgent is known for. Their courses are built using ASAP Technology. They also include a feature called ReadySCORE which helps you prepare to crush the CPA. But do they outshine Becker's highly advanced CPA mobile app? Here's our take:
Surgent CPA Review Advanced Technology
Surgent CPA review vs others is centered around its ASAP Technology. Surgent claims that its course is the only one that can do the following.
Turn your weak areas into strengths by focusing on your lack
Reduce your study time by two-thirds
Let you know when you're ready to pass
How is this possible?
Their technology
The first step when embarking on this course is to take a 400+ question assessment test. This test will tell you what you know and what you don't know and give detailed explanations as to why you did or did not get the questions right. Right off the bat, you'll know where to spend the most time studying.
After that, Surgent analyzes your results, customizing your study plan and future quizzes/simulations to adapt to your specific needs. This makes for the most efficient use of your time, drastically reducing your study periods.
Interestingly, Becker recently made some enhancements to their curriculum and provided a similar feature:
It's called Adapt2U Technology, and it's used to tailor a study program of study that will maximize study time on subjects in which you need the most assistance. To accomplish this, Becker also includes regular progress checks to make sure you're on course and retaining the information you need. Their course is powered by Sana Labs, an impressive company who've previously worked with Spotify.
It's too close to tell whether one of these programs is better than the other; however, Surgent's tech has been in place for longer and is incredibly popular. However, Becker has another ace up their sleeve that's exclusive to Pro subscribers.
Each subscriber has up to 5 one-on-one academic tutoring sessions conducted over Webex. These sessions pair students up with Becker's crack team of CPAs and accounting experts who are dedicated to answering all their student's questions in real-time.
Becker's Accounting Game
Becker also has a mobile app, and it's something that hasn't been replicated by other CPA review providers. Not only does it give you on-the-go access to all materials, but it also allows you to learn while having fun. Becker offers an accounting game called Accounting for Empires™ that is truly one of its kind.
Considering the fact that Becker offers everything provided by Surgent plus a little extra, they take the win in this category!
---
Surgent CPA Review vs Becker: Who has More Updates?
If you decide to spend your hard-earned money on CPA test prep, you want it to be relevant. After all, what's the point of studying if you're not studying the right materials? Both Becker and Surgent keep up with proposed changes and make sure each overall course is up to speed.
Becker has a huge team that focuses on making sure their courses evolve as the CPA does. This is why many find Becker the best option. Surgent has a much smaller group of employees, but they're still able to keep up with CPA adjustments.
---
Surgent CPA Review vs Becker: Who Offers Better Value?
What is affordable pricing for one may seem super cheap or overpriced for other CPA candidates. So, when you're preparing to make your initial purchase, you'll want to consider two things: your budget and the price tag of each CPA review.
Keep in mind that the pricing of the CPA review courses on the market today is always changing, especially as new discounts and coupon codes come out.
Both Becker and Surgent CPA Review cost upward of $1,500, so they're not the most affordable options when compared to other providers. They do offer financing options. So, if you're balling on a budget, there are still ways to pay for the best of the best.
Surgent's Essentials Pass is one of the cheapest options, coming in at $800-$900 cheaper than Becker's program. The Essentials Pass includes unlimited access to practice problems as well as other coveted perks. If you want a similar offering but through Becker, their Advantage course is a good comparison.
Surgent's Ultimate Pass is an upgrade and includes lots of add-ons. These include extra practice questions, audio lessons, and access to customer support. Of course, the price tag is more, but if your learning style is auditory-heavy or you want lots of practice questions, it's worth considering.
Becker vs. Surgent CPA Pricing
CPA Review Course
Pricing
Surgent Ultimate
$2,999
Surgent Premier
$2,399
Surgent Essentials
$1,599
Becker Concierge
$5,999
Becker Pro
$3,799
Becker Premium
$3,099
Becker Advantage
$2,499
Even if you have to pay more for Becker, it's worth it. Their simulated exams, extra resources, and Final Review cram course just can't be replicated.
---
Surgent vs Becker CPA Review: Who Has Better Access and Support?
Unlimited access is one of the must-haves for a lot of CPA candidates. Becker offers this for their course content for the highest tiers but not the lowest package.
Surgent has an "Access Until You Pass" promise that allows you to keep studying with the materials until you ace the exam. Becker doesn't offer the same thing but does include a free year of continuing professional education (CPE) with some prep packages.
If we're looking at numbers alone, Becker is the best bet. The "Becker Promise" gives you extra protection if you're scared you might fail on your first try.
---
Becker vs Surgent CPA Review: Which Course Wins?
Becker and Surgent are both quality CPA review courses and potentially serve different students with different needs. Surgent offers a streamlined course with a low price point, and Becker carries a venerable name that is trusted by top accounting firms in the world. But one is clearly a better study tool than the other:
If you want the best possible set of practice materials, backed by incredibly powerful adaptive learning technology, and taught by some of the best instructors and academic tutors, look no further than Becker CPA Review. Obviously, Surgent is also a great choice for CPA candidates, but it's just not as good as Becker in a toe-to-toe battle.
You can check out our full reviews to get all the details for both Surgent and Becker. We've also got the best discounts to make buying a CPA prep course even easier. Good luck!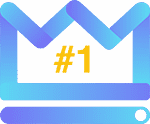 Learn More About Becker CPA Review
---
Surgent vs Becker CPA review FAQs
Which Becker CPA package is best?
The Premium courses follow in a similar fashion to Advantage but include additional practice questions, live online classes, and unlimited accessibility. This is Becker's most famous package and is typically considered their 'standard' course for CPA exams.
Is Surgent CPA review good?
Surgent offers two great options for CPA exam study. If you want a program with advanced technology that caters to your learning style and personalized needs, Surgent CPA review is a great fit. This is especially true if you're looking for an affordable program.
Which CPA review has the highest pass rate?
Becker CPA offers the highest passing rates on exams by a CPA exam prep company in the country. Currently, Becker CPA exam prep students score 94% on their CPA exam. It's well over the national average passing rate reported by the AICPA.
Bryce Welker is a regular contributor to Forbes, Inc.com, YEC and Business Insider. After graduating from San Diego State University he went on to earn his Certified Public Accountant license and created CrushTheCPAexam.com to share his knowledge and experience to help other accountants become CPAs too. Bryce was named one of Accounting Today's "Accountants To Watch" among other accolades.   As Seen On Forbes