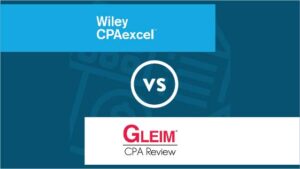 Which CPA review course is better, Wiley CPA or Gleim CPA Review?
In this head-to-head review, we'll compare the software, practice tests, textbooks, and the other important components of these courses to help you decide which is the best fit for your CPA exam study needs..
Wiley CPA vs. Gleim Costs| Course Access | Course Books | Practice Questions | Course Format| Software Updates | Video
One should keep in mind that UWorld has taken the reins of Wiley CPA. Because of this, the brand's continued existence is unclear. Consequently, our current stance is to hold off on recommending Wiley.
Wiley vs Gleim CPA Cost
Wiley CPA used to be more expensive than Gleim, but with recent price raises, they're running about neck and neck.  Both are affordable and offer quite a bit of value to CPA exam candidates. Wiley has several courses to choose from starting with the Wiley Pro course at $2,199 and the Platinum Course at $1,799. The Platinum Course gives you a lot more bang for your buck. It is heavily discounted right now, so keep that in mind when considering pricing. 
Gleim CPA packages range from $999 (textbook and practice questions/test only) to $3,499. For the sake of transparency, we will reference the Platinum Course in the pricing chart below since this is the one most similar to Gleim's offering.
Winner: Gleim CPA Review
Course Expiration and Access
Wiley CPA never expires, and you never have to pay to renew your access. Never is a great word to see when you're looking through CPA exam review courses and the associated access policies. With Wiley, you can take unlimited course repeats and will have access to its online material for an entire year AFTER you pass the CPA exam.
As awesome as this sounds, keep in mind that the recent buyout of Wiley CPA might put this permanent access in jeopardy. So, we wouldn't recommend you purchase Wiley based on this alone.
For this category, Gleim is in line with Wiley, as it offers an "Access Until You Pass" guarantee. This means that candidates' course materials don't expire, and they have access until they pass their exams. It's important to note that this isn't offered with every Gleim package. You'll only get this promise when you enroll in Gleim Premium or Premium Pro.
Winner: Tie
Wiley vs Gleim Textbooks
While Wiley CPA books adopt a more straightforward design without the flashy aesthetics some other courses might boast, this could be seen as a strength. The minimalist approach means the content is direct, and there's ample space for annotations between lines and in the margins. However, one might wonder if the necessity to frequently jot down supplementary notes indicates a potential shortfall in the book's comprehensiveness.
On the other hand, Gleim's textbooks embrace a modular format, breaking down information into digestible sections—a boon for CPA aspirants. The depth and structure of Gleim's content certainly surpass Wiley's, offering a richer and more thorough resource for exam preparation
Winner: Gleim CPA Review
CPA Video Lectures
Wiley and Gleim both take the same approach with regard to their video lectures: there's not a lot of frills and excitement, but in terms of content, you're going to cover all of the necessary topics. While there's not much to distinguish either company's offerings, a few differences may influence your purchasing decision.
Wiley CPA books take a no-frills approach, focusing on a straightforward design without the embellishments seen in some other courses. For many, this minimalist layout, which allows ample space for personal annotations between lines and in the margins, can be advantageous. However, several CPA candidates have voiced concerns about Wiley's depth. Not all topics are covered comprehensively, leaving some aspirants feeling unprepared for certain exam sections. Furthermore, the content in Wiley can lean towards the dry side, which might affect retention for some readers.
In contrast, Gleim's textbooks offer content in a modular format, breaking down information into bite-sized sections—a clear advantage for CPA candidates. With its meticulous outlining, Gleim not only offers a more in-depth study resource but also a more engaging and structured preparation experience compared to Wiley. With Gleim, they have a host of experts who come through and teach, so you're going to get quite a varied crowd. Some of the instructors are great and engaging, while others may lack a flair for presentation. Either way, you're going to get people who know what they're talking about.
Winner: Gleim CPA Review
CPA Exam Practice Questions
Wiley CPA course includes several thousand multiple choice questions and 600 task-based simulations.  The true/false questions are referred to as "proficiency questions" and serve as a useful gauge to see if you really understand a particular section or if you need to spend some more time on it. Although this is one of the largest banks of questions on the market, some users have complained about the quality and how it doesn't compare to the actual CPA exam.
Gleim stands out notably in the crowded CPA prep landscape. Its robust offering includes a whopping 10,000 MC and 1,300 task-based simulations, more than what any other courses provide. This vast pool ensures a thorough grasp of diverse scenarios and concepts. But it doesn't stop there. Gleim integrates multiple-choice focus questions into its curriculum, tying directly to the digital outline.
Each sub-unit within the course contains between 3-5 MCQs, ensuring that students consistently apply what they've learned. This meticulous and comprehensive approach underscores Gleim's commitment to quality and its intent to provide candidates with a genuinely effective preparation experience.
Winner: Gleim CPA Review
Flashcards
Wiley CPA comes with 4,100 digital flashcards, available at no extra cost.  Each section of its software includes flashcards relevant to the most important definitions and terms covered. Unfortunately, trying to access these flashcards can be difficult if you're using their official mobile app.
Gleim provides digital flashcards for each exam section to help candidates study & recall key terms, concepts, and calculations. Flashcards can be printed, and candidates can mark the flashcards as having mastered them once they feel comfortable with the concept. Unfortunately, this resource is only given to top-tier purchasers and not those who are going with mid-to-lower-level packages.
(Quick study tip: don't BUY flashcards, MAKE them! You will retain much more information by physically creating them by yourself.)
Winner: Gleim CPA Review
Course Formats
Wiley CPA and Gleim offer distinct course formats that cater to different learning styles, but both bring valuable features to the table. Wiley CPA provides candidates with a range of options, including online, self-study, and a standout virtual classroom format. This unique virtual classroom combines the best of both worlds: the flexibility of pre-recorded lectures and the immediacy of live instruction, ensuring candidates get a comprehensive learning experience. Additionally, Wiley's adaptability makes it a top choice for students who desire a blend of self-paced and instructor-led learning.
Conversely, Gleim steps into the spotlight with its advanced SmartAdapt technology, a central feature of its online course. This dynamic tool assesses students' strengths and weaknesses, curating a tailored set of questions as they progress in their studies. The result? A more efficient and targeted study experience. Furthermore, Gleim's materials and software are frequently updated, reflecting the latest exam content. They also provide webinars for those enrolling in Premium Pro.
In weighing the two, while Wiley offers diverse formats suitable for varied learners, Gleim's integration of pioneering technology and its commitment to up-to-date content might position it a notch higher for tech-savvy and precision-focused candidates.
Winner: Gleim CPA Review
Software and Content Updates
Wiley CPA comes with free software and content updates. You can access its updated video lectures online for free, or if you prefer to watch them via DVD, they will ship you the new ones for only $8. But let's be real, in this day and age, the online format should be enough for anyone.
Gleim provides constant updates for its content, as dictated in its "Access Until You Pass" guarantee. The "materials will stay current," according to the company, so you won't have to worry about a lack of course updates.
This one is a tie because both companies are devoted to keeping you updated!
Winner: Tie
Final Recommendation
After an exhaustive comparison between Wiley CPA and Gleim CPA Review, considering factors ranging from cost to content updates, it's clear that Gleim CPA Review offers a distinct advantage in several categories. Both platforms have their strengths, but given the current uncertainty surrounding Wiley CPA's future due to its acquisition, it would be remiss to fully endorse it at this time.
The standout attributes for Gleim include its cost-effectiveness, comprehensive textbooks, and state-of-the-art SmartAdapt technology, which provides a tailored and dynamic study experience. Additionally, Gleim's impressive task-based simulations, dedicated expert instructors, and commitment to regular updates further solidify its position as a leader in the field.
In light of these observations, and despite the close competition in some categories, we confidently recommend Gleim CPA Review as the preferred choice for CPA exam candidates seeking a comprehensive, tech-forward, and reliable study platform.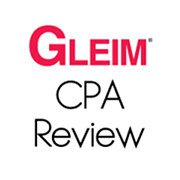 Cyber Monday Sale – $1,400 Off Gleim CPA Premium Pro
uses today
Last Used: 2 hours ago
Bryce Welker is a regular contributor to Forbes, Inc.com, YEC and Business Insider. After graduating from San Diego State University he went on to earn his Certified Public Accountant license and created CrushTheCPAexam.com to share his knowledge and experience to help other accountants become CPAs too. Bryce was named one of Accounting Today's "Accountants To Watch" among other accolades.   As Seen On Forbes