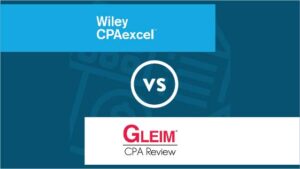 Which CPA review course is better, Wiley CPA or Gleim CPA Review? In this head-to-head review, I'll compare the software, practice tests, textbooks, and the other important components of these courses to help you decide which is the best fit for your CPA exam studying.
Wiley CPA vs. Gleim Costs| Course Access | Course Books | Practice Questions | Course Format| Software Updates | Video
I have used both of these courses extensively and found some significant differences that every CPA candidate should know about before making a purchasing decision.
Wiley vs Gleim CPA Cost
Wiley CPA is slightly more expensive than Gleim, but both are affordable and offer quite a bit of value to CPA exam candidates. The former has a variety of packages to choose from, starting with the Wiley Silver Course at $1,590 and up to $2,450 for its Platinum Course.  For the sake of transparency, I will reference the Platinum Course in the pricing chart below since this is the one most similar to Gleim's offering.
Winner: Gleim CPA Review
Course Expiration and Access
Wiley CPA never expires, and you never have to pay to renew your access. Never is a great word to see when you're looking through CPA exam review courses and the associated access policies. With Wiley, you can take unlimited course repeats and will have access to its online material for an entire year AFTER you pass the CPA exam.
For this category, Gleim is in line with Wiley, as it offers an "Access Until You Pass" guarantee. This means that candidates' course materials don't expire, and they have access until they pass their exams.
Both courses are great in this regard, so it's ultimately a tie.
Winner: Tie
Wiley vs Gleim Textbooks
CPA books are somewhat plain looking and do not have all the fancy colors and images that other courses may provide.  However, some students might view this as a good thing—it tends to get right to the point and doesn't waste your time and energy. There's also more empty space to write on in the margins and between the paragraphs which is useful for taking notes. But if you need to write extra notes in your textbook to pad out the sparse info it already provides, is it really a good textbook at all?
Gleim utilizes smaller, bite-sized sections in its books— which is definitely a plus for CPA exam candidates. The material is outlined extensively, and definitely offers a more valuable resource than what's on offer from Wiley.
Winner: Gleim CPA Review
CPA Video Lectures
Wiley and Gleim both take the same approach with regard to their video lectures: there's not a lot of frills and excitement, but in terms of content, you're going to cover all of the necessary topics. While there's not much to distinguish either company's offerings, a few differences may influence your purchasing decision.
With Gleim, they have a host of experts who come through and teach— so you're going to get quite a varied crowd. Some of the instructors are great and engaging, while others may lack a flair for presentation. Either way, you're going to get people who know what they are talking about. They also have more varied types of lectures: concept videos, teaching videos/application videos, and deep dive videos. Candidates can learn the difficult concepts, apply their knowledge with real exam questions and walk-throughs and dive into more difficult topics to solidify their knowledge.
Wiley tends to have a more boring style of video, but once again, it's all good in terms of the actual meat of the videos. Gleim is a little more varied and exciting, so that really gives them the edge for CPA review video lectures.
Winner: Gleim CPA Review
CPA Exam Practice Questions
Wiley CPA course includes 12,000 multiple choice questions, 600 task based simulations, and 6,200 true/false questions.  The true/false questions are referred to as "proficiency questions" and serve as a useful gauge to see if you really understand a particular section or if you need to spend some more time on it. This is the largest bank of questions on the market, so it's hard to measure up the Wiley course in this category.
Gleim does have an advantage over most courses, however, as it offers the largest bank of task based simulations—1,300, to be exact. Gleim multiple-choice focus questions to reinforce a candidate's reading of the digital outline.  There are between 3-5 MCQs per each sub-unit within the course. So, it does beat Wiley in that specific measure, but the total number of practice questions that Gleim offers (10,000+) doesn't measure up in this category.
Winner: Wiley CPA
Flashcards
Wiley CPA comes with 4,100 digital flashcards, available at no extra cost.  Each section in its software includes flashcards relevant to the most important definitions and terms covered. Unfortunately, trying to access these flashcards can be difficult if you're using their official mobile app.
Gleim provides digital flashcards for each exam section to help candidates study & recall key terms, concepts, and calculations.   Flashcards can be printed, and candidates can mark the flashcards as having mastered them once they feel comfortable with the concept.
(Quick study tip: don't BUY flashcards, MAKE them! You will retain much more information by physically creating them by yourself.)
Winner: Gleim CPA Review
Course Formats
Wiley CPA is offered in an online, self-study, and virtual classroom format. The virtual classes are a blend of pre-recorded lectures and live instruction, making it a great combination and something that other courses may not offer.
That being said, Gleim is an amazing course too. Their online course has SmartAdapt technology, which really helps to narrow down the questions once the studying process begins. It's pretty close, but I think the addition of that extra tech gives Gleim the edge.
Winner: Gleim CPA Review
Software and Content Updates
Wiley CPA comes with free software and content updates. You can access its updated video lectures online for free, or if you prefer to watch them via DVD, they will ship you the new ones for only $8. But, let's be real, in this day and age, the online format should be enough for anyone.
Gleim provides constant updates for its content, as dictated in its "Access Until You Pass" guarantee. The "materials will stay current," according to the company, so you won't have to worry about a lack of course updates.
This one is a tie because both companies are devoted to keeping you updated!
Winner: Tie
Conclusion
So which course is better? I'd have to say that generally really depends on how you define "better." For me, your best bet between these two courses is Gleim. They've got a fully-featured course with a lot of appealing options, whereas Wiley really only has a large practice question bank to offer students.
Check out a free demo of each course before making your final decision.
Bryce Welker is a regular contributor to Forbes, Inc.com, YEC and Business Insider. After graduating from San Diego State University he went on to earn his Certified Public Accountant license and created CrushTheCPAexam.com to share his knowledge and experience to help other accountants become CPAs too. Bryce was named one of Accounting Today's "Accountants To Watch" among other accolades.   As Seen On Forbes