CRUSH RATING:★★★★★
Surgent CPA Review is shaking things up in the CPA test prep arena. While all the other courses out there are sticking to traditional study models, Surgent has developed the most efficient way to study for the CPA exam and claims that their students on average pass a single part of the exam in 3 weeks! Students often are exam-ready within 58 hours of study time. Surgent's students are able to pass all 4 parts of the exam before other students pass one section using other review course providers. The time saved equates to 80% faster and 335 hours saved when using Surgent!
With software that utilizes true adaptive study algorithms, you will eliminate unnecessary study that dramatically reduces your CPA prep time. They're one of the only course with real-time algorithms (continuously adaptive study plans), accurate pre-assessments, and factored exam weightings.
It also includes features like a CPA Exam Success Coach, robust physical flashcards and textbooks, and some of the industry's best CPA course instructors: Surgent has a lot going for it. Let's look at all that Surgent CPA Review has to offer to see if this is the best course for you!

Overview of Surgent CPA Review 2023 Course
Surgent offers a couple different course packages. However, their most popular and effective option is their Ultimate Pass, which comes with a price tag of $1,999. This is their course that is most in line with the industry average, as it includes study materials for all 4 sections of the CPA exam. Additionally, Surgent offers a Premier Pass for $1,599 and an Essentials Pass for $999. I will be referencing the Ultimate Pass course throughout this review since it is the most popular.
Course snapshot (product details):
$2,999 (less with our Crush discount!)
350+ video lessons
8,250+ with Integrated Test Bank
375 task-based simulations
Additional audio content
Customized study notes
Printed flashcards and textbooks for offline study
A.S.A.P. technology targets your weaker areas
12 half-hour 1-on-1 sessions with a CPA Exam Success Coach
Unlimited access until you pass
Free course updates
Free mobile app with digital flashcards
Additional Excel for Accounting certification
Ultimate Customer Support: guaranteed one-day response time
Rest easy, because Surgent continuously updates its courses and also incorporates new adjustments anytime a major alteration is introduced. Surgent makes a point to update any and all materials based on AICPA changes, new laws, and student feedback. You will have the most up-to-date CPA review course available if you decide to purchase Surgent.
In anticipation of the recent CPA exam changes, Surgent has added even more task-based simulations as well as updating its content. Specifically, Surgent has added the new Document Review Simulation questions to the FAR, AUD, and REG sections of the review course. And if any other changes come up while you are preparing for the CPA exam, Surgent's CPA review course will automatically update your online materials, for free.
New Surgent Course Options
The CPArescue course by Surgent is a custom-tailored exam preparation coaching program designed to help students who have struggled to pass the Certified Public Accountant (CPA) exam. The course is built to ease the journey of professionals entering the world of accounting and finance, taking into account the challenges they face, such as the difficulty of the exams and the time it takes to study and pass.
The program uses a 3-step coaching success formula, which includes an initial assessment to identify specific areas of support, a tailored study plan that considers the student's personal circumstances and individual goals, and coaching sessions to help the student stay on track while studying.
One of the standout features of the CPArescue course is the inclusion of six one-on-one coaching sessions with a Certified Public Accountant (CPA) Exam Study Strategist. The coach helps students make any necessary adjustments to their study plan and provides them with the knowledge, skills, and support needed to pass the exam. The course access is also provided until the student passes the CPA Exam, and the program comes with a 100% pass guarantee.
Overall, the CPArescue course is an excellent option for professionals who need personalized support in passing the CPA exam. The program provides students with a comprehensive study plan, tailored support, and access to experienced coaches and innovative technology, making it a highly effective way to prepare for the CPA exam.
Learn More About Surgent CPA Review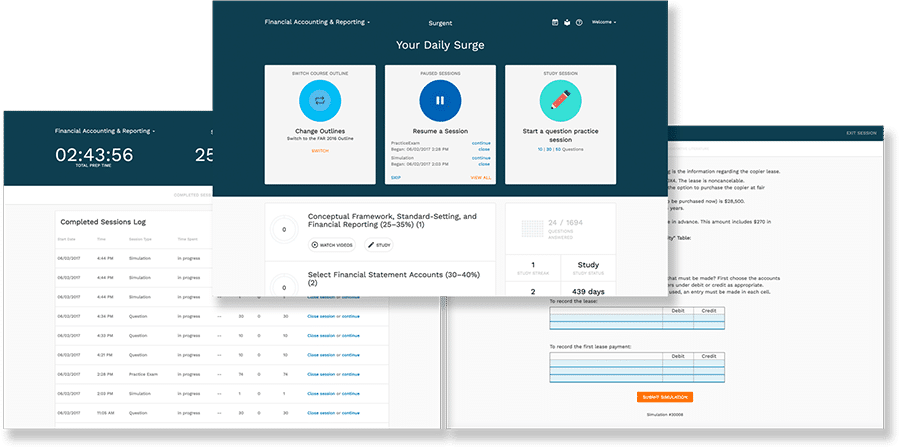 What's Included in Surgent's CPA Prep Course?
CPA Practice Exams
The primary phase of the Surgent CPA review course is practice. This is where you get to test your knowledge with an unlimited amount of practice exams. These are crucial to your final review because you need to be exposed to the tools and features of the CPA Exam before you sitting for the real one.
The Surgent practice exams are timed to match the timing of the actual CPA Exam, so you can develop exam-specific management skills by learning how long to spend on each question or simulation. By having this exposure to prior exam questions in exam-like conditions, you can help alleviate exam anxiousness.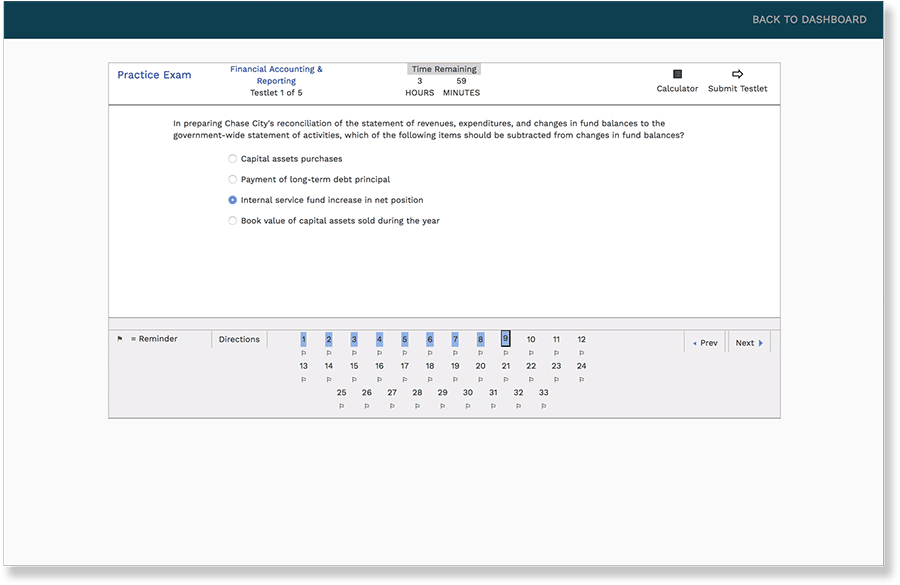 Video Lectures
The Surgent instructors understand how difficult it is to listen to hour-long lectures, so they made sure none of the video lessons goes over 30 minutes. By having 350 bite-sized video lessons, Surgent CPA Review allows you to digest complex concepts in small bites so you can retain more in the long term. You can download instructor lecture notes and/or the video slides to print out or view from your mobile phone so you can study anywhere.
Since Surgent's focus is to get you prepared for the CPA Exam as efficiently as possible, the bulk of your reviewing will be done in the multiple choice questions. Your CPA preparations can be extremely goal-oriented, meaning you only watch the videos that you need. Alternatively, if you want to take the scenic route, you can learn from the many videos Surgent offers. Feel free to leave feedback on the video lessons; Surgent frequently goes in and updates their lectures so they can be engaging and informative.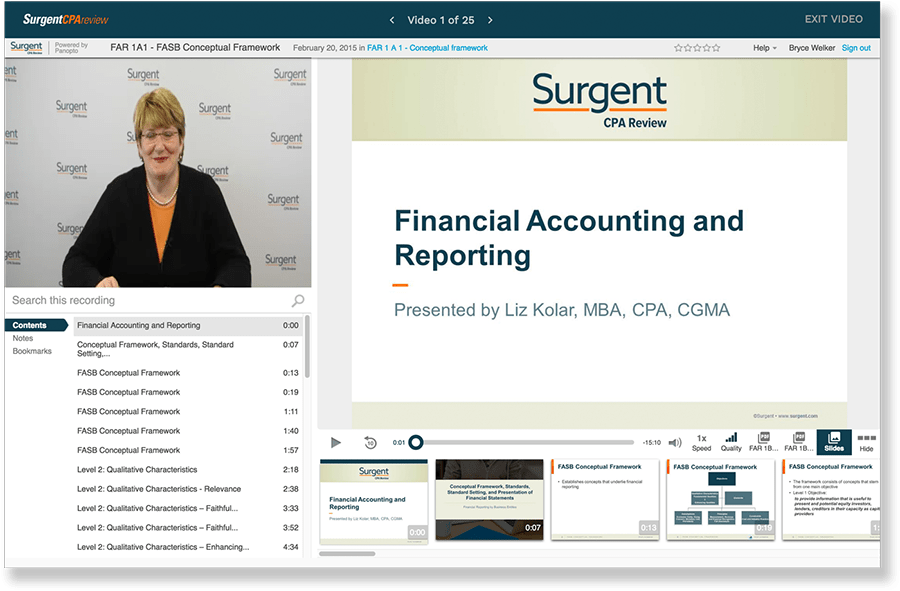 Task-Based Simulations
Surgent has 400 task-based simulations in its CPA review course. These include the new Document Review simulations that are seen on the newest versions of the CPA exam. Hence, as you move forward with your study phase, you will be introduced to more and more simulations. And with the adaptive learning software, you will be given the right TBS that you need to practice with the most.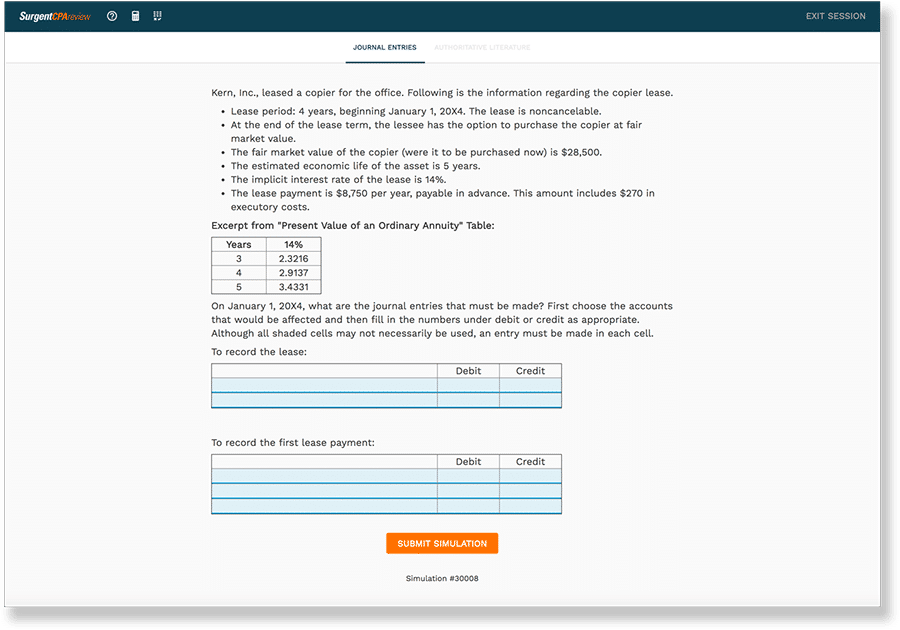 Multiple Choice Questions
Surgent CPA Review's Ultimate Pass comes equipped with 7,700 multiple-choice questions on which you will be working for the majority of your studies. Since Surgent prides itself on its efficiency, it has organized the multiple choice questions and content into three phases: assess, study, and practice.
You will begin with the initial assessment phase, where you complete multiple practice exams, and the algorithm determines what you know and don't know. The course will continue to adapt once you move on to the study phase and begin answering multiple-choice practice questions. If you incorrectly answer a question, the adaptive learning software will remember and reorganize that question so you can try again in the future.
The best part about Surgent, in my opinion, is that the bulk of your studying is done while you are practicing with multiple-choice questions. When you get a question wrong, you will be provided with the correct answer and a detailed explanation. Here, you can click relevant terms and reference links that take you to the digital textbook's section covering the topic of the question. I loved this because I knew I was studying what I needed to know and not wasting time on topics I already understood.
The best part about Surgent, in my opinion, is that the bulk of your studying is done while you are practicing with multiple choice questions.
On top of your normal assignments, you will be provided with daily Surge Cards. These are generated specifically for your unique needs and will include relevant multiple choice questions, videos, and study sessions. The Surge Cards are like your daily medicine for your CPA study pains, pinpointing the symptoms that are bringing down your whole score and providing you with the correct remedy.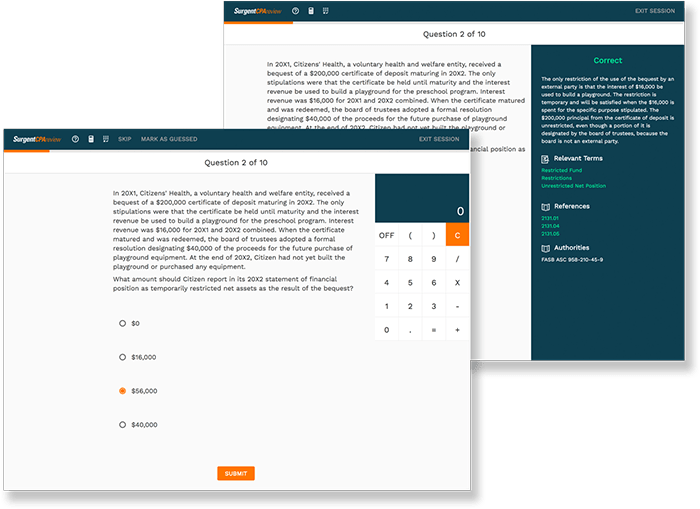 Flashcards
Surgent has more than 2,200 flashcards that you can use via its mobile app. You can download the app from the Apple or Google Play stores. These flashcards are a great study tool that lets you study terms and questions on the go. In terms of physical flashcards, Surgent has brand new printed versions—250, 250, 250, and 300 for AUD, BEC, REG, and FAR, respectively.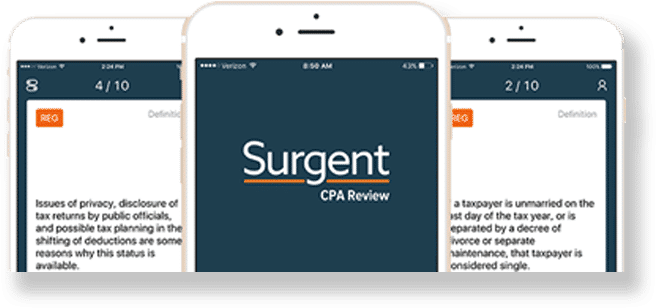 ReadySCORE
So far, many of the features provided in Surgent's Ultimate Pass might sound familiar to anyone with CPA prep course experience. However, their ReadySCORE adaptive learning technology is the killer app that makes this course far beyond the ordinary.
But what is ReadySCORE? Here's what you need to know:
ReadySCORE is a complex adaptive learning program that derives its assessment metrics from authentic CPA scoring data. After taking an initial assessment test, ReadySCORE helps students to determine their overall exam readiness with a numerical score, this ReadySCORE is 99% accurate. Then, this score is updated as they progress through Surgent's coursework, reflecting their progress on individual topics and question types.
You may think this sounds like a bunch of flashy technology wrapped up in buzzwords, but the truth is that it generates real results. According to Surgent, students with a ReadySCORE of 75 or higher have an exam pass rate of roughly 88%!
Dashboard/UX

When you first log in to Surgent CPA Review, your first step will be to enter your exam date and the days you can dedicate to studying. The software will then calculate how many hours you will need to study on each of your selected days to complete your course on time. You can change this whenever you want and the software will recalculate automatically.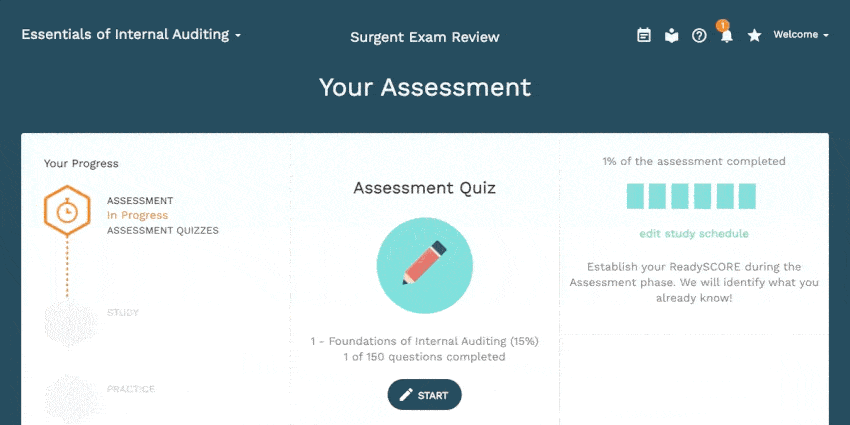 Once you've set that up, you will need to go through the assessment phase. Remember, this part is important for Surgent's adaptive software to determine what areas you need to be targeting in order for your study time to be optimized. Then you can move on to the study phase. Your dashboard will reflect all of these phases to you and keep you on schedule.
Surgent has recently (and successfully) overhauled its product and redesigned the dashboard to give users a better experience. Everything you need can be easily found on your home screen, and once the software has determined your strengths and weaknesses, your dashboard will contain a personalized study plan that targets your unique needs. Here you can access all your assignments and continue with your study phase.
Since Surgent CPA review is so adaptable, it can be confusing at first with regard to using the course to ensure you get the most out of it. No worries; Surgent has New Student On-Boarding! Here you can have your questions answered immediately and watch a live demonstration of how your Surgent course works. No other review courses have this personal touch at helping you figure out how to get the best bang for your buck from your CPA review course.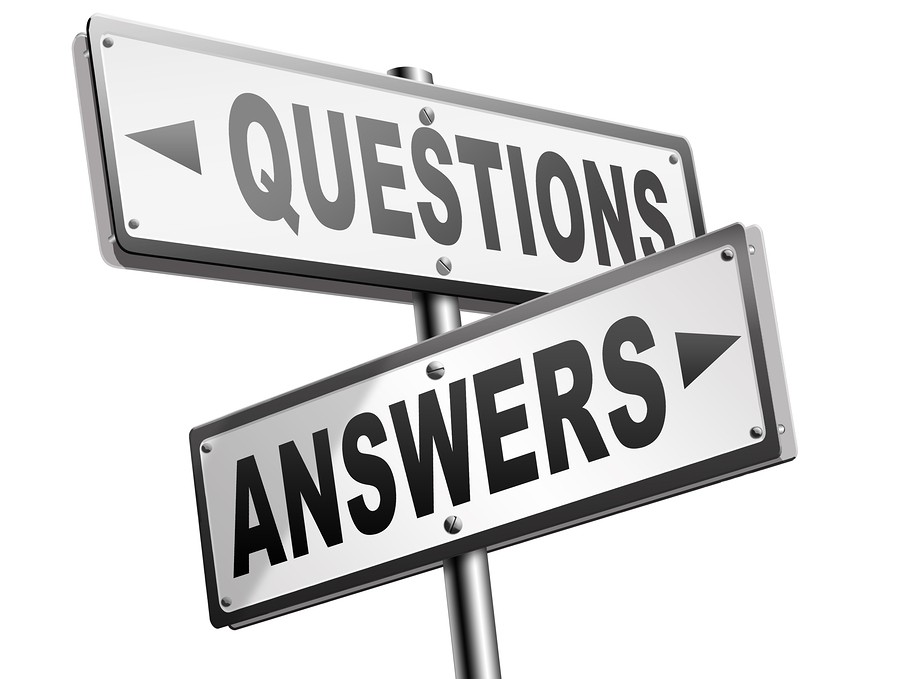 Do you have CPA Exam questions?
Get answers with Surgent's live webinar series:
2022 CPA Exam Changes
How to Solve a Research Simulation Question
Get the Most Points On Your BEC Written Communication Questions
Customer Support
Surgent offers unparalleled access to great CPA instruction. With the Premier course, you get a Dedicated Coach who offers you personalized guidance along your studying journey. You will receive one-on-one study help throughout your prep course, and you can kick off your studying with a thorough onboarding session to ensure you're focused on the right areas.
If you run into any problems during your studies, Surgent offers support via email. You can email [email protected] with specific questions about the course content, and the Surgent editorial group will respond within 24 hours. Just make sure you include your exam section and question ID number when emailing so they can be as specific as possible.
Course Access and Updates
Not many other courses can top Surgent's course access and updates. When you pay for a Surgent CPA review, you will have unlimited access to study materials until you pass. And since Surgent keeps its course constantly up-to-date, you will never have to pay for updated content. It's nice to know that when you purchase Surgent, you will never have to pay any additional fees like so many other CPA review courses make you do.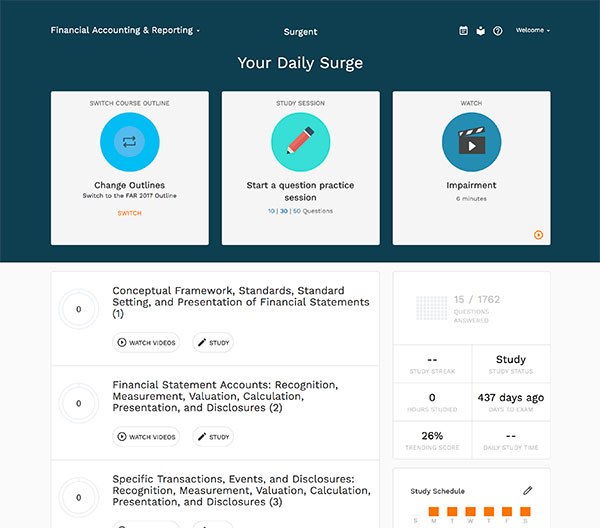 What Courses Does Surgent CPA Review Offer?
There are a few prep courses offered by Surgent, and all of them can help you pass. The Ultimate Pass offers all the trappings of a comprehensive review course and more, while the Premier Pass and Essentials Pass offer complete study programs designed for a tighter budget.
In particular, the Ultimate Pass Package is Surgent's game-changing online CPA review course that provides helpful 1v1 personal attention from a dedicated success coach, plus hours of mentoring from an Accounting Professor. At this time, there are no other courses like it.
Let's break down the benefits of what's included in the Ultimate Course Package:
Success Coaching (a $600+ Value): Students are also assigned dedicated success coaches to guide them along their CPA journey. Success Coaches assist students with study and exam schedules, study strategies, test-taking tips, and accountability. Students get 12 sessions with a CPA Exam success coach (3 30-minute sessions per section).
Surgent's Critical Skills Certificate: Excel® for Accounting and Finance Professionals: Since its incorporation into the CPA Exam, students with Excel® knowledge have a leg up on those without. Students will walk away from this course with a better understanding of how to use Excel to their advantage during the CPA Exam, as well as a skill set that will set them apart from other job candidates or colleagues.
Printed Textbooks ($500+ value) and Flashcards ($150+ value): High-quality bound textbooks and spiral-bound printed flashcards. These resources are fully aligned with CPA Exam Blueprint categories. Printed textbooks include multiple-choice questions, simulations, and explanations at the end of each category (whereas digital textbooks do not). Surgent prints textbooks on demand, and textbook content are updated on a quarterly basis, ensuring candidates receive the most updated content at the time of their order. By comparison, most providers update their textbooks annually.
Integrated Test Bank: The Ultimate Course includes an extra 1,000 MCQs, which is ideal for students who want to supplement their exam prep with additional study material
Audio Review Course: Study on your way to work, in the car, or on a beach while listening to the Surgent CPA Review audio course.
Ultimate Customer Support: Students receive the highest tier, unlimited content and technical support from Surgent's concierge team, with responses guaranteed within one business day.
The chart below breaks down the major differences between the three different packages. Take a look to see which course suits you best:
Surgent CPA Review FAQs
Here are the answers to Surgent's most frequently asked questions!
Q: Is Surgent compatible with smartphones and tablets?
A: Yes, all of Surgent's course features are compatible with most smartphones and tablets. The only devices that don't support Surgent's software are Kindle Fire, Nook Tablets, and E-Readers.
Q: Is there a pass guarantee?
A: Yes, Surgent has a pass guarantee. You can read the details here.
Q: What is Surgent's pass rate?
A: The rates for Surgent's students is 89.7%. Students that finish their studies with a trending score of 80% or higher have a 100% pass rate.
Q: What is adaptive learning?
A: Adaptive learning is a learning technology that Surgent incorporated into their software so it can quickly reveal your areas of need and automatically create a customized study plan that focuses on where you need the most help. The goal is to reduce study time and increase efficiency.
Q: Do I have access to the course offline?
A: Surgent's CPA Review course is completely online, so you will need internet access in order to use the course.
Q: Who are the Surgent Instructors?
A: They are experts in their field and are engaging and skilled at breaking down troublesome topics into easy-to-understand sessions. Some of the key instructors include Jack Surgent and Liz Kolar. You can check out the instructors' biographies here.
Q: Is there an app for Apple and Android devices?
A: Yes, Surgent offers a free app on both devices for the CPA review flashcards. There are over 2,200 flashcards that include terms with definitions as well as multiple-choice questions with solutions.
Q: What is Surgent's refund policy?
A: You may cancel and receive a refund for all charges within 14 days of your order placement date. No more than one video part purchased can be viewed to qualify for the refund. Notification of cancellation must be done via email within 14 days of the order placement date.
Q: What is Surgent's A.S.A.P Technology?
Surgent CPA Review A.S.A.P. Technology
Surgent CPA Review Discount Codes & Financing Options
Surgent not only offers a financing plan for its full course, but also comes without any fees and 0% interest. Surgent really does knock it out of the park when it comes to saving you money. With a firm belief in not taking anymore money from you except for the initial payment, Surgent offers you the flexibility in a monthly tuition plan.
Surgent is always offering discounts, but the best discount is 50% off for switching from a competitor product. Hence, if you're using a review course that isn't up to snuff, you can switch to Surgent and get half off! See all the best Surgent CPA discounts below:

Take $1,000 Off Surgent CPA Ultimate Pass
41 uses today
Last Used: 45 minutes ago

Take $740 Off Surgent CPA Ultimate Pass
116 uses today
Last Used: 23 hours ago
Surgent CPA Review VS Becker
Which CPA review course is better, Surgent CPA Review or Becker CPA Review? I have used both of these courses extensively and found a few differences worth noting. For starters, Becker is the more expensive option, although they provide several helpful features that more than justify the cost. Additionally, the recent addition of monthly financing makes it much easier to manage these costs. Regardless, Surgent's Ultimate Pass is noticeably more affordable (with an even lower price tag if you use our Crush discount!).
Aside from price, several features are included in both courses that make them nearly evenly matched. Both providers offer powerful adaptive learning technology, both offer print and digital versions of their flashcards and textbooks, both have unlimited access for students with their highest-tier courses, and both offer thousands of practice questions and hundreds of exam simulations.
The differences between these two CPA review courses are slight but still worth mentioning. For example, Surgent has audio lectures for students who like to multitask while studying— Becker doesn't. However, they do offer additional SkillMaster video content to reinforce students' exam preparedness when working on exam simulations. Additionally, they offer one extra mobile app that Surgent doesn't: the educational city-building game Accounting for Empires.
Ultimately, this is a close enough comparison that you may just want to opt for the course that best fits your personal preference. But based on sheer volume and variety of content, Becker is the winner.
Who Is Surgent CPA Review Best For?
Honestly, anyone can use Surgent. With the adaptive learning software, the course becomes unique to your needs, and you receive a personalized review course. If your goal is to pass the CPA Exam fast and without any unnecessary study time, Surgent is the course for you!
Furthermore, Surgent is the only non-linear course on the market, so you will end up saving hours of time studying with this style of prep course. By using analytics and lots of multiple-choice questions, your strengths and weaknesses will be identified so you don't waste any time studying topics you already understand. Check out Surgent's free demo to see if this is the course for you!