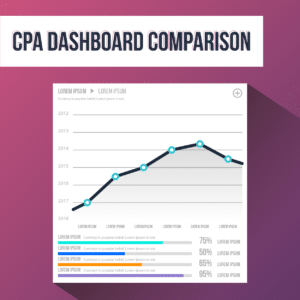 You may not be able to judge a book by its cover, but you can certainly judge an CPA review course by its dashboard.
The software interface of an online CPA prep course is the lifeblood of your study time; even the most comprehensive and effective study plan can be ruined by a poorly designed interface.
It's the first thing you as a student will see whenever you begin your study session and it is going to define the rest of your experience.
With that in mind, take a look at our detailed breakdown of the top ranked dashboards for the most popular online CPA review courses:

UWorld Roger CPA Review Dashboard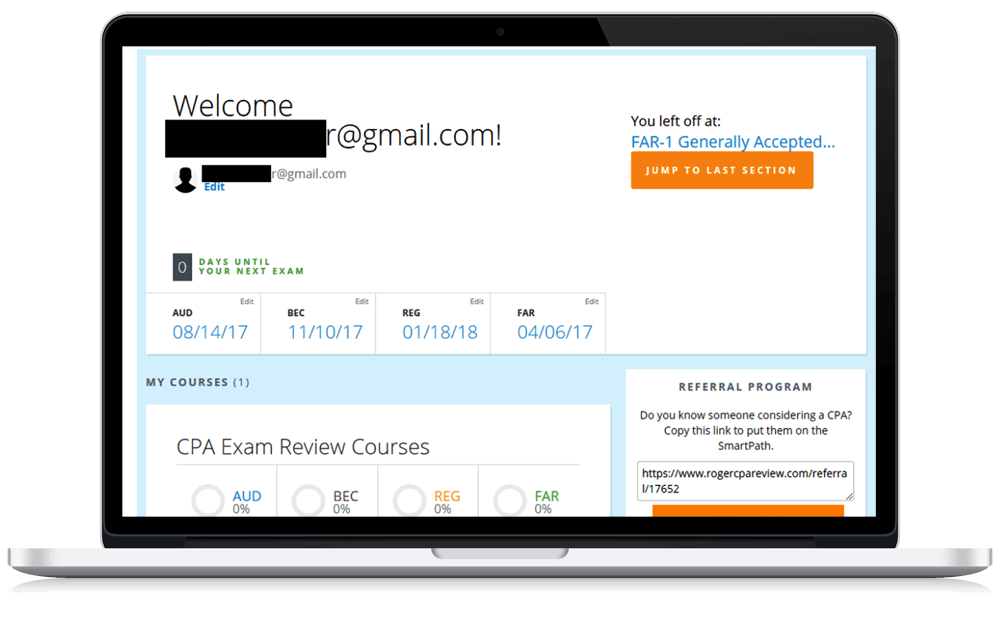 The first impression of UWorld Roger's CPA Review Dashboard is that it's well-organized and pleasing to the eye. Progress indicators can be clearly identified by their color coding, and it's very easy to immediately jump into a study session right where the student left off. The referral program is also clearly visible; while it makes sense for UWorld to make this so readily available from a business perspective, it does take up space that could otherwise be used to enhance the user experience.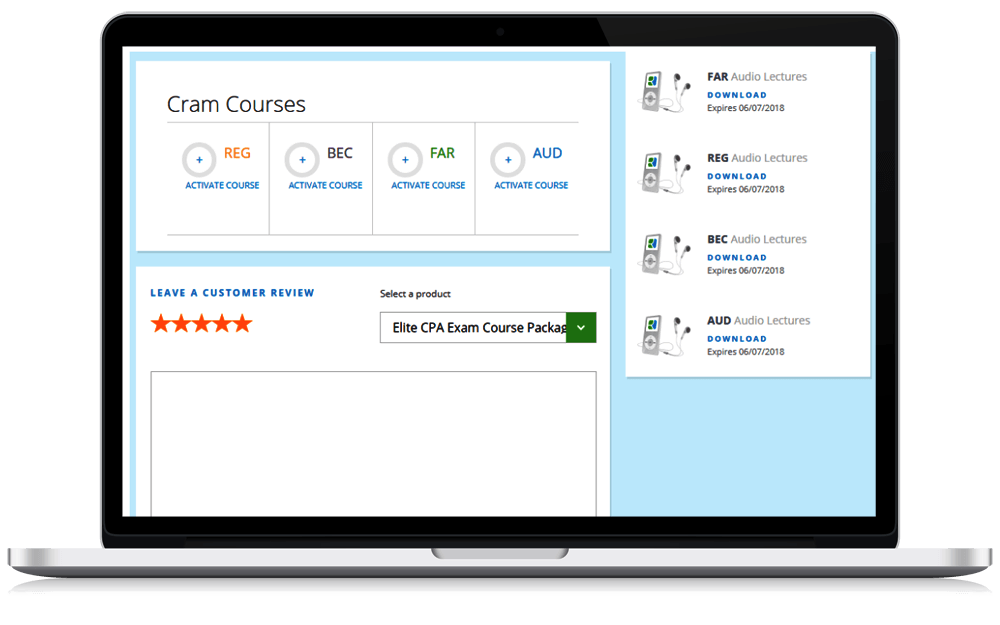 Scrolling further down the dashboard page, links to downloadable versions of the audio lectures can be seen on the right-hand side. Due to the referral widget having higher placement on the page, this integral feature of UWorld Roger's toolkit is a bit out of the way. A far better design choice would have been to switch the position of the lecture widget with the referral widget, where it would then line up nicely with the review form at the very bottom.
The layout of UWorld Roger's study material is simplistic but effective. Video content is displayed on the left-hand side, with the text material placed on the right. Students can easily play and pause the video while reading portions of the text that accompany specific points in the lecture. It isn't anything particularly groundbreaking, but it certainly gets the job done.
TAKE ME TO UWORLD ROGER CPA REVIEW
Related Blog Posts & Resources

Wiley CPA Dashboard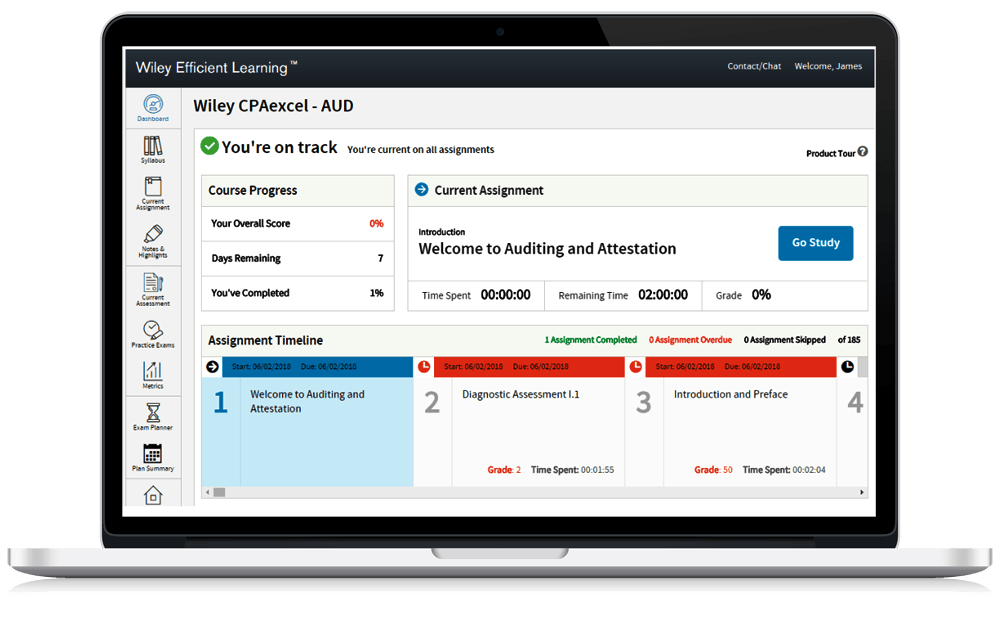 While it may seem like there's a lot more information on Wiley's CPA review dashboard, the truth is that it contains relatively little content. A busy design with a large sidebar allows students to quickly access most of this prep course content without having to scroll down, but it can cause some initial confusion.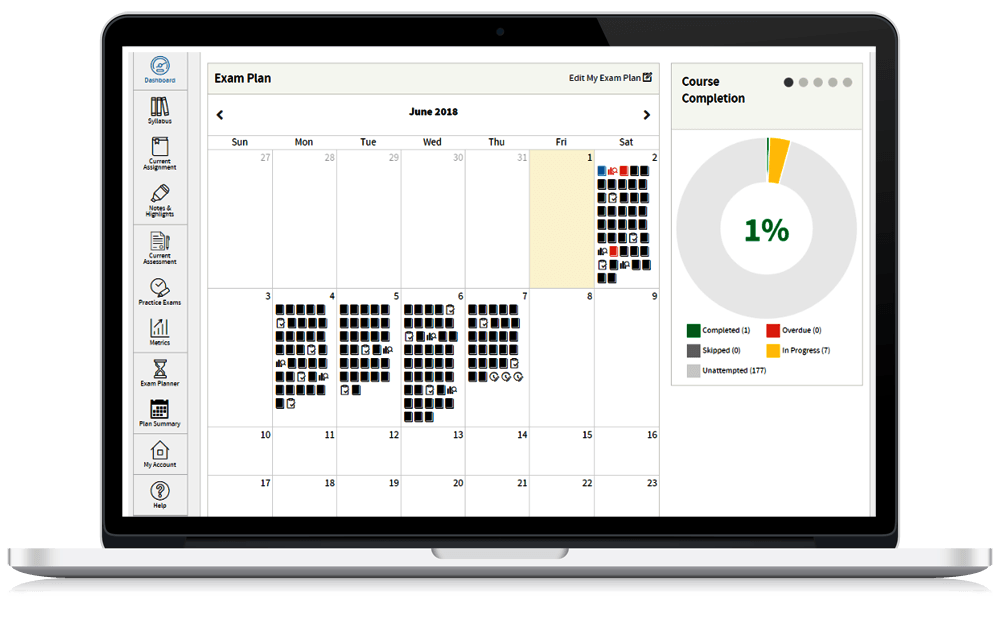 When scrolling further down the page, the sidebar stays aligned on the left-hand side. This is an excellent design choice, but the numerous broken characters on the calendar page reveal some major compatibility flaws. A handy pie chart on the right-hand side of the screen presents a great deal of information in a small space, which is a convenient time saver for students.
Wiley's study material uses the standard approach of video content on the left side with text on the right. However, some frustrating design flaws reveal themselves when attempting to adjust the window sizes for each section. Coupled with a lack of page numbers for the text, the end result is an experience that isn't very user-friendly.
TAKE ME TO WILEY CPA


Surgent CPA Review Dashboard
Before accessing the dashboard, Surgent has a one-time setup process that allows the user to customize their study plan. With the option to manually enter their own exam date and study schedule, this allows Surgent's prep course to quickly organize a tailor-made study plan right from the start.
After completing the initial setup process, students are then given access to Surgent's dashboard. This is a user interface that is free of any distractions or clutter, helping students to quickly jump right into their practice questions. As they progress through their study plan, the widgets on the left and right side will update to indicate their progress.
Scrolling down from the dashboard reveals the curriculum for future study sessions. Although the automatic locking of these practice questions helps to guide students through the study material in a linear fashion, the lack of freedom for students to focus on their weak points can be frustrating and time-consuming.
https://crushthecpaexam.com/wp-content/uploads/2016/11/surgent.mp4
TAKE ME TO SURGENT CPA REVIEW


Gleim CPA Review Dashboard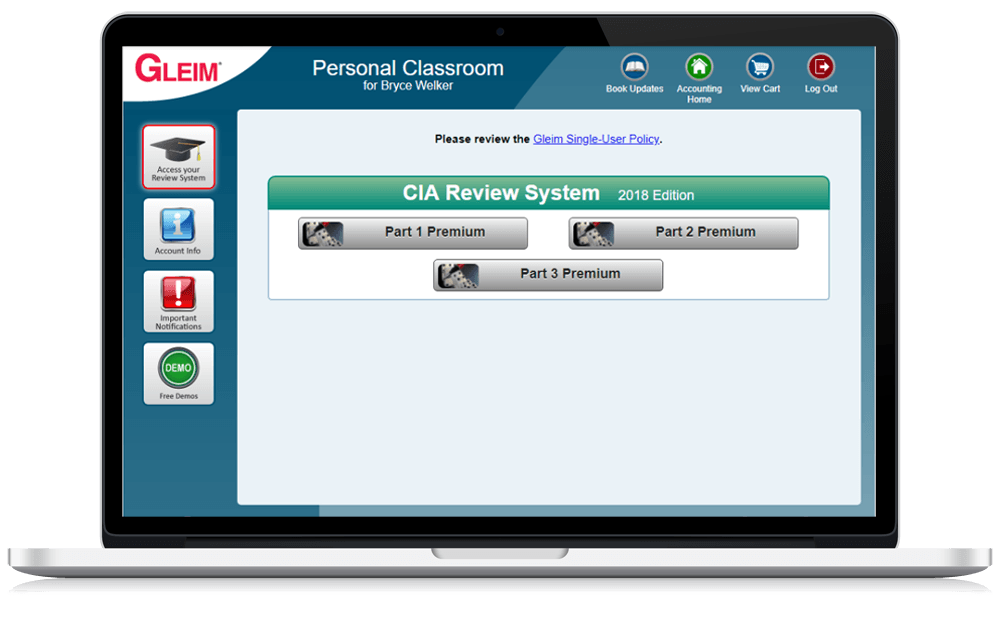 Gleim manages to contain the entire contents of its dashboard on one page without requiring the student to scroll down. While this design is outdated and somewhat tacky, the simplistic layout is free of distractions. However, features that are ordinarily displayed on the dashboards of other CPA prep courses, such as performance analytics, are delegated to other pages.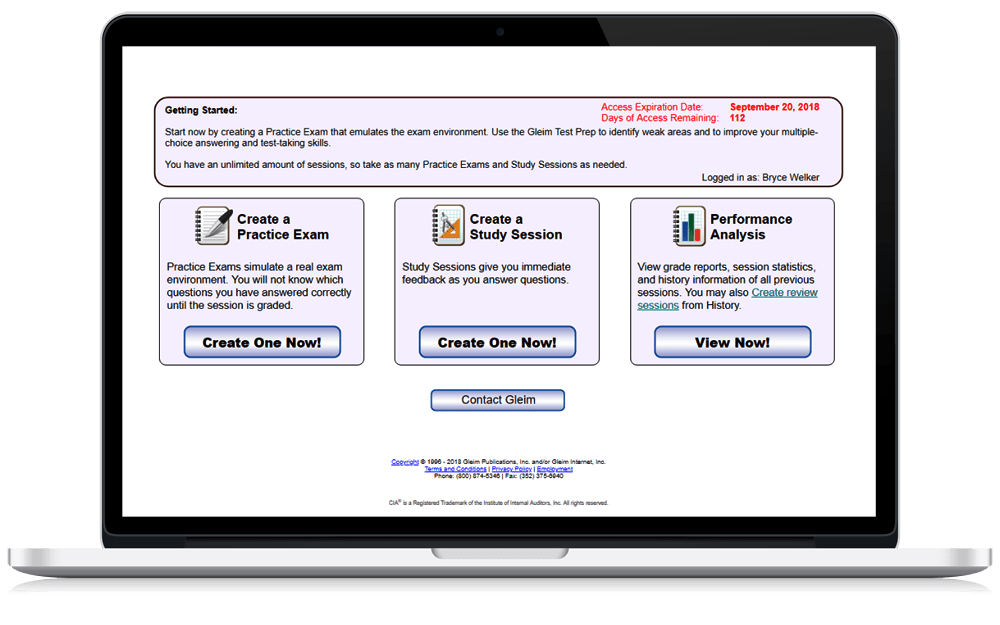 The bright side of Gleim's study course having an older design is that it's compatible with older computers and browsers, limiting the potential for broken features on legacy hardware. However, students who have cutting-edge computers may be frustrated by its primitive layout, especially if they're used to modern web design.
When accessing Gleim's study material, students are first prompted to select the specific sections they wish to view. The enhanced customizability is a nice feature that can help students make the most out of their study time, but the option to use a presorted study plan from Gleim is also very handy. This feature offers the best of both worlds.
TAKE ME TO GLEIM CPA PREP COURSES


Yaeger CPA Review Dashboard
Yaeger's CPA review dashboard is visually distinctive from others thanks to its clean green and gray color palette. Although a decent amount of information is present on the first page (schedule and analytics), it feels as though this dashboard uses horizontal space inefficiently. Fortunately, an easy-to-access header bar provides further subcategories for more specific sections of their course.
Their modules are divided into a simple index that students can easily drop in and out of. This is nothing noteworthy, but the manner in which these categories are divided and organized remove any stress or confusion for the student. It's easy to start studying at any point in the curriculum, which is what the vast majority of students want.
In the ubiquitous online study course style, Yaeger devotes the left half of its screen to video lectures with the right half of the screen containing text. One minor complaint that can cause frustration for some students is the lack of infinite scrolling; instead, the reader must manually click the "Next Page" or "Previous Page" buttons to navigate. Other than that, this layout is simple and effective.
TAKE ME TO YAEGER CPA STUDY MATERIALS


Fast Forward Academy CPA Review Dashboard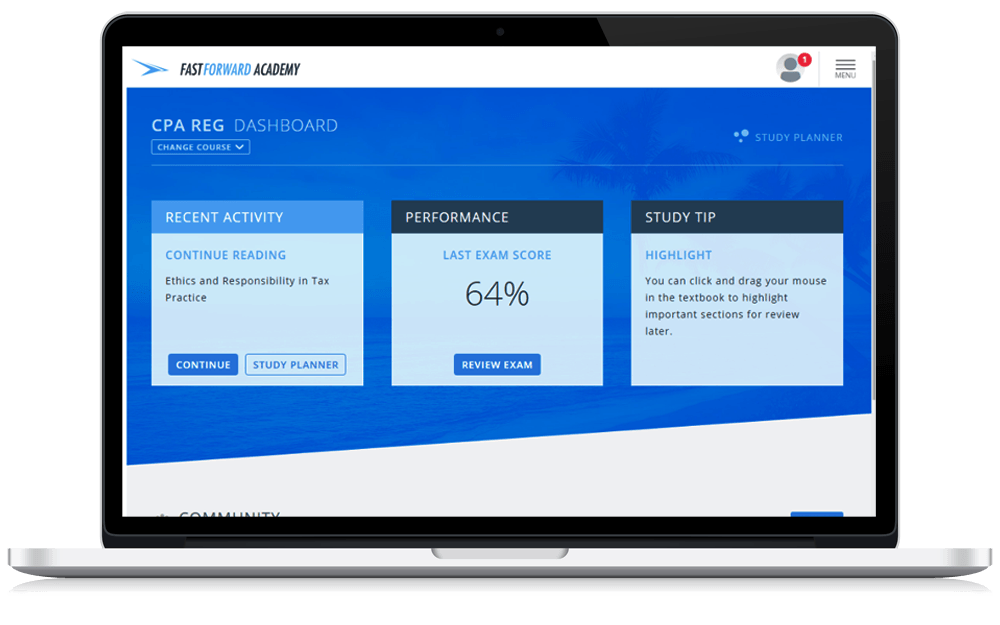 The dashboard for Fast Forward Academy CPA Review is both visually pleasing and user-friendly. Students can easily switch between sections of the CPA exam to study by clicking the drop-down menu in the upper left-hand corner, and the sidebar can be accessed on the upper right. Although this page contains no fancy charts or graphs, student progress is still clearly visible in the center.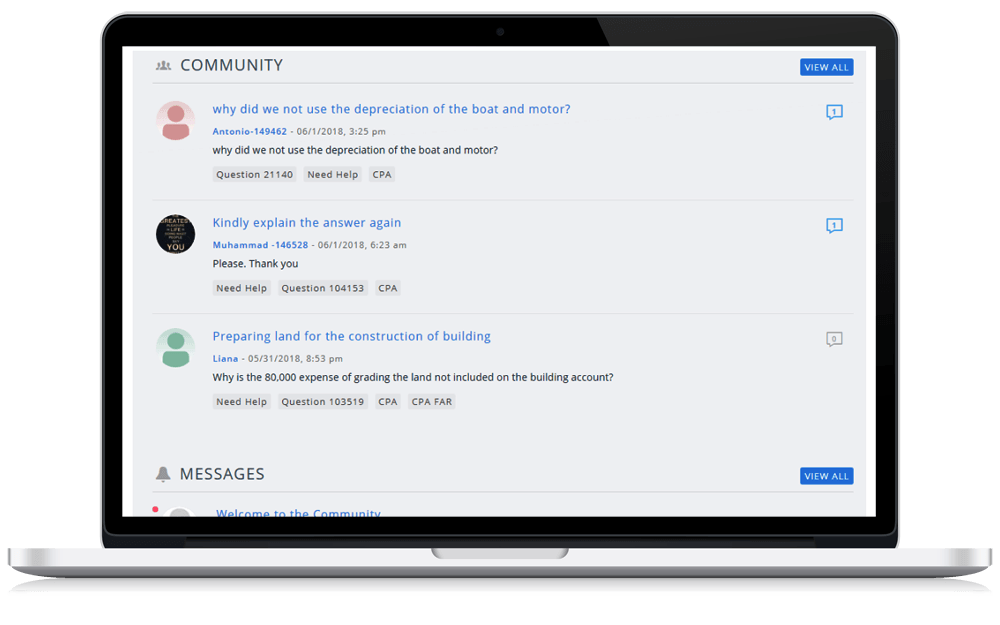 When scrolling down further on the dashboard page, Fast Forward Academy's community section is visible. This is one of their most appealing features, since it allows students to compare their progress with their peers. The student's inbox is also visible at the very bottom, as is a prominent button that allows for contact with Fast Forward Academy's support team.
Any students who were disappointed with the lack of visual aides on the main dashboard will be pleased to see a highly detailed chart on the study planner page. This circular scatter plot is dynamic and clearly illustrates the areas where students need the most and least help. Although this graph is very helpful, it may not work on older hardware.