If you want a review course that has it all, UWorld Roger CPA Review is definitely worth checking out. Engaging video lessons, affordable pricing options, ample practice questions, intuitive software, human support, and much much more!
Roger Philipp and his video lectures have helped students study for more than 25 years. To this day, he's one of the only people I know that can make accounting interesting.
Although there's a lot more to this course than just lectures. UWorld Roger CPA includes SmartPath predictive technology. This data-driven tech creates a targeted study plan for each student that perfectly addresses their shortcomings. What does that mean for you? Basically, it means shorter study sessions, less wasted time, and a higher CPA exam score.
UWorld Roger CPA Review offers three different course packages; I'm going to cover their Elite-Unlimited course package below. Keep reading to learn more!
Overview of UWorld Roger CPA Review 2023 Course
UWorld Roger CPA Review Elite-Unlimited Course Package snapshot (product details):
$2,999
120+ hours of video lectures
NEW SmartPath Predictive Technology
Electronic and physical textbooks
QBank with 6,000 multiple choice questions and task based simulations
CPA Exam Simulator with unlimited full length practice exams
Study Hub Access
Customizable study planners
Free material updates
Bonus Cram Course content
Unlimited course access
Offline lectures available on USB drive
60 Second Review of Roger CPA Review
2023 UWorld Roger CPA Review Updates
To ensure students are fully prepared and studying the exact same material that's on the CPA exam, Roger regularly updates their course and software. This helps to ensure that there's no surprises when you sit for the actual CPA exam
What's Included in UWorld Roger CPA's Review Course?
Multiple Choice Questions
UWorld Roger CPA includes 6,000 multiple choice questions that are organized into "Interactive Practice Questions." I found these to be very easy to navigate through and each question provided me with an explanation for why my answer was either right or wrong. This functionality was helpful for understanding new concepts and being able to learn while I practiced with the questions.
Your questions are tracked and broken down into performance reports that detail your strengths and weaknesses by individual section. These analytics are useful to help you figure out what topics need more study time. UWorld's predictive technology is okay, but it's not used throughout the entire course; you'll have to use the performance reports to identify your weaker areas.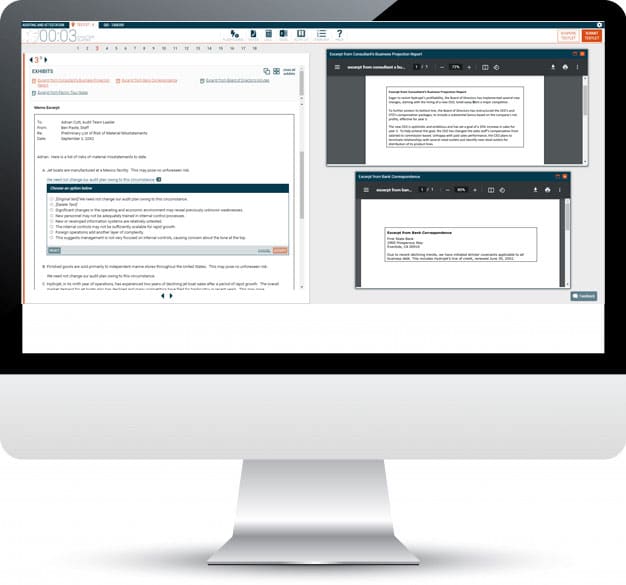 Task Based Simulations
In addition to the thousands of practice multiple choice questions, UWorld Roger CPA Review also provides 400 task-based simulations. These have been pulled directly from AICPA released questions; they even include newer question types like Document Review Simulations.
I found the task-based simulations to be complex enough that they challenged and tested my knowledge.
Practice Exams
With UWorld Roger CPA Review, you get unlimited full-length practice exams. By using the course's CPA Exam Simulator, you can practice with a nearly identical simulation of the modern CPA exam. Take the set amount of questions with a time limit so you can perfect your test taking strategy and time management.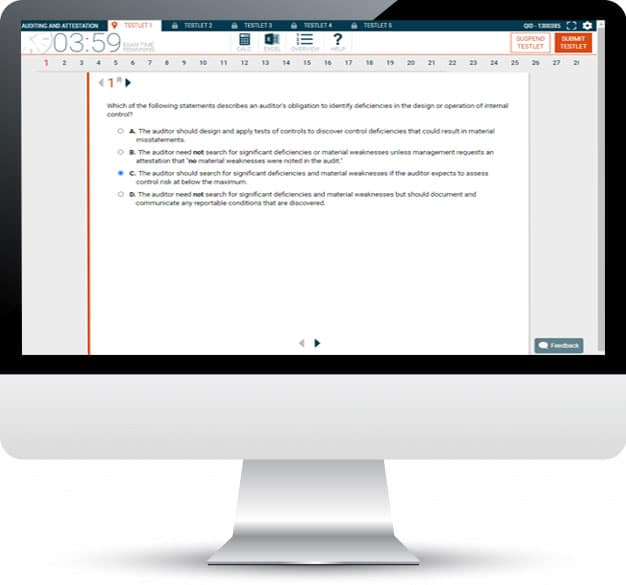 SmartPath Predictive Technology
This is a new addition to UWorld Roger CPA, and it's a huge benefit for anyone trying to study smarter. SmartPath helps you pass faster by comparing each your individual progress to candidates who have already passed the exam. Then, it predicts a similar study plan for you to achieve identical results.
With SmartPath, you won't go into the CPA exam blind; it will show you exactly where you stand on exam day. This is a major confidence-booster, but it also allows you to manage your time effectively.
Digital Flashcards with Spaced Recognition
UWorld Roger CPA Review Elite-Unlimited comes with digital flashcards so you can take your studies on the go. With these cards, you can study from over 200 terms and summaries per CPA exam section. Additionally, the digital platform incorporates technology like spaced recognition to improve your memory. You can even create additional flashcards by highlighting sections of the text in other parts of your study guide!
Video Lectures
The video lessons are what makes UWorld Roger CPA Review really stand out from the rest. Roger Phillip has more energy and enthusiasm than any other accounting instructor I have seen. His teaching style demands your attention and makes the notoriously boring material much more interesting. Out of all the other CPA review courses out there, Roger's video lectures are hands-down the best.
This course comes with over 120 hours of CPA exam video lessons that are broken down into 10-30 minute lectures. You can also adjust the speed of each video and add closed captions/subtitles for English. Essentially, this is most helpful for international students, people with hearing disabilities, and accelerated visual or auditory learners.
You can highlight directly on the eTextbook as you watch the video lectures so you can have all your notes in one place that's easy accessible from anywhere (and use Quick Content Transfer to make custom flashcards). Additionally, UWorld's video lectures force you to follow along manually with your textbook; I like this because it prevents you from just being on auto-pilot when watching the lecture.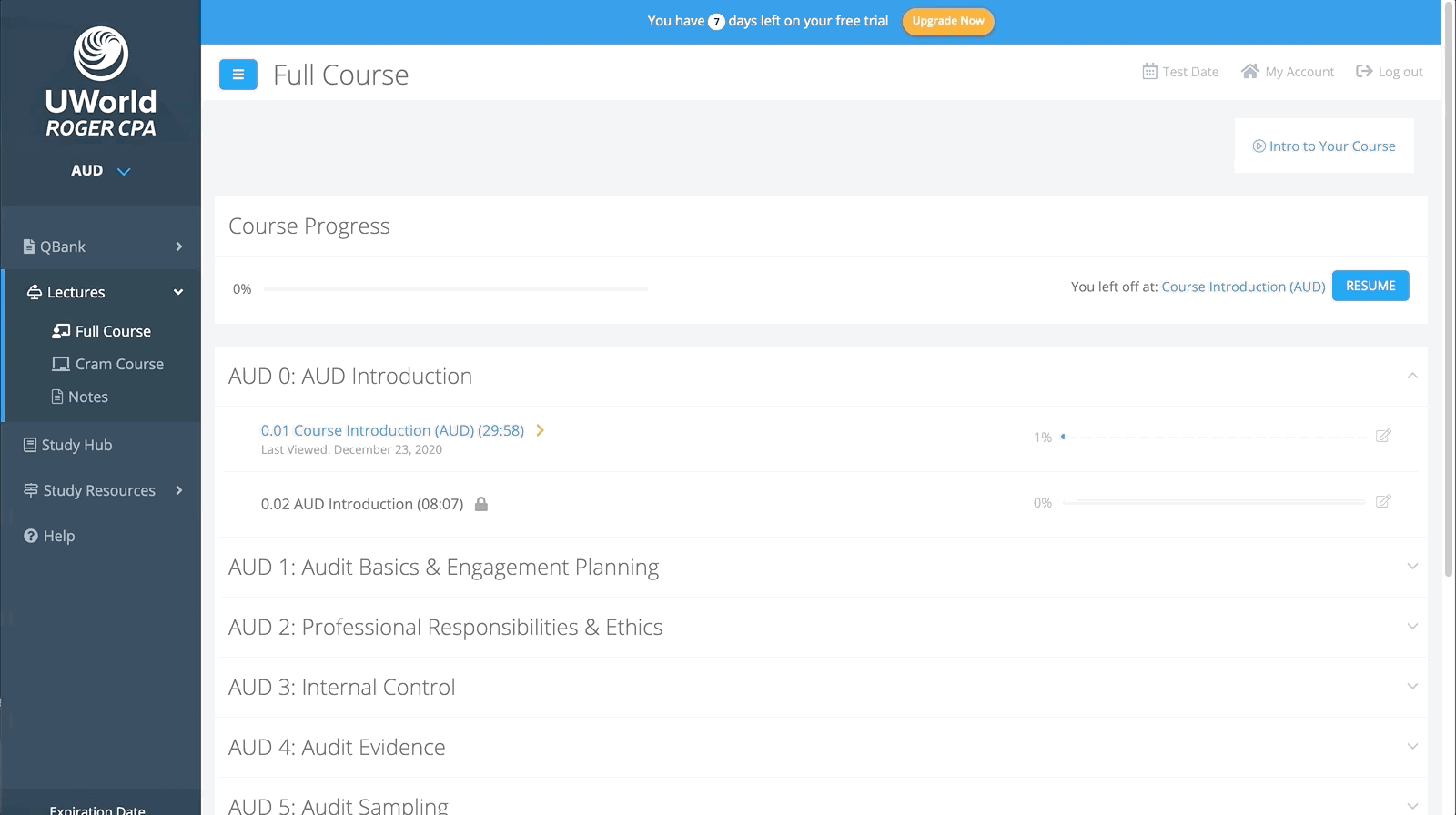 Dashboard/UX
UWorld Roger CPA completely redesigned its dashboard to be cleaner and more user friendly. Your dashboard can track all of your lectures and your progress into your study schedule. Further, each individual topic is contained within each header; it tells you how long each video will take to complete and the material you need to read alongside it.
The course is mobile friendly so you can easily navigate through Roger CPA Review no matter what device you want to use–tablet, phone, laptop, or whatever!
Unfortunately, UWorld Roger CPA Review's exam study planner isn't as good as other courses I have used. Instead of having a study planner that can adapt your course to your unique needs, the Roger CPA Review study planner is a simple spreadsheet that automatically fills with the dates you plug in on the dashboard. Hopefully, UWorld will change its dated study planner to something more dynamic and easily adjusted.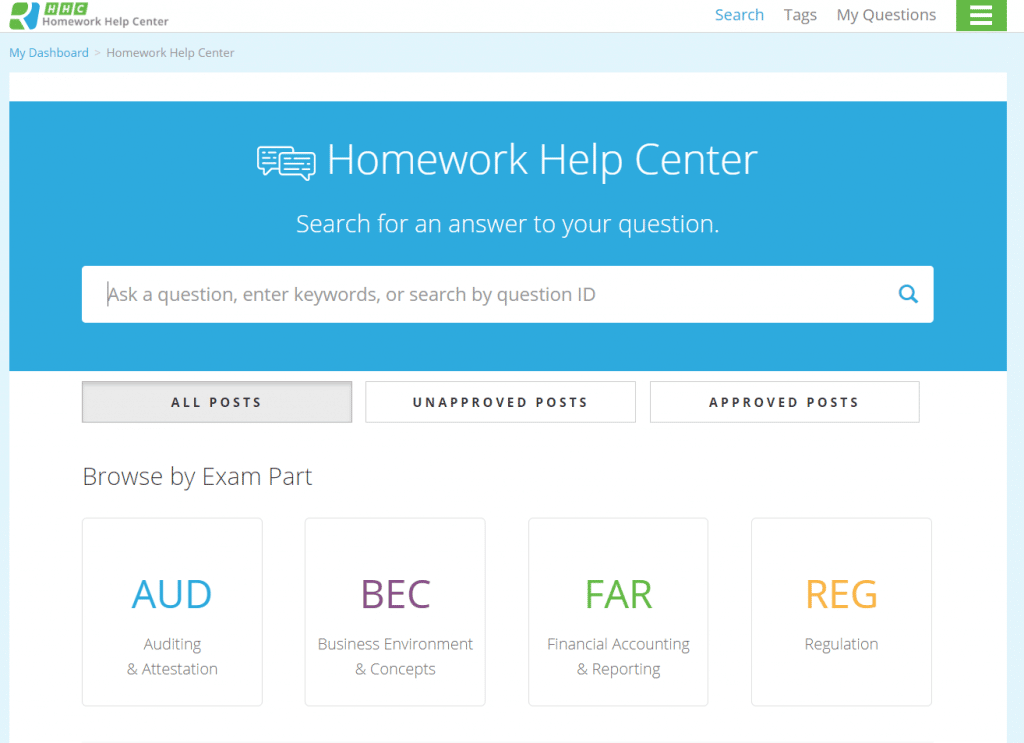 Customer Support
UWorld Roger CPA Review prides itself on having real CPAs ready to help you with any questions you may run into while studying. You are guaranteed a 24-hour response time 24/7, but I received a much faster response when I tried it. You can also go through over 17,000 questions previously asked by other students and see if yours has already been answered. This can be done through UWorld Roger's Study Hub, which is available to all students regardless of their course tier.
Course Access and Updates
Course access varies depending on what package you choose. The UWorld Roger CPA Elite-Unlimited Course Package comes with UNLIMITED access. Since you never have to worry about it expiring, it's well worth the cost for initial and continuing education purposes.
Alternatively, UWorld Roger CPA's Premier Course Package comes with 18 months of access and the Single Course Package includes 12 months of access. It's probably good enough for some students, but the ease of mind that comes with unlimited access can't be understated.
What about updates made to the CPA exam content? In this case, it doesn't matter which package you choose: UWorld Roger will automatically update at no extra cost.
What Course Packages Does UWorld Roger CPA Review Offer?
This course comes in three different packages that vary in price. Check out what's included in the Single, Premier, and Elite-Unlimited course packages to see which course is the best fit for your study needs!
UWorld Roger CPA Review Discount Codes & Financing Options
UWorld Roger CPA Review offers financing plans; great news if you're a student on a budget or your firm isn't funding your study material.
Monthly payments can be as low as $149 a month, with a potential interest rate between 0-30% APR. To learn more about these financing options, click here. And if you want limited-time discounts exclusively for Crush the CPA Exam readers, check out the offer here!
UWorld Roger CPA Review FAQs
Here are answers to some of the most frequently asked questions candidates ask about Roger CPA Review!
How do I use UWorld Roger CPA Review on my mobile device?
Simple! Just use the browser on your phone, tablet, or other mobile device to log into your student account. The lectures will be formatted to fit your screen for easy viewing. However, many of the videos are too large to work on 3G or 4G networks, and most students need to be connected to Wi-fi.
What happens if I have a question about specific CPA exam concepts?
For those extra challenging questions, you can use the Study Hub to easily search over 17,000 student-submitted questions with answers from expert CPAs. For students of Premier or Elite-Unlimited course packages, you can also post questions directly to the CPA experts.
How long do I have to wait for my UWorld Roger CPA Review Course after I ordered it?
As soon as you receive your order confirmation email, you can access your online lectures. The physical study materials that accompany your order need 24-48 business hours to process, but you should expect to receive those within 2-7 business days.
Am I allowed to copy/paste/print the online book?
Because of the strict copyright policies on all Roger CPA Review materials, you will not be able to save, copy, paste, or print any of the content from the online book.
What are the differences between UWorld Roger's Cram Course and their regular course?
The regular course is designed to be comprehensive and cover every topic tested on exam day. The Cram Course is made to be a quick review of many of the heavily-tested topics on the exam. Your Cram Course is designed as a summary and final "cram" that you complete immediately before you sit for the CPA exam. The Cram Course should not be used as a replacement for a complete CPA prep course.
Can I watch UWorld Roger lectures offline when I don't have internet access?
All of UWorld Roger CPA's lectures can be downloaded and watched offline with the use of their mobile app. You can continue to access this content for the duration of your course package subscription period.
UWorld Roger CPA Review VS Becker
Roger and Becker are both very popular review course choices for CPA Exam candidates. I'm going to briefly compare the two below; for a more detailed comparison, check out my article here.
Although both courses have frequent discounts, Becker's CPA Review is roughly more than twice the price of UWorld Roger CPA. In comparison, UWorld is closer to "market average."
The biggest difference between these courses is the video lectures and technology. UWorld Roger is far superior to Becker in content and presentation. Roger's personality keeps you engaged through even the most boring segments, which definitely cannot be said for the Becker CPA video lectures. And while Becker has impressive tech of its own, the recent enhancements made to UWorld's Smartpath predictive technology easily goes toe-to-toe with the competition.
At the end of the day, Roger is the better pick if you want great video content and flashcards. But if you're willing to pay a bit more for a slightly larger course, Becker is a safe bet.
Who is UWorld Roger CPA Review Best For?
I really like Roger's unique teaching style and appreciate the fact that he can take any accounting topic and make it interesting. The way he uses mnemonics to help students remember detailed information is extremely effective, and you won't get this with any other CPA review course.
And while the original implementation of SmartPath was clumsy, it's gotten a lot better recently. Not to mention the increased functionality with their mobile app and customizable flashcards! Because of these features, UWorld Roger CPA Review Elite-Unlimited is best for:
Students who want to study offline or on their phone
Students who struggle to pay attention during CPA lectures
Students who want to save time on their study schedule
If one or more of those sound like you, get started today!