2020 Crush The CPA Exam Scholarship - [Sponsored by Wiley Efficient Learning]
This is an annual scholarship.
 Applicants must enter before November 30th, 2020 when our next CPA exam scholarship winner will be picked and announced.
1 Grand Prize Winner:
(1) 2020 Wiley CPAexcel Platinum Course + (1) Crush The CPA Exam Study Guide
The 2020 Wiley CPAexcel Review Course has the best-in-industry CPA Exam study material. With a personalized learning platform and content available in print and digital, online and offline, it makes studying for the CPA Exam easier and faster than ever.
Review materials that are fully aligned to the January 2020 CPA Exam
Tools to focus your time on exactly what you need to pass in 2020
Unlimited Access Until You Pass with free online updates
And all these other even better reasons….
2,200+ pages of online study text
140+ hours of video lecture instruction
12,000+ multiple-choice questions (including AICPA released questions) with detailed explanations
500+ task-based simulations
40+ written communications
5,000+ knowledge check questions (true/false)
4,000+ digital Flashcards
In order to be considered for this scholarship you must be an actively enrolled college student in the last semester of obtaining your accounting degree or a recent graduate with a final cumulative GPA of 3.0 or higher who plans on taking the CPA Exam.
Congratulations to Kristin Reese of Utah State University for winning the 2019 Crush The CPA Exam Scholarship!
Crush The CPA Exam is dedicated to helping candidates apply, study for and pass the CPA exam and there's no better way to accomplish this than to offer a free CPA review course to help top promising students achieve their goals.
Personally, I had to take out a loan and was lucky enough to find someone who would help me out. Had not been in that position, I don't know if I would've ever became a CPA. My goal is to provide assistance to students who are currently in their last semester of college and majoring in accounting, or recent accounting graduates who plan on becoming Certified Public Accountants.
Winner Selection & Notification
The Crush the CPA Exam Scholarship winner will be notified by email.
The winner will be selected based on academic achievement, leadership, and future career interests.
Any questions about The Crush Your Exam Scholarship can be directed to: bryce(@)crushthecpaexam.com
2020 Crush The CPA Exam Scholarship

Becker CPA Review
Endorsed by the Big 4
Adapt 2U A.I. Technology
Gameified Learning Options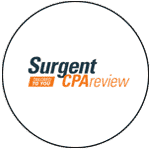 Surgent CPA Review
Pass 80% Faster. Exam ready in 58 hours!
Adaptive Learning Technology
Top New Product by Accounting Today