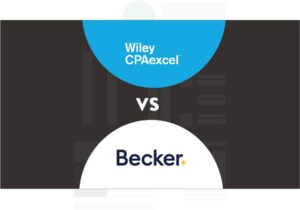 If you're looking for the best review course for your CPA certification, you're probably looking at some of the top contenders on the market, wondering which might be right for you. Programs like Wiley CPAexcel or Becker CPA Review are both endorsed by the Big 4 accounting firms. That certainly doesn't make narrowing down the best fit for you any easier!
That's why we've put together this complete review of the courses and offerings from both Wiley CPAexcel and Becker CPA Review. We'll compare textbooks, software, practice tests and a ton of other features in order to help you decide which course will help you Crush the CPA Exam!
Wiley CPAexcel vs. Becker Costs| Course Access | Course Books | Practice Questions| Course Format| Software Updates
Both my team and myself have used both of these courses extensively in our quest to find the perfect CPA prep materials. Our hands-on experience has revealed some significant differences between the programs that CPA hopefuls should keep in mind.
CPAexcel vs Becker CPA Review Cost
One of the notable differences between Becker and Wiley CPAexcel is the cost structure. Becker has a higher price tag than Wiley CPAexcel at a price point of $3,393 for all four of its sections. In contrast, Wiley CPAexcel offers several packages at different price points, with the most similar to the Becker CPA Review being $2800 (for the Platinum Course.)
Becker justifies the higher tuition with its stable of expert educators, Adapt2U learning materials and realistic exam replicas. However, the student on a budget may be better off selecting Wiley CPAexcel's Platinum Course for a more cost-effective option.
Click To Reveal The Winner!
Wiley CPAexcel
Course Expiration and Access
Depending on the speed with which you absorb material and ultimately end up planning to take the CPA exam, the amount of time you have to access the course may be incredibly important to you. However, the good new is that both Becker and Wiley provide unlimited access to their CPA study materials to their enrolled students. This is a new feature for Becker, but Wiley has had this in place for quite some time now.
This is because Wiley CPAexcel has a Partner Until You Pass Guarantee, which means you'll have course access and free content and software updates until you pass the CPA exam. You won't have to fork over any more money to renew your access and can take unlimited course repeats and even have access for a year AFTER you pass the exam. This is huge for those with testing anxiety and those who aren't sure they have a high chance of passing the first time around.
Although Becker's Advantage course has a 24-month access period, both their Premium and Pro tiers are unlimited. Additionally, the Becker Promise ensures that candidates who don't pass the CPA exam on their first attempt won't have to pay to retake their prep course. Thanks to that, Becker just barely beats out Wiley in this department.
CPAexcel vs. Becker Books
Another huge difference in course offerings comes in the form of textbooks and guides that accompany each course. Becker textbooks are strongly geared towards visual learners, with colored diagrams and images. The content is also organized and structured very well: built to match the exam with relevant problems, real-world scenarios, task-based simulations, and mock exams. You won't be surprised by the content you find on the actual exam if you follow along with these materials.
Wiley's CPAexcel textbooks skimp on the colors, diagrams, and images in favor of empty space built in to take notes in the margins and paragraphs. This is useful for learners who retain information by taking reading notes, and maybe who don't respond to visuals as strongly.
Because the style of textbook that resonates with you may be different from the next winner, there is no clear winner here. Both approaches have strong merits!
Winner: Whichever Helps Students Retain the Most Information!
Becker CPA vs CPAexcel Practice Questions
Becker's CPA Review includes over 6,000 multiple choice questions and 300 task-based simulations that help you apply concepts in real time. Because Becker consistently consults with the American Institute of Certified Public Accountants (AICPA) about potential exam changes, the content is updated regularly to reflect problems on the exam. Furthermore, the answers to each problem link back to a specific section in the textbook which will help save you valuable time when brushing up on topics you're less familiar with.
In contrast, Wiley's CPA review course packs in twice the amount of test material. In the course, you'll encounter approximately 12,000 multiple choice questions, 600 task-based simulations, and at least 6,000 true or false questions. The latter is called "proficiency questions" and help to serve as a progress check in each section to determine whether you should continue or review.
Wiley CPAexcel
Becker CPA vs Wiley CPAexcel Flashcards
Both Becker CPA Review and Wiley CPAexcel offer flashcards to their students. Although Becker used to charge extra for access to these cards, their most recent update includes them for free with all three course tiers. They're available in both physical and digital format; digital flashcards are accessible on Apple, Kindle, and Android mobile devices.
CPAexcel also comes equipped with digital flashcards: a whopping 4100, in fact. If you absolutely must have a printed version of your flashcards, however, CPAexcel will sell them to you for $150. When it comes to price, Becker offers the better deal. However, the sheer number of Wiley's available flashcards is equally appealing.
*Study Tip: Don't BUY flashcards, MAKE them! You will retain much more information by physically creating them by yourself.
Course Formats
Becker offers 3 different course formats; online, self-study, and live classes. This is a huge benefit to doing the Becker program, as you may have a much different learning preference than your neighbor. They are one of the only CPA review companies who provide a live classroom course.
CPAexcel is offered in an online, self-study, and virtual classroom format. Each course comes with a USB flash drive which allows you to access all of their materials offline as well as DVDs of the video lectures. The virtual classes are a blend of pre-recorded lectures and live instruction.
CPAexcel vs Becker Software Updates
Unlike other programs, Becker chooses to charge for regular updates to the course, particularly when the material on the CPA exam changes. This cost is justified by the fact that Becker arranges in-depth meetings to get in front of course changes and their courses are (according to the company) as up-to-date as is possible. Regardless, you will have to pay money for updates or choose to study with outdated materials.
CPAexcel comes with free software and content updates. You can access their updated video lectures online for free. There is also a DVD and CD option if you prefer to study offline or in a location with limited technology. Each of these options are $8.
Wiley CPA vs Becker Video Lessons
When it comes to video lessons, Becker offers a feature unique to their program. If you are confused about a task-based simulation question, you can click on the SkillMaster button. A CPA will walk you through the processes step-by-step, just like your own personal coach! Becker also receives a lot of positive feedback on their video host: a slightly nerdy CPA accountant who goes over additional examples not found in the text to really drive the lesson home.
Wiley's videos are also fairly user-friendly, and some have found the presentation as more measured and organized. However, there is a clear winner here.
Becker CPA Video Lecture:
Becker CPA Exam Review Course Demo: Financial F4
Wiley CPAexcel Video Lecture:
Wiley CPAexcel Product Tour
Can You Trust The CPA Pass Rate Stats Wiley & Becker Publish?
One main way that students often make the decision between CPA review courses is their passing rates. However, these often aren't as clear as they seem. This is because no two programs calculate their passing rates the same, it's hard to pinpoint exactly how accurate the passing rate is in the scope of the entire CPA marketplace.
Becker's website claims that it's students pass with double the success rate of non-Becker students, while CPAexcel names a student pass rate of 87%. Regardless of how both these companies measure student success, they both guarantee that students can retake the test again for free if they don't pass. In addition, since both programs are endorsed by the 4 major accounting firms we think it's safe to say you have a strong chance of success with either.
CPA Course Recommendation
So now for the big question- which CPA prep course is better? There is no easy answer here. What you get out of the course more than likely revolves around your personal style as a learner and the price point you're willing to match in order to prep for your CPA exams.
Check out a free demo of each review course by clicking the buttons below before making your final decision.



Learn More About Becker CPA Review
Bryce Welker is a regular contributor to Forbes, Inc.com, and Business Insider. After graduating from San Diego State University he went on to earn his Certified Public Accountant license and created CrushTheCPAexam.com to share his knowledge and experience to help other accountants become CPAs too. As Seen On Forbes