31 Jan

Wiley CPAexcel vs Becker CPA Review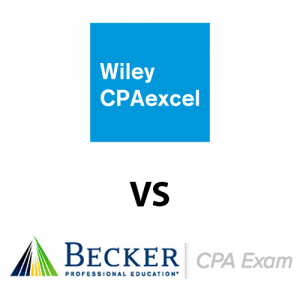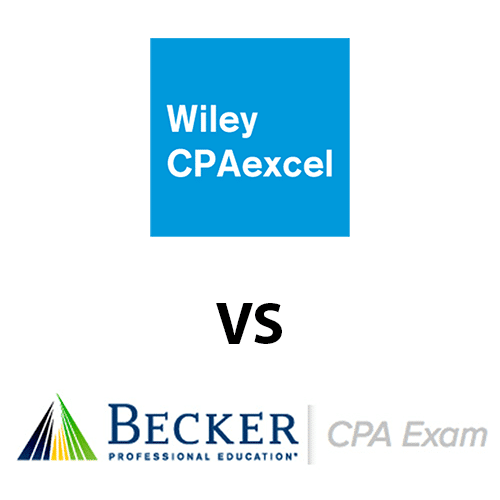 Which CPA review course is better, Wiley CPAexcel or Becker CPA Review? In this head-to-head review I compare their textbooks, software, practice tests, and other important features to help you decide which course is a better fit for you.
Wiley CPAexcel vs. Becker Costs| Course Access | Course Books | Practice Questions| Course Format| Software Updates
I have used both of these courses extensively and found some very significant differences that every CPA candidate should know about when considering both of these options.
CPAexcel vs Becker CPA Review Cost
Becker is the most expensive course on the market and will cost you $3,393 for all 4 sections.  Wiley CPAexcel is more affordable and offers a variety of packages to choose from starting from $2,100 for their basic Silver Course and up to $2,800 for their Platinum Course.  I will reference their Platinum Course in the pricing chart below since this is the one most similar to Becker and is also endorsed by the Big 4 accounting firms.
| | | |
| --- | --- | --- |
| CPA Review Cost Comparison | Wiley CPAexcel | Becker CPA Review |
| Full-Course Price | $2,800 | $3,393 |
| Single Section Price | $800 | $1,131 |
| Admin Fees | None | N/A |
| Cost to Repeat the Course | Free | $565 Per Section |
---
Course Expiration and Access
The Becker software expires after 18 months which can end up costing you a lot of money if you fail an exam or need a little more time.  If you need to renew your access it will cost you 50% of the original cost. For the price of this review course, this is a pretty big miss when compared to Wiley CPAexcel.
Wiley CPAexcel never expires and you never have to pay to renew your access. You can take unlimited course repeats and will have access to their online material for an entire year AFTER you pass the CPA exam.
---
CPAexcel vs. Becker Books
The Becker books are overly fanciful with too much emphasis place on full of colored diagrams and images.  The content is organized and structured but very dry and difficult to get through. Their sections are way longer than CPAexcel's, making for an overwhelming experience.
Wiley's CPAexcel books are much more plain looking and do not have all the fancy colors and images.  There is more empty space to write on in the margins and between the paragraphs which is useful for taking notes, overall providing a much more useful experience when using them.
---
Becker CPA vs CPAexcel Practice Questions
Beckers CPA Review includes 7,200 multiple choice questions and 400 task based simulations, many of which are no longer relevant.
Wiley CPAexcel's course comes with 12,000 multiple choice questions, 600 task based simulations, and 6,200 true/false questions.  The true/false questions are referred to as "proficiency questions" and serve as a useful gauge to see if you really understand a particular section or if you need to spend some more time on it.
---
Becker CPA vs Wiley CPAexcel  Flashcards
For a price of $179 extra you can purchase 1,000 Becker CPA flashcards for both mobile and printed format.  The mobile flashcards are accessible on iOS (Apple), Kindle, and Android mobile devices.
CPAexcel comes equipped with 4,100 digital flashcards at no additional cost.  Each section in their software includes flashcards relevant to the most important definitions and terms covered.  If you prefer printed flashcards, you can buy 1,000 of them for $150.
*Study Tip: Don't BUY flashcards, MAKE them! You will retain much more information by physically creating them by yourself.
---
Course Formats
Becker offers 3 different course formats; online, self-study, and live classes.  They are one of the only CPA review companies who provide a live classroom course, however, many students say that the quality of their instructors is inconsistent and frankly, aren't worth your time.
CPAexcel is offered in an online, self-study, and virtual classroom format. Each course comes with a USB flash drive which allows you to access all of their materials offline as well as DVD's of the video lectures. The virtual classes are a blend of pre-recorded lectures and live instruction, however, this is a fairly new feature, so if you have any feedback about the quality of these classes please let everyone know in the comment box below!
---
CPA Excel vs Becker Software Updates
Becker does not update their practice exams, simulations, or video lectures for free.  Each time the material covered on the CPA exam changes, you will have to pay extra money for these updates or else be stuck studying with outdated materials (Example: all the new IFRS regulations recently added to the Audit Exam).
CPAexcel comes with free software and content updates. You can access their updated video lectures online for free, or if you prefer to watch them via DVD, they will ship you the new one for only $8. If you study primarily off-line, the updated CD-rom software only costs $8 as well.
---
Wiley CPA vs Becker Video Lessons 
This isn't going to be much of a shock to anyone reading this review, but we have a similar winner in this category. Thanks to a more robust video format, the lectures from Wiley are superior to those offered by Becker.
While neither of the courses is super exciting with regard to video content, there's definitely more value in the Wiley lectures. The tone is less harsh (Becker's guy kind of yells at you) and the presentation is more measured and organized. I found that the real difference between the two is the manner in which the presenter speaks to the viewer. I really wouldn't recommend the Becker video lectures to anyone, but Wiley's do provide some value.
Becker:
Wiley:
---
Pass Rates – Can You Trust The Stats Wiley & Becker Publish?
I often get questions about different CPA review courses and their passing rates.  Since none of them use the same method or rules when calculating these numbers, I think it's fair to say that these figures many people assume to be fact are nothing but a bunch of BS! That's just my opinion though, I'll let you be the judge.
Becker's website: "Students who prepare with Becker pass at double the rate of non-Becker candidates."  Keep in mind that on the same webpage they also state, "coming up with a specific pass rate for all students of a particular review provider is impossible".  Hmmm… they should have just gone with 142% and hope nobody notices.
Wiley CPAexcel's website: "CPAexcel student pass rate: 87%" Well, at least they are specific.. but perhaps too specific?
Winner: Anyone who doesn't buy into made up statistics!
---
CPA C0urse Recommendation
So which course is better? I'd have to say that generally really depends on how you define "better." For me, the value of Wiley CPAexcel far outweighs Becker in terms of what you get for your money.
I'd highly suggest checking out a free demo of each course by clicking the buttons below before making your final decision.
Wiley CPAexcel vs Becker CPA Review
Written by:
Bryce Welker, CPA