Delaware requires 150 credit hours to earn a CPA license, however you may sit for the CPA exam after earning your bachelor's degree along with the required accounting courses. The work experience requirements are pretty standard and require 1 year of public or non-public accounting verified by an active US CPA.To be eligible to sit for the CPA exam students must first fulfill these qualifications and requirements:
Minimum age: None
U.S. Residency NOT Required
State Residency NOT required
Education Requirements
Bachelor's degree or higher with 120 semester hours
24 semester hours in accounting
DE CPA License Requirements
Education: 150 semester hours.
Work Experience: 1 year (2,000 hours) of public or non-public accounting experience. Work must be supervised and verified by an active US CPA license holder. Experience must be accumulated within 10 years preceding to the license application.
*Please check Delaware CPA Requirements for more details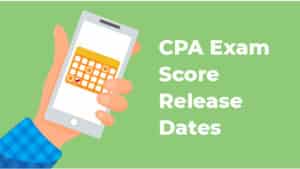 The National Association of State Boards of Accountancy (NASBA) releases scores to candidates and the State Boards of Accountancy based upon the Uniform CPA Exam score release timetables. The score release timetables are updated biannually by The American Institute of Public Accountants (AICPA) and first posted on AICPA Insights and on AICPA'S Website.
With this in mind, we recommend you take the time to review the release dates when planning out your exam dates. This way you'll know when you can expect to start studying for subsequent sections based on whether or not you passed. For more information on how the CPA exam is scored, click here.
Ethics Exam: You must pass the AICPA ethics exam. The cost of the course is $149, or $119 for AICPA members.
Delaware CPA Exam Fees
The cost to take all four sections of the CPA exam in Delaware is $743 plus the initial $145 application fee. The re-examination registration fee varies depending on the number of sections you are signing up for.
**Important Note: You should not apply and pay for exam sections that will not be taken within six months because your Notice to Schedule (NTS) in Delaware expires 6 months after issuance.
Additional CPA Requirements
Pass all 4 sections of the CPA exam with a score of 75% or higher
Complete verified accounting work experience
Pass AICPA Ethics Exam
Fill out and submit all required CPA license application paperwork
Pay the CPA license application fee
DE Exam Information and Resources
Delaware CPA License FAQDelaware CPA Examination
For more details, please contact:
Delaware State Board of Accountancy (forms)
Cannon Building, Suite 203
861 Silver Lake Blvd.
Dover, DE 19904
Email: [email protected], [email protected]
Phone: 302-739-4522
Fax: 302-739-2711
What's Next?
Now that you have started the CPA exam application process, your next step is to find a CPA Review Course that fits your budget, learning style and schedule.
It can take several weeks for your application to be processed so don't waste that valuable time waiting to hear back from your state board.  If you start studying now you will get a nice jump start on the material and will be better prepared to Pass your first CPA exam!

Bryce Welker is a regular contributor to Forbes, Inc.com, YEC and Business Insider. After graduating from San Diego State University he went on to earn his Certified Public Accountant license and created CrushTheCPAexam.com to share his knowledge and experience to help other accountants become CPAs too. Bryce was named one of Accounting Today's "Accountants To Watch" among other accolades.   As Seen On Forbes