If you're interested in a career in securities (or a handful of other niches within the financial services industry), you're going to have to take an exam from the US Financial Industry Regulatory Authority (FINRA). These can be notoriously difficult, so it's important to be prepared when going into one. However, it can be tough to find a good method to do so.
Here's the most effective way to prepare:
FINRA review courses will prepare you for everything you see on the actual exam; they can effectively teach both the content and the format of the test you'll be taking. Just like with any other professional certification, you'll want an exam prep software or course to maximize your chance of getting your securities license and starting your career.
But which course should you try?
Read on to get a feel for the Securities Institute of America review course and discover how it can help you start your securities career!
---
Overview of Securities Institute of America

Also known as Securities CE and/or SIA, this is an extremely popular resource for students looking to earn their securities licenses for multiple Series. They've been selling securities exam training for over 17 years and have made a name for themselves as one of the most effective test prep companies in the market. Because of their competitive and efficient courses, they've been acquired by Wiley to offer official securities licensing materials for their students.
Securities CE offers FINRA training courses for these exams:
Series 3
Series 4
Series 7
Series 9
Series 10
Series 22
Series 24
Series 26
Series 39
Series 57
Series 65
Series 66
Series 99
SIA's exam prep courses offer the following features:
Textbooks
Practice Exams
Online Video Content
E-books
Unlimited video and test bank access
Free updates
Onsite Courses
---
What's Included With Securities Institute of America
Practice Exams
SIA courses focus heavily on practice exams. This is one of the best ways to ensure you're comfortable with the testing format before you take the real thing. These simulations aim to be as accurate to the actual exams as possible, even replicating the time limit and tools available on the real thing. Because of that, you'll find yourself with an advantage that other courses just can't give you.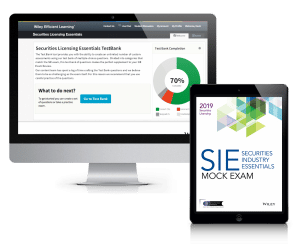 However, that's not the only way Securities Institute uses their large test banks of practice questions:
Test questions can be mixed and matched in order to create your own custom practice tests. Instead of offering a realistic exam simulation, this can help you prioritize knowledge areas you need more help understanding. With these tools and a solid strategy, no exam will ever waste your time on topics you already know!
Textbook and E-books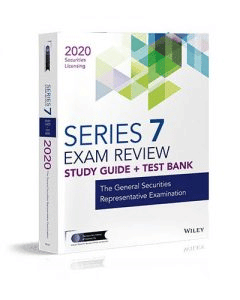 Each of this company's exam prep courses come with a set of physical and digital books. Whether you choose to read the physical version or you want to put the eBook on your mobile device, this makes it possible to study without being online or at your PC. In particular, the textbook can provide a nice break from staring at a screen while still getting some studying done.
Video Lectures Content
SIA includes about 20 hours of online video class tutorials with each exam prep course. These are designed to be studied alongside textbooks and practice tests, but they're also great at mixing up your study routine to keep it engaging. This variety helps you avoid boredom and losing focus while learning. Since they're on demand, you're also free to re-watch each video whenever you want.
Take a look at a sample of their video content below:
Municipal Securities - FNRA Exam Prep
---
Securities Institute of America Pricing
Since they have a large catalog of courses, your price will vary depending on which FINRA licenses you're studying for. Additionally, pricing is different if you're only interested in specific features— which can help you save some money.
Typically, the individual components of each course, such as just the online video classes or practice questions, cost around $99. However, you'll generally get a better deal buying the full course bundles; those can cost anywhere from $150 to $300.
Because of how different each exam prep courses' prices can be, you'll want to personally check the cost for your chosen exam. SIA has a course for all of them, so there's no need to worry about missing out!
---
Pros & Cons
If you'd like to know more about SIA's courses, here are a few pros and cons you can look forward to:
Pro – Course Bundles: SIA's courses can come in different combination packages depending on whether or not you need to take multiple tests. These make certain exam prep combinations much cheaper than buying them individually.
Pro – Quick Support: SIA's courses have an excellent support team; they're always just one call or email away. Plus, they have a live chat system integrated into their site. That means support is as easy as clicking one link on their website. Thanks to that, you should never feel lost or confused while studying.
Pro – Multiple Formats: Each course offers several different ways to study. This stops you from getting bored and keeps you engaged throughout the whole experience. Plus, it helps reinforce each course concept as you learn it.
Con – Limited Live Content: There are a few interactive online courses, but they clearly aren't SIA's focus. They'll get the job done, but there are many more effective courses out there if you're primarily interested in live instruction from experienced authors and instructors.
---
Frequently Asked Questions
Curious about other aspects of SIA's exam prep software and content? Check out these answers to some commonly asked questions:
Q: Does Securities Institute of America come with a students' pass guarantee?
A: If you fail your exam within 5 days of completing one of SIA's courses, you'll receive a complete refund. However, bear in mind that this guarantee is exclusive to people who have passed one of SIA's Greenlight Exams.
Q: Can you buy multiple Securities CE packages at the same time?
A: SIA offers several course bundles, such as the Series 7 and 66 package. These allow you to prepare for multiple courses at a lower price than buying them individually (not coincidentally, Series 7 and 66 are some of the most commonly taken).
Q: Is there any free content available from Securities Institute of America?
A: Although SIA does not offer a free trial, they do have some content you can try without paying. Each course has a free video and practice exam that will let you get a feel for the content before paying.
---
Ideal Customer
Still on the fence about Securities Institute of America? Read these final recommendations to see if this test prep company is right for you.
If you prefer self study materials, this is the course for you.
If you learn best when setting your own pace, this is the course for you.
If you like multiple study formats, this is the course for you.
If you learn best through live content, this isn't the course for you.
---
Final Recommendation
Securities Institute of America courses are the best way to study for your exams. They offer a wide array of securities training materials at a great low price. Plus, they go out of their way to keep you engaged throughout the whole course, which will prevent burnout.
Check out SIA's courses as soon as you can; I promise you won't regret it!
Go To Securities Institute FINRA
Securities Institute of America Discounts
Bryce Welker is a regular contributor to Forbes, Inc.com, YEC and Business Insider. After graduating from San Diego State University he went on to earn his Certified Public Accountant license and created CrushTheCPAexam.com to share his knowledge and experience to help other accountants become CPAs too. Bryce was named one of Accounting Today's "Accountants To Watch" among other accolades.   As Seen On Forbes