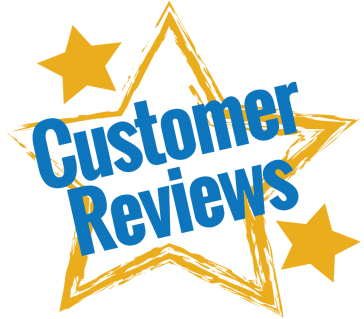 01 Oct

Customer Reviews


In order to provide additional feedback from experienced students and help CPA candidates learn more about various review course providers on the market, we have introduced this section for Customer Ratings!
If you've tried a CPA review course from Roger, Wiley, Becker, Gleim, Surgent, Yaeger, Ninja, or Fast Forward Academy, we want to hear from you! This is your chance to let others know about the pros and cons: everything you liked and disliked about one of these CPA prep courses is what we want to know.
In addition to having the opportunity to share your experiences with others, we're giving away $10 Amazon gift cards to every student who leaves a verified, valuable and insightful customer review incorporating all the questions below.
You can verify your review by emailing your CPA Prep course receipt to [email protected]
You will receive the $10 Amazon.com Gift Card via email within 7 days after we receive your receipt and post your review.
Please leave a review for any of the CPA course providers below that you have experience with. Whether you've taken a course from one of these companies in the past or you're currently taking one right now, we would love to hear your opinion.
You should feel free to provide an honest opinion – positive or negative. The CPA  prep companies won't see your review before they verify that you were an actual student.
What CPA Review Courses have you tried?
Some things to think about when writing your review:
 How would you rate the course questions?
 How are the course videos?
 What does the dashboard look like?
 How helpful is the providers customer service?
 What do you like best about the course?
 What can the course improve on?
 Is the course a good value?
Please include the full course name or product you purchased.
---
Customer Reviews
Average rating:
20 reviews
Mar 13, 2019
I do not know why everyone is so excited about this course, I find it extremely difficult, especially test bank, there are problems in the test bank for which there is no theory in the review course, the only explanation you get is in the answer to the question. Problems and exercises are extremely difficult, do not help you progress in study and preparation for the exam.Right now I am in the situation to exchange with another course, probably wiley, at least for the test bank. I understand that their idea is to prepare you for the exam, but I passed AUD, and I did not find any question in the current exam similar to gleim test bank. I think it is unnecessarily difficult, with little support on theory, and does not help me to progress in my preparation.
Nov 15, 2018
Being an international student, I am very new to US GAAP and US taxation. Roger made my life very easy with his engaging lectures. Pros : Engaging classes. Updated regularly Cons: Can have few more task based simulation to practice.
Oct 12, 2018
I used Roger CPA and i'd say that it's a pretty good review course for those that have been out of school for awhile, like myself. I'm a visual learner but need something to keep my attention--Roger's videos were great because they were the right length and Roger's upbeat personality helped keep me engaged. The review course definitely has enough MCQ and SIMS for you to practice. I think the only negative i'd have is the books had information overload so I found myself not having a clear understanding of what I needed to know for the exams.
Oct 6, 2018
First, I am a Becker student. I started out with Becker back in 1998 when I was young and ambitious and sat for all four parts of the exam in one day. Needless to say, I passed one section-back then, you had to pass two to receive any credit. So fast forward to 2015. I was able to get sections from Becker for 1/2 off because "once a Becker student, always a Becker student". I started with REG. I watched the videos which had the same two instructors from 1998. The multiple choice questions are the best part of Becker. The videos put me to sleep - same old stories/jokes from 1998. I did not pass. In 2017, I decided to try ROGER. The videos/lectures are great. Roger has a great personality. He kept me engaged in the material. Now they've upgraded there practice questions so that you can track your progress even better than before. They've also added a mobile app so that I can listen to the lectures and review the questions anywhere. With Roger, my score on REG was 71! Sooooo close! I don't think I ever received anything over 66 with Becker. I'm sticking with Roger from here on out. They even offer a discount for former students from other review courses.
Oct 2, 2018
I passes FAR with Roger
Average rating:
36 reviews
Nov 20, 2018
The progression of the course material was good. The bite size video is also really helpful so that I can take time to absorb the information before moving on to another topic. The questions are tough and i would say that it is good because it helps me get use to the way the CPA exam questions would be presented.
Nov 13, 2018
Worst software you'll ever use. A million bugs that literally destroy your schedule. I requested they fix a bug, they said "Just make sure you use incognito mode every time you login." That's not a solution, that's a time-consuming workaround. I liked Wiley from my accounting courses, but seriously, this course is an absolute no-go. I feel bad for the instructors and people who write the material because they do a great job, while the technology side of things is by far the worst course/learning software I've every used in my life, hands down. I can't emphasize this enough - GET ANY OTHER CPA REVIEW COURSE BESIDES THIS ONE. I literally took time out of my day to criticize a software, that's how bad it is.
Oct 14, 2018
I have use Wiley CPAExcel to pass three sections. My favorite study material is the dashboard and test banks, which contain a large number of question that cover all the material in great detail. The look and feel of the questions are very similar to the real exam. Their customer service is also great, I have contacted them a couple of times and they are quick to respond and provide different ways, like through live chat, email, or phone. I really recommend the CPA Excel course to everyone looking for a complete study course, prices are super reasonable as well, they offer a free trial and many significant discounts and promotions.
Oct 9, 2018
When it works its fine (not good, just fine). Far too many content errors and website issues for such an expensive product. There are much better options out there that are far cheaper. I regret wasting money on Wiley.
Oct 8, 2018
The Wiley CPAReview is a good tool for studying for the CPA exam. The major factor in my deciding to go with Wiley CPAReview was the amount of material compared to similar options. Also, the Wiley CPAReview package does not have a time limit. Because life happens, I wanted longer time for finished CPA course.
Average rating:
21 reviews
Aug 12, 2019
Definitely did not help me at all. I didnt find any of it to be helpful for learning. Switched to Becker and it was much better than this one. I feel like I paid for the quality. I saw the difference as soon as I switched. Please make sure you look at the demos for all the products to see which is better suited to your learning style and don't pick solely based on price like i did.
Aug 8, 2019
I chose Essential Surgent CPA Review back in April 2018 based on the reviews from this website, the options the program provided and the price point. I can say it was the best decision. Passed each section on 1st try. The ReadyScore is fair and the program prepares you for the exam! This was all being employed full-time and out of school for 4 years. HIGHLY RECOMMEND!
Aug 8, 2019
I chose Essential Surgent CPA Review back in April 2018 based on the reviews from this website, the options the program provided and the price point. I can say it was the best decision. Passed each section on 1st try. The ReadyScore is fair and the program prepares you for the exam! This was all being employed full-time and out of school for 4 years. HIGHLY RECOMMEND!
Feb 7, 2019
The ReadySCORE is very helpful anf allows you to see which areas you need to be spending more time on. It also lets you when the best time to take the exam is. Overall, I am very pleased with Surgent, and I would recommend it to anyone.
Feb 7, 2019
I started using Surgent to pass BEC and the ASAP tech was truly a game changer. I will be using Surgent for all 4 parts, no doubt!
Average rating:
5 reviews
Oct 24, 2018
Very comprehensive book for each course with appropriate information and not any seemingly unneccesary information. Very quality cram course of videos and audio podcasts that helped me a lot. I didnt even need to watch their full video lecture series. I wish they had more tbs though; not quite sufficient for each subject. Also wish their videos were downloadable and not only streamable from their website. Audio can be downloaded though. Devin Smith
Sep 17, 2018
The videos are a little boring and slow at times, but overall are a great resource. The book goes in adequate depth that is clear and the multiple choice questions are a great tool! I studied easily less than the recommended hours for my first two cpa exams (FAR & AUD) and I received a 95 & a 91. Yaeger is a big reason why.
Jan 15, 2018
The Yaeger CPA Review is well constructed review package that is equiped with essential substance. I took the review in 2013. The course questions supplement the concise and comphrensive lectures provided by well informed proffessors. The questions test the overall review of each Wiley Course work of each chapter. The Simulations and multiple choice are challenging and provide accurate material to keep one updated in the review. The course videos are clear and limitless in that you can go back and go over course lessons. Some videos can come off a little dry. The dashboard is chronological constructed. Lectures, Questions, Quizes, and Exams. The providers customers' service was great. The discounted review package and the availability of the involved professors to answer any questions is excellent. What I like most about the course is the challenging simulation questions and the organization of the dashboard. The course can improve by adding actual company examples in the private, public, and voluntary sectors. I believe the course was well invested and provides valuble intrinsic information.
Jan 11, 2018
This course is excellent! It has a complete textbook, audio tapes, lectures, practice questions, and a fantastic message board that gets reviewed by Yaeger staff daily! When I got stuck on a question, I would post there and get a response within 24 hours which really helped! This alone made it a great course for me. I also used the instructor hotline and spoke directly with Phil Yaeger with questions! he loves to help students and takes phone calls. I passed all four sections within 12 months!
Jan 5, 2018
I like Yaeger's software and the student dashboard makes it easy to see how I'm progregressing through the course and how I'm doing on the practice tests. The videos are a little dry as most people already know, but they are very thorough and do explain the concepts well. Yaeger's been good to me and it was much more affordable than the other CPA courses so overall I'm happy with it.
Average rating:
2 reviews
Jan 8, 2018
study guide test bank
Dec 30, 2017
The review outlines are very detailed and take a lot of concentration to study without letting your mind wander off. The video lectures are nothing more than a person regurgitating the notes. If you have a good amount of discipline and are able to read through very uninteresting material and absorb through punishing practice exams that seem significantly more difficult than the real exam, then Gleim may be for you. This exam would be perfect for someone who already has a good command of accounting topics related to the exam. I would not recommend this for someone who needs to relearn a whole lot of material.
Average rating:
1 reviews
Jan 9, 2019
I really like Fast Forward Academy's software/dashboard, easy to navigate and looks great. So far the course has been pretty good, wish there was a little more detail and content on some of the subjects but supplementing with other textbooks which seems to work well. Still early to give full review but overall I'm satisfied for the price.
Average rating:
29 reviews
Jun 18, 2019
I found Becker to be a, one size fits all model to a review course. I found it difficult to be able to just focus on the lectures or the book. Mainly because the Becker Promise pushes you towards completing all lectures and 100% of multiple choice questions. Additionally, I found the lectures to be far too long and hard to get through.
Nov 17, 2018
I am enjoying using Becker to prepare for my CPA exams. Each tests is broken into 6-8 Modules, with 4-8 sections in each Module. Each section has the book video, a concept review and multiple choice questions. The videos explain concepts in the book and are narrated by a dorky but loveable CPA, who provides extra information and examples not already in the book. The course review chooses one or two concepts to go over again, and the multiple choice help students get a sense of what is likely to be tested from the section. I give Becker four stars because I had a lot of issues getting it set up and numerous calls to customer service left me with conflicting answers, which was a bit frustrating. Now that I have it installed though, it is very user friendly. Luckily I am working for a Big Four who paid for Becker, otherwise I definitely would not be using this review material because of price. It's a great course, but I can't justify spending $3,000+ when there are cheaper courses that are just as helpful.
Nov 15, 2018
The studying video of Becker is awesome. Just arrange the time by topic and do the homework for each topic. At the same time, its good to use flash card to remember the definition of the technic terms and will help you to understand the question well. For the section FAR AND AUD, there is no doubt need to practice a lot, at least redo all question in Becker three times, and then it will increase the pass rate.
Nov 11, 2018
I only negative thing I have to say about Becker is that it is relatively pretty expensive. But I think its worth it. The video lessons are not that great, but the problems they have are probably the closest thing you will get to the actual CPA exam questions. I would say go for it. Don't let the price tag deter you. It is very much worth it.
Nov 8, 2018
This review course is extremely expensive but it does offer a lot of benefits. It has a plethora of questions and data on what to study. Because there is just way too much content, I have learned that the videos are useless to me since I will still need to read the book. Even though I have the course, I did not pass multiple sections. I don't think just because you purchase Becker and study a lot, it is guaranteed that you will pass. Instead, it is the method and the consistency at which you study.I will say their customer service is one of my favorite aspects of Becker. If I ever have any questions regarding a Multiple Choice or simulation or anything, they will respond to me and explain in ways I almost always understand, so that was my favorite aspect of Becker that I don't know if other review courses offer, but I still don't think that aspect is worth $4,000.