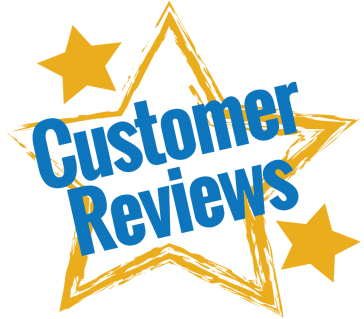 01 Jun

Customer Reviews


In order to provide additional feedback from experienced students and help CPA candidates learn more about various review course providers on the market, we have introduced this section for Customer Ratings!
If you've tried a CPA review course from Roger, Wiley, Becker, Gleim, Surgent, Yaeger, Ninja, or Fast Forward Academy, we want to hear from you! This is your chance to let others know about the pros and cons: everything you liked and disliked about one of these CPA prep courses is what we want to know.
In addition to having the opportunity to share your experiences with others, we're giving away $10 Amazon gift cards to every student who leaves a verified, valuable and insightful customer review incorporating all the questions below.
You can verify your review by emailing your CPA Prep course receipt to [email protected]
You will receive the $10 Amazon.com Gift Card via email within 7 days after we receive your receipt and post your review.
Please leave a review for any of the CPA course providers below that you have experience with. Whether you've taken a course from one of these companies in the past or you're currently taking one right now, we would love to hear your opinion.
You should feel free to provide an honest opinion – positive or negative. The CPA  prep companies won't see your review before they verify that you were an actual student.
What CPA Review Courses have you tried?
Some things to think about when writing your review:
 How would you rate the course questions?
 How are the course videos?
 What does the dashboard look like?
 How helpful is the providers customer service?
 What do you like best about the course?
 What can the course improve on?
 Is the course a good value?
Please include the full course name or product you purchased.
---
Customer Reviews
★★★★☆

based on

20

reviews
Overall rating:
Roger CPA Review - FAR
★☆☆☆☆
"
I do not know why everyone is so excited about this course, I find it extremely difficult, especially test bank, there are problems in the test bank for which there is no theory in the review course, the only explanation you get is in the answer to the question. Problems and exercises are extremely difficult, do not help you progress in study and preparation for the exam.Right now I am in the situation to exchange with another course, probably wiley, at least for the test bank. I understand that their idea is to prepare you for the exam, but I passed AUD, and I did not find any question in the current exam similar to gleim test bank. I think it is unnecessarily difficult, with little support on theory, and does not help me to progress in my preparation.
"
"
Being an international student, I am very new to US GAAP and US taxation. Roger made my life very easy with his engaging lectures. Pros : Engaging classes. Updated regularly Cons: Can have few more task based simulation to practice.
"
"
I used Roger CPA and i'd say that it's a pretty good review course for those that have been out of school for awhile, like myself. I'm a visual learner but need something to keep my attention--Roger's videos were great because they were the right length and Roger's upbeat personality helped keep me engaged. The review course definitely has enough MCQ and SIMS for you to practice. I think the only negative i'd have is the books had information overload so I found myself not having a clear understanding of what I needed to know for the exams.
"
"
First, I am a Becker student. I started out with Becker back in 1998 when I was young and ambitious and sat for all four parts of the exam in one day. Needless to say, I passed one section-back then, you had to pass two to receive any credit. So fast forward to 2015. I was able to get sections from Becker for 1/2 off because "once a Becker student, always a Becker student". I started with REG. I watched the videos which had the same two instructors from 1998. The multiple choice questions are the best part of Becker. The videos put me to sleep - same old stories/jokes from 1998. I did not pass. In 2017, I decided to try ROGER. The videos/lectures are great. Roger has a great personality. He kept me engaged in the material. Now they've upgraded there practice questions so that you can track your progress even better than before. They've also added a mobile app so that I can listen to the lectures and review the questions anywhere. With Roger, my score on REG was 71! Sooooo close! I don't think I ever received anything over 66 with Becker. I'm sticking with Roger from here on out. They even offer a discount for former students from other review courses.
"
"
I passes FAR with Roger
"
"
Roger CPA Review Course is one of the best tools on the market that a candidate can use to pass the CPA exam. The lectures are the most entertaining on the market. Roger is provides insightful information, advice, tips, and a wonderful learning experience on what could be considered a rather dull series of topics. The dashboard is intuitive and allows the user to easily access the different tools of the course, including the customer service section. What's keeping me from giving Roger 5 stars has to do with the MCQs. When I utilized the course, I needed to supplement Roger with an additional test bank to help get me through. However, the course has made substantial improvements in this area. I highly recommend every candidate to consider Roger!
"
"
background about me: ESL student. Studied undergrad and master in the US. non accounting major. age 30+, finished FAR only. I chose roger because the videos are fun. he helps you to memorize the stuff. some of the topics he did explain it very well especially those new to me e.g. gov and acquisition. HOWEVER, his text books are SUCKS. Becker has a better textbook organization. Roger books have typos, not labeling which section is which. Compare to becker the section is super cleared. Also roger textbook has too many words. English is not my first language. I have no problem to listen to roger explanation, but i have difficulties when he READ out his text book. Becker you know which line and page they are on. Roger you need to search by yourselves! If Roger can improve his textbook. I will definitely give 10 stars! and also Roger will send all the books to you at once! so if they got anything updates later. you dont have the latest copy!
"
"
The Roger CPA Elite is a great tool for studying for the CPA exam. The major factor in my deciding to go with Roger CPA was the amount of material compared to similar options. Also, the Elite package does not have a time limit. Because life happens, I wanted longer than 18 months for a couple thousand dollars of my hard earned money. I used the coupon code found here on the Crush website. The interface is easy to use. The new SmartPath system track your progress compared to other students who passed the exam. It is very helpful in knowing where you stand in preparedness. I highly recommend this course!
"
"
It's hard for me to overstate how strongly I stand behind Roger CPA. I purchased access to another review course and was immediately discouraged by the product--basically, just a detailed outline and mini-videos reading portions of the outline. So, when I found Roger CPA, I was incredibly relieved. Roger CPA is a fantastic tool if you are someone who is driven and fairly self-motivated. There are sequential lectures to work through, but after that, the review process does depend a bit upon your own motivation. That being said, the most valuable tool of all is Roger CPA's SmartPath tool. If you've ever asked yourself, "Sure, I feel like I know this stuff, but I don't know if I know it as much as others who have passed it. How do I compare?", SmartPath is the tool you've been waiting for. By crowdsourcing CPA exam scores, SmartPath tells you how many practice questions you need to answer and how many of those you need to get correct in order to be in line with others who have passed. Mystery solved! You just keep working through until you meet the targets and you're in good shape--doing this, I was able to pass FAR and REG on my first try!
"
"
Great course! Excited to have this help me pass!
"
"
For the past few months, (approximately 6 months) I have been using Roger. I used to use Becker (approx 1 yrs). But I switch to Roger not because I did not like Becker but I no longer had the free subscription and I couldn't afford it out of pocket at the time. Roger was within my budget. I feel both Roger and Becker are good. However, basis on your experience in the material and your study habits, I would prefer one over the other. To me, Roger provides good lesson but doesn't dive in the topics as much, compared to Becker. Becker provides more technical teachings and gives more details in their lessons. Rogers is basic and straight to the point. Because, some areas in the CPA exam, I do not practice on a daily basis (ie, Auditing), Roger was not as helpful, in my opinion. I would have to seek outside assistance. But I will say, as a plus, with Roger, the videos are more entertaining. So I never felt bored. I could easily go over the lessons without feeling overwhelmed.
"
"
Course videos is the striking feature of this course. Roger keeps the videos live and I wouldn't be exaggerating if I say he keeps the students entertained (while learning along the way). Even though I have studied audit in the past, I find his tips and techniques useful. There are more than 1200 interactive practice questions with timer options, explanations to answers. We can customize the quiz based on individual chapter or all chapters to test our application of knowledge. I used this feature a lot to clear my concepts and increase application. The video lectures coupled with the SmartPath technology in IPQs is the outstanding feature of this package. Dashboard is easy to navigate and extremely user friendly. Further, the Customer service is efficient. Whenever, I have raised a query, I have received a response within a time frame of 2 hours. The course looks definitely good value for me. Infact not only the video lectures, I also find the audio lectures helpful to keep listening while on the go. However, I feel the following 2 points need attention: There is no feature to download the notes to the IPQs (as is available for downloading notes to the lectures). The audio lectures are not aligned to the video lectures. if this is done, it would enable quick switch over between the 2 modes of learning.
"
"
How would you rate the course questions? I will give Roger CPA review a rate of 4 stars. How are the course videos? I will give a Roger CPA review a rate of 5 stars. How helpful is the providers customer service? Roger CPA review is very accommodating. What do you like best about the course? Roger is very interactive and engaging. What can the course improve on? The possibility of buying stand alone online or offline MCQs. Is the course a good value? Yes for Roger, it is more than enough and the price is reasonable.
"
"
I am a Becker CPA (AUD) and a Roger CPA (REG & BEC) student. If I had to pick one, I would choose Roger for the lectures. Becker's make me sleepy! I also like the way that the study calendar is set up in Roger. Becker's calendar is not "user friendly"-hard to navigate/personalize. Roger let's you print out the time with the schedule which works when you need to track every minute of the day. Both courses have a good online setup. The dash boards are easy to navigate and they both track your progress. Both give you previous CPA exam questions for practice and both are great with updated materials and keeping up with changes to the exam. Roger has better customer service - friendly, courteous. I asked Becker for an extension because of when my exam was scheduled and after being on hold for about 15 minutes, the rep came back and with an attitude, told me that I had an additional 2 weeks and he would cancel it if I didn't email him my NTS within 2 hours. I know you hear this a lot but don't buy a course unless you plan to take all four parts soon. I spaced mine out and then I had to cram so that the software would not expire. Becker cost more, but former students do receive a discount. It use to be 1/2 off but their 1/2 off price is the regular cost for Roger - It's been 2 years so Roger may have increased his prices due to popularity.
"
"
I was not a huge fan of the lectures as Roger's hand writing is hard to read and he often tells unfunny jokes and stories that distract from the material. However, I found the books and thousands of practice questions and simulations provided enough material for me to pass the exams. Overall the course met my expectations. I feel as though Roger is a good course for students who have gained a solid understanding of the material through their college course work and as a result do not need to be taught all of the material through lectures. I would recommend Roger to students who are comfortable learning through reading books and only using lectures if something is not making sense. Additionally, the course is reasonably priced compared to the other options on the market.
"
"
I am very picky - so when it came out to the layout, I had to pick something that looked modern and appealing, or "fun" enough to use after 9847235 hours of studying. Roger definitely stood out to me the most, as the layout was very clean and user friendly. Gleim and Wiley was lacking in this aspect. Course videos are great! No one lectures like Roger. Very energetic and uses tips & tricks to help memorization. Back to the layout, I love how there is a section underneath the video to take notes, so that you won't have to rewatch the entire video for information. Also next to the video was an outline of the lecture so you could follow along. One thing that could be improved on is the video quality. His videos are recorded "lecture style" where he writes on a real whiteboard behind him. I do not like this at all because his handwriting is VERY difficult to read, especially with the low quality of the video. Words are small and blurry. Videos could be immensely improved if some there was a separate/integrated camera view that focused on what was written on the whiteboard. Users should have the option to hide this view. Customer service is alright. The personal trainer was very hyped but didn't do much more than send emails consistently (could do without it). The discussion boards were answered quickly enough. Would love to see a chat messenger where you could talk to a CPA in real time. I used the discount from CRUSH so overall I felt like Roger was one of the best values. I bought the elite version that came with Cram courses, which was extremely helpful.
"
"
How would you rate the course questions? I will give Roger CPA review a rate of 4 stars. How are the course videos? I will give a Roger CPA review a rate of 5 stars. What does the dashboard look like? I will give Wiley a rate of 4 stars. How helpful is the providers customer service? Roger CPA review is very accommodating whilst Wiley answered the query in matter of less than a minute. What do you like best about the course? Roger is very interactive and engage. What can the course improve on? The possibility of buying stand alone online or offline MCQs. Is the course a good value? Yes for Roger, it is more than enough and the price is reasonable.
"
"
Roger CPA Review was the best review course I could have asked for. I was nervous about studying since I was only an average student in my accounting classes, but the way Roger taught made me feel more confident in the curriculum than I ever was in a class at school. Plus, he did so in way less time. Between the engaging lessons, the huge pool of practice questions, and their responsive help team, I was able to study effectively and pass all four exams on my first try.
"
"
Very detailed questions I loved their short notes
"
Roger CPA Elite Course
★★★★★
"
So far I'm 2 for 2 on the CPA exams and am very happy with Roger's Elite course. The video lectures are much better than any other course offers which is perfect for my ADD!
"
★★★★☆

based on

35

reviews
Overall rating:
Wiley CPA Platinum Review Course
★★★★★
"
The progression of the course material was good. The bite size video is also really helpful so that I can take time to absorb the information before moving on to another topic. The questions are tough and i would say that it is good because it helps me get use to the way the CPA exam questions would be presented.
"
"
I have use Wiley CPAExcel to pass three sections. My favorite study material is the dashboard and test banks, which contain a large number of question that cover all the material in great detail. The look and feel of the questions are very similar to the real exam. Their customer service is also great, I have contacted them a couple of times and they are quick to respond and provide different ways, like through live chat, email, or phone. I really recommend the CPA Excel course to everyone looking for a complete study course, prices are super reasonable as well, they offer a free trial and many significant discounts and promotions.
"
"
When it works its fine (not good, just fine). Far too many content errors and website issues for such an expensive product. There are much better options out there that are far cheaper. I regret wasting money on Wiley.
"
"
The Wiley CPAReview is a good tool for studying for the CPA exam. The major factor in my deciding to go with Wiley CPAReview was the amount of material compared to similar options. Also, the Wiley CPAReview package does not have a time limit. Because life happens, I wanted longer time for finished CPA course.
"
"
I enjoy using this package. The videos presented the information clearly and concisely. Some of the auditing was boring. The dashboard was very helpful and let me know when I was falling behind. I liked that the courses were small and the quizzes let you know what areas you need to work on. It is a great value for the money. The discounts available really help.
"
"
I loved the Wiley CPA products. The material really go in depth and teach you the underlying concepts. I never needed the videos, but the ones I watched helped to clarify and change things up from just reading. What I loved most were the questions. There were so many I couldn't even get through them all. I felt more than prepared using Wiley. I also appreciated the price point; though still pricey it was less than others. The online dashboard is very easy to navigate and the live chat feature is excellent when needing updated text or to renew your products (if it takes you longer than the 1 year).
"
"
Compare to other review materials Wiley is most cost friendly option in my opinion.
"
"
Wiley CPAexcel is great for bite sized lessons. The course includes all of the information you need to pass the exam. For example, I only had one college course on Audit and I passed the AUD section on my first attempt with and 88.
"
"
I thought Wily had the clearest outline and dashboard to maneuver through the material which I liked a lot. I also believe it was broken out the best of the review courses into small manageable topics that I could organize clearly in my notes. There was a lot of good information in Roger and Becker, but I found it hard to organize my thoughts around what I was looking at. I thought the Wiley course videos were about on par with the other courses. They provided enough information and were helpful, but I usually stopped about half way through the lessons because I always started to run out of time and I thought it was more helpful just to read the material, do questions and take notes. I think the question bank was good content wise, but always felt like there should be more because after going through them a few times I was able to just remember what the answers were. I eventually passed all parts using Wiley, but it took a few tries on some sections. Having the unlimited access made this possible so I believe the value that offers in relation to the other review courses makes it one of the best deals.
"
"
I thought Wily had the clearest outline and dashboard to maneuver through the material which I liked a lot. I also believe it was broken out the best of the review courses into small manageable topics that I could organize clearly in my notes. There was a lot of good information in Roger and Becker, but I found it hard to organize my thoughts around what I was looking at. I thought the Wiley course videos were about on par with the other courses. They provided enough information and were helpful, but I usually stopped about half way through the lessons because I always started to run out of time and I thought it was more helpful just to read the material, do questions and take notes. I think the question bank was good content wise, but always felt like there should be more because after going through them a few times I was able to just remember what the answers were. I eventually passed all parts using Wiley, but it took a few tries on some sections. Having the unlimited access made this possible so I believe the value that offers in relation to the other review courses makes it one of the best deals.
"
"
I thought Wily had the clearest outline and dashboard to maneuver through the material which I liked a lot. I also believe it was broken out the best of the review courses into small manageable topics that I could organize clearly in my notes. There was a lot of good information in Roger and Becker, but I found it hard to organize my thoughts around what I was looking at. I thought the Wiley course videos were about on par with the other courses. They provided enough information and were helpful, but I usually stopped about half way through the lessons because I always started to run out of time and I thought it was more helpful just to read the material, do questions and take notes. I think the question bank was good content wise, but always felt like there should be more because after going through them a few times I was able to just remember what the answers were. I eventually passed all parts using Wiley, but it took a few tries on some sections. Having the unlimited access made this possible so I believe the value that offers in relation to the other review courses makes it one of the best deals.
"
"
Course Questions- I really feel that these questions are very good examples of what is currently on the CPA Exam. They are structured well, and offer a good description with sometimes tricky answers. 10/10 just like the Test. Course Videos- The course videos are really good and offer a good way to learn if you are a visual learner. The only complaint I have is sometimes the voices can be unpleasant to listen too. I prefer than gentleman on Audit more than the woman on FAR. It's really not that bad. Also, I feel that sometimes they do ramble. I think I would focus more on the material. 8/10 Dashboard- The Dashboard is great! So awesome. The only thing that I would say is to continue to work on it being user friendly. Sometimes I get lost because there are so many options on how to review your tests, quizzes and other items. Very good color scheme. 9/10 Customer Service-Wiley has to have some of the best customer service. I have contacted them via Chat and Phone call. Very polite and encouraging. 10/10 The best thing about Wiley is that they partner with you till you pass. I believe they are the only one's in the industry. You do not know how much that means to an individual like me where I have stopped and started studying again. I also like the constant updates. Great to see that they care to give their students the most current info. The course is a great value. One of the best things too is they often throw in free gifts or discounts. It really can help over time. I also love how you get so much material for the price. Becker was much more expensive and Roger didn't quit have the track record. Yeager seemed to bland. Wiley keep it up! You guy's are one of the leaders when it comes to studying for the CPA!
"
Wiley CPA - Regulation Section
★☆☆☆☆
"
The lay out of the material is good but there are a lot of issues with the system. It will kick you out and tell you you need to purchase it again. There customer service line does not pick up and there is usually move then 75 people in front of you waiting. I am going to reverse the charges off my credit card and get my money back.
"
Wiley CPAExcel - Platinum Course
★★★★☆
"
I think there are basically two categories of people who study for the CPA. 1. People who are doing nothing else and basically studying for the CPA exam full-time. 2. People who are working full time and have to squeeze study time into their busy schedules. I (as I'm sure most people do) fell into category 2 and I think Wiley was perfect for this reason. The sections are broken up into very small lessons which allowed me to study for only a half hour at times, and still feel like I accomplished something. I was able to wake up early in the morning and do a little studying, study a little during lunch, a little when i got home before dinner and a little bit longer after dinner. Realistically, I don't think I would have studied at all those times if they weren't broken down like that. For example, Becker is just one super long video per section, whereas Wiley might have 5 mini lessons of 7 minutes each. It was better for my focus and I think is better for anyone who can't devote their full time to studying for the CPA. Now about the content. I do think that the instructors were good at explaining the concepts, but obviously some instructors were better (less boring) than others. I also thought Wiley's MCQs were really helpful in helping me prepare for the actual exams. But I didn't really use Wiley's SIMS because I found that they were not a good representation of the SIMS that you will see on the exam. Although to be fair, I'm not sure if the other courses have created better ones, since the SIMS have a tendency of being pretty random, but nonetheless, I did not think that Wiley's SIMS were very good. All in all, the course helped me to pass all my exams on the first try, while really only studying mornings and nights (and intensive weekends when approaching test day). I think it is a good value, they are constantly making updates and are very responsive to problems that I had. Most importantly, the course does not expire. It's frustrating enough that your passed exams can expire if you don't complete all 4 in 18 months. I wouldn't want to have to deal with my course expiring too!
"
"
Excellent review course with bit sized lessons. Lots of MCQ and simulations to practice.
"
"
The videos are byte size and are very explanatory. The questions are also from previous year papers and out of great experiences which the teachers have who teach this course. I am first timer and I am going to sit for REG and BEC pretty soon. Thanks CPAexcel. Keep up the good work!
"
"
A very comprehensively laid out course, bit of an overkill, I think, but covers all aspects of studying a course - planning, scheduling, videos, test bank, text, and the whole lot! The course videos are good support for the text, I think. Dashboard, I think, has too many aspects and it would take some time to get used to it. Excellent customer service, very prompt and helpful Their mobile companion app is an excellent add-on. I would have loved to have it on iPad or Tablet version too. I think their online viewing should get better with ability to maximize the screen for better reading. There are various options to suit the budget of each student and probably their preference for studying. I would prefer their Platinum offer, but the cost is bit steep for a student although I understand they are offering student discount but they should offer that to even senior students like me!!
"
CPa Platinum Review Course
★★★★★
"
I just order today but their question bank is twice that of any competitor, they have small bite sized learning segments. I can't wait to get started!!!!!!
"
"
This is one of the best course to choose considering the available time and the bit size information that they provided. The guarantee to continuing update the material until you pass is a major plus.
"
"
Great course for busy mom like me working in public accounting. I passed REG on 2nd try with trial version of online review and purchasing the paper copy but unfortunately lost credit because I was getting so much trouble with passing AUD & BEC Going back at it again with WILEY flashcards and online review questions. 2019 WILL BE MY YEAR!!! giving 4* because doesn't let me restart assignments after completion when studying to retake the exam.
"
★★★★★

based on

18

reviews
Overall rating:
Surgent CPA Review FAR
★★★★★
"
The ReadySCORE is very helpful anf allows you to see which areas you need to be spending more time on. It also lets you when the best time to take the exam is. Overall, I am very pleased with Surgent, and I would recommend it to anyone.
"
"
I started using Surgent to pass BEC and the ASAP tech was truly a game changer. I will be using Surgent for all 4 parts, no doubt!
"
"
When preparing for the CPA exam I was originally overwhelmed. I did not feel like my University prepared me well enough for the level I would need for the exam. I was worried it would be impossible to be ready to take my tests. The video lectures helped a lot with just brushing up on topics that I had forgotten. Practicing multiple choice questions helped me gain confidence. I took my time and tried to use the ready scores to help me know where my weaknesses were. I passed all 4 exams the first time. I am so grateful that I used surgent and saved my money to use for celebrating my passing scores instead!
"
"
I've been studying with surgent for about 2 months and I find it very easy to work with. I helps you concentrate in the areas you need help. The videos are not Long which keep you from dozing off at long lectures. Material is easy to learn and understand.
"
"
I've been using Surgent since Dec. 2017 along with Wiley and Becker, so bear with me for this comparative review on the (A) MCQ (B) Videos (C) Textbook. (A) Surgent's MCQ software is superior due to its (1) ASAP Technology (2) organization with AICPA blueprints (3) explanations with video/text resources and (4) readySCORE: (1) ASAP technology prioritizes questions I constantly get wrong so I don't waste time answering questions I know. With a recent update, the MCQ choices order is randomized so I don't always pick choice A just because it is correct. (2) The outline is organized with the AICPA blueprints so I get a sense that I am practicing what will be on the exam. Wiley and Becker have organized their lessons with their own outline. (3) Explanations with video/text resources are provided after each MCQ whether I got wrong or correct. These help for a quick review on a topic instead of having to spend up to 45mins relearning a complete lesson like Wiley and Becker. (4) The readySCORE helps provide a sense of confidence that I am ready for the exam. Recent updates have improved the readySCORE calculation. Wiley and Becker lack these four key points, so I prefer Surgent's MCQs (B) Surgent's Video lessons are very straightforward, provide some MCQ reviews, and cover the key points of the topic. However, the video lessons do not tie-in with the textbook, lack emphasis of certain points in the MCQ's, and ultimately lack mnemonics. I prefer Wiley and Becker's videos over Surgent depending on the topic. (C) Surgent's Textbook is not intended to read from cover to cover. The textbook is a collection of explanations, like a study-guide you would make in college and only works as an encyclopedia or glossary to explain individual MCQ's and simulations. It is similar to Wiley's textbook, so I favor Becker's textbook which is similar to a college textbook. I have successfully passed AUD with ~3 weeks of studying thanks to Surgent, but I scored exactly a 75%. If you are hoping to pass quickly with MCQ's and have a solid undergraduate education then Surgent is a great choice.
"
"
I highly recommend using Surgent for your CPA review! My personal favorite part of the course are the videos. They are not long in length (at most 20 minutes), straight to the point, and you have to option to download power-points or lecture notes from the video. When doing practice questions, you can track your progress for each section and subsection of an exam to see what your weak spots are. In addition, although the assessment quiz is quite lengthy at the intro, you have the option to skip it and go straight to studying. Lastly, the course NEVER expires! I got the course before I could even sit for the exam and used it to help study for college courses as well.
"
"
I've been using Surgent CPA review for a couple of months now and have enjoyed it a lot. Surgent is the only review course I own but I have tried Roger and Becker on a trial and from a friend's account, respectively. I opted for Surgent over the prior two because I found its layout attractive and intuitive. Surgent also offers an extensive assessment quiz at the beginning of each section that although lengthy, is very helpful in addressing weaknesses and improves the efficiency of my studying. Lastly, a big pro about this review course is that it does not expire, unlike many other.
"
"
Surgent CPA review is unmatched in the market because my CPA review package at the basic level is customized to my strengths and weaknesses. This allows me to put less time studying what I know and more time studying what I don't know. The customer service I have received with Surgent has been fantastic and I highly recommend this review course to other colleagues. The videos are fairly brief and extremely informational. The dashboard is very accessible and user friendly. My favorite part about Surgent, stated above, is that I can study less and retain more. Surgent provides great value and I am confident to take my upcoming CPA exam!
"
"
I used the Surgent Review course. I found the course questions to be very similar both in format and content to the actual exam. The instructor-led videos were informative and condensed. They were all under 20 minutes which helped my understanding without losing my attention. The dashboard is easy to use, updated, and clearly states your trending scores, which sections you have completed and (for Simulations) color-coded based on score. The customer service for Surgent is great. I received a Coach who I had 2 FREE calls with throughout my studying. She helped me come up with a study plan based on my schedule. My favorite things about Surgent were the fact the course NEVER expires, that it has the lowest study times of any course, and their pass-rate guarantee! I thought the course could have more Simulations. Because I now have Surgent forever, it is undoubtedly a great value for its price!
"
"
I have tried other courses and I think Surgent is one of the more easier to navigate and understand the layout of how to use it. I think the lectures are pretty solid and the MCQ are good and there are a lot of them. I recommend Surgent CPA
"
"
Overall, Surgent has been a very positive experience for me. I have passed 3 parts so far, and am working on my last one. The shorter videos make it easier to absorb key information. The most helpful thing about Surgent, in my opinion, is the explanations that are provided after each multiple choice question and simulation. This is where you are really able to learn and understand the material.
"
"
Definitely the most bang for your buck. As someone who went through a career change, worked through school and the test, whom also didn't have a Bachelors in Accounting, I took Surgent's CPA course and passed with flying colors. The value cannot be beat for those people who are in a similar path. Surgent really minimizes lecture and video times and focuses on the key areas of the test. I couldn't be happier with my purchase and have even followed-up and purchased some of their CPE Materials. Go with Surgent and don't look back.
"
"
I tried a couple of different review programs that didn't work for me and then I found Surgent. I really liked how it used the ready score to find my weakest links to allow me to hone in on those areas. The dash board always tells you what you need to be doing and the ready score lets you know how you are progressing through the course. The questions are almost exactly as what I saw on the test. The one thing I think the course can improve on is the lions to the books. I would really like to see the links to the online books take you straight to the text instead of having to search the online book for it.
"
"
HIGHLY recommend Surgent. I started with the course shortly after graduating college, and could tell the course recognized material I had just learned and still had fresh in my mind, and was able to hone in on material I was less comfortable with. I really liked that it took the guesswork out of what to focus my time on. I spent ~85 hours studying each part before sitting and passing, MUCH less than some of my friends who used other courses.
"
"
This is a horrible product, I am honestly not sure why they have such great reviews. (paying for rank I assume) I have used the material for all four parts and failed all but one exam. I had a "ready score" between 89 & 92 on every section yet still failed 3 out of 4 sections.They claim that 100% of their students pass within those parameters. Well that is false, and I am sure many of their other claims are as well. Their study plan is nonexistent. Other plans will at least show you what you need to get through to stay on task. Surgent only has a very rough estimate of how many hours it will take you to answer every multiple choice question. The sims are not even weighted in the score. It is almost like they never updated the study guide since the sims have been weighted 50% because they only have maybe 2 or 3 videos on sims and they are not even weighted in the "Ready Score" They claim that you will study for less time using Surgent, in my experience also false. Additionally, their timers only count the time that you are answering multiple choice questions. (not videos or sims) also have to move the mouse before the time starts for each question and they have very short time-outs. My point is that they are not keeping track of the time spent very accurately. Many of the explanations to questions do not make any sense, there have been more than a couple that appear to contradict each other. This is something that should be caught by their editing department if they are actually going through the material to ensure they explain everything. REG is the only section that is well done. The other sections have a large amount of misread slides, and it is really just a crappy setup. I would strongly suggest just paying a little more for a lot better course unless you are pretty familiar with the material and only need a quick refresher course. Otherwise this course is a waste of money. Students rely on websites such as this to get honest feedback on study material. It is time to show some integrity and quit caving to the pressure to endorse this material for a quick buck!
"
"
I'd been out of school for over ten years when I finally started studying for the CPA exam with Surgent in early 2016. I began this CPA plunge because of the discount Surgent was offering at the time in the Pilot Program. It was very cheap then with unlimited access. I felt I couldn't go wrong and I didn't when I passed all 4 parts at the end of 2017 within the 18 month limit! However, I did not use the adaptive study proponent of Surgent because I could not learn this way and with me being out of school for so long I needed to relearn ALL the information thoroughly. Also, my last part Reg, I supplemented with Gleim because Surgent did not pass me, even after scoring very high on their Reg practice tests.
"
"
The Surgent review course has been helpful from the start. The dashboard is very easy to navigate and I have the option to focus on a single topic or several based on the time I have allotted to study. I made the mistake of waiting too long to take the exam after graduation (6 years!) and have had to relearn a lot. The information is broken down and organized in a manner that I found very helpful, specifically with concepts I struggled with in school. The most helpful aspect of the course is that I can access it over multiple platforms (desktop, mobile, flashcard app). As a full-time working-mom of 2, I have been able to squeeze study time any available opportunity. I would highly recommend the Surgent review course. You get all the bells and whistles for a great price with fewer access restrictions and multiple access platforms.
"
Surgent CPA Review Premier
★★★★★
"
Really easy to use interface and I'm getting through the material much quicker than when I was using Becker. Very happy with Surgent's course and customer support so far, only 1 more section to go!
"
Overall rating:
"
Very comprehensive book for each course with appropriate information and not any seemingly unneccesary information. Very quality cram course of videos and audio podcasts that helped me a lot. I didnt even need to watch their full video lecture series. I wish they had more tbs though; not quite sufficient for each subject. Also wish their videos were downloadable and not only streamable from their website. Audio can be downloaded though. Devin Smith
"
"
The videos are a little boring and slow at times, but overall are a great resource. The book goes in adequate depth that is clear and the multiple choice questions are a great tool! I studied easily less than the recommended hours for my first two cpa exams (FAR & AUD) and I received a 95 & a 91. Yaeger is a big reason why.
"
"
The Yaeger CPA Review is well constructed review package that is equiped with essential substance. I took the review in 2013. The course questions supplement the concise and comphrensive lectures provided by well informed proffessors. The questions test the overall review of each Wiley Course work of each chapter. The Simulations and multiple choice are challenging and provide accurate material to keep one updated in the review. The course videos are clear and limitless in that you can go back and go over course lessons. Some videos can come off a little dry. The dashboard is chronological constructed. Lectures, Questions, Quizes, and Exams. The providers customers' service was great. The discounted review package and the availability of the involved professors to answer any questions is excellent. What I like most about the course is the challenging simulation questions and the organization of the dashboard. The course can improve by adding actual company examples in the private, public, and voluntary sectors. I believe the course was well invested and provides valuble intrinsic information.
"
- Ralston Brickerson, Jr.
"
This course is excellent! It has a complete textbook, audio tapes, lectures, practice questions, and a fantastic message board that gets reviewed by Yaeger staff daily! When I got stuck on a question, I would post there and get a response within 24 hours which really helped! This alone made it a great course for me. I also used the instructor hotline and spoke directly with Phil Yaeger with questions! he loves to help students and takes phone calls. I passed all four sections within 12 months!
"
"
I like Yaeger's software and the student dashboard makes it easy to see how I'm progregressing through the course and how I'm doing on the practice tests. The videos are a little dry as most people already know, but they are very thorough and do explain the concepts well. Yaeger's been good to me and it was much more affordable than the other CPA courses so overall I'm happy with it.
"
Overall rating:
Gleim Premium Review
★★★★☆
"
Gleim was great for the price. By far the cheaper option compared to Roger, Wiley, or Becker. However it was alot of work and the questions were very difficult. I started off doing the "adaptive learning" that Gleim offers, but due to the difficulty of the questions it felt impossible. So I switched to doing tons of multiple choice questions via their review feature after reading the book and watching the videos. This process worked for me. By doing so I passed all four sections on my first try, which was great. So to all considering Gleim beware the questions are very difficult and it makes the real CPA exam feel easy so you have to study with some discretion.
"
"
So far, I like the format of Gleim books. The MCQs provide explanations for the correct and the incorrect answers. This helps me understand why that answer is wrong. Moreover, I like their access flexibility that they provide i.e. you have access to all materials, online and books, until you pass! A bang for my buck!
"
"
With Gleim, I passed 3 of the 4 but have failed two of them and could not pass the last one, so I am having to look for supplement. It's a lot of information with not a lot of direction on what you should focus on more or study tips.
"
"
I am currently still using Gleim. I find the course to be fantastic overall. I do feel as though the practice questions are incredibly difficult but I found them to be helpful in drilling down the various concepts. I found the written material, video lectures and audio lectures to be a bit of a mixed bag, with the fact that some sections to have written portions but no video to go along with it a bit odd. I would still definitely recommend Gleim to anyone looking into a review course.
"
Great Preparation, Brutal Practice Exams
★★★★☆
"
The review outlines are very detailed and take a lot of concentration to study without letting your mind wander off. The video lectures are nothing more than a person regurgitating the notes. If you have a good amount of discipline and are able to read through very uninteresting material and absorb through punishing practice exams that seem significantly more difficult than the real exam, then Gleim may be for you. This exam would be perfect for someone who already has a good command of accounting topics related to the exam. I would not recommend this for someone who needs to relearn a whole lot of material.
"
Overall rating:
Fast Forward Academy CPA Review
★★★★☆
"
I really like Fast Forward Academy's software/dashboard, easy to navigate and looks great. So far the course has been pretty good, wish there was a little more detail and content on some of the subjects but supplementing with other textbooks which seems to work well. Still early to give full review but overall I'm satisfied for the price.
"
★★★★☆

based on

28

reviews
Overall rating:
Becker CPA Exam Review
★★★★☆
"
I am enjoying using Becker to prepare for my CPA exams. Each tests is broken into 6-8 Modules, with 4-8 sections in each Module. Each section has the book video, a concept review and multiple choice questions. The videos explain concepts in the book and are narrated by a dorky but loveable CPA, who provides extra information and examples not already in the book. The course review chooses one or two concepts to go over again, and the multiple choice help students get a sense of what is likely to be tested from the section. I give Becker four stars because I had a lot of issues getting it set up and numerous calls to customer service left me with conflicting answers, which was a bit frustrating. Now that I have it installed though, it is very user friendly. Luckily I am working for a Big Four who paid for Becker, otherwise I definitely would not be using this review material because of price. It's a great course, but I can't justify spending $3,000+ when there are cheaper courses that are just as helpful.
"
"
The studying video of Becker is awesome. Just arrange the time by topic and do the homework for each topic. At the same time, its good to use flash card to remember the definition of the technic terms and will help you to understand the question well. For the section FAR AND AUD, there is no doubt need to practice a lot, at least redo all question in Becker three times, and then it will increase the pass rate.
"
"
I only negative thing I have to say about Becker is that it is relatively pretty expensive. But I think its worth it. The video lessons are not that great, but the problems they have are probably the closest thing you will get to the actual CPA exam questions. I would say go for it. Don't let the price tag deter you. It is very much worth it.
"
"
This review course is extremely expensive but it does offer a lot of benefits. It has a plethora of questions and data on what to study. Because there is just way too much content, I have learned that the videos are useless to me since I will still need to read the book. Even though I have the course, I did not pass multiple sections. I don't think just because you purchase Becker and study a lot, it is guaranteed that you will pass. Instead, it is the method and the consistency at which you study.I will say their customer service is one of my favorite aspects of Becker. If I ever have any questions regarding a Multiple Choice or simulation or anything, they will respond to me and explain in ways I almost always understand, so that was my favorite aspect of Becker that I don't know if other review courses offer, but I still don't think that aspect is worth $4,000.
"
"
Becker was very expensive so for some sections I think it was overkill for me. I had a good knowledge going in on a couple of the sections so I thought it was too much. They have a lot of multiple choice questions which I think helped me the most. I took the live-online lectures and they were basically just the same as the recorded lectures for each module.
"
"
If you follow the Becker lectures, and book, and do the the problems, you will pass. Becker covers every topic on each exam, and even gives you an estimate of how much of the test will cover that topic. Other reviews say the lectures are boring. Yes, some of the accounting lectures are boring... who would've thought an accounting lecture would be boring?? Inherently, some lectures are more exciting than others. Peter Olinto will never leave you bored, that's for sure. The dashboard is very easy to understand and follow. Practice multiple choice questions are excellent. I'd say some of the simulations are a bit too simple, but they get the exam topic across just as well. I think the ROI for study materials that will help you pass the CPA are absolutely worth the money. Like I said, if you follow their directions and study plan, and don't take shortcuts, you will pass. Additionally, I like how you can follow the notes that should go in your book along with the lecture. I found that very helpful. The two improvement points for me would be getting rid of Mike and Angie Brown (who only teach a small percentage of lectures) and improving simulations to be a bit more detailed and like the test. Overall, I would highly recommend Becker.
"
"
I used the Becker Self Study CPA to prepare for the CPA exam. I was really surprised to see how closely the practice questions mirrored the actual exam questions. Most of the course leaders/speakers tried to inject some humor into the lessons, but it still is an accounting course. I liked how many practice questions were offered and I felt like I would not have passed the exams if I didn't work all of the questions they provided. I think the course is a bit pricey but I think if you work all of the practice questions and exams then you should be more than ready to pass the real exams.
"
Becker CPA Review All 4
★☆☆☆☆
"
The teachers are absolutely redundant except for the ridiculous mnemonics they come up with. Peter Olinto is better, however the old man and the lady brown are absoutely fit for teaching. They come and read out the stuff from papers without life in what they speak. It is more mechanical. I am an Indian and trust me this is not how we are taught in our classes. It is just a joke. If you are an Indian, please do not go for this course. Take Miles instead. At least that is more sensible.
"
"
The multiple choice problems and the simulations are helpful but I do not enjoy the lectures. They're a little boring. I think reading the book and focusing on the multiple choice problems and simulations are key. The dashboard is easy to understand. The customer service is good. Whenever I call them they answer my call quickly. It takes about a day for a tutor to email you back though. The tutors did not directly answer my question on two separate occasions. I had to email them a second time for them to fully answer it. The course can improve by having tutors take more time to answer your questions and improve on the lectures a little bit. I believe the course is a good value.
"
"
Becker is one of the more well known CPA review courses, or at least I thought it was. My firm (mid-size regional firm located in Boston, MA) is a partner of Becker, as are many other firms. When I decided I was going to start studying, I didn't think twice about it. However, after failing 3 different sections, only to have my Becker membership expire, I wish I had done my research before I had begun. I found the courses to be long and boring and were not on par with my learning style. I found that I was not able to focus or wanted to speed up the lessons, and then repeating the homework and taking tests, I memorized the question and answer NOT the concept behind the question. Fast forward to when I discovered Bryce and Crush the CPA - I have just purchased Surgent CPA (on my own dime vs. my firm) but am already liking it so much more.
"
"
I used the BECKER CPA study materials. I thought they did an excellent job explaining the material, and providing practice questions. I think the way they outlined the course made it easy to follow and helped you stay on track with your study goal. I passed BEC, REG, and AUD on my first try and FAR on my 2nd. The practice simulations really prepared me well. The course questions were a bit more difficult than the questions I had on the exam, I think this was very beneficial. The course videos were led by very experienced instructors who knew what they were talking about. I like that Becker gives you the option to play back videos at 1.5x, 2x, etc speed so that you can watch the videos and review quickly if you want. The course software and simulations are exactly how they look on the actual exam. this was helpful and allowed me to be prepared for the exam since I was used to the software. The course is definitely expensive. They offer a bundle discount if you buy all 4 at the same time. However, I bought each separately. I heard from colleagues and classmates that Becker was "the best", and my company reimbursed study expenses so I splurged on the materials. The only thing that would make this course better would be offering audio/mp3 lectures. It would be helpful to download audio and listen to it in the car or on the bus on the way to work. I would definitely recommend Becker to prospective CPA candidates.
"
"
Becker's online CPA review course was extremely helpful to my CPA exam experience. The multiple -choice questions are a valuable study tool with reasoning for the correct and incorrect answers. The dashboard has helpful tools including a study timeline calendar. I really appreciated the mobile app with availability to download the content offline. With this, I could listen to lectures in the car. I thought the Becker Mock Exams and the simulations were a great resource and virtually identical to the actual CPA exam software. This helped me feel very comfortable navigating through the simulations at exam time.
"
"
VERY EXPENSIVE COMPARE TO OTHER CPA COURSES. THE INSTRUCTORS ARE VERY ENTHUSIASTIC, BUT OTHER INSTRUCTORS FROM OTHER COURSES ARE ALSO GOOD AS WELL.
"
"
Very summarized and short subject videos A lot of practice questions
"
"
The Becker CPA review course was excellent. It had videos and provided an online book and hard copy books, for all learning types. For some sections, I preferred the videos and for other sections, I preferred to just read. I loved all the multiple choice questions - I think those were the most helpful in obtaining a feel of the types of questions to be asked, and the way they would be asked. The example simulations were also extremely beneficial and helped me not to feel overwhelmed when I approached the actual simulations on the test. Lastly, I love how they lay-out the exam for you, tell you the areas that are most often tested (focus areas) and tips and tricks to remember facts.
"
"
I found Becker so incredibly boring that yes, I was getting in the hours, but wow, I was not retaining any of the material. It wasn't until I found other study guides that provided me with more MCQ and more methods of learning the material that applied to my personal study type, that I started passing my exams with flying colors!
"
"
Overall I found other review courses much more helpful with better study acronyms and study guides. ALSO if you are looking to do the Becker Promise - make sure you screenshot your section progress once completed because if they have an update and your progress goes away your SOL. Plus the $200 processing fee per section to make your Becker Promise go through. Make sure to read the fine print.
"
"
Crush the CPA exam provides an objective review on Beckers CPA review course that points to its weaknesses and strengths and assuredly places it at the bottom of the list.
"
"
Garbage course. Won't stop emailing me either after I unsubscribed from their list like 3 times.
"