01 Oct

Best Online SAT Prep Courses of 2019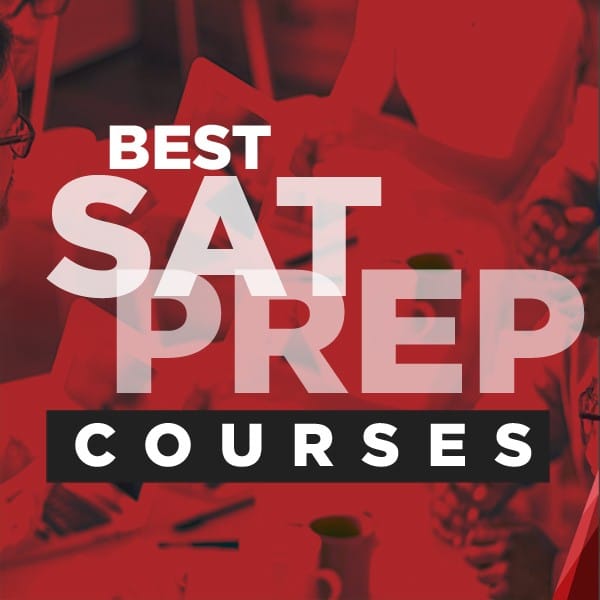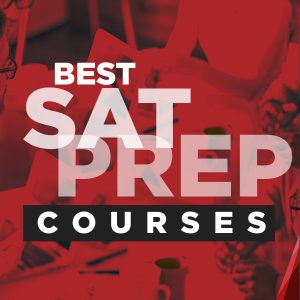 The SAT test is one of the major college board exams, so naturally, scores heavily influence what opportunities students have when it comes to college admissions and scholarships.
So it makes sense that this would lead to a great deal of stress when studying for the SAT. But it doesn't have to be this way.
Here's the good news: There are so many different options out there for students who want to prepare for the SAT!
These prep courses vary in price, length, and content, so students of all kinds can find something that's a good fit for their budget and learning style.
To help you find the right course, we've assembled this table and list breaking down the Top 7 Best SAT review course providers. Check out our SAT review course comparison chart below and be sure to use one of our HUGE SAT prep course discount codes!
Top 7 Best SAT Prep Classes Comparison [October 2019]
| | |
| --- | --- |
| Rank | Review Course |
| 1 | Kranse Institute SAT Prep Courses – Best SAT Prep Course |
| 2 | The Princeton Review SAT Prep Courses |
| 3 | Kaplan SAT Prep Courses |
| 4 | Prep Expert SAT Prep Courses |
SAT PREP COURSE
RANK
#1
#2
#3
#4
#5
#6
#7
PRICE
Check Price
Check Price
Check Price

$139-$295

$187-$647

Check Price

$79-99

STUDY TIME

24+ hours

18+ hours

40-80 hours

13 hours

4+ Hours

60 hours

20+ hours

STUDY RESOURCES

Online, Printable, App

Online 

Online, Physical

Online, Physical

Online, Physical

Online,
Physical
 

Online, physical

ACCESS PERIOD

540 days

1-2 months

1-3 months or Unlimited

1 year

18 months

3-6 weeks

1-12 months

GUARANTEE?

7-day satisfaction guarantee

Score Increase

Score Increase

30-day satisfaction guarantee

30-day satisfaction guarantee

Score Increase

Score increase and 7-day satisfaction guarantee

FINANCIAL AID?

Payment Plan

✗

Installment Billing

✗

Payment Plan

Payment Plan

✗

VIDEO CONTENT?

✓

✓

✓

✓

✓

✓

 ✓

LIVE INSTRUCTION?

✗

✓

✓

✓

✓

✓

✗

SUPPORT

Phone, Email, Social Media

Phone, Email

Chat, Phone, Email, Social Media

Phone, Email, Social Media

Phone, Email

Chat, Phone

Phone, Email, Social Media

DISCOUNT
Save $149!
Save up to $400!
Save $150!

✗

✗

Save $200!

✗

GET STARTED
START NOW
START NOW
START NOW
START NOW
START NOW
START NOW
START NOW

Mobile App: Out of all the SAT prep classes listed here, the Kranse Institute review is the only one to offer a dedicated smartphone app. The improved mobile compatibility provided by this app makes this prep course a fantastic resource for students on the go.

Access Period: One of the most stressful elements of any SAT study program is a strict time constraint. Kranse Institute understands that students are stressed enough already, so they provide their students with roughly 18 months of access time to relieve this anxiety.

Live Instruction: Although the Kranse SAT prep offers an appealing package containing well-made instructional video content, one feature is conspicuously absent. The lack of any live instruction will prevent some students from receiving their ideal educational experience.
Bottom Line: Kranse may not offer a live classroom environment, but there are many positive aspects of its SAT material that make up for this exclusion. Their bite-sized video lectures and generous access period are extremely helpful for SAT prep students.

Video Content: SAT courses taught by The Princeton Review contain several hours of in-depth video lectures that help to break down intimidating concepts that will be encountered on the test. This material is intuitive and well-made: perfect for visual learners.

Price: With a name as prestigious as The Princeton Review, many students and their parents might expect that they'd have to pay Ivy League tuition fees. Fortunately, this is far from the case since this SAT prep class is extremely affordable and frequently discounted.

Instructors: All of the instructors that students interact with through The Princeton Review SAT course have been thoroughly vetted for expertise, both in knowledge and in teaching skills. They've also undergone rigorous training which will ensure they can tutor at the highest level.

Financial Aid: Although The Princeton Review is more affordable than one might expect, their courses still cost a substantial amount of money. It would be nice of them to offer some kind of aid or flexible payment plan, but they unfortunately don't at this time.
Bottom Line: You just can't go wrong with The Princeton Review. Highly qualified instructors and well-produced video content ensure that students receive the upper echelon of SAT instruction without needing to pay Harvard prices.
Princeton Review SAT Review Discounts & Promo Codes

Study Time: Out of all the courses listed here, Kaplan offers the longest amount of study time by a country mile. Although it will certainly be a time investment, students can rest assured that their tuition fees will go toward the most comprehensive SAT course around.

Support: In the rare event that a student enrolled in Kaplan's SAT course encounters an issue that needs to be resolved through support, there are several channels open for them to reach out with. In addition to email and phone, they can access a chat room or social media.

Guarantee: Kaplan offers a guarantee that any student who enrolls in their SAT course will see a noticeable increase in their scores. Failing to provide this score increase would mean that Kaplan will refund your money, although this doesn't happen often.

Price: Some of the more involved SAT review courses provided by Kaplan are three to four times more expensive than other courses on this list. There are some other courses that cost a bit less, but the nicest courses will require deep pockets.
Bottom Line: Kaplan has been around for a long time and are well-known for their high-quality educational material and programs. Their SAT curriculum is no exception and it will provide enrolled students with a wealth of knowledge that is guaranteed to increase their scores.
The Kaplan SAT prep course get our pick for third best. Kaplan is one of the market leaders when it comes to test preparation and they offer a variety of programs covering many different certifications. Because of this, it should come as no surprise that their review classes are among some of the best.
As is custom, Kaplan offers SAT preparation classes that are live in-person, live online, and on-demand online. The most popular option is their live online SAT prep classes that require students  to attend a live classroom online at regularly scheduled times.
Since Kaplan is one of the largest test preparation companies in the world, they offer many different locations for in-person classes all over the United States. Students interested in taking an in-person classroom course for their SAT prep will likely prefer Kaplan over our #2 and #1 pick for this reason, especially if they live in the Midwest.
This is all well and good, but what's the X-factor? What makes Kaplan so special?
The instructors that Kaplan offers are judged by their merit, much like how they would with any other test prep company. What's unique about Kaplan, however, is that they also judge their instructors on their ability to meet the needs of each student as an individual. This greater emphasis on helpfulness and caring helps to make Kaplan's classes more personal for each students, with the aim of motivating them for success.
This specialization continues when it comes to their SAT prep plan. Kaplan will personalize each student's plan based on their individual strengths and weaknesses. This helps students to no longer waste time practicing subjects and concepts they already understand and instead cut to the chase by focusing on efficient ways to increase their score.
Something worth noting about Kaplan's instructors is that they aren't all 99th percentile scorers, unlike the top 2 choices on our list. Despite not having as high of accolades, Kaplan's instructors focus on criteria and strategies that can't be found anywhere else, making up for this supposed lack of merit in the eyes of most students.
Another aspect of their prep program that may be cause for concern is the fact that they only provide 18 hours of classroom time, which is much shorter than the top 2 choices on our list. To be fair, this is well within the industry standard; However, it does pale in comparison to the best SAT prep classes around.
Because of its many strong points and in spite of its few flaws, we rank Kaplan's SAT preparation class offerings as the 3rd best overall and wholeheartedly recommend it to any student looking for a high-quality live classroom course.
Kaplan SAT Review Discounts & Promo Codes

Access Period:
Students who sign up for a SAT review course from College Prep Genius can access their study material for a full year after enrollment. This gives them plenty of time to go over the material, ensuring that they are fully prepared come test day.

Support:
College Prep Genius SAT review takes customer service very seriously and provides several channels of communication for students who require support. In addition to a phone number and email address, they encourage students to reach out on social media.

Price:
The best value for students interested in studying for the SAT can be found with College Prep Genius. The price for their course is conveniently low and will provide students with a long enough access period to guarantee a good value.

Guarantee: College Prep Genius now provides a 30-day money back guarantee, no questions asked.
Bottom Line: College Prep Genius is a lesser-known educational program provider that still deserves recognition. They provide a terrific package at an excellent value.
Higher Score SAT Prep Class
Budget-friendly course with solid coverage of core SAT concepts
Higher Score SAT Review Pros & Cons [2019]
What Everyone Needs To Know About Higher Score SAT Review

Guarantee: If students who enroll in Higher Score Test Prep feel unsatisfied with their educational experience for any reason, they have 30 days to request and receive a full refund. This is a fantastic show of confidence for this prep course provider.

Payment Plan: Some of the more expensive courses offered by Higher Score can be a bit out of the standard student's price range. In order to help prospective students with budgetary concerns, the option is available for them to schedule a flexible payment plan.

Instructor Feedback: Although it doesn't take the same form as many other SAT prep courses, Higher Score Test Prep offers their take on live instructor feedback. Students who enroll in this course will receive personalized videos from instructors addressing their concerns.

Study Time: This SAT prep class was designed to function as a crash course. For that reason, Higher Score Test Prep only offers around 4 hours of dedicated study material. This pales in comparison to just about every other provider on this list.
Bottom Line: Higher Score Test Prep is a good option for students on a tight budget who want to quickly brush up on key SAT concepts before the big day. The instructor feedback is helpful and the guarantee is promising, but the lack of study hours is concerning.
Prep Expert SAT Course
Perfect score instructors and flexible payment options
Prep Expert SAT Review Pros & Cons [2019]
What Everyone Needs To Know About Prep Expert SAT Review

Instructors: All of the instructors that work for Prep Expert have intimate experience with the SAT. In fact, most of them have received perfect scores on the test, including the founder. With that kind of experience, students are guaranteed a quality education.

Study Time: The cumulative study time for the average Prep Expert course is around 60 hours. While this isn't the most study hours out of all the providers on this list, it's a decent middle ground that ensures a quality education without taking up too much time.

Payment Plan: Although they aren't the most expensive option, Prep Expert still comes with a high price tag. To alleviate budgetary concerns, they offer students the ability to pay their tuition fees in installments through a third party.

Access Period: The prep courses provided by Prep Expert are scheduled in either 3 week or 6 week periods. Either option still guarantees that the student will have 60 hours of study time, but the lack of additional access can concern students who want to keep studying.
Bottom Line: Prep Expert is a fantastic choice for any student looking to enroll in a SAT masterclass. In addition to highly qualified instructors, this course offers enough study hours to ensure students understand all relevant material and score high on the SAT.
The SAT prep courses offered by Prep Expert are the best options for students, hands down.
Prep Expert was featured on Shark Tank, a hit TV show where five ruthless business moguls fight for investment opportunities in promising companies. Mark Cuban, a businessman known for only working with companies of the highest quality, picked Prep Expert for investment. If Mark Cuban is working with a company, you know they're the real deal.
Here's what makes Prep Expert worth the hype as the best SAT prep resources for students:
Three different SAT courses are provided by this company that are designed to suit the needs of different students. The options are for a live in-person course, a live online course, and an on-demand online course. Out of these options, their most popular course is the live online one, which involves student taking classroom-style courses live on their computer.
All three styles of review courses are taught by 99th percentile instructors: the best in the business. Even the company's founder, Shaan Patel, is highly qualified due to the fact that he achieved a perfect score on the SAT. With the combined brainpower of Shaan and his team of experts, these courses were designed with the highest possible quality. Furthermore, these SAT tutors take the time to be available for each and every student; all their live classroom sessions allow students to ask them questions and clarifications about the standardized exam.
The live in-person courses offer around 60 hours of classroom time, in comparison to many other review courses offered by other companies that are only 18-25 hours in length. This substantial difference in curriculum length really allow Prep Expert's instructors to provide more insight and depth into SAT problems, increasing students' understanding of the material as well as their scores.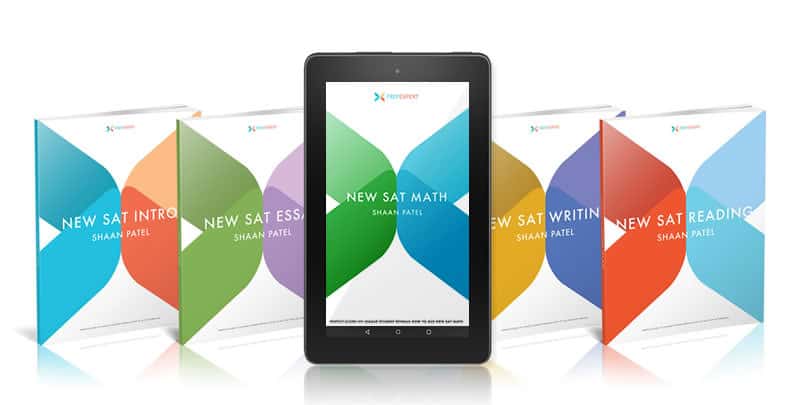 Prep Expert's live course also features 4 proctored exams. This is a useful resource that allows students to acclimate to the exam environment and can help them determine the correct speed to advance through it.
Signing up for a Prep Expert course includes access to 5 books written by company founder Shaan Patel. These books can provide useful info from the perspective of someone who accomplished the incredibly difficult feat of reaching a perfect SAT score. These useful educational resources are free for students to read even after they finish their course.
Prep Expert also offers one of the best guarantees in the business. They claim to improve each student's score by 200 points at the risk of a full refund, showing their willingness to put their money where their mouth is.
Despite all these fantastic features included in Prep Expert's SAT programs, one drawback has left a few customers less than satisfied. If an issue arises that necessitates contacting customer support, it can take a long time before these problems are resolved. Aside from this, Prep Expert is a terrific resource at a fair price, getting our pick for the Best Online SAT Prep Course.
Prep Expert SAT Review Discounts & Promo Codes
Magoosh SAT Prep Course
Significant cost savings and a guaranteed return policy
Magoosh SAT Review Pros & Cons [2019]
What Everyone Needs To Know About Magoosh SAT Review

Price: Magoosh is far and away the best course for students who want to save money. Their flexible price plan ensures that enrolled individuals only pay for as much access as they need and their generous bundles offer considerable savings.

Guarantees: That's right, guarantees as in more than one. Magoosh not only guarantees a score increase for enrolled students; they also offer a seven-day return policy if they aren't fully satisfied with their experience.

Course Content: Magoosh's SAT prep course offers a combination of video lectures and practice tests. They don't offer a clear statistic of how many study hours their course provides and they don't offer any form of live instruction, which will likely disappoint many people.
Bottom Line: Magoosh is far from the best SAT prep course on the market. However, they are still an excellent choice for students who don't want to pay through the nose for their education. Additionally, the material they do provide is adequate and well worth the cost.
Magoosh's SAT test prep course gets our pick for the best budget SAT prep option. Much like Testive, Magoosh only offers their course in an on-demand online format that allows students to study whenever they have time because they aren't constrained to a set class schedule.
Here are some other reasons why it makes the cut:
Magoosh defines itself from other programs by having a simple design and plenty of content. A student is typically faced with many tasks that demand their time and attention so their time can be limited. Magoosh recognizes this fact and designed their course so that students can get down to business right when they sit down. With plenty of content in a streamlined package, the average student can use this study resource for several months without running out of practice questions.
However, the one aspect of Magoosh's course that is most pertinent to this ranking is its competitively low price. A student can unlock access to all of their content for 6 months for only $99: less than 20% of the cost of most major test review companies, making it one of the cheapest SAT prep classes! While the reduced price for this course does come at the cost of some extra features, the money saved can go toward other educational resources such as tutoring sessions or exam fees.
Magoosh's SAT prep course also includes:
Over 140 video lessons
Over 400 practice questions
Study schedules to use to map out your study time
A score increase guarantee
The one major downside of Magoosh is the fact that enrolled students don't receive any personalized interactive guidance from any coaches or instructors. This guidance is often highly sought after by certain students because it can help motivate them. Since Magoosh's test prep materials are only offered on-demand, there are unfortunately no live class options either.
Ultimately, the ultra-low price and effective barebones design of the Magoosh SAT review test prep causes it to get our pick for the best budget review class for the SAT.
Our Suggestions
Looking for some more advice on a rock-solid SAT study plan?
Here are some additional suggestions to help you find the most cost effective SAT study course to fulfill your collegiate aspirations. With so many different options and formats to pick from, it can be somewhat difficult to decide even with all the information contained in this guide. For the completely lost, we suggest that you:
Take the Prep Expert SAT course if you are looking for the best overall live online course. If you are looking for a live in-person course and Prep Expert classes are not offered in your area, the next best option would be either Veritas or Kaplan, depending on which is offered in a more convenient location for you.
Time-strapped students may find it difficult to find time for a live course with required time slots. In this case an on-demand style prep course from Testive would be the best choice since they offer the best on-demand prep course around.
If you are looking for a decent SAT prep course on a tight budget, Magoosh would be your best choice.
Hopefully this information helps you to achieve your dreams of scoring high on the SAT. Keep in mind that even with the best SAT prep program, the key difference between scoring high or completely bombing the exam is your own determination and desire to succeed. Now go out there and CRUSH it!
---
SAT Prep Course Discounts & Promo Codes
---
What are the Best SAT Prep Courses?
Best SAT Courses quick comparison guide
| | | |
| --- | --- | --- |
| SAT Prep Course | Price | Financial AId  |
| Kranse Institute | $499 | Payment Plan |
| Kaplan | $30-$2299 | Installment Billing |
| The Princeton Review | $299-$899 | Non-Available |
| College Prep Genius | $139-$249 | Non-Available |
| Higher Scores | $187-$647 | Payment Plan |
| Prep Expert | $299-$1199 | Payment Plan |
| Magoosh | $79-99 | Non-Available |
Written by:
Bryce Welker, CPA