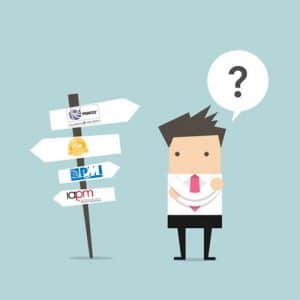 The list of Project Management certifications, training courses, and credentials can seem intimidating. However, it's important to know that the most popular Project Management certification may not be the best fit for you. Instead, the certification you choose may have a more positive impact depending on your industry, location, and skill-set.
We've created a guide of the best project management certifications available and how to navigate choosing the correct one for your needs. In this article, you'll find valuable information on prerequisites, who looks for specialized credentials and even salary information. You'll be able to choose the certification that fits your needs after reviewing all these options.

PMP Certification
The Project Management Professional (PMP) certification is one of the most well-known, touted as the "gold standard of project management certification" by the Project Management Institute. The PMP certification is truly flexible, allowing the certified holder to apply project management expertise in nearly every industry. It is also globally recognized and held by project managers in every country.
The PMP is still the most common certification to find near the top of management and corporate ladders. This is contributed to the fact that it is accredited by the PMI, has hefty prerequisites, and is also one of the most recognized certifications (and therefore more trusted) by employers.
The PMP shows in-depth knowledge and practice of things like time, budget and scope, strategic planning and risk management to name a few. PMP holders have shown a comprehensive knowledge of all aspects of project management by passing the exam, and therefore are highly sought after by employers.
On average, Project Management Professionals will earn a salary within the range of $110,000. According to a study done by the PMI on salaries, PMPs earn on average 20% higher than other candidates without the certification.
In order to apply for the certification, you'll need to pass the PMP exam. This costs between $405-$555 depending on whether you're a member of the PMI. Other prerequisites for the certification include:
Secondary degree (high school diploma, associate's degree or global equivalent)
7500 hours leading and directing projects
35 hours of project management education
OR
Four-year degree
4,500 hours leading and directing projects
35 hours of project management education

CAPM Certification
The Certified Associate in Project Management (CAPM) certification is also administered by the PMI and is both a precursor to the PMP and a handy alternative for those who might not meet the PMP prerequisites. Like the PMP, the CAPM certification is globally recognized and stands out to employers in every industry.
A CAPM will stand out in the job market, especially for project teams. Those who want to pursue the more rigorous PMP will also quickly amass project lead and directing hours necessary by using this stepping stone. It also shows a grasp of the fundamental skill set needed for successful project management.
The CAPM certification requirements are fairly easy, and can even be obtained at a discounted rate through PMI with a student bundle. The exam itself consists of 150 proctored questions, and must be taken every five years to keep the certification. Prerequisites include:
Secondary degree (high school degree, associates degree or global equivalent)
1,500 project experience.
However, if you don't meet these requirements, there is an easy alternative. You'll need 23 documented hours of project management education before you take the exam. Conveniently, PMI offers a Project Management Basics online course that satisfies this requirement and makes the CAPM accessible to nontraditional students.
The CAPM is also one of the highest-paying project management certifications available, second to the PMP. The average salary of a CAPM holder is $101,000, give or take for relevant education and experience.

PMI-ACP Certification
An agile approach to project management is becoming more in demand as the practice migrates into new industries. Agile project management was previously utilized only in software development. However, the philosophy of quickly adapting to necessary change in markets, consumers and technologies has caught on in other professions. It's values of people and interactions over processes is a radical change from the way management has commonly been structured. This change has proven to be a welcome one where implemented.
While the Agile Certified Practitioner (PMI-ACP) certification isn't the most well-known amongst employers yet, those who are familiar with the practice seek candidates with the certification and often pay handsomely. The average salary for a PMI-ACP is $123,000. It is also accredited by the PMI, so those employers who haven't fully embraced the agile project management mindset can still be confident in your knowledge.
This is one of the best certifications to obtain not only for its present value, but it's future value as well. As the agile project management movement gains more prominence, these certification holders will be in increasingly higher demand.
Prerequisites for the PMI-ACP to be satisfied before sitting for the exam are:
2,000 hours of general project experience on teams. ( A current PMP will satisfy this)
1,500 hours on agile project teams or agile methodologies. (in addition to 2,000 hours)
21 contact hours of training in agile practices
Agile practitioners also enjoy one of the highest average salaries on the market, earning $123,000 depending on company, experience and education.

CompTIA Project+ Certification
CompTIA Project+ is an entry-level certification that compares to the CAPM. However, there are far less prerequisites. In fact, the one year of experience managing, directing or participating in small-to-medium-sized projects is only a recommendation, and not a requirement.
CompTIA uses feedback from the computing industry, the government, research institutions, academia and independent experts to design the training and the exam. You are able to purchase the exam voucher for 302 from CompTIA but for the price point, the bundles that include test prep and an exam retake voucher are very much worth it.
CompTIA Project + is recommended and often taught by popular electronics and software companies like Canon, HP, and Dell. The certification is used in positions like Project Coordinator/ Manager, Team Member, Business Analyst, or leadership based positions like Manager, Director or Team Leader. This credential is relatively low-cost and a perfect opportunity for those just starting out in project management.
The average salary for holders of this certification is lower than many on the list but still nothing to sneeze at. CompTIA Project+ certified individuals can expect an average salary of around $76,000.

Risk Management Professional (RMP)
Risk management professionals are quickly setting themselves apart from regular project management professionals or business leaders. In a world where growing attention to environmental, social and political impact, risk assessment, avoidance and management is key. The RMP certification signifies that the holder is qualified to manage risk for business projects effectively.
The most popular version of this certification is of course through the Project Management Institute. Most certifications bearing the PMI precursor are particularly trusted in the industry due to the PMI's rigorous and comprehensive training and testing of its' project management hopefuls.
An RMPs primary goal is to enhance the opportunities of its organization, protect interests and assess and manage risk as they threaten. The role is extremely important in several industries. The credential will stand out in particular to industry leaders and stakeholders. Because of the specialized nature of the RMP, and the prerequisites of the certification are hefty. They are:
Secondary Degree (High School, Associate's Degree or global equivalent)
4,500 of project risk management experience
40 hours of project risk management education
OR
Four year Degree (Bachelors or Global Equivalent)
3,000 hours of project risk management experience
30 hours of project risk management education
The position a RMP chooses at a company will influence their average salary, but all clear the $100,000 mark. IT Directors with an RMP certification average nearly $160,000, while Risk Analysts average $115,000.

Certified ScrumMaster (CSM)
Scrum certification tends to go right along with agile practices, as Scrum methodology is one of several under the agile practice umbrella. Scrum was first named in 1986 in a Harvard Business Review. The authors compared the high-performing and cross functional teams built in the management practice to the scrum formation in rugby.
In this interesting, high-performing methodology, the ScrumMaster can be compared most closely to a project manager. While the development team takes charge of the work and determines how to push out frequent increments of work, the Product Owner determines what needs to be done and sets priorities. The ScrumMaster works with both to protect the team, the process and prevent distractions internally and externally.
There are several versions of the certification for Scrum, but the most comprehensive for those new to Scrum is the CSM from The Scrum Alliance. The requirements are fairly simple. You must have a general knowledge of scrum practices and complete a Certified ScrumMaster training course. The Scrum Alliance offers a two-day version of this. Versions of this training course usually run between $990 to $1400 on average.
The average salary for a Certified Scrum Master ranges widely nationally, with the low point at approximately $81,500 and the high point sailing to $120,000.

Certified Project Manager (IAPM)
The IAPM certification has a draw because it is offered by the International Association of Project Managers. This means it is trusted and recognized globally. Project Managers with this certification will be recognized all over the world and have ample opportunity with prospective employers.
The IAPM also promotes well-rounded project managers, covering everything from communications, finance, IT, HR and marketing. It is considered a mid-level credential, and those with a degree in Project Management from a university can seek out this certification without additional experience. In fact, a degree isn't necessary- there are no prerequisites to take the exam. However, if you have no experience in project management, you most likely will not succeed.
For those who do not have a degree in project management, there is also a course provided by IAPM on project management. The training and hours recommended to be able to pass the course are somewhere between Master Project Manager and Project Management Professional. One huge bonus is that you do not need to re-certify once you have the IAPM certification.

Projects in Controlled Environments (PRINCE2)
This certification option is most well-known overseas, particularly in the U.K. This would be idea for practitioners who are open or plan to move overseas, as the certification is certainly appreciated over it's more American counterparts.
The certifications are administered by the ILX Group, and cover the phases of project management. This includes direction and management in all portions from pre-project to delivery. There are both non-agile and agile options which both contain two levels.
The PRINCE2 Foundation and PRINCE2 Agile Foundation and the PRINCE2 Practitioner and PRINCE2 Agile Practitioner differ in their expectations of the certificate holders knowledge. Foundation courses and exams aim to introduce the PRINCE2 method and act as an entry-level credential. The Practitioner certifications prove advanced skill in project management, and successful completion of the PRINCE2 Foundation credential.
There are numerous options for training for Foundation courses. In person, they are often two days and end with the examination. However, there are distance-learning options available from numerous training providers globally. If you would prefer, you are able to self-study for the exam and simply pay for the test.
The average salary for PRINCE2 certification is $85,800. However, Payscale.com did reveal a large discrepancy in salary between men and women with the certification. Males earn an average of $90,000, while women earned an average of $77,000.
COMPARE PRINCE2 REVIEW COURSES
Bryce Welker is a regular contributor to Forbes, Inc.com, YEC and Business Insider. After graduating from San Diego State University he went on to earn his Certified Public Accountant license and created CrushTheCPAexam.com to share his knowledge and experience to help other accountants become CPAs too. Bryce was named one of Accounting Today's "Accountants To Watch" among other accolades.   As Seen On Forbes