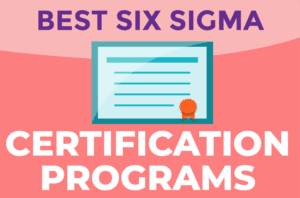 Finding the best Six Sigma Certification Online programs can be tough because there are almost endless choices when it comes to providers. I had our experts find the best Six Sigma training courses available so you don't have to.
Getting your Six Sigma Certification can impact your lifetime earnings in a big way, so mastery of the Six Sigma certification methodologies is crucial.
In the comparison chart below you will find the Six Sigma Training courses we found to be the absolute best on the market.  Compare all their features and find the course that fits your personal learning style today!
These Are the Top 5 Best Online Six Sigma Certification Courses & Study Materials of 2020 So You Can Pass the Six Sigma Exam
MSI Certified Six Sigma Course (Rank: #1)
Thorough course materials and certification exam included

OVERALL RATING: ★★★★★
MSI Certified Six Sigma Review Pros & Cons [2020]
What Everyone Needs To Know About MSI Certified Six Sigma Review
PROS
Free Trial:
Unlike many of their competitors MSI Certified's Six Sigma training provides a free trial on their website so you can give it a test drive before you buy The fact that they offer a demo for free to their Six Sigma courses shows just how confident they are that you will not only buy but pass.
Certification Included:
 Not many other courses offer actual certification, MSI stands out by offering both a course and certification together. Better yet the cost of certification is included! MSI already has some of the most affordable options and this makes it even more compelling. They even provide you a copy of your certificate in the mail or you can access it online.
Flexible Options:
All of the MSI Sigx Sigma training is online and structured in flexible manner. This allows you to take the course at your own pace when you have free time.   The course expires 12 months after purchase, giving you plenty of time to complete the course and get your certififcation.
Bottom Line: MSI is the best online Six Sigma certification program because it serves as an affordable one-stop-shop. In addition to offering decent study materials, a certification exam is included at the end of the course.
Grey Campus Six Sigma Course (Rank: #2)
Live instruction and cross-training that can be used in both Green and Black Belts

OVERALL RATING: ★★★★★
Grey Campus Six Sigma Review Pros & Cons [2020]
What Everyone Needs To Know About Grey Campus Six Sigma Review
PROS
Combo Courses:
Something that is hard for students to find in other Six Sigma courses is that GreyCampus offers for their customers a comprehensive course that combines the curriculum for both Green Belt and Black Belt This package provides students with a complete education in these certs with a healthy amount of PDUs accompanying it.
Certification Exam:
In addition to providing students with everything you need to pass the Six Sigma exams, GreyCampus even goes so far as to provide students access to take the exam immediately when they finish the program. Depending on what course you decide to enrolled in, they will have the option of taking a certification exam that is up to the standards of either the ASQ or the IASSC.
Instructor-Led Training:
Many Six Sigma prep programs will simply offer access to personal study materials such as practice tests or textbooks on-demand, with a few pre-recorded lectures thrown in. GreyCampus offers these features as well in their Online Self Learning program; however, what really makes them unique from other educational resources is their other packages that incorporate live instruction from an experienced Six Sigma professional. This is the kind of actual real-world knowledge that translates to legitimate process improvement when you're helping clients on the job.
CONS
Live Courses:
Although the Traditional Classroom package offered by GreyCampus for both Green Belt and Black Belt prep courses is an excellent educational resource for students, the availability of these physical classrooms is limited. Unless they live near the East Coast USA, this option is likely to be out of the typical student's budget.
Bottom Line: GreyCampus offers an appealing package with in-depth live instruction, high amount of PDU's, and a combined curriculum that can train students in both Green Belt and Black Belt Six Sigma
Opex Six Sigma Course (Rank: #3)
Tons of PDU credits in an all-in-one package
OVERALL RATING: ★★★★★
Opex Six Sigma Review Pros & Cons [2020]
What Everyone Needs To Know About Opex Six Sigma Review
PROS
Minitab Included:
 Since all Six Sigma study materials offered by OpEx Learning are based around Minitab, it's helpful that they include a 30-day Minitab trial with their courses. Choosing this option for their Black Belt or Green Belt course will ensure you have access to everything you need to start studying immediately!
Tons of PDUs:
Out of all the courses listed here, OpEx Learning's provide the most PDUs to enrolled candidates. This is especially helpful if you have other project management certifications, since it means you can apply this course to your continuing education requirements.
Realistic Study Aids:
OpEx isn't just interested in preparing you for passing Six Sigma certification exams; they also want to help you find employment. To make this easier, their courses include several realistic templates and Job Aids to help prepare you for a rewarding career.
CONS
Trial:
There's a lot of enticing content in OpEx's courses, and they do a good job demonstrating it on their storefront. However, the lack of a trial offer or course demo is concerning— especially if you need to try a course firsthand before putting any money down.
Bottom Line: OpEx Learning is a solid pick if you're looking to prepare for Six Sigma certification while maintaining any other project management titles you already own. Even though you can't try before you buy, they still have a generous refund policy to help you avoid wasting any money.
ExpertRating Six Sigma (Rank: #4)
Real world Six Sigma scenarios, and included certification

OVERALL RATING: ★★★★★
ExpertRating Six Sigma Review Pros & Cons [2020]
What Everyone Needs To Know About ExpertRating Six Sigma Review
PROS
Certification Included:
 ExpertRating combines certification with their Six Sigma courses, making it an easy choice. You will have to pay for a hard copy to be mailed, but that's it. Online transcripts are available for free all the time.
All-Inclusive Packages:
Everything you need to take the course, study, and pass the exam is included! You shouldn't need to purchase additional study guides or textbooks. Everything is included, even the exam.
Real Project Scenarios:
When learning Six Sigma methodologies, it's crucial to practice how to implement them. ExpertRating utilizes implementation to help students learn through the use of multiple project scenarios. There's no better way to ensure you've learned a core concept than to actually do it.
CONS
Limited Number of Practice Questions:
With very few practice questions ExpertRating lags behind.  There's so few you may just want this as a supplement to a full course.
Bottom Line: Although they don't offer as many practice questions as other online courses, the real world scenarios tested by ExpertRating are a fantastic tool to help acclimate students to Six Sigma methodology.
iCert Global Six Sigma (Rank: #5)
Unique and memorable "learning through teaching" style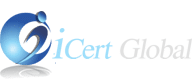 OVERALL RATING: ★★★★★
iCert Global Six Sigma Review Pros & Cons [2020]
What Everyone Needs To Know About iCert Global Six Sigma Review
PROS
Minitab Implementation:
Icert Global actually includes levels I and II of Minitab Implementation.  This is one of the standout features of their course because it's crucial to learn how to properly use Minitab.
Online Exam Simulator:
After completion of the course, you have 3 months extra of exam simulation. Six Sigma methodologies are especially data driven, requiring the acquisition of new modes of thinking and application.
Black Belt Mentoring:
As part of the Six Sigma Black Belt Certification course, you'll participate in the unqiue IcertGlobal mentoring program. This ensures you learn the core concepts as you'll have to serve as a mentor to someone taking the Green Belt Six Sigma Certification course. The best way to know if you've mastered something is if you can teach it to someone else.
Bottom Line: iCert Global approaches studying for the Six Sigma exam in an unconventional way. In addition to teaching students Minitab, this course encourages students to learn through teaching other students the same material.
Frequently Asked Questions about Six Sigma Certification
What are the different levels of Six Sigma certification?
According to the Six Sigma website, there are five Six Sigma certification levels. Here's a brief rundown of each level:
Six Sigma White Belt certification only takes a few hours to complete. Certification means that you understand some of the definitions and general concepts regarding Six Sigma methodology.
Six Sigma Yellow Belt certification takes a few days on average to complete. It is slightly more involved than White Belt certification and qualifies you to work on Six Sigma projects under a Green Belt or Black Belt.
Six Sigma Green Belt certification takes around ten days on average to complete. Green Belts are qualified to run many small projects with teams made up of Yellow Belt and White Belt certified individuals. They also work on larger projects with the help of Black Belt certified individuals.
Six Sigma Black Belt certification takes twenty days on average to complete. They are extremely well-versed in the methodology and can handle projects with much larger sizes and scopes. Additionally, they usually mentor Green Belt, Yellow Belt, and White Belt individuals.
Six Sigma Master Black Belts are considered the most capable and well-trained out of all Six Sigma practitioners. They can handle multiple projects at once and can train Black Belts, Green Belts, Yellow Belts, and White Belts.
Which Six Sigma certification is best?
Depending on your company's needs, your time and money budget for education, and your desired career path, different Belt levels will have different benefits. For many small-scale projects, Green Belt certification is sufficient; however, Black Belt or Master Black Belt certification are excellent additions to your resume that can also greatly increase your salary.
Which companies use Six Sigma?
Some noteworthy companies that have implemented Six Sigma methodology to optimize their project management include GE, Motorola, Texas Instruments, Bank of America, and American Express.
How do managers use Six Sigma?
The best use of Six Sigma for managers involves taking its focus on removing defects and optimizing small aspects of a process and applying that to people instead. It isn't as effective in this way as it is for manufacturing, engineering, or healthcare, but it can help to set you apart from other management candidates.
Best Six Sigma Certification Courses Online – 2020 Comparison
Bryce Welker is a regular contributor to Forbes, Inc.com, and Business Insider. After graduating from San Diego State University he went on to earn his Certified Public Accountant license and created CrushTheCPAexam.com to share his knowledge and experience to help other accountants become CPAs too. As Seen On Forbes