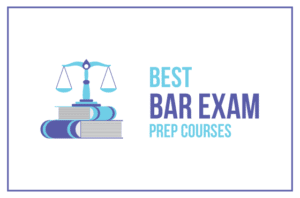 Trying to select the right Bar Prep Course can be a daunting task. There is so much information to digest with so many different courses to choose from which is why we've done the work for you, to make the selection process easy.
Ever since it's beginning, the Bar Association has maintained rigorous standards, and Bar exam pass rates can have a particular way of intimidating even the hardest-working law students. The difference between successfully passing or failing the Bar exam largely depends on how well your prep course prepares you.
Using Bar exam study materials that don't match your unique learning style can cause you to score lower and even fail your exam, costing you months time and additional exam fees. We're here to make sure that doesn't happen to you!
Just as we helped you find the best LSAT prep course, we have also researched and reviewed all the Bar exam prep courses below so you don't have to! The comparison chart will help you determine which Bar review course will best fit your needs.
These Are The Top 5 Best Bar Exam Review Courses & Online Study Materials in 2020 (August):
When selecting a bar prep course, students have more options that ever before. While there are lots of prep companies, here is our list of the best Bar review courses available:
BarMax Review Course
(Rank: #1)
Flexible pricing and detailed study resources in one great bar review.

OVERALL RATING: ★★★★★
BarMax Review Pros & Cons
PROS
Flexibility:
 BarMax is available online, but also in app form. They give you access to stacks of books through the app makes this course the easiest to use no matter where you are. Studying for the bar exam can actually be fun when you can do it on your iPhone or iPad on the train, at the gym, or a tropical beach somewhere. Best of all, internet access is not required to access so you can view it even in places without cell service.
Value:
At just under $2,000, BarMax Bar Exam Review's comprehensive state course price is much lower than the competition. The price also includes lifetime access to audio lectures, corresponding black-letter law outlines, and flashcards. The course also features more than 1,750 real multiple choice questions (MBEs), real practice essays, real performance test (PT) questions, personalized writing revisions, analytics and customer support by phone, email and in-app message boards. For everything you get, you can't beat the price!
Study Planner:
BarMax includes a study calendar that sets daily assignments and a detailed overview of the material, including how much and when you'll need to study. The calendar default suggests a study plan of 15-25 hours per week for 12 weeks. Additionally, if you would like to start your bar prep sooner BarMax is the only review course to offer instant and lifetime access. You can buy now, start studying and take the exam whenever you're ready.
Financing Special:
BarMax offers 0% financing along with their lifetime access.
Bottom Line: In addition to providing a flexible BAR study course, BarMax also offers flexible pricing with their 0% APR financing plan for enrollment. A detailed study planner more than justifies the cost of admission.
How do you rate BARmax Bar Review Course?
BarMax Review Discounts & Promo Codes
Kaplan Bar Review Course
(Rank: #2)
Well-structured and thorough study materials, with a nationwide presence.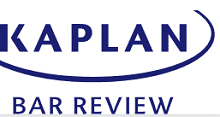 OVERALL RATING: ★★★★★
Kaplan Bar Prep Pros & Cons
PROS
Comprehensive Bar Course:
Kaplan's Complete Bar Review Course contains a huge amount of resources and is available in almost every state. The Kaplan Bar Review course features access to unlimited essay grading, live lectures (in-person, or live-online, and on-demand), full-length simulated exams with review, a final countdown study plan, and more than 4,000 exam-like MBE questions.
Structured Bar Program:
 Their course has an easy to follow outline that helps you stay focused. The overall structure of their Bar prep course program includes approximately 7 days of MBE prep, up to 36 days of comprehensive subject review (varies by state), 4 to 5 days of simulated exam preparation for each part of that state's exam, and about 2 weeks (varies by student) for a final countdown study plan.
Course Flexibility:
Kaplan not only provides their complete course in nearly every state, but students have the option to attend course lectures live online. In addition all students will have access to their Online Bar Lecture Library where they can review the course lectures and take notes on-demand. They also have a mobile app so you can access the content no matter where you are.
CONS
Bar Review Course Price:
Kaplan has a tremendous amount of content but also happens to be one of the most expensive courses out there. Prices for the Complete Bar Review Course can be as low as $1,895 in some states, up to around $3,600 in others.
Bottom Line: Kaplan's BAR review programs are flexible, easy to follow, and available in a wide variety of locations. The unfortunate downside to all of these features is an intimidatingly high price tag.
Kaplan Bar Review Discounts & Promo Codes
Bar Prep Hero Review Course
(Rank: #3)
Bar Prep that gives you peace of mind.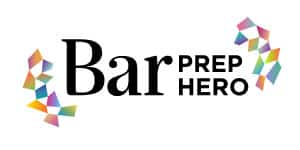 OVERALL RATING: ★★★★★
Bar Prep Hero Pros & Cons
PROS
Real & Simulated Questions:
Students who want to learn from official materials that were previously used in the bar exam will appreciate this prep course. With over 1,700 to choose from, even the least experienced law student will becoming intimately familiar with the exam's structure and testing style. And afterward, they'll have over 500 original simulated questions to work with as well!
Email Consults:
As an online course, Bar Prep Hero has limitations that you wouldn't have in a traditional classroom— including instant feedback with your instructor. However, this review course does a better job than most to compensate for this limitation through their email consults. With this feature, you can ask questions about any aspect of the bar prep process and receive a reply from your instructor without having to wait a long time.
Ultimate Pass Guarantee:
Passing the bar and becoming a lawyer requires passing more than one exam. Rather that just guaranteeing you'll be able to pass the MBE or the MPT, they promise that you'll successfully pass the entire thing! If you don't, they'll appropriately compensate you to lessen the blow.
CONS
Lack of Lectures:
Repeatedly taking practice exams and working through multiple-choice questions are an effective way to prepare for the exam. However, the fact remains that most students prefer to learn through instructional videos and lecture content. But although there are many bar prep courses that can provide this service, Bar Prep Hero is not one of them.
Bottom Line: If you want to work on practice exams and questions with the peace of mind that comes with a confident pass guarantee, Bar Prep Hero is the best option for you. However, a lack of video lectures can make it tough to stay motivated if you prefer to learn in that way.
Bar Prep Hero Discounts & Promo Codes
SmartBarPrep Review Course
(Rank: #4)
Focused on the essentials, packed with free resources


OVERALL RATING: ★★★★★
SmartBarPrep Review Pros & Cons
PROS
Helpful Notes:
SmartBarPrep provides all students with several helpful note sheets that distill tons of information into an easy-to-understand format. Their Priority Outlines cover rules as far back as the 90's with an emphasis on bolstering your ability to memorize them. Additionally, their Smart Sheets use color coding and concise wording to emphasize the most important concepts to pass your exams.
Digital and Physical:
Although this is a purely online bar prep course, SmartBarPrep does provide most of their materials in a physical format. Their aforementioned study notes are available in printable PDFs, as are some of their flashcards. This means you can share your notes with your peers in a study group or get some extra practice without having to log on.
Optimal Results:
Nearly every aspect of this prep course was designed to save you time while boosting your exam grade. Whether you're working with their Smart Sheets, Smart Flashcards, or multiple free Smart Guides, you'll only have to worry about the absolute essentials with no added fluff.
CONS
Lecture Content:
How do you prefer to learn new information? If you're a self-motivated independent study expert, you'll love this course. However, if you prefer to learn through video or audio lecture content from an instructor, SmartBarPrep won't be able to provide what you need.
Bottom Line: If you don't have a lot of time to prepare for the bar exam — or if you just want to save as much time as possible — then you'll love the study tools available from SmartBarPrep. And if you're unconvinced, try one of their many free resources to see for yourself!
AdaptiBar Prep Course
(Rank: #5)
Real Bar Exam questions and intelligent technology, for a tight focus.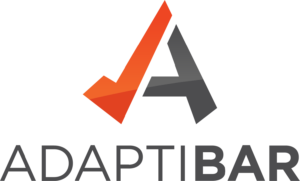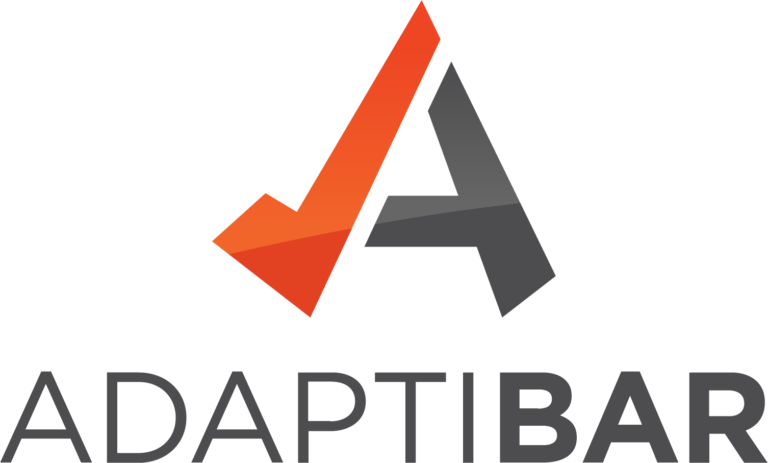 OVERALL RATING: ★★★★★
AdaptiBar Review Pros & Cons
PROS
Licensed Practice Questions:
AdaptiBar's practice questions are licensed questions that have been released from previous bar exams. By practicing with licensed MBE questions (instead of simulated questions written by test prep companies) you'll be more accurately prepared for the questions you will see on the actual MBE exam. AdaptiBar features over 1,964 MBE practice questions, giving students a lot of 1st-rate practice material at a great price.
Adaptive Learning Technology :
AdaptiBar's intelligent learning software automatically adapts questions to your ability level based on your previous performance. Students are presented with certain types of questions until they consistently perform well on that particular type. The Past Performance Table displays analytics on how many questions have been answered and calculates the accuracy of your answers, so you'll be able to target and improve your score on different areas.
CONS
Restricted to MBE Exam:
 Students looking for a comprehensive Bar prep course to help them cover all the material on the bar exam may be disapointed, as AdaptiBar focuses exclusively on the MBE portion of the exam. As a result, AdaptiBar is most effective when used as a supplement to other courses.
Bottom Line: Implementing real questions from the BAR exam alongside analytical tools, AdaptiBar offers an impressive study course. It's just too bad that it only covers the MBE portion of the test.
Themis Bar Prep Course
(Rank: #6)
A quick-paced Bar review course at an affordable price


OVERALL RATING: ★★★★★
Themis Bar Review Pros & Cons
PROS
Bar Prep Price:
Themis Bar Prep Course provides an all around comprehensive program at a reasonable price of $1,695 for all states. Included with the price students get plenty of video lectures and quizzes for each subject on the exam. Plus Themis includes simulated exams, flashcards, over 3,000 MBE practice questions, unlimited essay grading, and 24/7 customer support.
Quick Learning Modules:
Their video library is made up of quick, and manageable 15-20 minute video segments. This will help you stay more engaged with their lessons and increase retention of study material.
CONS
Bar Review Availability:
Themis's course is only currently available in 44 states, so some student's won't be able to take full advantage of the course.
Bottom Line: Themis offers an enticing BAR review package with quick and manageable learning modules at a relatively affordable price. That said, availability is limited in some locations.
BarBri Bar Prep Course
(Rank: #7)
Long-standing reputation and nationwide presence

OVERALL RATING: ★★★★★
BarBri Bar Review Pros & Cons
PROS
Well Known:
Barbri has along history and has been in the Bar Review space for over 50 years!  They have an in-depth bar review course that includes live-online or in-person lectures. Both course types include multiple outlines, online study materials with progress tracking, a mobile app, simulated exams, multiple workbooks, and essay feedback.
Available in All States:
Barbri is one of the few companies that provides access in every state.  This is useful for students who would like help with more state-specific material.
CONS
Price:
Barbri does not have a bargain price. Unfortunately, Barbri is going to be one of the most expensive options. Their prices range anywhere from $1,400 up to $3,895 depending on which state.
Bottom Line: Students looking for a reputable BAR exam educator should look no further than Barbri. They've been in the business for half a century and are available in all 50 states, but their course is far from cheap.
Themis vs. Barbri
At first glance, there's a quite a bit that Themis and Barbri's bar exam review courses have in common. Both offer MBE prep at no additional charge and offer students who fail their exam a free retake of their course. However, there are two significant differences you should know about before making a purchasing decision.
Firstly, Themis Bar Review offers considerably more multiple choice questions than Barbri: around 1,000 more, to be exact. While this can certainly be seen as a major upside, there may be some students who feel intimidated by a higher volume of practice questions and won't get around to answering all of them.
However, the second significant difference means that even if this is the case, students enrolled in the former prep course will save money in the long run. This is because despite having less content than Themis, Barbri Bar review costs much more for enrollment. Depending on the package, customers can find themselves spending around $1,000 more if they choose Barbri over Themis.
For these reasons, Themis Bar Review wins out in the comparison between these two prep courses.
Kaplan vs. Barbri
If you're looking for any advantage to choosing Barbri over Kaplan, the strongest one would be a static price range. While Kaplan's on-demand prep course structure means that the prices for their courses vary based on location, Barbri's range of $3,695 to $3,995 is consistent no matter where you're located. For this reason, it's easier to budget out your bar prep.
When it comes to guarantees, Barbri also offers a deal that is slightly more appealing than Kaplan. Whereas Kaplan offers a money-back guarantee if students are unsatisfied with their coursework, Barbri promises a full retake if any students should fail their exam after completing their course. This shows that Barbri is extremely confident in their test prep materials and will go the extra mile to ensure their students pass.
However, Kaplan is the more favorable course to Barbri in every other conceivable metric. When it comes to study materials, Kaplan offers double the amount of practice questions. Additionally, due to its location-based price variance, it's possible to receive these educational resources at a much lower cost than Barbri if you live in Alaska or some other areas in the United States.
Ultimately, the meager advantages offered by Barbri pale in comparison to the significant benefits offered by Kaplan Bar Review, which is why it takes our #2 spot on this list.
Frequently Asked Questions
Q: How hard is the bar exam?
A: Test-takers agree, for the most part, that the bar exam is very difficult, both due to its length and content. However, pass rates for this exam are relatively high in many states, especially when compared to pass rates for the CPA exam, the CMA exam, and others.
Q: How much does the bar exam cost?
A: Due to the fact that the bar exam is different based on the jurisdiction in which it is taken, bar exam costs vary wildly. Additionally, you may have to pay extra costs for travel and various application fees. The range of costs to take the bar exam is anywhere between $300 to $1400.
Q: How long is the bar exam?
A: The length of the bar exam varies depending on where you take it. At its longest, the Uniform Bar Examination (UBE) is made up of three parts: the Multistate Bar Examination (MBE), which is made up of 200 multiple-choice questions; the Multistate Essay Examination (MEE), which is made up of seven essay questions; and the Multistate Performance Test (MPT), which is a written test. Completing the UBE takes two days.
Q: How many times can you take the bar exam?
A: Depending on the state, the amount of times you can retake the bar exam vary. Most states in the US offer unlimited retakes, while others will allow you to retake the bar exam 3 to 5 times before needing special permission. However, all US jurisdictions will allow you to retake the bar exam at least once without any hassle
Q: How do I study for the bar exam?
A: The most important thing for those wondering how to study for the bar exam is to check the specific exam structure and requirements for their jurisdiction. If your state administers the UBE, you'll want to practice answering multiple choice questions and writing responses to essay prompts. Alternatively, you'll only need to practice with multiple-choice questions if your jurisdiction only uses the MBE. Regardless of which version of the exam they administer, however, your best bet to successfully studying for and passing the bar exam is to enroll in a high-quality bar prep course.
Best BAR Prep Course Discounts