01 Nov

Roger CPA vs Wiley CPAexcel – Comparison
Which CPA review course is better, Wiley CPAexcel or Roger CPA Review? I compare the textbooks, software, practice tests, and other important features in this one-on-one review so you can find the best course for you.
I have used both of these courses thoroughly and found some very significant differences about which you need to know when choosing between my two top rated CPA review courses.
Roger vs Wiley Cost
Both Wiley and Roger have comparable prices, with Wiley being slightly more expensive than Roger. Both Roger and Wiley have a variety of packages from which to choose.
Wiley's starts at $2,100 for the basic Silver Course and up to $2,999 for the Platinum Course. Among students, the most popular is its Premier course which is priced at $1,899. I will reference the Wiley Platinum Course and Roger's Premier course in the pricing chart below.  You can also use our CPA review course coupon codes for huge discounts!
Ultimately, Roger CPA Review is the winner due to their lower course price. Additionally, only Roger offers a financing option. Depending on your credit, you can be approved for 3, 6, or 12 monthly payments with rates from 10-30%. All you need to do is select the monthly payment option at checkout.
| | | |
| --- | --- | --- |
| CPA Review Cost Comparison | Wiley CPAexcel | Roger CPA Review |
| Full-Course Price | $2,999 | $1,899 |
| Single Section Price | $800 | $694 |
| Admin Fees | None | $50 |
| Cost to Repeat the Course | Free | $417 |
*These are prices for Wiley Platinum and Roger Premier, which are the most popular courses of the respective test preps
---
Expiration and Online Course Access
If you select Roger's Elite-Unlimited package you'll get UNLIMITED course access so you'll never have to buy any study materials ever again. If you choose Roger's Premier Package you will receive 18 months of access: still more than enough time for most CPA candidates to take and pass all four exams.
On the other hand, all of Wiley CPAexcel's course packages never expire so you'll never have to pay to renew your access. You have unlimited course repeats and will have access to its online material for an entire year AFTER you pass the CPA exam.
---
Practice Questions
Wiley CPAexcel's course comes with 12,000 multiple choice questions, 600 task based simulations, and 6,200 true/false questions. The true/false questions are referred to as "proficiency questions" and serve as a useful gauge to see if you really understand a particular section or if you need to spend some more time on it.
Roger's CPA Review comes with 6,000+ multiple choice questions, task-based simulations, and AICPA-released questions, giving Wiley the edge when it comes to the quantity of questions. Additionally, some students report that the Roger CPA Review questions are somewhat easier than those on the exam, which is not helpful when you have to face tougher questions on test day. Fortunately, they've heard these criticisms and have made some adjustments to their newest update which fix these problems.
---
Wiley v. Roger CPA Flashcards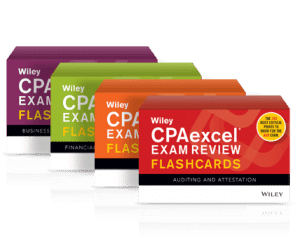 You can buy Roger CPA printed flashcards (spiral-bound) for all parts of the exam for $139.80, or purchase individual sets for $29.95 each ($49.95 for the FAR). Roger also offers digital flashcards through their Elite-Unlimited package, which also provides students with the option to print them out for offline studying.
Wiley CPAexcel comes equipped with 4,100 digital flashcards at no additional cost. Each section in its software includes flashcards relevant to the most important definitions and terms covered. Additionally, they've recently updated their course dashboard to provide direct access to these flashcards, which makes it easy to squeeze in a quick study session. However, if you prefer printed flashcards, you can buy 1,000 of them for $150.
*Study Tip: Don't BUY flashcards, MAKE them! You'll remember the information and actually understand it if you play an active role in the creation process.
---
CPA Exam Course Formats
Roger CPA Review offers online study courses with the option of Premier or Elite-Unlimited course packages. Each package comes with 100+hours of recorded lectures, electronic and printed textbooks, full-length practice exams, 6,000+ multiple choice questions, study planners, and free updates. If you spring for their best package, you'll also receive some enticing bonuses.
Roger also offers audio lectures, for an additional price of $449. This is hands down the best study tool to have if you are busy and need to be able to study on the go. The engaging Roger can be listened to on commutes to work, during runs or trips to the gym, when you are doing laundry or any other activity where you can easily pop in some headphones.
Wiley CPAexcel is offered in an online, self-study, and virtual classroom format. Each course comes with a USB flash drive which allows you to access all of their materials offline as well as DVD's of the video lectures. The virtual classes are a blend of pre-recorded lectures and live instruction, but they unfortunately disappoint when compared to Roger. Due to their recent acquisition by UWorld, Roger has been able to completely revamp their Smartpath and QBank features to offer one of the best digital classroom experiences for CPA candidates the world over. It's just no contest!
---
CPA Video Lectures 
When comparing Wiley CPAexcel video lectures to those from Roger CPA review, it's not a matter of one of the two options being subpar. Rather, it comes down to one of these lecture series being run by the most interesting man in accounting. Though his approach may be off-putting to those who favor a more boring style, the namesake of the Roger brand is truly as engaging as possible, given the subject matter.
Wiley's lectures aren't bad, honest. However, when compared to Roger's videos, it's not really an even playing field. If you want to experience the accounting prep industry's brightest star, it's a no-brainer. If you want a more dull and traditional take on the CPA content, I would go with the far less entertaining Wiley CPAexcel lectures.
---
Wiley & Roger CPA Software and Exam Content Updates
Wiley CPAexcel comes with free software and content updates. You can access its updated video lectures online for free. If you prefer to watch them via DVD, Wiley will ship you the new one for only $8. If you study primarily off-line, the updated CD-rom software only costs $8 as well.
Roger also comes with free software and content updates. Hence, you never need to worry about having outdated material no matter what course you choose!
Winner: Tie
---
Conclusion
So which course is better? Both of these courses have a lot to offer and are among my top 5 picks out of all the CPA review courses I have used. For me, the value of Wiley CPAexcel outweighs Roger in terms of what you get for your money. However, Roger has features that Wiley doesn't, like the famous audio lectures and their newly redesigned digital curriculum.
The decision ultimately comes down to you and which course you think will work best with your learning style. I highly suggest checking out a free demo of each course before making your final decision. Best of luck!