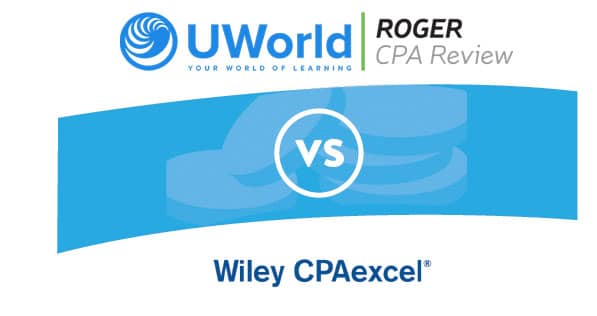 Which CPA review course is better, Wiley CPA or UWorld Roger CPA Review? I compare the textbooks, software, practice tests, and other important features in this one-on-one review so you can find the best course for you.
Wiley CPA vs. UWorld Roger Costs| Course Access |Practice Questions| Course Format| Software Updates| Course Formats| Course Video
I have used both of these courses thoroughly and found some very significant differences about which you need to know. But if you want even more info, check out our list of the top CPA review courses.
Cost
Both Wiley and UWorld Roger have comparable prices, but Wiley is slightly more expensive. Additionally, both CPA review courses come in a few different packages:
Wiley's starts at $2,100 for the basic Silver Course and up to $2,800 for the Platinum Course. Among students, the most popular is its Premier course which is priced at $2,095. I will reference the Wiley Platinum Course and UWorld Roger's Premier course in the pricing chart below.  You can also use our CPA review course coupon codes for huge discounts!
To make both Wiley and UWorld Roger's enrollment costs easier to handle, financing options are available to students if they meet certain credit requirements. But at the end of the day, UWorld offers the more reasonable cost and takes the win in this category!
*These are prices for Wiley Platinum and Roger Premier, which are the most popular courses of the respective test preps
Winner: UWorld Roger CPA Review
Expiration and Access
If you select UWorld Roger's Elite-Unlimited package, you'll get UNLIMITED course access and will never have to buy any study materials ever again. On the other hand, their Premier package offers 18 months of access, which should be enough time for most full-time students to complete their studying.
All of Wiley CPA course packages never expire so you'll never have to pay to renew your access. You have unlimited course repeats and will have access to its online material for an entire year AFTER you pass the CPA exam. So since both courses offer unlimited access to a degree, this one ends in a tie.
Winner: Tie
Practice Questions
Wiley CPA course comes with 12,000 multiple choice questions, 600 task based simulations, and 6,200 true/false questions. The true/false questions are referred to as "proficiency questions" and serve as a useful gauge to see if you really understand a particular section or if you need to spend some more time on it.
UWorld Roger's CPA Review comes with 6,000+ multiple choice questions, task-based simulations, and AICPA-released questions, giving Wiley the edge when it comes to the quantity of questions. If this is the single aspect that you care about on a CPA review course, you'll want to stick with Wiley this time.
Winner: Wiley CPA
Flashcards
Originally, you needed to buy Roger CPA printed flashcards separately from their review courses as supplementary learning materials. However, UWorld Roger's most recent redesign incorporated 200+ digital flashcards free with their Elite-Unlimited package in the form of an app. Additionally, they've added features like Quick Access and Spaced Repetition to make them more effective at improving your memory.
Wiley CPA also comes equipped with 4,100 digital flashcards at no additional cost. Each section in its software includes flashcards relevant to the most important definitions and terms covered. However, accessing these cards through their own mobile app will most likely be very difficult. This is because several students have mentioned experiencing glitches when trying to connect through these apps.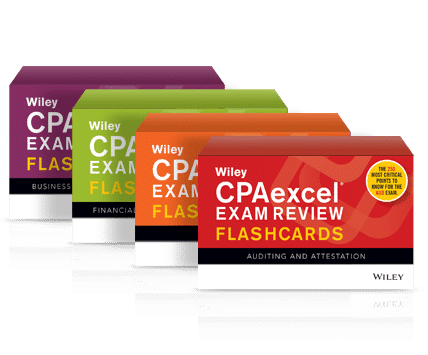 *Study Tip: Don't BUY flashcards, MAKE them! You will retain much more information by physically creating them by yourself.
Winner: UWorld Roger CPA Review
Formats
UWorld Roger CPA Review offers online study courses with the option of Select, Premier, and Elite-Unlimited. Each package comes with 100+hours of recorded lectures, electronic and printed textbooks, full-length practice exams, 6,000+ multiple choice questions, study planners, and free updates. However, their top-priced option has some extra features, like unlimited access and the ability to submit Study Hub questions.
Wiley CPA is offered in an online, self-study, and virtual classroom format. Each course comes with a USB flash drive which allows you to access all of their materials offline as well as DVD's of the video lectures. The virtual classes are a blend of pre-recorded lectures and live instruction, but they fail at providing the same engagement as UWorld Roger CPA.
Winner: UWorld Roger CPA Review
CPA Video Lectures
When comparing Wiley CPA video lectures to those from UWorld Roger CPA review, it's not a matter of one of the two options being subpar. Rather, it comes down to one of these lecture series being run by the most interesting man in accounting. Though his approach may be off-putting to those who favor a more boring style, the namesake of the Roger brand is truly as engaging as possible, given the subject matter.
Wiley's lectures aren't bad; but when compared to Roger's videos, it's not even close! If you want to experience the accounting prep industry's brightest star, it's a no-brainer. If you want a more dull and traditional take on the CPA content, I would go with the far less entertaining Wiley CPA lectures.
Winner: UWorld Roger CPA Review
Software and Content Updates
Wiley CPA comes with free software and content updates. You can access its updated video lectures online for free. If you prefer to watch them via DVD, Wiley will ship you the new one for only $8. If you study primarily off-line, the updated CD-rom software only costs $8 as well.
UWorld Roger also comes with free software and content updates, so you never need to worry about having outdated material. Additionally, one of their most recent updates added predictive learning tech, resulting in one of the most powerful learning tools available to CPA students. As a result, UWorld Roger is the winner!
Winner: UWorld Roger CPA Review
Conclusion
So which course is better? Both of these courses have a lot to offer. But in my opinion, UWorld Roger absolutely blows Wiley out of the water in terms of what you get for your money.
The decision ultimately comes down to you and which course you think will work best with your learning style. I highly suggest checking out a free demo of each course before making your final decision. Best of luck!
GO TO UWORLD ROGER CPA REVIEW!
Bryce Welker is a regular contributor to Forbes, Inc.com, YEC.co and Business Insider. After graduating from San Diego State University he went on to earn his Certified Public Accountant license and created CrushTheCPAexam.com to share his knowledge and experience to help other accountants become CPAs too. As Seen On Forbes