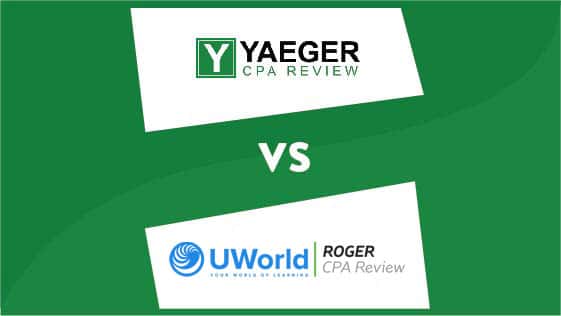 Yaeger CPA Review and UWorld Roger CPA Review are both very good courses. However, they play to different strengths and may be a better or worse choice for you depending on your learning style. After using both of these courses, I have found some significant differences that you should know about before selecting the right review course for you.
UWorld Roger CPA vs. Yeager Comparison Chart| Course Access |Practice Questions| Course Content| Software Updates
Let's take a look at these courses side by side so we can compare the textbooks, software, practice tests, and many other important features that can help you determine which course to pick.
UWorld Roger CPA Review vs. Yaeger CPA Cost
Both Yaeger and UWorld Roger have comparable prices, with UWorld being slightly more expensive. Both courses have different course options where you can purchase different packages or individual study tools, like the Yaeger cram course or UWorld Roger's Study Hub.
Yaeger's full CPA Review course costs $1,199 or only $349 for an individual part. On the other hand, UWorld Roger costs you a little bit more; it's full Premier course costs $1,899 and the Elite-Unlimited package is $2,999.
Both courses offer financing plans. For UWorld Roger, you can be select a payment option at checkout in the form of 3, 6, or 12 monthly payments with rates from 0-30%, depending on your credit.
*These are prices for Yaeger Full Course and UWorld Roger Premier, which are the most popular courses of the respective test preps
The Bottom Line: Yaeger CPA is more affordable when compared to UWorld Roger CPA. And when it comes to financing options, Yaeger is an even clearer choice.
Winner: Yaeger CPA
UWorld Roger vs. Yaeger Course Expiration and Access
With UWorld Roger's Premier package, you will receive an additional 6 month extension for a total of 24 months of course access. But, if you need to repeat the course, you will have to pay $417. This is a huge pain if you fail and can't afford to switch review courses.
Yaeger's full course also comes with 24 months of access. Unlike UWorld Roger, you can repeat the course as many times as you like free of charge.
The Bottom Line: Yaeger offers the same course access (if not more course access) plus a free course access extension if you need more time.
Winner: Yaeger CPA
UWorld Roger vs. Yaeger CPA Review Practice Questions
UWorld Roger CPA Review comes with over 6,000 practice questions, including 200 task-based simulations. Yaeger loses to UWorld here; it only has 4,300 practice multiple choice questions and 164 task-based simulations.
Practice questions are the most important step in your CPA preparations and Yaeger lacks the ample amount of practice questions that UWorld Roger has.
Winner: UWorld Roger CPA Review
CPA Review Flashcards
UWorld Roger's physical flashcards are included only in the elite package. But if you enroll in their Premier course, you'll still have access to their surprisingly high-quality digital flashcards.
What do I mean by that? Some recent updates to their course implemented helpful technology in response to early criticism from students. Now, they implement spaced repetition to help you memorize specific concepts and make it easy to create custom flashcards based on the study text.
Yaeger's full course also comes equipped with digital flashcards that help you study on the go. Or if you want to buy just the flashcards, you can purchase all four sections for $79.99. The only downside to Yaeger's flashcards is that they lack the extra features you can get from UWorld Roger's.
Study Tip: Don't buy flashcards, make them! You will retain much more information by creating the flashcards yourself and writing out all the definitions you need to remember.
Winner: UWorld Roger CPA Review
UWorld Roger vs. Yaeger Course Formats
UWorld Roger CPA Review comes in three different study packages: Single, Premier, and Elite-Unlimited. These range from $649 to $2,999 before applying any discounts. Each package comes with 100+ hours of recorded lectures, electronic and printed textbooks, full-length practice exams, 6,000+ multiple choice questions, study planners, and free updates. Elite-Unlimited comes with much more study content, like the ability to ask questions in the Study Hub.
Yaeger is much more old school in its course format. The traditional video lectures are pretty boring and are structured like most basic accounting classes. This can be a big problem for you if you have trouble staying motivated and engaged.
The Bottom Line: Compared to UWorld Roger, the Yaeger course is quite dull and dry and I found it hard to stay focused.
Winner: Roger
Software and Content Updates
Yaeger CPA Review doesn't come with free course updates; you will have to pay around $125 to update each part if needed. This can be a big bummer if you haven't been passing and you need the current study material.
On the other hand, no need to worry about software and content updates with UWorld Roger. Anytime you need the newest version of the course, you can get an update for free with Roger and start studying with the most current material.
Winner: UWorld Roger CPA
Conclusion
So which course is better? Both have awesome features and have a lot to offer. For me, the high engagement and audio lectures with UWorld Roger make it a better course. They also have more practice questions which are crucial in passing the CPA Exam. In this case, spending a little more pays off a lot!
The decision ultimately comes down to you. You need to pick the course that will best fit with your learning style so you can study efficiently and effectively. Good luck and crush that CPA Exam!
GO TO UWORLD ROGER CPA REVIEW!
Yaeger vs. UWorld Roger CPA Comparison
Bryce Welker is a regular contributor to Forbes, Inc.com, YEC.co and Business Insider. After graduating from San Diego State University he went on to earn his Certified Public Accountant license and created CrushTheCPAexam.com to share his knowledge and experience to help other accountants become CPAs too. As Seen On Forbes