01 Jul

Yaeger vs Becker CPA Review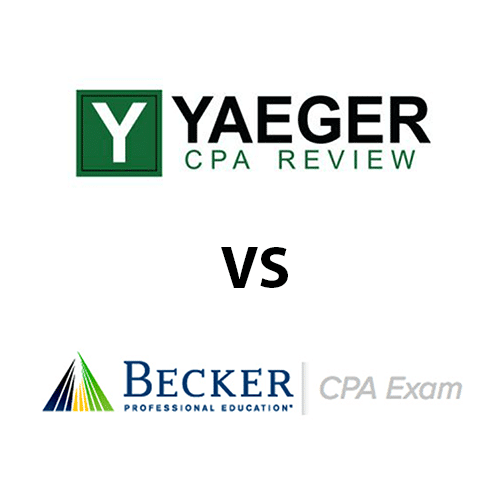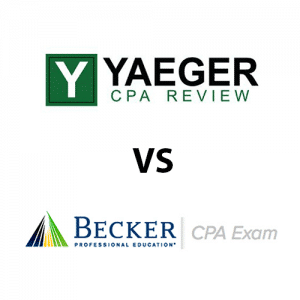 Which CPA review course is better, Yaeger CPA Review or Becker CPA Review? Both companies are well-established in the industry, but there's got to be quite a few differences between the courses, right? Yes, in this case, there's a clear winner out of the two companies.
Yeager vs. Becker Comparison Chart| Course Access |Practice Questions| Course Format|  Support| Course Video | Retakes
In this head-to-head review, I compare everything that these courses have to offer—textbooks, software, practice tests, and many other features. Given that I have extensive experience working with both of these companies, I know the ins and outs to their products. Thus, you'll get great insights into which one is better and which option is best for you.
When it comes to cost, this is the most unbalanced category of any that I will compare. Becker offers the most expensive course on the market. In fact, it's not even close. Becker's offering is almost $1,000 more than the next closest option on our chart. Yaeger, on the other hand, is one of the cheapest, at almost four times less than the cost of Becker.
So, here are the numbers:
Yaeger: $1,199—only $1,079 with our coupon!  Show Coupon
Becker: $3,393
It's easy to see the winner for this category. Sure, Becker may have a tiny bit more to offer in its course, but it's not even close to four times more valuable than Yaeger's offering; in fact, I wouldn't even say it's twice as valuable. So, if you have plenty of money to burn and you don't ever consider value when making a purchase, look to Becker. However, if you're like normal people and don't want to overpay for a mediocre product, look elsewhere.
Winner: Yaeger (by a longshot)
---
Course Expiration and Access
In another non-shocker, Becker falls short with regard to the longevity of offered access to its course. Yaeger has a great system set up for its course, however, offering a stark contrast to its competitor. So, let's compare the access plans that both companies provide and see how they fare against one another.
Becker CPA Review grants users 12 months to its live classes and 18 months to its software. For many, this isn't enough time, and for such an expensive course you'd really expect more. Yaeger outdoes the competition again, as it provides its customers with course access for 24 months.
Clear Winner: Yaeger
---
Yaeger allows enrolled CPA students to repeat the course until their access expires, which is nice enough for them to offer. However, Becker has recently made a significant update to their prep course that blows Yaeger out of the water: unlimited access.
While it definitely took them long enough to join the party, Becker has finally joined the ranks of other high-profile CPA exam review courses in allowing students to access their materials for as long as they need. If they need to retake certain sections, that's no problem: same for updates to their course material.
---
Online Textbooks From Yaeger and Becker
Sure, Becker has fanciful print and online textbooks that have colored diagrams and images, but the content is extremely dry. While some of what is included is done so in an organized manner, the sections are overwhelmingly long and it's an intimidating textbook to tackle.
Yaeger has only an online offering, but that's to be expected when you're paying so little for the actual course itself. The actual content included in the book is great, as it's exactly what you need to know for the test—it's also extremely well organized and concisely presented.
Winner: Yaeger, but barely
---
CPA Exam Practice Questions & Simulations
Once the king/queen of the CPA exam review space, Becker has had quite a fall from grace. Nowhere is this more evident than its practice questions and simulations. Though the company has quite a number of questions, these tend to be out of date and not updated to the extent that they should be for that price tag. With 7,200 MCQs and 400 sims, you'd really expect better from Becker.
Yaeger, on the other hand, has fewer questions by quite a bit, but the overall quality of these is much higher. With 4,300 MCQs and 164 sims, it's lagging a little bit in the quantity category. Quality-wise, however, it's above and beyond what Becker has to offer.
---
Yaeger Flashcards vs Becker Flashcards
Although I believe you should make your own flashcards, many people are too busy to do so and prefer to have these included with their purchase. For Becker, the idea of included products isn't something that jives with the company, as they often charge extra for materials that one would assume would be included with a $3,000+ course. Despite paying all of that money, you still need to shell out $99 for mobile flashcards and $179 for the printed version.
Despite being almost a quarter of the price of the Becker course, Yaeger provides flashcards WITH its offering. Instead of having to pay more for this seemingly standard product, the company goes above and beyond to ensure that you don't pay a dime more than what you did for the overall course.
Winner: Yaeger, by a long shot
---
Becker vs. Yaeger CPA Video Lectures
This one is a little closer, as the Yaeger videos aren't too much better than those from Becker. While both tend to be a little dry, Yaeger's instructors tend to be a little more eccentric and have some attention-grabbing methods that set them apart from the lower-tier videos in the industry. 
Becker's videos are somewhat confusing and scattered, so it's hard to learn a lot of information in one sitting. While Yaeger's CPA video lectures aren't anything to write home about, I'd definitely take them over Becker's videos.
Yaeger:
Becker:
Clear Winner: Yaeger
---
Becker is one of the few companies in the test prep space that offers a live version of its course. However, many students complain about the inconsistency of such an offering, claiming that it lacks any type of value and cohesiveness. Becker not only has poor in-person instruction, but also lacks 1 on 1 instructor help for those who purchase the online course.
The lack of instruction will really hurt many people, as inquiries that are way too specific for group forums are best answered by instructors who are locked down for a specific time period.
Yaeger offers 1 on 1 instruction without charging extra, a tremendous offering considering the lack of an extra charge for such service. Once again, this highlights the value that Yaeger provides, as it goes above and beyond.
---


Sure, it's easy to say that the cheaper course is the better option, but this time it really is. Becker is almost four times the cost of the Yaeger option, but it lacks any type of advantage over the less expensive offering. However, it's certainly still a viable option for CPA candidates and can be an excellent study tool if your company offers to sponsor your tuition.
Alternatively, Yaeger is a great option for someone who doesn't want to spend an arm and a leg on their CPA review course and it's being bankrolled by a firm. Becker is positioned as an industry leader in the "upper tier" of courses, but you are better off with Yaeger if you're concerned about breaking the bank and don't care as much about the course's reputation.
Yaeger CPA Review vs Becker
Written by:
Bryce Welker, CPA