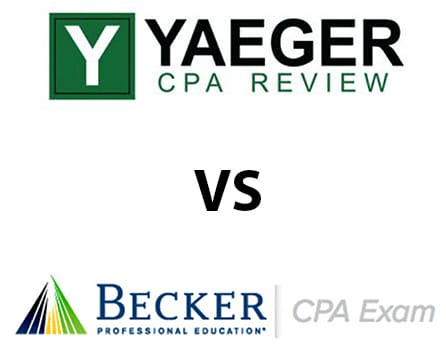 Which CPA review course is better, Yaeger CPA Review or Becker CPA Review? Both companies are well-established in the industry, but there's got to be quite a few differences between the courses, right? In this comparison, there's a clear winner out of the two companies.
Keep reading to compare everything that these courses have to offer—textbooks, software, practice tests, and many other features.
Given that I have extensive experience working with both of these companies, I know the ins and outs to their products. Thus, you'll get great insights into which one is better and which option is best for you.
Cost of Course

When it comes to cost, this is the most unbalanced category of any that I will compare. Becker offers three different tiers of CPA review courses, with their most affordable option costing just over $2,000. Yaeger, on the other hand, offers a similar course for less than half of the price— and they also include single part packages for even less.
In all fairness, Becker's Pro subscription has a lot more to offer than Yaeger, which essentially justifies their higher cost. Additionally, they've partnered with Affirm to offer financing plans for students who want to pay their fees in installments. Still, there's no getting around the fact that you'll save the most money if you choose Yaeger!
Winner: Yaeger
Course Expiration and Access
Yaeger and Becker have some similarities when it comes to course access and expiration. However, there are also some key differences that should be addressed. So, let's compare the access plans that both companies provide and see how they fare against one another:
Becker CPA Review grants users 24 months of access for their lowest-price Advantage course. If you choose to upgrade to one of their more expensive options, however, you'll receive unlimited access. Yaeger also provides 24 months but has no option for students who want unlimited access. Therefore, Becker is the winner!
Winner: Becker CPA Review
Retaking the Course
Yaeger allows enrolled CPA students to repeat the course until their access expires, which is nice enough for them to offer. However, Becker has recently made a significant update to their prep course that blows Yaeger out of the water: unlimited access.
In response to criticism from CPA candidates, Becker has revised their course accessibility to match other high-profile CPA exam review courses. Consequently, students are able to access their materials for as long as they need. If they need to retake certain sections, that's no problem; the same goes for updates to their course material.
Winner: Becker CPA Review
CPA Textbooks From Yaeger and Becker
In addition to digital study materials, Becker provides an identical print version of their study textbook with many informative colored diagrams and images. However, several students have complained about the written content, saying that it's extremely dry and difficult to get through. Essentially, Becker provides an intimidating textbook to tackle.
For comparison, Yaeger only provides an online textbook— but that's to be expected when you're paying so little for the actual course itself. The actual content included in the book is great, as it's exactly what you need to know for the test. It's also extremely well organized and concisely presented, so you're less likely to struggle as you work through it.
It's tough to pick a winner here. Becker is the best option if you want to study offline and write notes by hand in the margins, but Yaeger is a much easier (online only) read. Consider which option is best suited to your particular needs!
Winner: Tie
CPA Exam Practice Questions & Simulations
Although Becker has been criticized in the past for failing to update their content, this is no longer the case. Nowhere is this more evident than its recently updated practice questions and simulations. With 7,200 MCQs and 400 sims, their most recent update has revamped over 1,000 to reflect new changes in 2020. Additionally, their Pro study course adds an extra 1,100+ questions for even more practice.
On the other hand, Yaeger has far fewer questions— although they have a comparably high level of quality. With 4,300 MCQs and 164 sims, it's not as substantial as Becker CPA Review. Still, either choice will be a helpful learning resource for CPA students!
Winner: Becker CPA Review
Yaeger Flashcards vs Becker Flashcards
Although I believe you should make your own flashcards, many people are too busy to do so and prefer to have these included with their purchase. For Becker, they previously only offered flashcards for an additional cost. This drew harsh criticism from a lot of students and from us. Fortunately, Becker heard us loud and clear and now offer these materials free of charge!
That being said, Yaeger deserves some brownie points for providing their flashcards for free from the very beginning. Still, when it comes to volume, accessibility, and overall quality, the best choice for flashcard-obsessed students is Becker.
Winner: Becker CPA Review
Becker vs. Yaeger CPA Video Lectures
Yaeger videos aren't too much better than those from Becker, but there is a slight difference in quality. While both educators tend to be a little dry, Yaeger's instructors are a little more eccentric. They have some attention-grabbing methods that set them apart from the standard crop of annotated PowerPoint presentations you usually experience.
In comparison, Becker's videos are somewhat confusing and scattered, so it's hard to learn a lot of information in one sitting. That being said, they use SkillMaster video lectures to great effect alongside their task-based simulations.
At the end of the day, Yaeger's CPA video lectures aren't anything to write home about— but I'd still take them over Becker's videos.
Yaeger:
CPA Exam Review Demo | Yaeger CPA Review | CPA Review
Becker:
Becker CPA Exam Review Course Demo: Financial F4
Winner: Yaeger
Instructor Help/Support
Becker is one of the few companies in the test prep space that offers a live version of its course. Additionally, they've recently added a killer app to address more of their harshest critics. For students who enroll in their most expensive Pro course, up to 5 live video academic tutoring sessions can be scheduled with Becker's professors. These are one-on-one study sessions conducted over Webex that give students time to ask specific questions and receive direct answers!
Yaeger also offers 1 on 1 instruction without charging extra: a tremendous offering considering the lack of an extra charge for such service. So if you already know you're going to need some extra help and don't want to shell out the extra dough for a high-tier Becker course, you're in luck!
Winner: Yaeger
Conclusion
Becker has had some major changes in order to address some significant issues that held them back from greatness. Now, more than ever, they're certainly a viable option for CPA candidates and an excellent study tool for passing the exam. However, the high cost can be an issue for some students, so you should look into their financing options or see if your company will offer to sponsor your tuition.
Alternatively, Yaeger is a great option for someone who doesn't want to spend an arm and a leg on their CPA review course. You're better off with Yaeger if you're concerned about breaking the bank and don't care as much about the course's reputation. However, just a bit more money will allow you to access a far superior course with Becker— so we recommend you do whatever is necessary to enroll in their course.
Bryce Welker is a regular contributor to Forbes, Inc.com, and Business Insider. After graduating from San Diego State University he went on to earn his Certified Public Accountant license and created CrushTheCPAexam.com to share his knowledge and experience to help other accountants become CPAs too. As Seen On Forbes