Given that I have extensive experience working with both of these companies, I know the ins and outs to their products. Thus, you'll get great insights into which one is better and which option is best for you.
When it comes to cost, this is the most unbalanced category of any that I will compare. Becker offers the most expensive course on the market. In fact, it's not even close. Becker's offering is almost $1,000 more than the next closest option on our chart. Yaeger, on the other hand, is one of the cheapest, at almost four times less than the cost of Becker.
So, here are the numbers:
Yaeger: $1,199—only $1,079 with our coupon!  Show Coupon
Becker: $3,499
It's easy to see the winner for this category. Sure, Becker's Pro subscription may have a lot more to offer, but it's not even close to four times more valuable than Yaeger's offering. Fortunately, they've responded to criticism regarding their prices and changed their Premium and Advantage courses to be more affordable. Now, you have the choice of paying top-dollar for Becker's excellent Pro course, or saving some money for their decent affordable options. However, Yaeger is still the winner in terms of affordability.
Course Expiration and Access
Yaeger and Becker have some similarities when it comes to course access and expiration. However, there are also some key differences that should be addressed. So, let's compare the access plans that both companies provide and see how they fare against one another:
Becker CPA Review grants users 24 months of access for their lowest-price Advantage course. If you choose to upgrade to one of their more expensive options, however, you'll receive unlimited access. Yaeger also provides 24 months but has no option for students who want unlimited access. Therefore, Becker is the winner!
Yaeger allows enrolled CPA students to repeat the course until their access expires, which is nice enough for them to offer. However, Becker has recently made a significant update to their prep course that blows Yaeger out of the water: unlimited access.
While it definitely took them long enough to join the party, Becker has finally joined the ranks of other high-profile CPA exam review courses in allowing students to access their materials for as long as they need. If they need to retake certain sections, that's no problem: same for updates to their course material.
Online Textbooks From Yaeger and Becker
Sure, Becker has fanciful print and online textbooks that have colored diagrams and images, but the content is extremely dry. While some of what is included is done so in an organized manner, the sections are overwhelmingly long and it's an intimidating textbook to tackle.
Yaeger has only an online offering, but that's to be expected when you're paying so little for the actual course itself. The actual content included in the book is great, as it's exactly what you need to know for the test—it's also extremely well organized and concisely presented.
CPA Exam Practice Questions & Simulations
Although Becker has been rightfully criticized by many students (and us) for failing to update their content with the changing times, this is no longer the case. Nowhere is this more evident than its recently updated practice questions and simulations. With 7,200 MCQs and 400 sims, their most recent update has revamped over 1,000 to reflect new changes in 2020.
Yaeger, on the other hand, has fewer questions by quite a bit with a comparable level of quality. With 4,300 MCQs and 164 sims, it's not as substantial as Becker CPA Review. Still, either choice will be a helpful learning resource for CPA students!
Yaeger Flashcards vs Becker Flashcards
Although I believe you should make your own flashcards, many people are too busy to do so and prefer to have these included with their purchase. For Becker, they previously only offered flashcards for an additional cost. This drew harsh criticism from a lot of students and from us. Fortunately, Becker heard us loud and clear and now offer these materials free of charge!
That being said, Yaeger deserves some brownie points for providing their flashcards for free from the very beginning. Ultimately, the winner here is you; both companies will now go above and beyond to ensure that you don't pay a dime extra than what you did for their courses!
Becker vs. Yaeger CPA Video Lectures
This one is a little closer, as the Yaeger videos aren't too much better than those from Becker. While both tend to be a little dry, Yaeger's instructors tend to be a little more eccentric and have some attention-grabbing methods that set them apart from the lower-tier videos in the industry. 
Becker's videos are somewhat confusing and scattered, so it's hard to learn a lot of information in one sitting. While Yaeger's CPA video lectures aren't anything to write home about, I'd definitely take them over Becker's videos.
Becker is one of the few companies in the test prep space that offers a live version of its course. Additionally, they've recently added a killer app to address more of their harshest critics. For students who enroll in their most expensive Pro course, up to 5 live video academic tutoring sessions can be scheduled with Becker's professors. These are one-on-one study sessions conducted over Webex that give students time to ask specific questions and receive direct answers!
Yaeger also offers 1 on 1 instruction without charging extra: a tremendous offering considering the lack of an extra charge for such service. Once again, this highlights the value that Yaeger provides, as it goes above and beyond. So if you want the live help without paying a few extra G's, Yaeger's got your back!
Becker has had some major changes in order to address some significant issues that held them back from greatness. Now, more than ever, they're certainly a viable option for CPA candidates and an excellent study tool for passing the exam. However, the high cost can be an issue for some students, so see if your company will offer to sponsor your tuition.
Alternatively, Yaeger is a great option for someone who doesn't want to spend an arm and a leg on their CPA review course. You're better off with Yaeger if you're concerned about breaking the bank and don't care as much about the course's reputation. However, just a bit more money will allow you to access some excellent features from Becker, so consider that as well.

Becker CPA Review
Endorsed by the Big 4
Adapt 2U A.I. Technology
Gameified Learning Options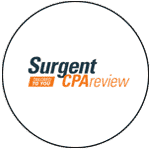 Surgent CPA Review
Pass 80% Faster. Exam ready in 58 hours!
Adaptive Learning Technology
Top New Product by Accounting Today