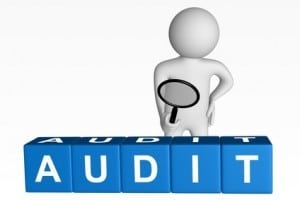 The AUD section of the CPA Exam is 4 hours long, testing for Auditing and Attestation through a variety of auditing processes and techniques. For 2017, the number of multiple choice questions is being greatly reduced from 90 to 72 while also being weighted less at 50% as opposed to the previous 60% weighting.
Evaluating Audit Findings, Communications, and Reporting
16% to 20% of the exam
Analytical procedures and preparing formal reports and communications
Performing Audit Procedures and Evaluating Evidence
16% to 20% of the exam
Responses to risk, obtaining evidence and documents as a basis for forming an audit opinion
Understanding the Entity and Its Environment
16% to 20% of the exam
Materiality, risk assesment discussions, consideration of fraud, documenting and performing risk assessment procedures, internal controls
Professional Responsibilities
Engagement Acceptance and Understanding the Assignment
12% to 16%
Nature and scope of engagement, client acceptance procedures, predecessor auditor communications, planning the audit process
Accounting and Review Services Engagements
12% to 16% of the test
Planning the engagement, obtaining document evidence to forma basis for conclusion, preparing communications and reports
Other CPA Exam Sections
Check out the AICPA webpage to learn more about the material covered in all 4 parts of the CPA exam.