01 Nov

CMA Exam Academy Review Course

The CMA Exam Academy review course was founded and created by Nathan Liao after he saw a need in the market for a more curated study guide. Nathan, a Certified Management Accountant, has been a CMA coach since 2012 and has helped over 15,000 candidates successfully prepare for the exam.

During this time, he found out that many people need more than just a book or a CMA study guide. They need help with study strategies, direction, and motivation. Thus, the CMA Exam Academy prep course was born.

The basic idea behind this course is kind of virtual live classroom. Nathan is your coach who walks with you through a 12-week program designed to explain all of the important topics covered on the exam and prepare you on how to approach questions you might see on exam day.

This is unique to any other prep courses on the market right now because no other CMA companies offer this level of coaching. If you get behind, Nathan is there to tell you to speed it up. If you don't understand a topic, you can email him directly for an answer. It's like having a college professor at your beck and call.

With CMA Exam Academy, your odds of failing are slim to none if you simply follow Nathan's study plan. It's like having a CMA looking over your shoulder during your study process and showing you step-by-step what works and what to do next. He walks you through everything you'll need to know to make sure you pass. Keep reading to learn about all the bells and whistles that come with CMA Exam Academy's review course!
What's Included? Complete CMA Coaching Combo Part 1 & 2
100% Coverage of ICMA LOS
Pass or 100% Refund Guarantee
Weekly Support Calls with Nathan, Your CMA Coach
Complete Video + Audio (mp3) review Lectures
Unlimited coaching online. 24-Hour Response Time
2-year combo course access
Weekly assignments and accountability follow up via email
12-Week Step-by-Step Syllabus and study system per part
Printed Textbooks featuring 100% of the ICMA Learning Outcome Statements
Free shipping worldwide
Formula guides (pdf)
2-year access to 2,500+ Question Test Bank
35+ Essay Questions with model answers
The CMA Coaching Combo truly is the one-stop-shop for study courses. If you are using this course, it will be difficult to fail the exam. Let's check out each of these features in a little more detail below.
CMA Exam Academy Overview
The course is set up into 12 different modules that are designed to take one week each. Thus, if you follow the steps, you will be fully prepared for each exam part within 12 weeks.
Each module consists of an overview of the topic and a number of lessons. Within each lesson there is a video lecture, study slides, audio lecture, and a multiple-choice practice quiz.
Each module ends with an assignment that gets turned into Nathan for personal review and coaching.
Before we take a look at the CMA Exam Academy study materials and what's included in the course, we need to talk about the CMA coaching and support.
CMA Coaching and Support
The level of coaching that you get with this course is unheard of. If you ever wanted someone there to help you understand tough topics or simply to be accountable to, this is your course. Every week you get a personal call with Nathan to talk 1-on-1 about struggles with the materials and your process through the course. No other course gives you this kind of support.
Plus, you have 24-hour access to email support from your CMA coach. Just ask a question and you will get a detailed and supportive answer within 24 hours! There's no limit to how many times you can email questions. If you have one, simply ask!
This is a such a powerful study aid. Having 24/7 access to a CMA exam expert who will keep you on track and give you tips to improve your recall and understanding of topics is HUGE. Let's just put it this way. It will be difficult to fail the exam with this much support.
Let's take a quick look at each one of these components.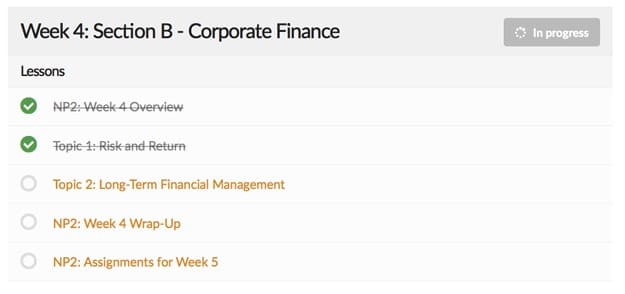 Course Dashboard
The dashboard is your navigation and summary of the entire course. It lists all of the different modules and lessons. It also shows you a progress bar of how many lessons you've completed and how many you have to go.
This layout is nice because you can quickly scroll down the page and see what lessons you've completed and which ones you still need to work on.
You also have access to Nathan's CMA test-taking tips and strategies section as well as the student Q & A section. Both of which are designed to help with common problems candidates have during the CMA study process.
Let's look at the actual lessons themselves.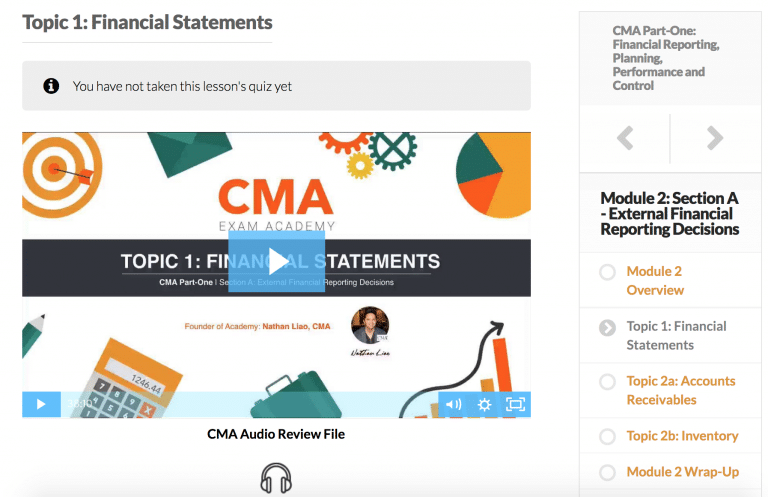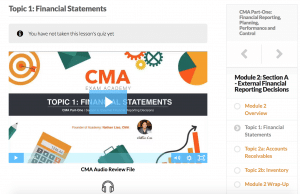 CMA Lessons
Each lesson teaches on a specific topic and includes at least one video lecture by Nathan as well as study slides used in the lecture, the audio version of the lecture, and a lesson quiz section.
Here's what the layout looks like:
It's clean, easy to follow, and doesn't get in your way of studying. The video section is on the left with a navigation bar through each lesson in that module on the right. Below each video are links for the study slides, audio lectures, downloadable videos, and the lesson multiple-choice questions.
At the bottom of the page, there is a comment section where you can post any questions you have about the lecture, study materials, or course in general. Nathan answers every one of these questions himself. Here's what they look like:
Let's take a look at each of these lesson components.
Video Lectures
The CMA Academy video lectures are professional and informative. Nathan does a great job at making boring topics interesting and enjoyable to study. All of the videos are shot in HD and are easy to follow. Nathan uses a powerpoint system instead of a whiteboard or some type of virtual writing tablet making the lectures clean.
The biggest thing about the video lectures in this course is the sheer number of them. CMA Academy has way more lectures than any other course. It has over 100 videos covering just about every topic you can think of. It's extremely comprehensive. Plus, you can download all of them with the Platinum course, so you can watch them without an internet connection!

Study Slides
The study slides are pretty much what you would expect. They are professional powerpoint slides. Nothing hand written here.
You can download all of the slides to study from or take notes on later.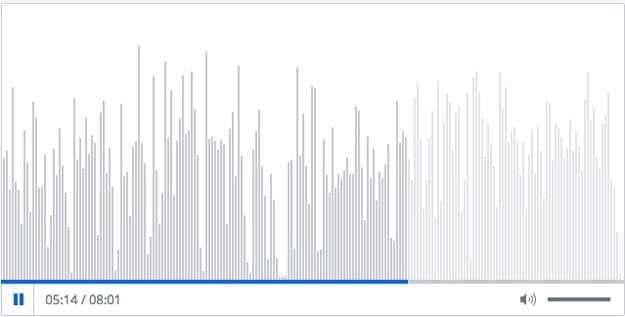 Audio Lectures
This is a feature that's common in the CPA exam review course market, but no one is offering this for CMA review courses except CMA Exam Academy.
Essentially, these are audio files of the lectures that you can download and take with you anywhere. You can listen to them in the car on your commute to work, while you are working out, or on your lunch break at work. This extra gives you total flexibility anywhere you go.
CMA Exam Academy Test Bank
The CMA Exam Academy review course includes an extensive test bank with more than 2,500 practice questions and 35 practice essay questions with model answers.
The test bank uses adaptive technology to help you focus on questions and topics that you struggle with. This way you aren't answering questions about topics that you already understand over and over again. The software tracks your knowledge and automatically picks questions and generates quizzes for you. This is a game changer!

Multiple-Choice Questions
The CMA Exam Academy review course has a lesson quiz section after each lesson that includes a few related multiple-choice questions. Like this:
After you answer the questions and submit the quiz, an explanation will appear discussing the correct answer.
This section is great for studying the topics that you just read about or watched a lecture on. It also helps you prepare for actually taking the test by working on your MCQ skills.
CMA Exam Academy Textbook
The in-depth CMA Exam Academy review course textbook explains concepts in easy-to-read language to help you understand 100% of the ICMA Learning Outcome Statements. Your course comes with  both printed and digital copies of the books.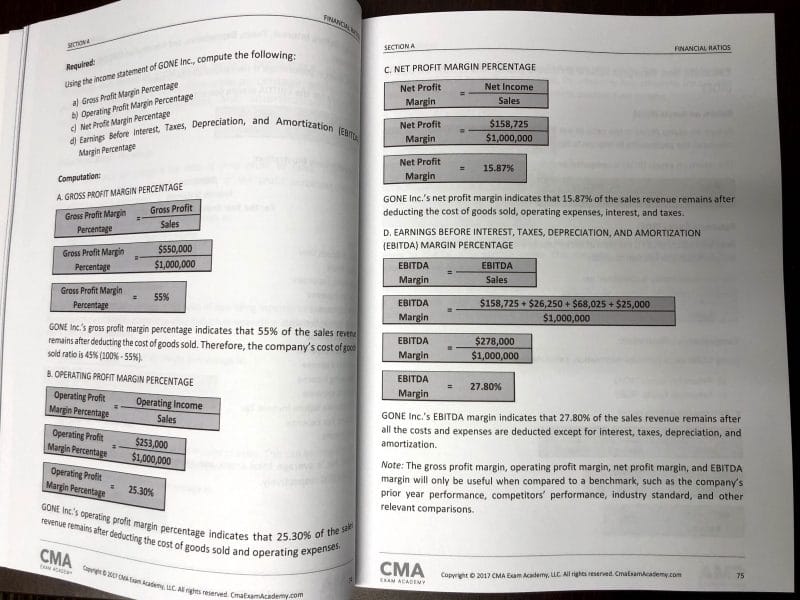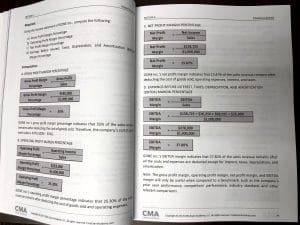 Printed Textbook
The printed textbook is great for candidates who want to feel the paper, fold over the page corners, and make notes in the margins. It also ships worldwide for FREE!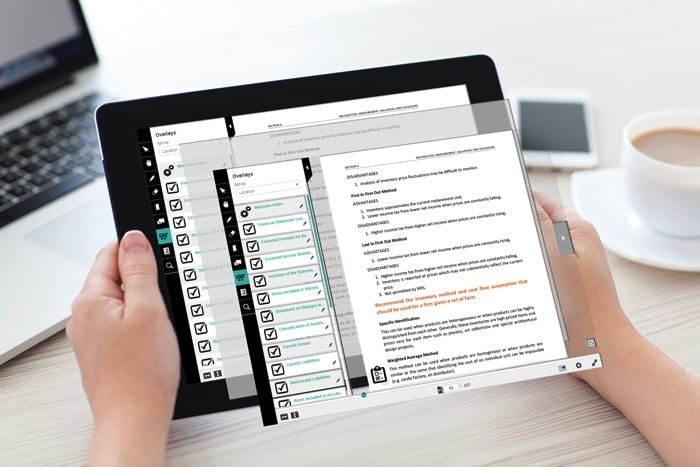 CMA Exam Academy Coupon Code & Discounts
Pros & Cons of CMA Exam Academy
Obviously, the biggest benefit to the course is the individualized coaching that you get from Nathan Liao, CMA. You can think of him as your CMA coach or guide through the study process. No other course offers this level of coaching and accountability. Here's a little of how it works.
He tracks your progress through the materials and lets you know if you are falling behind. Let's face it. Some of us need someone there to yell at us when we skip a few study days in a row.
Basically, he tracks your progress through the lectures and reviews the assignments that submit. Then he sends weekly emails showing your problem areas and what he thinks you need to pay more attention to.
You have personal interaction with him constantly throughout the 12 modules. This kind of coaching is pretty much unheard of in other courses. There's really no reason why you would fail if you had someone standing side-by-side with you throughout your entire study process showing you study tips and testing strategies. It's pretty awesome. It's especially useful for candidates taking the exam outside of the United States.
CMA Exam Academy offers waaaayy more video lectures than any other course. This is particularly important to me. I learn much more efficiently watching lectures than reading a boring textbook. There are 50 hours of HD video lectures included in the course.
Pro – Downloadable Audio Lectures
As I said earlier in my review, this feature isn't offered in other courses and gives you the flexibility of reviewing lectures and studying on the go in environments that you can't have a screen or don't have time to sit down. Big plus.
Each lesson comes with tons of downloadable materials. You obviously get the videos, audio lectures, and study slides, but you also can get excel examples and formula guides.
I always love it when a company stands behind their product, especially when it's a study guide. CMA Exam Academy is confident that you will pass once you finish all of the modules and assignments. So much so, if you don't pass, they will give you a full refund!
That's pretty crazy. Many courses will let you use their products until you pass the exam, but none will actually give you your money back. How can you go wrong with that?
As always, I have to be honest about every course I review. Although there are tons of pros with CMA Exam Academy, there are several minor cons as well.
Con – New Kid on the Block
CMA Academy is the new course on the block. It's a new system and platform. I don't think this is a problem, but many people want to go with a tried and true company that has been around for 500 years. Even though it's a new company, Nathan has tested and proven his system with over 15,000 candidates. It's new, but it works.
CMA Exam Academy gives you 2 years of access to their study materials. That's more than enough time to pass the exam, but it is still limited. Other review providers give you unlimited access forever.
Now forever access sounds like an awesome thing, but it's not as helpful as you might think. Generally, candidates have a tendency to procrastinate the longer they have to take the exam. Thus, a deadline is actually a pretty good thing, so this is only a "kind-of" con.
Final Recommendation
The CMA Exam Academy review course is an extremely thorough study guide designed to help you pass. The one-on-one coaching forces you to stay on task and do the proper amount of studying necessary to pass on your first try. I think I can speak for all of us when I say we can all use a little motivation during the studying process, and Nathan is there for his students every step of the way.
I'd recommend CMA Exam Academy to anyone who is serious about passing the exam on their first attempt. Everything you need to know is right at your fingertips, and if you can't find it, your personal CMA coach will help guide you.
Written by:
Bryce Welker, CPA