15 May

Best CMA Review Courses & Study Materials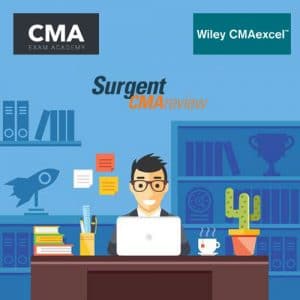 One of the first challenges a CMA hopeful faces is investing in the best CMA review course possible. After all, each CMA course represents a significant financial investment; the last thing a student wants to do is put down a lot of money for little return!
The good news is that we've simplified the process of selecting the best CMA study materials for you. We've cut through the pages and pages of information and competitors to bring you the top CMA exam prep courses on the market.
So what determines which of these top test prep courses will work for you?  Simple: your learning style.
Each of the top providers offer study materials that appeal to a certain type of CMA candidate. For example, visual learners will find two courses that match their learning preference. However, learners who retain information from listening to audio will only find one great match on this list!
Why waste time studying CMA prep courses when you could be studying for your exam? Have a look at the comparison chart below and get ready to CRUSH the CMA exam! 
Click Below to Compare the Top 3 Best CMA Exam Review Courses & Study Materials of 2019:
Here are the best CMA study materials and review courses to help you pass your exam on the first try and become a Certified Management Accountant.
| CRUSH RANKING | #1 | #2 | #3 |
| --- | --- | --- | --- |
| CMA REVIEW COURSES | | | |
| PRICE | $699 | $1,794 | $1,800 |
| PRACTICE QUESTIONS | | | 5,500 |
| FULL LENGTH PRACTICE EXAM | Unlimited | Unlimited | Test Bank With Additional 3,800 Questions And 10 Essays |
| VIDEO LESSONS | | Complete Video And Audio Lectures | 64 Hours Of Video Instruction |
| COURSE ACCESS | 18 Months | 2 Years | Partner Until You Pass Guarantee |
| TEXTBOOKS | | Full Printed And E-textbooks | PDF Textbooks |
| GUIDED LESSONS | Personalized Study Plans | Week by week course outline | Personalized Study Plans |
| SUPPORT | Automatic Content Updates | Unlimited Coaching Online | Online Support From Subject Matter Experts |
| MONEY BACK GUARANTEE | | | Full Refund Within 10 Days |
| GET STARTED | | | |
---
Surgent CMA Review (Rank: #1)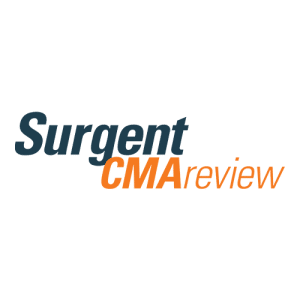 A.S.A.P Smart Study Technology
Surgent CMA Review is favored by CMA hopefuls because of its Smart Study technology. Beginning with a 150-question assessment in the beginning of the course, this course technology assesses your knowledge and adjusts to match. Therefore, you are studying in the areas that you need to most, and don't waste time learning things you already know!
By focusing on your problem areas and "testing out" of the concepts that you're already strong on you're learning efficiently and more quickly than you would in longer, more traditional prep courses.

Unlimited Practice Exams
Surgent CMA Review allows test takers to take and retake unlimited practice exams. This ensures that learners grow accustomed to testing and assess where their knowledge might be weaker. In addition, detailed explanations of why an answer was wrong or right are given after each test to directly benefit the student's learning experience.

No Video or Audio Learning
Unlike some slightly more engaging CMA prep courses, Surgent CMA Review is a no-frills version without video lessons, podcasts or audiobooks. Their goal as a company is to reduce study time while maximizing reading comprehension!  While this suits some learners just fine, it can present a challenge to those who need something slightly more engaging to inspire their studies. However, students who learn best from answering questions and taking practice quizzes will flourish in this particular CMA prep course.
The Bottom Line: Surgent CMA Review is all about efficiency. From the assessment phase to the smart study lesson planner and even the unlimited practice exams, this review has one goal – to get you to pass your CMA exam. The price point reflects this, being under half the cost of other comparable courses.

This is not a bad thing at all; however, it is important to keep your preferred style of learning in mind before you take this exam. If you don't need assistance or accountability from an instructor or other classmates, this course is for you. Furthermore, if you learn best from reading and answering questions rather than watching videos, listening to podcasts, or playing interactive games, this course is for you.

However, if you need these elements in order to find success in a course and learning retention, you may want to refer to another course to satisfy your CMA test prep.
Surgent CMA Review Promo Code Discounts
Save $300 off Surgent CMA Review!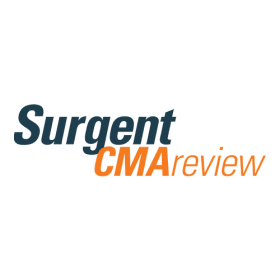 CMA, Exclusive Discount, Surgent CMA 41 uses today
CMA 37 uses today
Save $300 off with our Crush exclusive code on Surgent CMA Review!
Last Used 11 hours ago
Expiration Date:
May 25, 2019
Save $120 off Surgent CMA Review!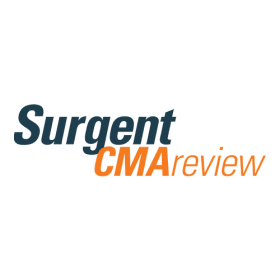 CMA, Exclusive Discount, Surgent CMA 34 uses today
CMA 37 uses today
Save $120 off with our Crush exclusive code on Surgent CMA Review!
Last Used 11 hours ago
Expiration Date:
May 25, 2019
CMA Exam Academy Review (Rank: #2)

Flexible Payment Plan
One of the things that really sets CMA Exam Academy apart is the flexible payment plan. Using Paypal Credit, you can spread payments for the course out over 6 months with no interest. This is incredibly helpful for those individuals looking to earn their CMA in order to jumpstart their career. It also appeals to younger students who may not have the established salary to cover the course's hefty price tag!
It's also worth noting that the folks at CMA Exam Academy believe in their course so much that they've put their money where their mouth is. If you go through the entire course and don't pass the CMA Exam on the first try, you'll get a full refund.
The pass guarantee included with this prep course should set your mind at ease when making such a big financial investment, even on your first try!

Guided Course Structure
Unlike other prep courses, CMA Exam Academy has combined the best parts of self-study with instructor-led coursework. Each course is a 12 week step-by-step program, with assignments and materials outlined in the syllabus. Assignments are turned into the instructor on the due date by email, and feedback and mentoring is provided. How amazing is that?
Unlike taking a course at a brick-and-mortar institution, your class is tailored to you individually. If you need to start the course later than the purchase date, or even pause because of unexpected life events, this is completely possible: just email your instructor! The team at CMA Exam Academy is very accommodating.
Furthermore, the course structure is meant to be as efficient as possible. Even if you work full-time, you'll find that the course only requires about 15 hours each week. You'll still have plenty of time to balance work, life, and education.

All Materials Included
Another factor that sets this course apart from other CMA prep courses is that all materials are included in the price tag. Where other programs charge additional for study materials, textbooks and formula guides, CMA Exam Academy includes them in the package price.
This may not seem like a big deal at first glance, but the costs associated with purchasing additional materials in other prep courses really add up. This is especially true if you have a slower self-pace through the course than others, as the CMA test prep materials are constantly updating to keep pace with the next year's test requirements. Hence, you can keep peace of mind knowing that there won't be any hidden costs on top of the already-generous price tag of this course.
Another important side note is, they ship their paperback textbooks all over the world! You don't have to worry about issues receiving your class materials due to your location.  

Exemplary Support
Not only does CMA Exam Academy offer unlimited coaching online with a personal counselor, but the program takes it a step forward. If you have any questions as you move through the course, you can send a quick email to your instructor with a guaranteed 24 hour response time.
Or, if you prefer to speak with your instructor over the phone, Nathan offers weekly support calls to discuss course questions and concepts with each student. Finally, a private support group on Facebook is a great place to ask other students and professionals about your questions or test tips!
The Bottom Line: CMA Exam Academy carefully offers the best aspects of most competitive prep course on the market. From a carefully blended flexible study plan to accommodate full time workers and independent learning, as well as adaptive learning technology in the practice exams, CMA Exam Academy seems to have it all.

Furthermore, CMA Exam Academy seeks to go above and beyond in all its offerings, from included textbooks and study guides to comprehensive video lectures covering all topics that appear on the exam.

It's important to note that if you are a visual learner or retain information best by hearing it, this course will benefit you immensely. In fact, learners of all different backgrounds and preferences can find what they need in this well-assembled course. From the included textbooks, audio recordings, video lectures and one-on-one accountability with the coach, there's something here for everyone!

So what's the bottom line?

CMA Exam Academy has created a nearly perfect course structure that has a wide appeal and plenty of support for first-time students or even anxiety-ridden test takers. We haven't seen the multiple layers of student support offered in this course in any other CMA prep program we've reviewed. If you're the type of student who just needs a little something more in the way of accountability and learning support, this is hands-down the course for you!
CMA Exam Academy Course Discount Code
Get 10% off CMA Exam Academy!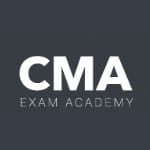 CMA, Exclusive Discount, CMA Exam Academy 39 uses today
CMA 37 uses today
Use the coupon code and click the link to get $139 off CMA Exam Academy!
Last Used 14 hours ago
Expiration Date:
May 28, 2019
---
Wiley CMAexcel CMA Review (Rank: #3)


Bite-Sized Lessons
The Wiley Platinum CMA Review emphasizes study efficiency, like Surgent's CMA Review. But unlike Surgent and CMA Exam Academy, this course does not require you to absorb and memorize long blocks of video or text. Instead, they utilize 135 "bite-sized lessons" that allow you to absorb content and learn key concepts in 30 minutes. Each core lesson is broken down into easily digestible chunks that make the most of your time and attention span!

Instructor Mentoring
Unlike Surgent CMA, Wiley also utilizes expert mentoring from real subject matter experts- practicing CMAs and professors. CMA Exam Academy has a better turnaround time with 24 hours, but Wiley isn't far behind with a response guaranteed within 48 hours. Also, Wiley archives previous discussions so that if another student has asked a similar question before, you will be able to easily search it and get the help you need!

Mobile App
Wiley Platinum CMA Review also comes with an accompanying app as a study aid. The app features 850 digital flashcards, 50 hours of video lectures, 4900 exam practice questions and the ability to study online or offline. Another benefit of the app is that it seamlessly syncs exam question sessions and metrics with the full online course. This enables users to study on the go, whether they have WiFi or not! The app is also available on iOS and Android systems.

11th Hour Final Review
Wiley Platinum CMA also packs an additional benefit into its program in the form of a final review designed to be completed in the last weeks before your exam. The review is led by Steve Smith, CMA and Associate Professor at Brigham Young University. The Final Review goes over key lessons you've learned and enables you to feel more prepared on the test day.

No Accountability Partner
One major downside of Wiley's CMA prep course is that it costs more than CMA Exam Academy but lacks the well-rounded resources the latter has developed. For example, there aren't one-on-one calls with the coach, or even a Facebook group to interact with other students. Wiley Platinum CMA Review offers touchpoints to interact with Subject Matter Experts, but in a limited capacity. In essence, you are still in a self-led course and must rely on yourself to stay motivated and on track!
This isn't a con for some students who prefer self-led study, but can prove to be a challenge for those who struggle with motivation and the discipline required to complete a course and study by themselves.
The Bottom Line: Wiley CMA offers an impressive assortment of multiple-choice questions, practice exams and even essay questions. Visual learners will appreciate the hours of video content rather than reading large blocks of text. However, for the high price point, Wiley lacks some key offerings offered by comparable programs like CMA Exam Academy and Surgent CMA Review. It's competitors are also priced for far less.
Wiley CMAexcel Review Promo Codes
Wiley CMA Review SAVE $360 OFF CMAexcel Courses!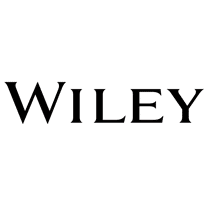 CMA, Special Offer, Wiley CMA 33 uses today
CMA 35 uses today
Act fast, this offer won't be around for a long time. Save $360 off on Wiley CMAexcel Platinum Review Course!
Last Used 11 hours ago
Expiration Date:
May 28, 2019
Best CMA Exam Review Courses
Written by:
Bryce Welker, CPA