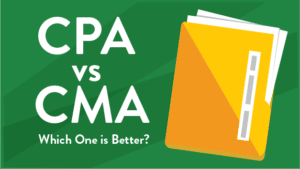 In this article, Nathan Liao from the CMAcoach.com, compares the CMA vs the CPA including the key differences and advantages between the two designations.
Have you asked yourself at some point whether the CMA or the CPA is the right certification for you? It absolutely crossed my mind many times before deciding to pursue a CMA license.
But wait a minute.. I thought Bryce was a CPA?! Well, he is. I'm Nathan, a Corporate Controller by day, and a passionate CMA advocate by night.
As a CMA, I get asked why I chose it over the CPA. I think that's a fair question and would like to take this opportunity to respond. I think the best way I can explain it is by describing the various differences between the CMA and the CPA.
CMA vs CPA Requirements
Let's start by understanding the differing requirements:
A few years ago, the CMA exam was also a four-part exam just like the CPA until the Institute of Management Accountants, or IMA, decided to combine them into two. This decision made the exams a lot harder since they cover so much more content. The fact that it went from a 4-part to a 2-part exam was a factor that helped me favor the CMA. Another reason was that I was working as a Corporate Controller prior to obtaining my CMA credential. This allowed me to fulfill the experience requirement for CMAs, which is to work in financial management for at least 2 consecutive years.
If I had picked the CPA, I would have had to find another job where I could work under a CPA for a year or two. That option didn't appeal to me.
Lastly, I was not interested in learning about taxes or performing audits. However, I have colleagues who love working in both of those fields. The key in deciding which certification to go for is to know which areas in accounting or finance you can see yourself working in, but most importantly, enjoy working in.
CMA vs CPA Exam Content
Because the core differences of each designation are in different areas of accounting, the exam content is tailored to test these strengths.
In short the CMA focuses on business analysis & strategy, as well as corporate financial management. The CPA focuses on taxes, compliance, financial reporting and audit.
Based on these core differences and the fact that I prefer to work in private accounting, the CMA made more sense for me personally. Since I was already working in management accounting, it was fitting to obtain the CMA versus the CPA.
CMA vs CPA Salary
There are factors such as job title, years of experience, industry, and age that have a direct impact on how much CPAs and CMAs earn. The chart below is by age group according to a 2011 salary survey conducted by the Institute of Management Accountants.
This chart can serve as a guideline and for reference. The take away is that obtaining a certification, either the CMA or CPA, is more advantageous financially than none at all.
CMA or CPA – What Certification is Best For Me?
This is the million-dollar question. Which designation is the best? The CMA or the CPA?
The designation that is the best for you is the one that will take your career to where you want it to be. Take some time to ponder on this. Once you've figured that out, you'll know which designation will get you there.
Remember that the CPA's core strengths are in taxes, compliance, reporting, and audit. The CMA's are in business analysis, strategy, and corporate financial management. Which areas do you find the most interesting?
If you prefer the CPA, Crush the CPA Exam is the most comprehensive and up-to-date resource online so you are in good hands. Bryce is the most helpful CPA I know and also has a great sense of humor.
Final Thoughts
Whichever designation you choose (perhaps you'll choose both), it will be one of the best investments you'll ever make for yourself. Certified professionals command higher salaries, respect from peers, and are handpicked for promotions.  If you have any questions or just want to say what's up and introduce yourself, please leave a comment below I'd love to hear from you!
Nathan Liao, CMA
Bryce Welker is a regular contributor to Forbes, Inc.com, YEC and Business Insider. After graduating from San Diego State University he went on to earn his Certified Public Accountant license and created CrushTheCPAexam.com to share his knowledge and experience to help other accountants become CPAs too. Bryce was named one of Accounting Today's "Accountants To Watch" among other accolades.   As Seen On Forbes