Real estate is a rewarding career that pays extremely well. However, it isn't easy to break into; it requires a great deal of hard work and study in order to succeed. Luckily, there's a great way to learn the information required for success: online real estate courses!
I've found the best online real estate schools in California and other parts of the U.S. Each of the following courses is high quality and has their individual strong points. Take a look at the information below to find the option that fits you best:
7 Best Online Real Estate Schools in California
1. Colibri Real Estate Review


PROS
Instructor Q&A:
When using the Exam Subscription Plus package, you'll gain access to forty hours of exclusive
question-and-answer sessions with the teachers each week. These are extremely valuable for learning follow-up information from extremely qualified instructors. On top of that, these are some of the highest-rated sessions in the service.
Which California Real Estate Package is for You?
Text Materials:
In addition to all of the other real estate education materials on offer, you also gain access to a print copy of their real estate textbook. Additionally, this comes with digital versions of three other books and a real estate term dictionary. Ultimately, this makes for a fantastic option for those who learn best when they're working from a physical copy of their textbooks.
90 Day Boot Camp:
This video series will help ensure that you understand enough real estate principles to start producing income within the first three months of working. As a result, this video is a fantastic option for anyone who wants to hit the ground running when they start their California real estate career. Thanks to this, you'll easily be able to meet or even exceed your career goals.
Career Hub:
On top of all the other great features, you can also check out the Colibri Real Estate Career Hub. This site contains regularly updated articles with important career information for any real estate agent. And best of all, it's totally free!
CONS
Price:
Unfortunately, this is one of the more expensive options for Real Estate courses. However, it is important to understand that you're paying for quality. There aren't many online courses that offer nearly the same amount of real estate practice content and teacher interaction that this one does. If you try this out, I guarantee you'll find it to be worth the price!
Bottom Line: Colibri Real Estate is the strongest option of the bunch. Their service is extremely polished and understandable, which is perfect for people who want to get started on their careers as soon as possible. Definitely make sure to check this one out.
Colibri Real Estate Discounts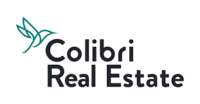 Colibri Real Estate: $205 Off Ultimate Learning Course
7 uses today
Last Used: 2 days ago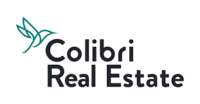 Colibri Real Estate: $137 Off Ultimate Learning Course
2 uses today
Last Used: 3 days ago
---
2. The CE Shop Real Estate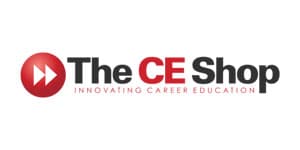 PROS
Scheduling:
Because these courses are fully self-study, you can set your own schedule when learning. Thanks to that, anyone with irregular schedules won't need to feel worried or pressured about meeting course deadlines or expectations. Instead, they can simply move at their own pace and study in a way that they are most comfortable with.
Course Bundles:
In addition to its individual courses, the CE shop also offers deals on course bundles. This means you can get bundles of three courses for a reduced price. These also come with exclusive extra features that other courses don't give you access to.
Pass Rates:
The CE Shop boasts a staggering 90 percent pass rate for its students. This is in large part due to their highly effective study materials and techniques. As a result, this proves how effective their courses are compared to the competition.
CONS
No Pass Guarantee:
Unlike most other choices on this list, the CE Shop's courses do not come with a pass guarantee. However, they do come with a 30-day refund policy. If you don't think it's working within a month of starting, you can get a full refund with no questions asked.
Bottom Line: The CE shop is an extremely effective course for anyone interested in learning via self-study. This is because their great materials and methods make learning easy, and their no-pressure approach to scheduling ensures that no student is stressed out or left behind.
The CE Shop Discounts
---
3. Aceable Agent Review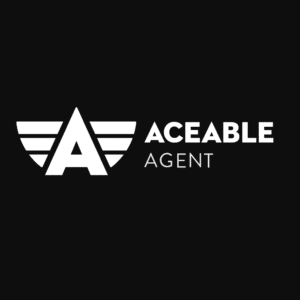 PROS
Take Your Time:
With so much going on right now, it can be tough to stay focused on your education. Fortunately, this online real estate course encourages you to take your time while working on your study materials. And if you want to accelerate your study schedule and jump right into your tests, they'll let you do that too!
Supportive Staff:
If you have any questions about the material you're studying — or if you have an issue with the course itself — Aceable Agent has you covered. There are several ways to reach out for assistance; you can email your instructors or reach out to their Student Concierge team for troubleshooting.
Compatibility:
If you want to, Aceable Agent will let you take your 3-course exams from any device. Feel free to take your tests on a PC, tablet, or mobile phone without any issues or changes in format.
CONS
Limited Curriculum:
Although it's a sufficient amount of material to help you prepare for a career in real estate, Aceable Agent doesn't provide as much for its cost as you can get from other companies. When compared to the numerous extra features of Colibri Real Estate, the full curriculum provided by this online school is a little disappointing.
Bottom Line: If you want to study on your own schedule, Aceable Agent is a decent pick. They're also very streamlined in terms of study materials— which can be a good or bad thing depending on your needs.
Aceable Discounts
---
4. Prep Agent Review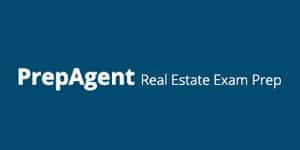 PROS
Live Webinars:
Included with Prep Agent's Premium package are five weekly webinars. These webinars cover various topics on the real estate exam and feature live chat so you can ask questions as you learn. On top of that, each webinar is recorded in case you missed it or want to watch it again later.
Audio Lessons:
Many of Prep Agent's lessons are also available in audio format. This is fantastic if you're the kind of person who likes to learn during a long commute or workout routine. It's even helpful for absorbing information while working on other projects— talk about hard-core professional development!
Digital Materials:
Included with each course package is a wide array of digital materials. Flashcards and e-books have been designed to quickly and efficiently teach you key concepts on the exam. On top of that, there are hundreds of pages of worksheets that you can take with you on the go.
CONS
Limited Print Content:
Prep Agent has a heavy focus on digital learning. Hence, while it's possible to print out some of the smaller-sized materials, such as flashcards and worksheets. Doing so with the rest of this course's materials is unfeasible. I would shy away from this course if you do most of your studying with pen and paper.
Bottom Line: This is a great digital study program. Its portable nature makes it easy to learn during long commutes or when you have a little bit of free time. On top of that, the ability to ask questions during a webinar really adds to the learning potential of this course.
Prep Agent Discounts
---
5. CompuCram Real Estate Review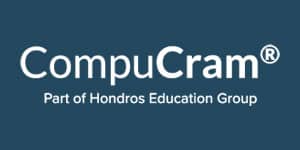 PROS
Mobile Friendly:
CompuCram's interface has been designed to be as mobile and tablet-friendly as possible. As a result, students can work on their real estate license education anytime, anywhere. Additionally, this pre-licensing course is focused on bite-sized lessons that you can pick up and put down whenever you have time for them, making it even more friendly for studying on the go!
Readiness Indicator:
As you work on your exam preparation course materials, CompuCram's Readiness Indicator will monitor how well you are doing in each area. When you're performing well enough to pass your exam, this powerful system will let you know. That way, you don't waste any extra time and can jump right into the state exam!
Vocabulary:
In order to ensure that you're able to understand key course concepts, all courses start with sections on professional vocabulary. Mastering this vocabulary will ensure that students have a strong foundation when moving forward toward the California real estate license exam.
CONS
No Package Deals:
The one downside of CompuCram is that they don't have any package deals. Instead, each course must be purchased individually. However, that doesn't mean that these salesperson license courses are missing extra features. Ultimately, if you're interested in more than one subject, you'll just have to pay a bit more.
Bottom Line: This course is a great option for students who have a busy schedule. Courses are designed to be segmented and finished in your own time. It is a little disappointing that there are no packages for multiple courses, but it's hardly a deal breaker in the face of everything else they offer.
---
6. AYPO Real Estate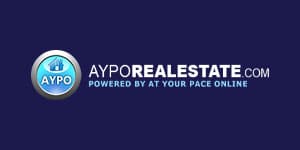 PROS
Experienced Instructors:
Each course instructor is a highly qualified real estate professional. You can see this for yourself on this page for their pre-license course, where a quick breakdown of the teacher's professional experience is included. As a result, you can rest assured that you'll always receive the best possible education from AYPO classes.
Comprehensive Course Breakdowns:
Before purchasing any course, you have the option to see exactly what it entails. To do so, simply scroll down to the description, and you'll find an in-depth breakdown of each aspect of the course. Thanks to this, you'll never make a purchase without knowing exactly what you're getting out of it. This leads to both smarter students and smarter spenders.
At Your Own Pace:
The key aspect of AYPO is their namesake, At Your Own Pace. This is the mission statement for which each course has been crafted. Courses have no deadlines or timelines that you need to follow—simply go at your most comfortable pace! AYPO does this because they know that high-stress environments hinder students rather than help them.
CONS
Limited State Coverage:
The biggest downside to AYPO is that their pre-license courses are only available in five states. While that is quite unfortunate, the silver lining here is that their continuing education classes are available in every state except Massachusetts and Maryland.
Bottom Line: AYPO is an effective and straightforward way to prepare for your career in real estate. Although it is unfortunate how limited their coverage is, that's more than made up for by their qualified instructors and effective courses.
AYPO Real Estate Discounts
---
7. Real Estate Exam Scholar Review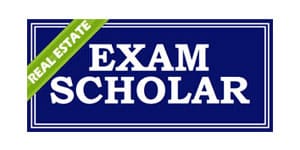 PROS
Extremely Affordable:
Real Estate Exam Scholar is easily the most inexpensive option on this list, making it a must have for people trying to save money on their real estate salesperson education. Better still is that quality is not compromised by this low price. This course is extremely high quality and a great pick if you need to train for your new career on a tight budget!
Practice Test Design:
Each of the practice tests on offer have been designed for maximum effectiveness. Questions can be skipped and returned to later and each question comes with a detailed answer explanation. No need to worry about falling behind; just focus on what's ahead and this course will handle the rest.
Responsive Design:
This course has been designed to be comfortable on any device you have. It shifts to fit both vertical and portrait mode on any screen size. Furthermore, courses can be paused mid-session and picked up later on a separate device.
CONS
Limited Material Types:
Unfortunately, this is one aspect where you can notice some cost-cutting measures. While Real Estate Exam Scholar's coursework is high-quality, it isn't especially varied. Unlike other courses like Colibri Real Estate, they don't have webinars or audio content.
Bottom Line: While the limited content types are disappointing, this is worth a try for its price alone. It's extremely difficult to find study packages of this quality for this price, so you should definitely check this one out if you're trying to make the most of your continuing education budget.
Take Me To Real Estate Exam Scholar
---
8. Kaplan Real Estate School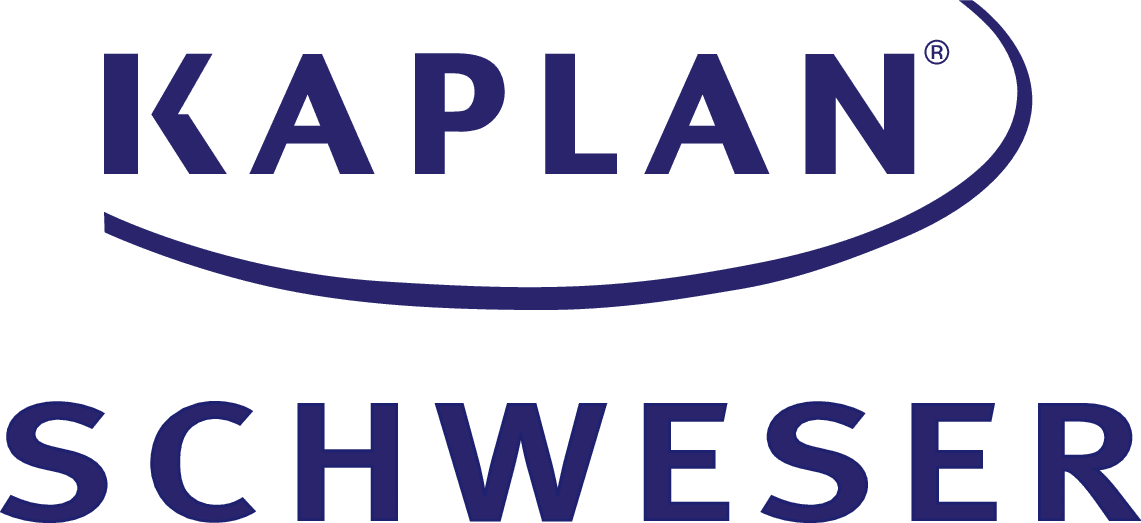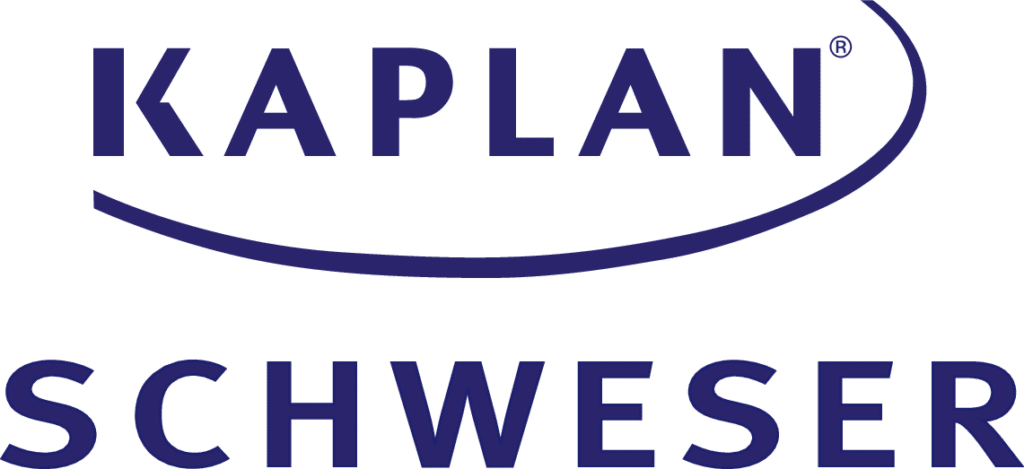 PROS
Course Format Variety:
No two students are alike, and everyone learns best in different ways. To accommodate these differences in learning styles, Kaplan offers their online real estate course in three different formats: Online Video, Live Online, and Text Back Home Study. These offer students a range of possibilities, from self-paced courses that only need an internet connection all the way to a real-life classroom environment!
Locally Relevant Content:
Kaplan's real estate courses are crafted by practicing real estate agents within the state, ensuring that the content is not only accurate but also specifically tailored to the nuances and regulations of the local real estate market.
Comprehensive Exam Prep:
Kaplan goes beyond basic course offerings by including additional exam prep options in their packages. The Interactive Study Groups and Career Mentor Live Online Webinars provide students with an immersive learning experience, facilitating deeper understanding and preparation for a successful career in real estate.
CONS
Cost Consideration:
Kaplan's in-depth courses and additional features, while valuable, may come at a higher price point compared to some other real estate training programs. For individuals on a tight budget, the investment in Kaplan might require careful financial planning or exploration of more affordable alternatives.
---
9. 360 Training Real Estate Review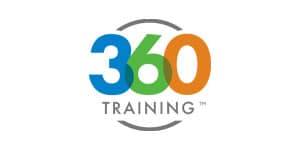 PROS
Pre-Exam Prep:
Preparing to pass the California real estate exam is one thing, but what about qualifying to take the exam in the first place? If you're starting from square one, 360 Training offers just what you need. Their Exam Preparation catalog offers four different reasonably-priced prep packages for aspiring California real estate agents alone. Best of all is that all four of these courses satisfy the prerequisites for taking their respective exams.
Excellent Reputation:
Sometimes it can be tough to accurately judge whether or not an online real estate school is the real deal. Fortunately, 360 Training has the pedigree and alumni that prove its genuine quality as an educational resource. As their About page proudly boasts, they've helped over 4 million individual students and partnered with over 4,000 businesses to provide on-the-job training.
CONS
No Guarantee:
With all the excellent features and added convenience provided by 360 Training, there is one unfortunate drawback. This company offers its students no official guarantee that taking their courses will result in a passing grade on their real estate exams. Does this mean that you're doomed to fail if you use their study materials? Absolutely not! However, it does mean that you won't be automatically entitled to a retake or refund.
Bottom Line: 360 Training offers an enticing package for individuals who want to be real estate agents in California or any other part of the country. They provide a convenient online environment that's been used by millions to great success. However, don't expect this company to have your back if you still aren't able to pass your exams!
---
10. On Course Learning Real Estate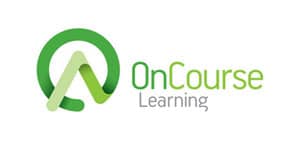 PROS
Award Winning Courses:
These courses are so well made they were added to the "2018 Online Learning Library Top 20 Companies" by Training Industry Inc. They've even been a five time member of the Inc. 5000 list. To put it simply, these guys are the real deal!
On Course Learning courses come with official accredited real estate textbooks at no extra charge. These physical books are fantastic for students who prefer to learn via paper materials instead of an entirely digital program. But if you still need more reading material, they also offer several excellent supplementary books in their bookstore for reasonable prices.
Prep xL App:
On course learning comes with Prep xL, an exam prep learning app. It uses artificial intelligence to adapt your study material around areas where you need the most help. With this app in your corner, you'll always be shoring up the weak areas of your knowledge.
CONS
Expensive:
A big downside to this course is that it can be pretty pricey. However it certainly isn't the most expensive on this list. Additionally, it's easy to justify the price when weighing it against the positives.
Bottom Line: This course can be a little costly, but the quality and quantity of materials are hard to deny. This is a good option for someone who is willing to pay a little extra to ensure that they're doing the best that they can to prepare for an exciting career in property management!
---
11. Allied Real Estate School Review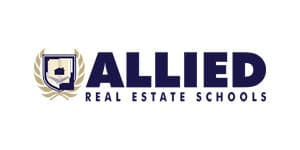 PROS
Job Assistance:
Something that sets Allied Real Estate Schools apart from most other real estate classes online in California is the way they prepare their students for employment. In order to more easily facilitate their entry into the workforce, this test prep company offers extra assistance in helping students organize their portfolios and resumes. Additionally, their FAQ states that they provide advice on networking and job interview etiquette.
Pass Guarantee:
Students who are worried about whether or not they can pass their real estate exam can rest assured that Allied is equally invested in their success. After all, their California real estate licensing schools all come with a 110% money-back guarantee if you aren't fully satisfied with your results!
CONS
Old-Fashioned:
Although the actual curriculum for Allied Real Estate Schools is up-to-date with the most recent educational requirements for passing your real estate exam, there are some aspects of this program that feel outdated. The general structure and design of their online course feels sluggish compared to Colibri Real Estate and other online real estate schools. Also, this may be the only modern test prep business to proudly advertise support via fax!
Bottom Line: Allied Real Estate Schools is missing a killer app to set it apart from the scores of options available to aspiring real estate professionals. The few tools it does offer are reasonable and effective, and the additional help for job seekers is a welcome addition. Still, there are many more appealing courses available with much more content than this.
---
Frequently Asked Questions – Online Real Estate Schools in California
What is the best online real estate school in California?
For aspiring realtors in California, their best bet for passing their exams is to use Colibri Real Estate as their online review course. This is because they offer the best suite of study resources backed by 40 hours of one-on-one instruction from their teachers. They even offer a Career Hub to help enrollees find supplementary info for starting their careers in California real estate.
Which online real estate school is the best?
Colibri Real Estate offers the best real estate exam prep online for students looking to get their licenses in the United States. That's because their set of learning materials comes at a reasonable cost and includes multiple formats that are ideal for every type of student, such as digital textbooks and live one-on-one instruction.
Can you take real estate classes online in California?
Absolutely! Some of the best study resources to help you pass your exams and become a licensed realtor in California can be found online. We recommend Colibri Real Estate and Prep Agent as the two best online real estate schools for California-based students due to their impressive range of study materials and reasonable tuition rates.
What is the fastest way to get a real estate license in California?
In order to complete all three required college-level courses and pass your real estate exam in order to become a licensed realtor in California in the fastest amount of time, you should sign up for Colibri Real Estate. They offer all the necessary courses and study materials to complete all prerequisite requirements and will prepare you to pass your exams in as little as three months.
Bryce Welker is a regular contributor to Forbes, Inc.com, YEC and Business Insider. After graduating from San Diego State University he went on to earn his Certified Public Accountant license and created CrushTheCPAexam.com to share his knowledge and experience to help other accountants become CPAs too. Bryce was named one of Accounting Today's "Accountants To Watch" among other accolades.   As Seen On Forbes