CRUSH RATING: 
★★★★★
The biggest hurdle to becoming a Certified Public Accountant is the Uniform CPA Exam. It's a very difficult test that requires you to think critically and really understand how CPAs work.
Universal CPA Review is a great supplemental CPA study program. Students who enroll will be able to freely access high-quality video lectures, tutoring sessions, and many helpful self-study resources without having to break the bank.
Read more to find out what you get with Universal CPA Review!

Overview of Universal CPA 2019 Course
Universal CPA Review is a New York-based company built around the concepts of hard work and traditional studying. They believe that there is no secret ingredient or gimmick to making your test prep work. Instead, they focus on having the highest quality materials for you to work with.
With their support, you will most certainly pass your exam.
Here are a few things included with Universal CPA Review:
Brand new and unique practice questions
Video and audio answer explanations
40+ hours of video lectures
5000+ multiple choice questions
Licensed AICPA questions
1500 pages of textbooks
200+ task based simulations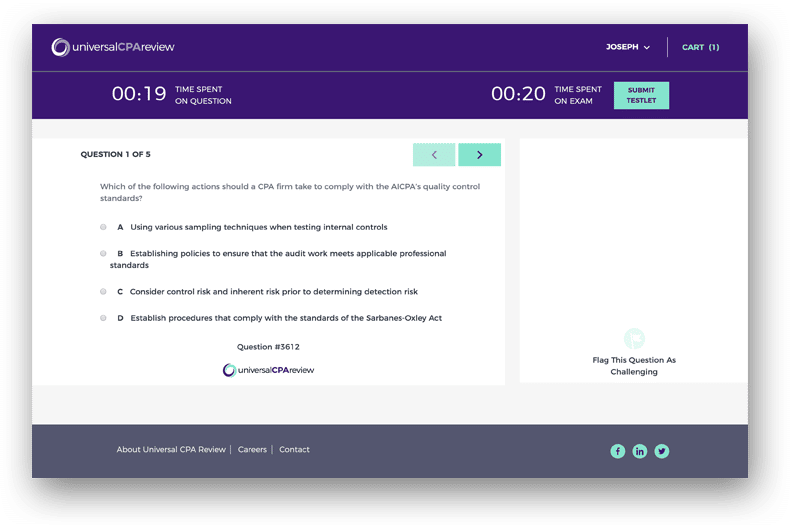 What's Included With Universal CPA Review
Video Lectures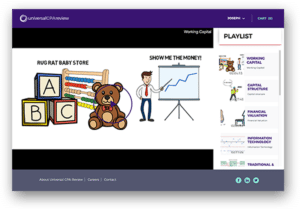 This CPA review course includes over forty hours of animated video lectures. These are designed to maximize understanding of the various concepts present onthe CPA exam. Additionally, they work alongside the other materials you'll study to give you a more complete understanding of what you're learning. The video lectures teach you the theoretical side of each concept while the simulations and questions ask you to apply them practically.
CPA Tutoring Program
Universal CPA also offers tutoring in addition to all of their other materials. If you live near their centralized headquarters in NYC, then tutoring can be done in person. Otherwise, tutoring is done live over Skype or Google Hangouts at a discounted rate. This option also comes with many of the resources included with the main review course. Hence, in addition to multiple choice questions and task based simulations, you'll have a qualified CPA help you work through test materials.
Self Study Materials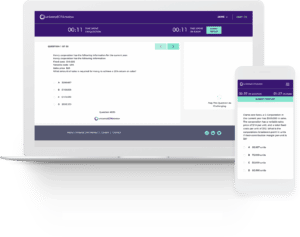 Included with Universal CPA Review are a wide breadth of study materials. CPA candidates can comprehensively study all concepts contained in Universal CPA Review's 1500-page e-textbook. Furthermore, each page also comes with audio explanations designed to maximize understanding of each concept. With this textbook at your side, learning will be easy.
There are also many more review materials you'll be working with:
Also included are a wide range of test questions and simulations. Over 5000 multiple choice questions come with the course as well as video and audio explanations for each one. Additionally, over 200 task-based simulations serve as practice for what you'll see on the test. Ultimately, you'll find yourself uniquely prepared for every CPA exam section when combining these practice problems with the textbook and video lectures.
Universal CPA Pricing
Universal CPA prices their service based on how many sections of the exam you're studying for (BEC, REG, AUD, or FAR). Each of the four sections are priced at $299, although the full course only costs $999. That means you'll save hundreds of dollars if you choose to pay full price!
But that's not the only way the cost is broken down:
Alternatively, each course can be split into test banks and lecture/textbook materials. The full package for each costs $299 and $550 respectively. Each of the four individual courses cost $99 and $199 respectively. Because of this, Universal has an extremely varied set of prices based on what materials you need. They even have a great value if you need everything on offer: something not all services can claim to have!
Frequently Asked Questions
Listed below are some of the most common questions about Universal CPA Review.
Q: How can I contact Universal CPA Review?
A: Universal CPA has several methods of contact listed on their support page. You can contact them via phone, email, or the included messaging service. Thanks to their excellent customer service, you will receive a response as soon as possible.
Q: Will I be charged for updates?
A: No! All updates are completely free of charge due to the unlimited access guarantee. Pay once to gain access to all of the materials you need until you pass the exam. Universal CPA has no interest in forcing students to pay extra for what they should already have.
Q: What format do answer explanations come in?
A: Multiple choice questions and task based simulations come with video and audio explanations for their answers. This is great for people who don't learn as well through text based information and interaction. It's also a much clearer way to learn about each question.
Q: What is adaptive learning?
A: Adaptive learning is a learning technology that Surgent incorporated into their software so it can quickly reveal your areas of need and automatically create a customized study plan that focuses on where you need the most help. The goal is to reduce study time and increase efficiency.
Ideal Customer
Still trying to figure out if this course is for you? Consider the following:
If you learn best through visual or audio teaching, this is the course for you.
If you want to set your own pace towards the CPA exam, this is the course for you.
If you like to mix tutoring with self study, this is the course for you.
If you work best on a rigid schedule, this isn't the course for you.
Final Recommendation
Ultimately, Universal CPA Review is well worth your money. They offer a competitive and understandable CPA prep course at a relatively low price. Additionally all of their materials are high quality and designed to help you pass your exam.
If you're still somehow on the fence, at least check out their free trial. It'll show you just how good this service is. And since it's free, what do you have to lose?
TAKE ME TO UNIVERSAL CPA REVIEW!
Universal CPA Review Discounts & Promo Codes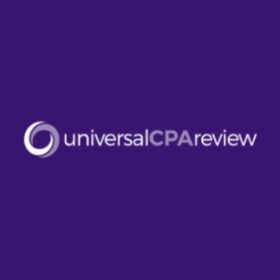 Save $200 Off Universal CPA Review!
40 uses today
Last Used: 1 hours ago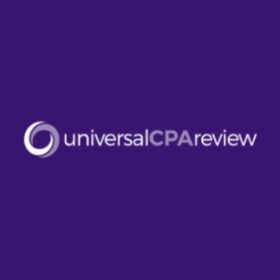 Crush Exclusive: Save $200 Off Universal CPA Review!
40 uses today
Last Used: 1 hours ago