The bar exam is the single most important step in becoming a lawyer. It's the culmination of several years of law school and can make or break your future. Because of that, your best bet to maximize your odds of passing it the first time is enrolling in a bar prep course. But which one to choose? Kaplan, Themis, Barbri, Adaptibar–there are several in the mix.
Keep reading to learn more about why Smart Bar Prep is a worthwhile choice!
Overview of Smart Bar Prep
Smart Bar Prep is a company founded around the idea of studying smarter, not harder. This was in response to bloated and dense courses that simply beat you over the head with information and sap all your money.
But how exactly do they define 'studying smarter?'
Smart Bar Prep subscribes to the concept of the 80/20 rule, which states that in almost every aspect of life only 20% of things are essential, while the rest is optional. In order to match that mindset, Smart Bar Prep prioritizes materials that have consistently and reliably appeared on past bar exams in order to maximize your chances of passing on exam day.
Here are just a few of the great features included with Smart Bar Prep:
Essay Priority Outline
Essay Frequency Chart
MBE Frequency Chart
Smart Guide to the MBE
MBE Smart Sheets
MBE Smart Flashcards
MBE Printable Flashcards
State Based Smart Flashcards
State Based Printable Flashcards
What's Included With Smart Bar Prep
Condensed Attack Sheets
A key feature of Smart Bar Prep is their focus on "smart" attack sheets. These have been designed to convey precise breakdowns of individual subjects in a series of condensed pages. These pages help you to quickly learn and memorize the most important concepts of any given subject via a priority color coding system.
But there's a bit more to these sheets than meets the eye:
There are a few methods these attack sheets use to effectively convey the points they want you to learn. These methods consist of providing clear and concise rule and law statements for each subject. Following that, they condense each of these statements into clusters that help you recognize which issues will be tested on which MBE questions. Finally, they color code every concept on a priority rating based on how important they'll be for answering exam questions and raising your MBE score.
All in all, these smart sheets tend to range from around six to eight pages. After you've worked with these, you should be able to easily recall not only individual concepts, but also how they work together in practice and in theory.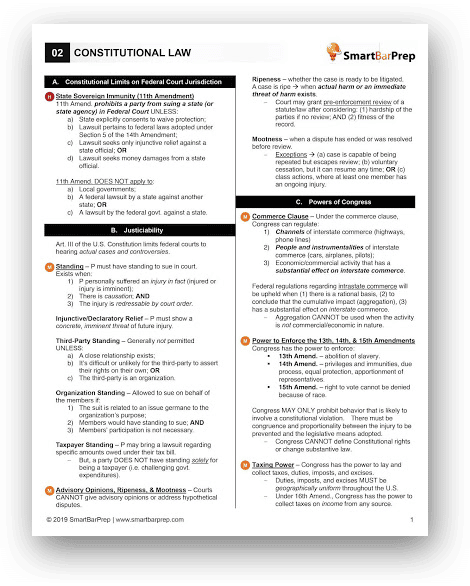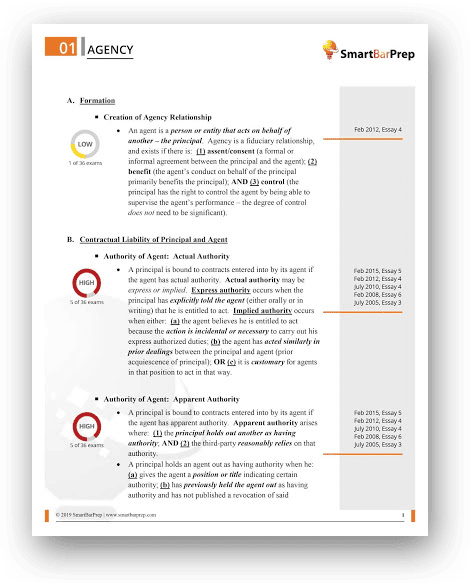 Essay Priority Outline
Smart Bar Prep's state based essay priority outlines are their most effective and best developed resources. This is because they're designed to prioritize the most important rules of each given exam — from 1995 onward! Each set of rules is organized based on their priority level, so you can be assured you'll learn the most important aspects of the exam's essay portion as soon as possible.
But how do they actually teach you about essay writing?
In terms of actual content the sheets pack in citations from past exams, tips, and model rule statements for all 526 rules previously used in testing. Additionally, each rule has space for personal notes so you can customize and focus notes on areas you personally need the most help with.
Furthermore, each sheet has been written to emphasize important legal phrases as well as concepts and terms. This is in order to help law students like you create memorization triggers based on each concept. Doing so allows students to digest and retain larger amounts of information than if they had studied via different methods. Plus, each step of the outline provides enough detail for each student to be able to confidently answer bar exam questions on the day of the exam.
Smart Flashcards
Like other services, this bar review course understands that flashcards are a tried and true staple of studying. That's why they've put such a large focus on innovating how they can relay important information on the cards. Consequently, they've put all of their cards on a mobile study platform designed to accelerate the results of your studying.
This tends to help student development in several ways:
Smart Bar Prep's flashcards cover both MBE and individual state subjects via a few key methods. Each card has been designed to showcase key concepts via practice questions and answer format. On top of that, cards will adapt to your strengths and weaknesses by focusing on concepts based on their evolving priority rating.
With this helpful prep company on your side, you'll be able to easily absorb legal concepts and rules in record time.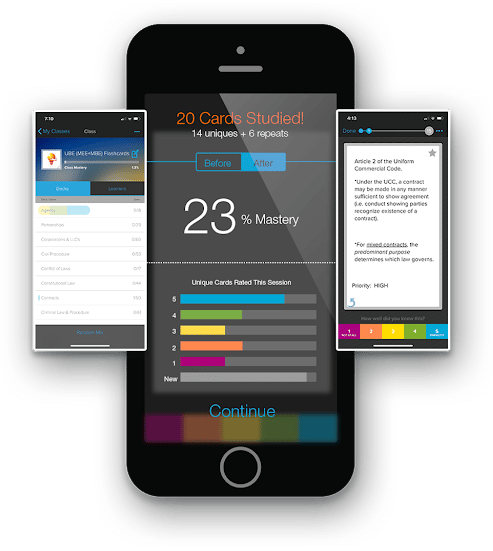 Smart Bar Prep Pricing
Depending on the location where you're trying to pass the bar, Smart Bar Prep has three different course options on offer, each at a different price. (For the sake of simplicity, this article will go over the California bar review prices.) While all options have ups and downs, here are my personal recommendations:
The first and cheapest option is the Standard State Bar Exam course. It comes included with just the MBE smart guide and priority chart. This is kind of like a quick and dirty option for bar exam prep, where you only use the essentials while prepping for the exam. If you can make this work for you then it's worth the $124 price tag.
Next up is what I consider the best deal:
The next option is the Deluxe State Bar Exam course. On top of everything offered by the first course, it also includes smart guides and the MBE smart flashcards (as well as printable versions). This is an excellent option for anyone looking for a little more out of their study time. This is because these additional resources make the price tag of $175 well worth it.
Finally, the last option is the Ultimate State Bar Exam course. This includes everything from the other tiers as well as smart and printable flashcards about state level rulings and laws. I would recommend this option to anyone who insists on having the most information possible while studying. Otherwise, the $195 price tag might be a bit too steep for you.
Pros & Cons
If you're still on the fence about whether or not this service is right for you, examine the different pros and cons of working with Smart Bar Prep.
PROS
Custom Study Plan
Because all materials are sorted by priority, you can pick and choose what order to learn them in. You can even choose to skip certain low priority sections if you'd like, although that's generally not recommended.
Reliable Info
Each section of the course is based off of content seen on over ten years of tests. Thanks to that you can rest assured that all information included on your study materials are accurate.
State/MBE Content
All content is organized either by MBE or state based content. This is perfect for anyone who only feels the need to focus on one of those areas when studying. Plus all states have available courses, so there's no need to worry about being left out.
CONS
No Live Content
This is a course with a heavy focus on self-study. Consequently, there are no live webinars or video lectures available for students.
Frequently Asked Questions
Still curious about the course? Read on to see some of the most common questions about it.
Is there any live content included with this course?
Smart Bar Prep's courses are self study oriented. This means that there is no live content; instead, you're expected to set your own study course with the materials given to you.
Is there a money back guarantee?
Yes there is! At any point within thirty days of purchasing a course you can request a full refund. Smart Bar Prep will accept refunds for any reason, so need to worry about meeting any strict guidelines.
What's the access period for the study materials?
Aside from the smart flashcards, all materials are given to you via PDF format. That means you can keep the files for as long as you want. Access time for the smart flashcards is around half a year.
Ideal Customer
Even after reading everything above, some people may still be unsure about whether or not this is the right course for them. If so, consider the following recommendations:
If you like information delivered in a clear and succinct manner, this is the course for you.
If you like to know what information is the most important so you can prioritize, this is the course for you.
If you love effective and memorable flashcards, this is the course for you.
If you work best via live content, this isn't the course for you.
Final Recommendation
Smart Bar Prep is well worth your time and money. Their focus on priority content ensures that you're never wasting your time while learning. On top of that, they're one of the more reasonably priced options for studying and they respect their customers.
Make sure to try out their course today! I recommend the deluxe bar exam course, but you may find more value in the other two options.
Bryce Welker is a regular contributor to Forbes, Inc.com, and Business Insider. After graduating from San Diego State University he went on to earn his Certified Public Accountant license and created CrushTheCPAexam.com to share his knowledge and experience to help other accountants become CPAs too. As Seen On Forbes