If you want a review course that has it all, Roger CPA Review is definitely worth checking out. Engaging video lessons, affordable pricing options, ample practice questions, intuitive software (SmartPath), human support, and much much more!
The biggest standout for Roger CPA Review is Roger Philipp and his video lectures. He has been teaching CPA exam review courses for more than 25 years and is the only person I know that makes accounting interesting. During his tenure, he has helped over 100,000 students pass the CPA exam.
Roger combines best in class lectures with their own SmartPath technology. This data-driven approach helps maximizing your study time by serving you the right questions. The ultimate result is more efficient study sessions, and less wasted time.
Roger CPA Review offers three different course packages with Premier being the most popular, so that is the specific course package I will be referencing throughout my review. Let's dive into the details of this prep course and see if it's the right fit for you!
Overview of Roger CPA Review 2020 Course
Roger CPA Review Elite Course Package snapshot (product details):
$2,999 (Get Crush discount!)
100+ hours of video lectures, 40+ hours of audio lectures
NEW SmartPath Technology
Electronic and physical textbooks
6,200 multiple choice questions and task based simulations
CPA Exam Simulator with unlimited full length practice exams
Homework Help Center Access
Customizable study planners
Free material updates
Bonus Cram Course content
Unlimited course access
Offline lectures available on USB drive
60 Second Review of Roger CPA Review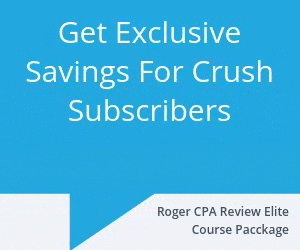 2020 Roger CPA Review Updates
To ensure students are fully prepared and studying the exact same material that's on the CPA exam, Roger regularly updates their course and software. This helps to ensure that there's no surprises when you sit for the actual CPA exam.
What's Included in Roger's Review Course?
Multiple Choice Questions
Included in Roger's course are 5,800 multiple choice questions that are organized into "Interactive Practice Questions." I found these to be very easy to navigate through and each question provided me with an explanation for why my answer was either right or wrong. This functionality was helpful for understanding new concepts and being able to learn while I practiced with the questions.
Your questions are tracked and broken down into performance reports that detail your strengths and weaknesses by individual section. These analytics are useful to help you figure out what topics need more study time. Roger's adaptive technology is okay, but it's not used throughout the entire course, so you will have to use the performance reports to guide your course towards your weaker areas.
Task Based Simulations
In addition to the thousands of practice multiple choice questions, Roger CPA Review also provides 400 task-based simulations. These have been pulled directly from AICPA released questions and they include the all new Document Review Simulation question type that is now included in the CPA Exam since April 2017.
I found the task-based simulations to be complex enough that they challenged and tested my knowledge.
Practice Exams
With Roger CPA Review, you will have unlimited full-length practice exams. By using Roger's CPA Exam Simulator, you will be practicing with questions in a format that mirrors the look and structure of the actual CPA Exam (including the new 5 testlet structure that was introduced in 2017). You'll have the opportunity to see what it's like to take the set amount of questions with a time limit so you can perfect your test taking strategy and time management.
SmartPath Predictive Analytics
This is a new addition to Roger's CPA Review course and it certainly benefits anyone who is trying to study smarter. SmartPath helps you pass faster by comparing each candidate's individual progress to candidates who have passed the CPA exam using the Roger CPA Review course.
With SmartPath, you will never have to go into the CPA exam blind. You will know exactly where you stand and therefore have confidence that you are on the same path as a successful candidate. This also allows you to manage your time effectively by improving the areas that don't compare positively to successful students.
Flashcards
Roger CPA Review Elite package comes with digital flashcards so you can take your studies on the go. You will be able to study from over 200 terms and summaries per CPA exam section. These are a great way to gauge your progress and identify your strengths and weaknesses. You are not only provided digital flashcards, but also a mnemonic aid that helps you remember details on exam day.
FAR Exam Cost and Equity Method
Video Lectures
The video lessons are what makes Roger CPA Review really stand out from the rest. Roger Phillip has more energy and enthusiasm than any other accounting instructor I have seen. His teaching style demands your attention and makes the notoriously boring material much more interesting. Out of all the other CPA review courses out there, Roger's video lectures are hands down the best.
With Roger, you will have access to over 100 hours of CPA exam video lessons that are broken down into 10-30 minute lectures. You will also have the ability to adjust the speed of each video and add closed captions/subtitles for English. This is great for international students, candidates with hearing disabilities, and people who are short on time and want to watch the videos faster.
You can highlight directly on the eTextbook as you watch the video lectures so you can have all your notes in one place that's easy accessible from anywhere. Roger's video lectures force you to follow along manually with your textbook, which i think it great because then you won't be on auto-pilot when watching the lecture. If you want a course that has lectures that keep you on your toes, Roger is definitely the way to go.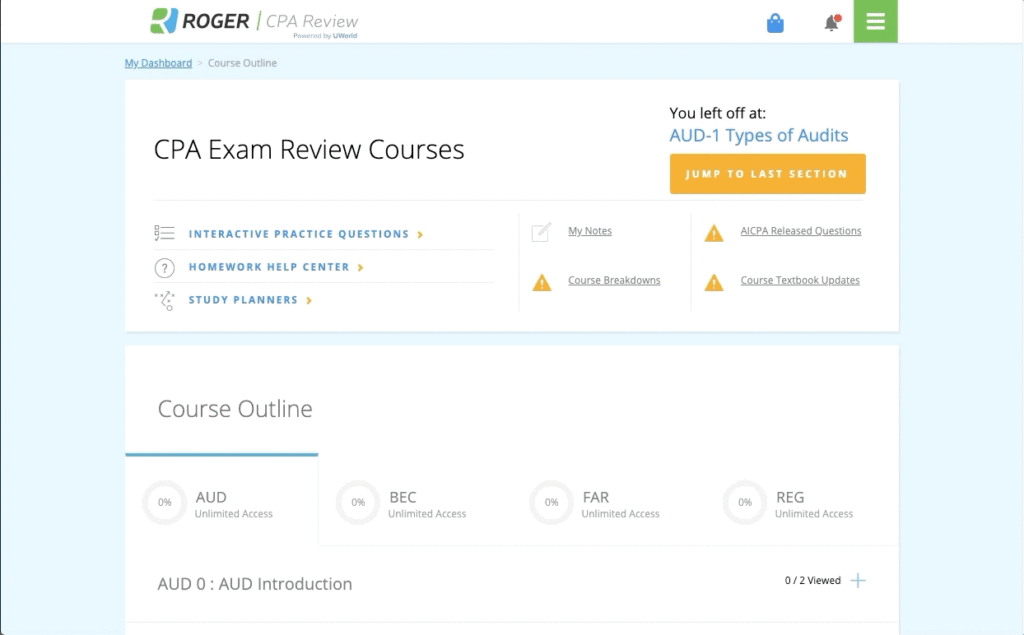 Dashboard/UX
Roger completely redesigned its dashboard to be cleaner and more user friendly. Your dashboard can track all of your lectures and your progress into your study schedule. Each individual topic is contained within each header where it tells you how long each video will take to complete and the material you need to read along with the lecture.
The course is mobile friendly so you can easily navigate through Roger CPA Review no matter what device you want to use–tablet, phone, laptop, or whatever!
The course is mobile friendly so you can easily navigate through Roger CPA Review no matter what device you want to use–tablet, phone, laptop, or whatever!
The CPA exam study planner is not as good as other courses I have used. Instead of having a study planner that can adapt your course to your unique needs, the Roger CPA Review study planner is a simple spreadsheet that is automatically filled with the dates you plug in on the dashboard. Hopefully Roger CPA Review will change its dated study planner to something that's more dynamic and can be easily adjusted.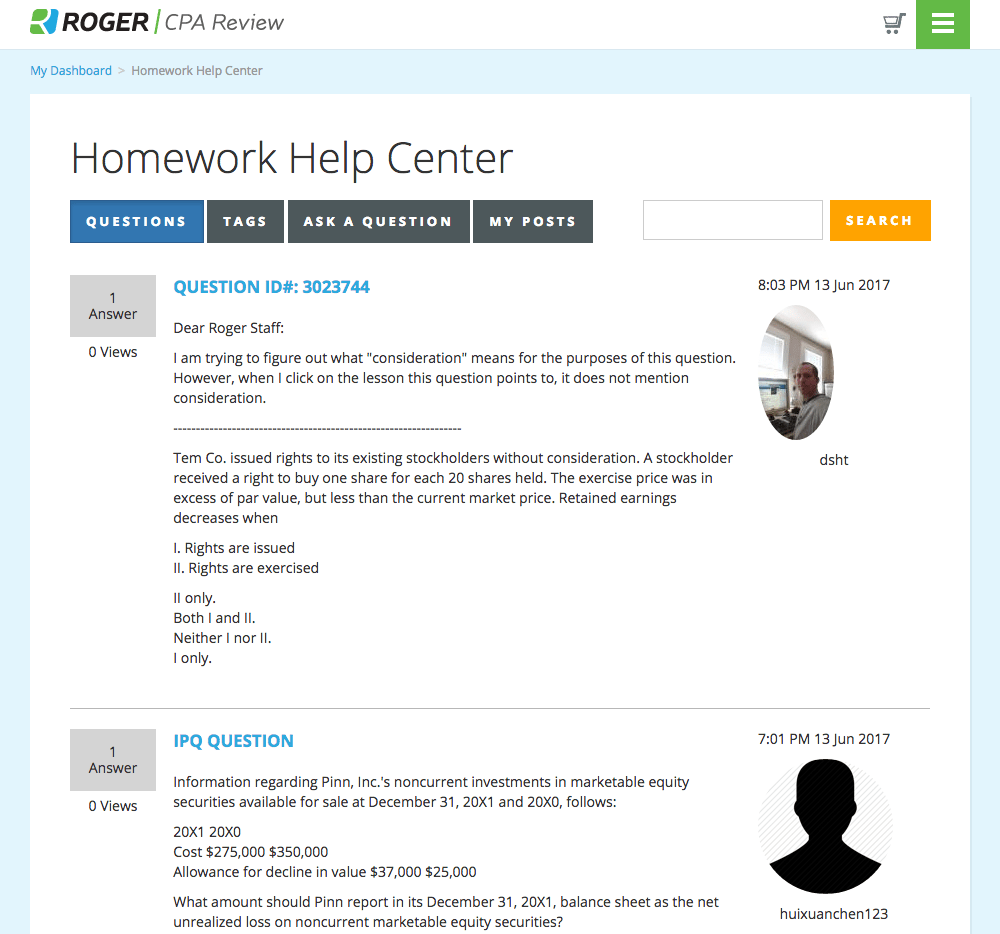 Customer Support
Roger CPA Review prides itself on having real CPAs ready to help you with any questions you may run into while studying. You are guaranteed a 24 hour response time 24/7, but from what I experienced it was much faster than that. Plus, you get to actually talk to a real person, which is helpful in stressful study rut. You can also go through other student's questions to see if your questions have already been answered. It's important to note while all students have Homework Help Center read and search access, you'll need the Premier or Elite course packages have question posting ability.
Course Access and Updates
Roger's course access varies depending on what course package you decide on. The Roger CPA Elite Course Package comes with UNLIMITED access so you never have to worry about it expiring and definitely makes it worth the extra money. Their Premier Course Package comes with 24 months of access and the Select Course Package includes 18 months of access.
6 month extensions are also available for Roger's Select Course Package for $200 if you want to boost your 18 months to 24 months. And if there's ever an update to the CPA exam content, your course will automatically update itself at no cost to you.
What Course Packages Does Roger CPA Review Offer?
Roger CPA Review comes in three different types of course packages that vary in price. Check out what is included in the Select, Premier, and the Elite course packages to see which course would best suit your study needs. (I highly suggest the Elite so you can use Roger's audio lectures, they're incredible!)
Roger CPA Review Discount Codes & Financing Options
Roger CPA Review offers financing plans if you are a student on a budget or your firm is not funding your study material. Monthly payments can be as low as $149 a month. And, depending on your credit rate, Roger will charge you a interest rate from 0-30% APR. To learn more about these financing options, click here. Roger is always offering a variety of discounts.
You can use the 20% Off Fresh Start Discount if you have purchased a CPA review course that didn't work out well, cost over $400, and would like to switch to Roger CPA Review. Or, if you are a college student currently enrolled in 12 units or graduated within the last 60 days, you can use the 10% Off Student Discount. Whatever your situation, you can see all Roger CPA discounts and make sure you get the best deal possible. The biggest Roger CPA promo code offers are limited-time discounts exclusively for Crush the CPA Exam readers! Check out the offer here!
Roger CPA Review FAQs
Here are answers to some of the most frequently asked questions candidates ask about Roger CPA Review!
How do I use the Roger CPA Review on my mobile device?
Simple! Just use the browser on your phone, tablet, or other mobile device to log into your student account. The lectures will be formatted to fit your screen for easy viewing. However, many of the videos are too large to work on 3G or 4G networks, and most students need to be connected to wifi.
What happens if I have a questions about concepts?
For those extra challenging questions, you can use the Homework Help Center to easily search over 17,000 student-submitted questions with answers from expert CPAs. For students of Premier or Elite course packages, you can also post questions directly to the CPA experts.
How long do I have to wait for my Roger CPA Review Course after I ordered it?
As soon as you receive your order confirmation email, you can access your online lectures. The physical study materials that accompany your order need 24-48 business hours to process, but you should expect to receive those within 2-7 business days from Roger's San Francisco office.
Am I allowed to copy/paste/print the online book?
Because of the strict copyright policies on all Roger CPA Review materials, you will not be able to save, copy, paste, or print any of the content from the online book.
What's a video bookmark?
A video bookmark is a tool that you can use to easily mark a point in your Roger lecture that you would like to come back to. You can bookmark an area where you are having difficulty, a point that you want to remember to write down, or for any other reason. Feel free to make as many or as few as you need!
What are the differences between Roger's Cram Course and their regular course?
The regular course is designed to be comprehensive and cover every topic tested on exam day. The Cram Course is made to be a quick review of many of the heavily-tested topics on the exam. Your Cram Course is designed as a summary and final "cram" that you complete immediately before you sit for the CPA exam. The Cram Course should not be used as a replacement for a complete CPA prep course.
Can I watch Roger lectures offline when I don't have internet access?
Offline lectures are available in Elite and Premier course packages. You also have the option to purchase the Offline Lectures in the form of a portable USB external hard drive. These lectures are in addition to your Online Course, but you will be able to view these Offline lectures without the use of the internet.
How many times can I watch the Offline Lectures?
Your Offline Lectures will reflect the time and subject matter you've purchased for your online course (either 18 or 24 months).
How many computers can I install the Offline Lectures?
You are allowed to install your Offline Lectures external hard drive on TWO computers. You must contact Roger CPA Review in order to request your second installation.
Roger CPA Review VS Becker
Roger and Becker are both very popular review course choices for CPA Exam candidates. I'm going to briefly compare the two below; for a more detailed comparison, check out my article here.
At $3,393 for all 4 sections, Becker's CPA Review is more than twice the price of Roger's CPA prep course. Priced at a much more reasonable $1,695, Roger CPA Review costs about the market average for CPA review courses. Fortunately, both currently offer unlimited access to updates, so that won't be an issue no matter which course you choose.
The biggest difference between these courses is the video lectures and technology. Roger is far superior to Becker in content and presentation. Roger's personality keeps you engaged through even the most boring segments, which definitely cannot be said for the Becker CPA video lectures. However, Becker pulls ahead when it comes to technology for the following reason:
Roger CPA review recently underwent an update that includes SmartPath technology through UWorld. This new tech ostensibly allows you to focus on your trouble areas and pass faster. However, many students have voiced serious criticisms about the implementation of this new feature, saying that it doesn't work as intended.
For these reasons, I would ultimately recommend Becker over Roger.
Who is Roger CPA Review Best For?
I really like the unique teaching style of Roger CPA Review and appreciate the fact that he can take any accounting topic and make it interesting. The way he uses mnemonics to help students remember detailed information is extremely effective, and you won't get this with any other CPA review course. Unfortunately, the newest addition to the Roger CPA Review Course, SmartPath, has several issues that still need to be sorted out. Because of this, I recommend taking a "wait and see" approach. You can always try out the course's free trial and see for yourself!
Roger CPA Review Discounts & Promo Codes