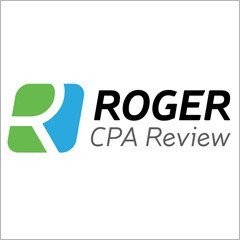 OVERALL RATING: ★★★★★
Roger Philipp uses his energetic and engaging "Roger Method" to keep students motivated and focused. He has been teaching CPA exam review courses for over 25 years and has helped over 85,000 students pass.
One thing that differentiates Roger CPA Review is that it includes extensive use of mnemonics and other memory aids to help students retain more information and remember specific details for a longer period of time.
The course is available in an online format and can be accessed directly from smartphones and mobile devices like the iPhone, iPad, and Android.
PROS
1. Entertaining Lectures
Roger has more energy and enthusiasm than any accounting instructor I've ever seen. His unique teaching style demands your attention and makes the material much more interesting.
He is passionate about helping students pass the CPA exam and his positive energy is contagious. To see for yourself what Roger's teaching style is all about, check out a Free Course Demo.
2. Course Textbooks
Roger CPA Review textbooks cut out a lot of the fluff and focus directly on the content that will be on the CPA exam. I have just received a copy of their new textbooks and I am very impressed.
They are full of new mnemonics (see #3 below) and are laid out in a very intuitive way. Their course includes textbooks in both an online and physical format.
3. Memorization Strategies
The CPA exam is filled with tedious details that must be memorized in order to score well. Roger CPA review uses many mnemonics and other memory aids extensively in his lectures to provide an easier way for students to remember these details on exam day.
Retaining long lists of information will give you a huge advantage over your peers and will definitely increase your test scores.
4. Roger CPA Discounts
I. Fresh Start Discount
If you have purchased a CPA review course that didn't work out well, cost over $400, and would like to switch to Roger CPA Review – then you are eligible for the 20% Off Fresh Start Discount.
II. Student Discount
College students who are currently enrolled in 12 units or have graduated within the last 60 days are eligible for a 10% Off Student Discount. This discount is good for a one time purchase of all Roger CPA Review Courses and Products.
III. CRUSH Discount
Roger CPA Review is offering a HUGE limited-time discount exclusively for Crush The CPA Exam readers! Find out the details of this special offer and .
5. New Course Features
Roger CPA Review offers students a variety of useful new features. Each video lecture is accompanied by an area where you can type and format notes as you watch. These are saved and can be easily accessed and downloaded any time from the "My Notes Summary" section in either PDF or HTML format.
Because Roger tends to speak a bit fast, they've added a new feature which allows you to adjust the playback speed of each video, add closed captions or subtitles for English, and highlight directly on the eTextbook.
This is extremely helpful for international students, people with hearing disabilities, and busy CPA candidates who are short on time and want to speed up Roger even faster so they can power through a quick section.
They've also added a new Video Bookmark feature that allows you to tag a specific time in the lecture so you can go back and review it later. You can add multiple bookmarks during each lecture with the simple click of a mouse.
6. Audio Review Course
The Roger CPA Audio course is the most effective audio course on the market because the lectures are taught with the same high energy and enthusiasm that Roger is so well known for. He even throws in the occasional joke just to make sure you aren't nodding off while you are listening.
If I had to pick one audio course to study with, this would definitely be it. It's available in an MP3 format and focuses only on the most heavily-tested CPA exam topics. This is a great way to turn those long commutes to work into valuable study time.
7. Financing Options
Roger CPA Review now offers financing plans for students on a budget.
I remember right after my college graduation I felt very stressed about having to come up with $1,500 to purchase a CPA review course.  Roger has removed that unnecessary stress from CPA candidates by offering financing as low as $149 a month.
Just provide your basic information during checkout and get instantly approved. Choose to pay over 3, 6, or 12 months with interest rates from 10-30% APR depending on your credit rating.
You can pay your monthly bill using a bank transfer, check, or debit card. To learn more about these financing options, click here.
CONS
1. No Unlimited Access
The Roger CPA Select Package gives you 18 months access to all course materials and their Premier and Elite Packages come with 24 months access.  For the price of Roger's courses I was hoping they would offer Unlimited Access until you pass.
That being said, I think that 24 months is more than enough time to complete all four sections of the CPA Exam in the allotted 18 month window,  even for someone who has been out of school for a while.
Candidates who want Roger's Select Package can also purchase a 6-month extension for $200 giving them a total of 24 months of access.
MY SUGGESTION
I really like the unique teaching style of Roger CPA Review and appreciate the fact that he can take any accounting topic and make it interesting.
The way he uses mnemonics to help students remember detailed information is extremely effective, and you won't get this with any other CPA review course.
Roger understands that passing the CPA exam should be done as efficiently as possible by focusing on the major accounting concepts and not getting stuck on the small details that are unlikely to be tested.
After watching many of his video lectures and working through various sections in their new software, I'd highly recommend Roger CPA review to anyone who values their time and wants to pass the CPA exam as quickly as possible.
Roger CPA Review Course Information
| | |
| --- | --- |
| Roger CPA Review | Strengths  |
| 1. | Course Textbooks |
| 2. | Entertaining Lectures |
| 3. | 10% Off Discount Code |
| 4. | Memorization Strategies |
| 5. | Audio Review Course |
| 6. | Financing Options |