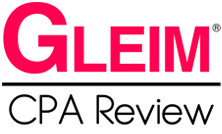 Overview of Gleim CPA Review 2018 Course
Gleim CPA Review is a comprehensive course that prides itself on covering all possible subjects that you may encounter on the CPA Exam. Their course is well organized and perfect for for those looking for a guided CPA review course with micro-lessons. Gleim also offers state-of-the-art adaptive learning technology and an efficient support system that provides personalized help to meet your varying needs.
Your Gleim CPA Review course includes SmartAdapt technology software as well as other study materials like the audio reviews and simulation wizard. All your Gleim materials will have unlimited access and free content updates, so you will always have the most current information. If any new updates are released for your course materials, they will email PDF files containing any revisions straight to your inbox free of charge.
Gleim offers three tiered course packages. The highest tier they offer is the Gleim CPA Premium Course with a price tag of $1,999. This is less than the industry average and includes study materials for all 4 sections of the CPA exam, in addition to a plethora of extras. Some of these extras include audio lectures, exam rehearsals, study sessions with real accountants, and access to their adaptive learning Interactive Study Planner. Gleim also offers a Traditional course package which can be purchased for $1,599. This is their mid-tier package which still includes some extra study tools but doesn't grant access to accounting experts and some video lectures. The lowest tier package they offer is the CPA Mega Test Bank for $1,199, which only comes with the textbooks, practice questions, and a practice exam. I will be referencing the Premium Review Course package throughout this review, since that is the most popular choice.