The Chartered Institute of Management Accountants (CIMA) exams are an important step in the career of many management professionals. Consequently, it can make or break your chances of getting a good job with upward mobility. With that in mind, it's important to find the best possible way to prepare for them ahead of time.
The good news is that the best CIMA prep courses will greatly enhance your odds of passing. That's because these online courses are designed to build your academic and professional knowledge as you work through them. As a result, taking a self-study course is highly recommended for anyone serious about passing and entering the management accounting industry.
But which one should you pick?
Here's what you need to know:I've created a list of the best CIMA study materials in order to maximize your odds of passing your future exams. Read on to see which ones are right for you!
Top CIMA Study Materials of June 2023
Wiley Efficient Learning
1. Astranti CIMA Review
PROS
CIMA Syllabus:
Astranti offers a free CIMA syllabus with all of their CIMA study materials. It covers all of the essential information required to become CIMA certified and what steps you'll be taking to get there. Additionally, the syllabus includes a range of free study materials intended to help you pass the exam. By following this syllabus you'll massively increase your chances of success.
Masterclasses:
One of the biggest focuses for Astrani is their live classroom content. These come in the form of two day masterclasses designed to walk you through material required to pass your CIMA exam. In order to do so, each class is taught by an experienced professional who knows what key skills are needed to succeed. Furthermore, you'll learn extra strategies to increase your score, such as effective writing and planning styles designed to maximize your score.
Mock Exams:
An essential part of Astrani's courses are their full length mock exams. Each course comes with three tests that mimic the actual CIMA exams as closely as possible. Furthermore, practice questions on each test have extremely detailed answer markings and will offer feedback based on your results. As a result, you'll always work towards shoring up your weaknesses.
CONS
Updates:
Astrani offers online resources intended to help students pass their exams, but not all of their materials are kept up-to-date. Although I highly recommend trying out their free certification-level courses to get an idea of their educational content and value, keep in mind that their free materials aren't updated as often as the ones with a price tag. Still, it should be sufficient to help you grasp the majority of concepts covered on your exam.
Take Me To Astranti CIMA Review
Bottom Line: Astrani is an excellent resource for someone who knows exactly what learning styles work best for them. I'd recommend shying away from the full bundle (which can cost up to £1,199) and simply enrolling in a few of their more inexpensive materials first. All in all, it is a great exam preparation resource well worth the money!
2. Practice Tests Academy CIMA Review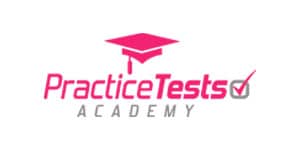 PROS
Management Level Study Questions:
Unfortunately, many test prep services will pad out their question counts with filler or low quality questions. However, this isn't an issue with Practice Tests Academy; each of their questions are high-quality, sourced from the highly-praised educational company Kaplan, and come with well explained answers. As such, you'll always know what areas you're working on and never feel lost in a sea of vague study sessions.
Developing Exam Techniques:
Perhaps the biggest focus for Practice Tests Academy is developing personal testing techniques for individual students. Hence, their site is constantly updating in order to facilitate all possible learning styles. Thanks to that, you'll find yourself getting more and more confident about the exam as you lock into the test-taking strategy that suits you the best!
Customized Exam Experience:
Practice Tests Academy offers a few different modes of taking exams based on how you're preparing at the time. Study mode allows you to attempt questions at any pace and receive instant answers and explanations upon completion of each question. This helps you pick up new concepts when you're starting out. On top of that, you can study in exam mode, which simulates the conditions of the real exam. Using this will allow you to grow familiar with the test taking format ahead of time.
CONS
Only Test Based Content:
Unlike other services, Practice Tests Academy does not offer anything beyond mock exams. No lectures or other live content makes an appearance at any point during this course. This can be disappointing, but the smaller range of materials does have an impact on the price. As such, this course is one of the cheaper options on the market.
Bottom Line: Practice Tests Academy is a solid option for CIMA review. The ability to switch between study modes and practice with Kaplan materials makes it one of a kind. It may not have as many fancy gimmicks as its competitors, but it's still a strong and reliable contender for your average student.
3. Viva Financial Tuition CIMA Review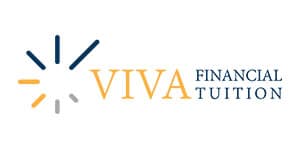 PROS
Objective Tests:
One of the biggest upsides to working with Viva is the focus they put on creating high quality tests. On these tests are over eight hundred questions per subject as well as a system that emulates the conditions of the real exam perfectly. On top of that, you can further customize your test conditions to your liking.
Case Study Exams:
Viva Financial Tuition also includes full multimedia case study packs with their online learning platform. These consist of HD video lectures, mock exams, annotated documents, industry analysis videos, and much more. Consequently, this is one of the most comprehensive sources of CIMA knowledge on offer. When it comes to these study packs, you can't go wrong!
Free Resources:
If you're feeling unsure about this service, they also offer free materials for you to try out. These include case studies and video lectures. Thanks to these you can familiarize yourself with Viva before deciding to make a purchase. That way you'll never be uninformed when making a purchase.
CONS
Confusing Bundles:
A drawback to using Viva Financial Tuition comes from the way they design their course bundles. There are no all in one packages like Wiley CIMA Review; instead, you must purchase mini bundles based on the individual aspects of the CIMA exams. This doesn't dramatically increase the price or even exclude any important information, but it still makes the act of purchasing materials slightly more inconvenient.
Bottom Line: Viva Financial Tuition is an excellent choice when looking for a CIMA review course. Their comprehensive and helpful materials will give you a great chance to pass your upcoming exams, and their free resources will ensure you know what you're getting into ahead of time. If you don't mind a clunky and slightly obtrusive pricing structure, make sure to check this one out!
4. Wiley Efficient Learning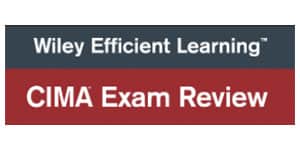 PROS
Pay Once Guarantee:
Wiley is so confident in their CIMA study materials that their service includes a pay once guarantee. That means that you'll have complete and unrestricted access to their materials until you pass your exam. No need to worry about course time limits when working with Wiley Efficient Learning.
Format Choice:
Another plus to working with Wiley is your choice in course materials. For example, their study guide books can be purchased in either print or ebook format. Hence, you'll always be working in a format that you're comfortable with. These study texts cover every learning objective on the exam, so you won't have to worry about only being able to study certain sections in your preferred format.
Free Trial:
Wiley includes a free 24-hour trial for anyone on the fence about using their service. This trial includes everything except mock exams, so you can easily get a feel for what you'll be working with. On top of that, it's designed so there's no pressure to continue the service if you don't like it.
CONS
Price:
Unfortunately Wiley's courses can be pretty pricey. While individual elements aren't unreasonably priced, the combination packages can be as expensive as $745. Ultimately, it's important to remember that you're paying for quality here, and this course can be well worth your money.
Bottom Line: Wiley Efficient Learning is one of the best options out there when prepping for a CIMA exam. Their competitive educational materials combined with the customization of their course gives you the best possible chances to pass. For these reasons and more, they're easily the number 1 prep course for CIMA students!
Bryce Welker is a regular contributor to Forbes, Inc.com, YEC and Business Insider. After graduating from San Diego State University he went on to earn his Certified Public Accountant license and created CrushTheCPAexam.com to share his knowledge and experience to help other accountants become CPAs too. Bryce was named one of Accounting Today's "Accountants To Watch" among other accolades.   As Seen On Forbes