14 Aug

Selling, General & Administrative Expense (SG&A)
What is Selling, General & Administrative Expense (SG&A)?
Definition: Selling, General & Administrative expense (SG&A) is the cost associated with selling the products a company produces or the services that it provides. It includes costs that are not directly related to the production process or the provision of services.
What does Selling, General & Administrative Expense mean?
SG&A expense encompasses a wide range of costs. These include:
⇨ Rent
⇨ Advertisement
⇨ Salaries of the marketing staff
⇨ Salaries of the staff of other departments such as finance and administration
⇨ Electricity and telephone expenses
A significant portion of the SG&A expense could be attributable to sales and advertising. These costs play an essential role in helping a firm to promote its products and build its brand image. SG&A expense also includes different types of operational costs. Many of these expenses are of an indirect nature. A company's legal and insurance costs would fall into this category.
When a company's profitability falls, it often attempts to cut costs by reducing its SG&A expense. Why is that? The reason is straightforward. SG&A expense is typically an indirect cost. It would be difficult for a firm to reduce its direct costs. For example, if it bought cheaper raw materials, it could lead to a fall in the quality of the product that the company manufactures.
Consequently, SG&A expense is the first target when a cost reduction exercise is taken up. However, it is advisable to be very careful when cutting back on or eliminating certain types of SG&A expense. For instance, spending less money on advertisements and promotional initiatives could negatively affect sales.
Example of Selling, General & Administrative Expense
This is the income statement of Steelworks Manufacturing Company for 2017: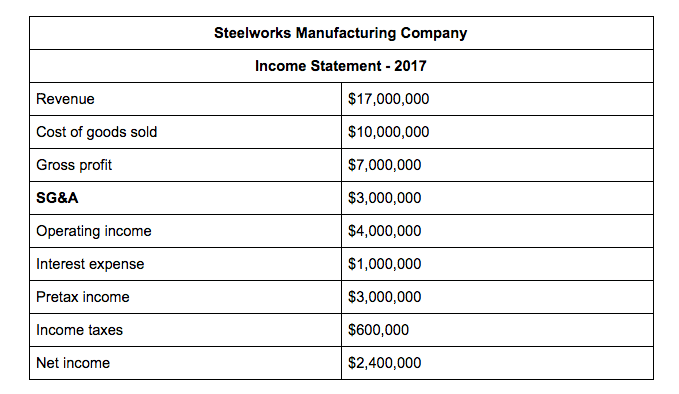 Steelworks' income statement clearly shows that it is necessary to reduce SG&A expense from the gross profit to arrive at the figure of operating income.
Summary
SG&A expense can be viewed as the cost of running business operations and selling and marketing a company's products. These costs do not vary directly with the level of output.