15 Aug

International Trade
What is International Trade?
Definition: International trade is the exchange of goods and services between different countries. In dollar terms, the total of exports and imports for all the nations of the world was over $30 trillion in 2017.
What does International Trade mean?
One of the reasons for the large volumes of international trade is that some countries have an abundance of natural resources. Saudi Arabia, for example, has vast deposits of crude oil. It is the world's primary petroleum exporter. In 2017, the country exported oil worth $134 billion. These exports find their way to various countries including China, Japan, India, and the U.S.

World trade could also be the result of a country having a comparative advantage. Germany is known for its engineering prowess. Car brands such as Mercedes-Benz, Audi, and BMW originate from the country. Large volumes of these cars are exported across the world.

International trade allows each country to utilize its resources in the best possible manner. China, which has an abundance of cheap labor, has become a factory to the world. The U.S. is a world leader in technology and computer software. The ability of these countries to export their products and services allows them to boost their national income and raise the standard of living of their citizens.
Example of International Trade
The following table provides an idea about the volume of world trade:

Top 10 categories of goods traded in the global market in dollar terms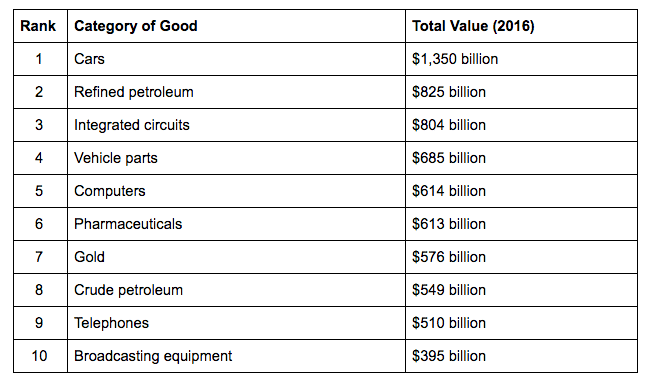 Source – Visual Capitalist

International trade in both goods and services is growing rapidly. According to data published by the World Trade Organization, an intergovernmental body that regulates world trade, merchandise exports increased by 32% between 2006 and 2016. The growth in the export of commercial services was even higher. These expanded by 64% in the same period to reach a level of $4.77 trillion in 2016.
Summary
Large volumes of trade take place between the world's countries. The growth in trade has resulted in increasing prosperity in many nations. In recent years, the trade in services has been expanding at a faster pace than the trade in goods.