27 Aug

Multinational Company
What is a Multinational Company?
Definition: A firm that has operations in more than one country is called a multinational company. Many multinational corporations have factories and offices in dozens of nations across the globe.
These corporations have a tremendous competitive advantage as their global footprint allows them to manufacture goods in countries where labor is cheap. They also gain from locating their facilities close to their markets.
What does a Multinational Company mean?
Multinational firms benefit from the fact that their operations are not restricted to a single country. By being close to their markets, these corporations are in a position to understand shifts in the demand pattern of their customers. This allows them to adapt swiftly to changing market conditions.
Contrast this type of company with one that is located in a country that is thousands of miles away from its market. For example, a consumer goods firm in the U.S. may find it difficult to understand changes in demand in, say, China's market. But if it has an adequate level of employees in China, it would be able to keep pace with changing the demand. If it also has manufacturing facilities in the country, it could get its goods to the market much faster.
Multinational corporations have another great advantage. Their experience in one country can provide them with valuable insights into the manner in which they can operate in other similar nations. This can allow them to increase sales volumes and boost their profitability.
However, multinationals firms suffer from some limitations too. At times, their decision-making process can be slow as approval could be required from the head office for all major issues. But many of the world's successful companies have overcome this problem by devising procedures that allow them to take decisions quickly.
Example of a Multinational Company
Walmart is a large and successful multinational. The company began operations in 1962 with a single store in Arkansas. Today it has over 11,000 stores spread across 28 countries. Its sales revenues are about $500 billion per year.
Walmart's worldwide sales – growth from 2006 to 2018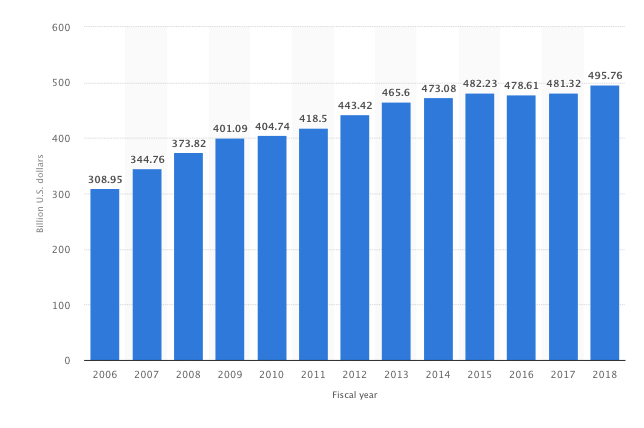 Source – Statista
The company's success can be gauged from the fact that its sales have been growing consistently. Walmart has approximately 2.3 million employees in the countries in which it operates.
Summary
Multinational firms are also referred to as transnational companies. Most of the world's largest corporations are multinationals with have extensive international operations.